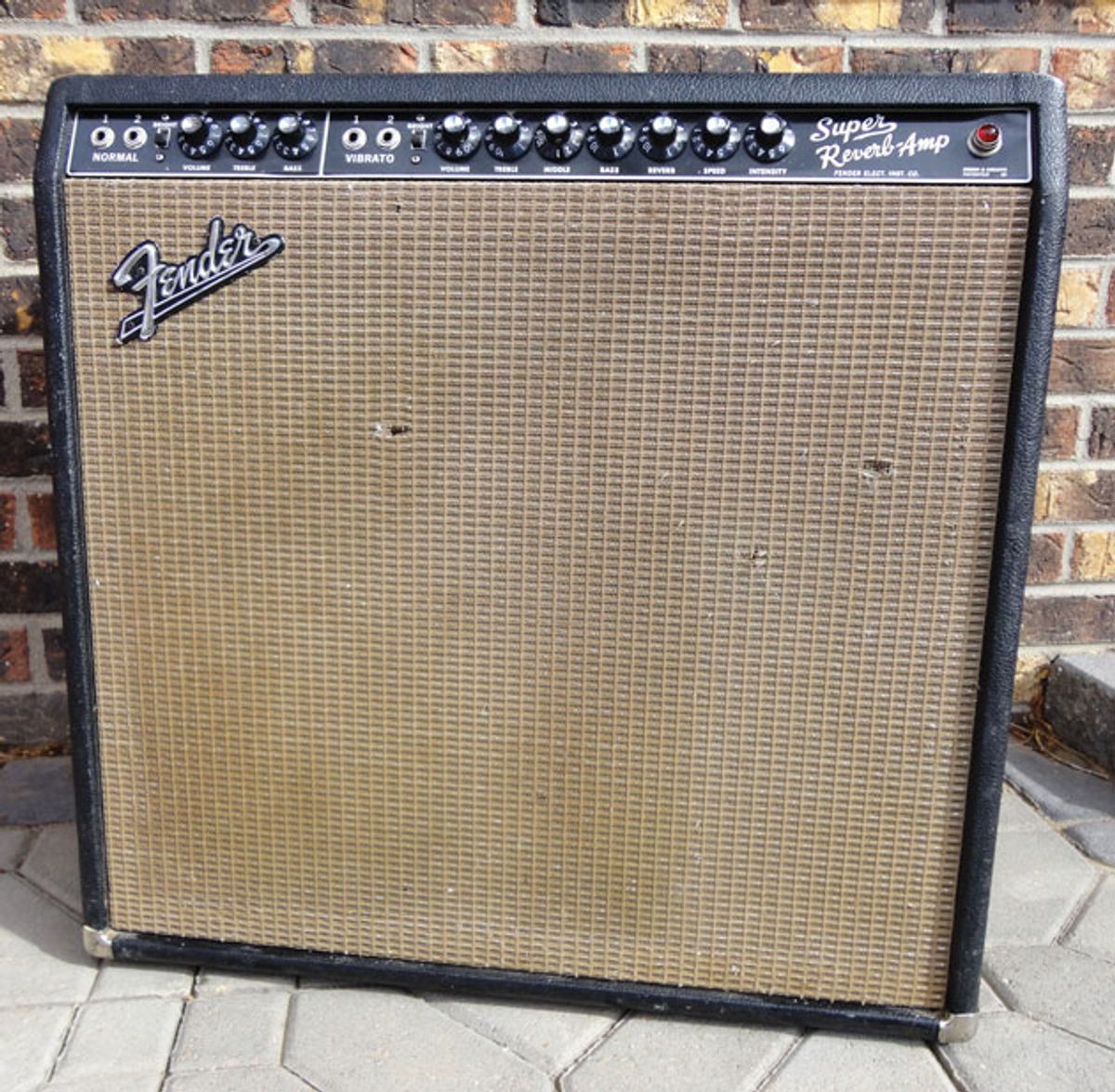 Photo by GabeMc
Six ways to beef-up the breakup on the classic Fender combo.
Hey there from Argentina! Love your articles!

I have a 1966 Super Reverb amp, all original. I'm looking to mod it lightly to have early breakup (now it's at about 7). I don't like pedals, so wanted to ask you for advice.

Thanks so much,
Martin
Hello Martin,

Glad you're diggin' the column … in Argentina! And, might I say, nice amp. The Super Reverb is definitely one of my all-time favorites. It has great midrange content, which we all know (or should) is where a guitar belongs in the mix, because, well, a guitar is a midrange instrument. And at only 40 watts, it can be pushed into overdrive easier than higher-powered amps (although not as easily as, say, a Deluxe), and sometimes that's the power range we need for smaller venues. That sounds like the situation you're currently looking to solve, so let's see if I can help you with some options. You mentioned you'd be open to modification, so let's start with suggestions there, and then I'll give you other options, too.
Mod 1: Install a master volume. Master volumes come in a few different styles and affect the signal differently. A standard type of master volume is one where the signal from the preamp is attenuated in the circuit prior to reaching the phase inverter. This can work fine in many instances where the preamp is designed to achieve distortion, and is the case with most mid- to hi-gain amplifiers. The drive is developed in the preamp and that signal is fed to the output stage via the master volume at whatever level necessary, with the output stage being used, for the most part, as a source of clean power.
If you decide to use a Variac-style device, lowering the wall voltage 10 to 15 volts may get the results you're looking for.

There is another type of master volume—the simplest of all, actually—that acts to combine the two out-of-phase signals from the phase inverter before they reach the output tubes. And what happens when two out-of-phase signals are combined? For those who don't know, they cancel out. Therefore, the signal being sent to the output tubes is shut down in varying degrees, from not-at-all to full.
Unfortunately, neither of these would work well for you, in my opinion, as there is not much in the way of overdrive that can be achieved in the preamp section of a typical Fender amp. What I would recommend is a master volume that actually changes the signal prior to the output tubes to simulate a bit more drive—and yes, they do exist. They're called post-phase inverter master volumes, or PPI's. There are two different types that, when reduced from maximum volume, begin to actually flatten out the peaks of the signal being fed to the output stage, which tends to mimic an overdriven output stage. This is one way to get more "apparent" overdrive from your amp at a lower volume. These master volume circuits can be found by you or your tech on the internet. I would suggest searching "The Trainwreck Pages" online for more background. This is an article written by the late Ken Fischer of Trainwreck Circuits in the mid 1980s. You'll enjoy it.

The Brown Box was developed to run vintage amplifiers at the voltages that were present when the amp was designed, which in the U.S. was closer to 110 or 115 volts.
Mod 2: Convert to a quasi-triode mode. Have your tech either convert your amp, or install a switch, so you can run your output stage in a quasi-triode mode. This can reduce the output power by approximately 40 percent and generally causes the amp to have a somewhat smoother response. This can be done by simply disconnecting the screen grid voltage from pin 6, which is being fed to the screen grid of the tube via the 470-ohm resistor connected between pins 6 and 4 in a Fender amp.
Simply connect the pin 6 connection of that resistor to pin 3 of the socket, which is the plate connection of the tube. Connecting the plate to the screen grid through that 470-ohm resistor causes the tube to run in a quasi-triode mode. This can also be accomplished with a heavy duty DPDT switch so you can run the amp in either standard pentode more or triode mode for those smaller venues.

Non-mod 1: Swap rectifier tubes. If you're running a 5AR4 rectifier tube in the amp, try a 5U4. While the 5U4 draws a bit more filament current than the 5AR4, Super Reverbs have vacillated between them over the years while using the same mains transformer, so this should not be an issue. As far as the difference, the 5U4 should lower the plate voltage by 10 to 15 volts, and it seems to compress a bit more. So, if you're looking for merely a subtle change, this may be all you need.

(Left) If you're running a 5AR4 rectifier tube in the amp, try a 5U4. Super Reverbs have vacillated between them over the years while using the same mains transformer. (Right) Removing the 6L6 output tubes, installing Yellow Jackets in the tube sockets, and inserting a pair of EL84 tubes into the adaptors reduces the output by 20 watts.
Non-mod 2: Install a Yellow Jacket tube converter. This allows you to convert the output stage from 6L6 tubes to 6BQ5s. You simply remove the 6L6 output tubes, install the Yellow Jackets in the output tube sockets, and insert a pair of 6BQ5 (EL84) output tubes into the adaptors. The output is now reduced to approximately 20 watts, but because the EL84 is the baby brother to the EL34, the tonal characteristics of the amp will change and have a bit more mids with less top and bottom. But hey, vive la différence.

Non-mod 3: Use an external attenuator. There are certainly plenty out there. Just be sure it's impedance specific: You purchase a 2-ohm model for the Super Reverb.

Non-mod 4: Use an external voltage reduction unit. Try something like a Variac or a Brown Box. The Brown Box was developed to run vintage amplifiers at the voltages that were present when the amp was designed, which in the U.S. was closer to 110 or 115 volts, as opposed to the typical 120+ volts currently supplied. If you decide to use a Variac-style device, lowering the wall voltage 10 to 15 volts may get the results you're looking for.

I hope that makes your Super Reverb super for all applications.
Looking for more great gear for the guitar player in your life (yourself included!)? Check out this year's Holiday Gear Finds!
Dunable announce new Minotaur model featuring Grover Rotomatic Keystone tuners.
The Minotaur's DNA is rooted in their classic Moonflower model, which Dunable discontinued in 2017. However, they have long since wanted to create a fresh take on a carved top guitar design, and various attempts to rework the Moonflower led them to a brand new concept with the Minotuar.
Dunable's goal is to give the player a guitar that plays fast and smooth, sounds amazing, and gives maximum physical ergonomic comfort. The Minotaur's soft and meticulous contours, simple and effective control layout, and 25.5" scale length are designed to easily meet this criteria.

Dunable Minotaur!
Features
25.5" scale length
Dual Humbucker
one volume, one tone, push pull for coil splitting
Grover Rotomatic Keystone tuners
Grover Tune O Matic bridge with brass Kluson top-mount tailpiece
jumbo nickel frets
12" fretboard radius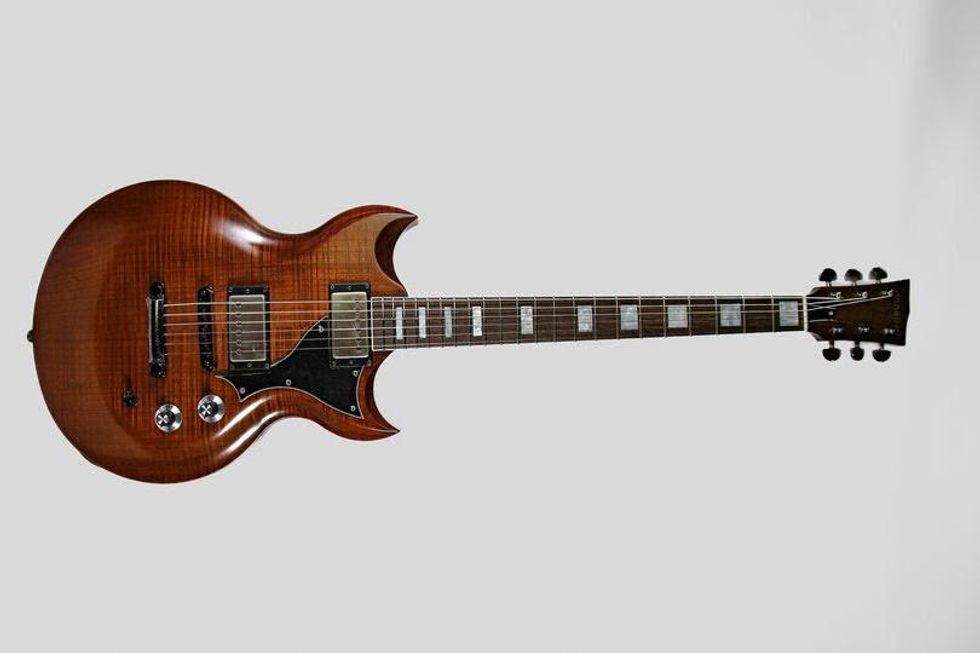 Dunable
This full-amp-stack-in-a-box pedal brings a new flavor to the Guitar Legend Tone Series of pedals, Missing Link Audio's flagship product line.
Adding to the company's line of premium-quality effects pedals, Missing Link Audio has unleashed the new AC/Overdrive pedal. This full-amp-stack-in-a-box pedal – the only Angus & Malcom all-in-one stompbox on the market – brings a new flavor to the Guitar Legend Tone Series of pedals, Missing Link Audio's flagship product line.
The AC/OD layout has three knobs to control Volume, Gain and Tone. That user-friendly format is perfect for quickly getting your ideal tone, and it also offers a ton of versatility. MLA's new AC/OD absolutely nails the Angus tone from the days of "High Voltage" to "Back in Black". You can also easily dial inMalcom with the turn of a knob. The pedal covers a broad range of sonic terrain, from boost to hot overdrive to complete tube-like saturation. The pedal is designed to leave on all the time and is very touch responsive. You can get everything from fat rhythm tones to a perfect lead tone just by using your guitar's volume knob and your right-hand attack.
Features 
Three knobs to control Volume, Gain and Tone
Die-cast aluminum cases for gig-worthy durability
Limited lifetime warranty
True bypass on/off switch
9-volt DC input
Made in the USA
MLA Pedals AC/OD - Music & Demo by A. Barrero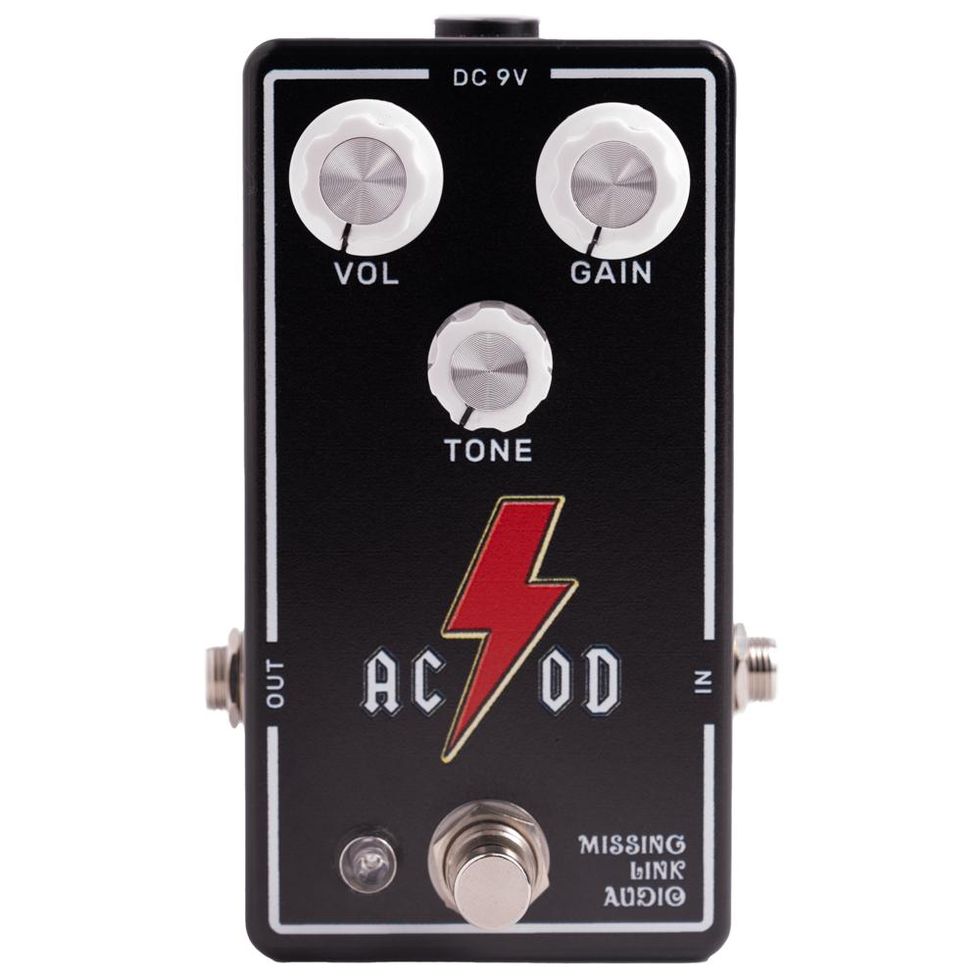 www.mlapedals.com.
Energy is in everything. Something came over me while playing historical instruments in the Martin Guitar Museum.
When I'm filming gear demo videos, I rarely know what I'm going to play. I just pick up whatever instrument I'm handed and try to feel where it wants to go. Sometimes I get no direction, but sometimes, gear is truly inspiring—like music or emotion falls right out. I find this true particularly with old guitars. You might feel some vibe attached to the instrument that affects what and how you play. I realize this sounds like a hippie/pseudo-spiritual platitude, but we're living in amazing times. The Nobel Prize was just awarded to a trio of quantum physicists for their experiments with quantum entanglement, what Albert Einstein called "spooky action at a distance." Mainstream science now sounds like magic, so let's suspend our disbelief for a minute and consider that there's more to our world than what's on the surface.
I recently spent a day filming a factory tour of Martin Guitars in Nazareth, Pennsylvania. After we wrapped, we discovered that Martin has this amazing museum that showcases more than 170 historic instruments. We decided to meet at the museum at 7:45 a.m. the next morning to film a few choice pieces before catching our flight in not-too-near Newark, New Jersey, that afternoon.
These were not ideal conditions for a performance. Neither my brain nor my fingers work well before 10 a.m., plus I hadn't slept well the night before. Even so, we loaded into the museum, met the curators, set up the shoot, and began rolling by 8 a.m.
The first guitar was an 1834 gut string, perhaps the oldest Martin in existence. It was beautiful but had some tuning issues and did not project very well, so playing it felt more like work than music.
Next was a prewar D-45 worth over $500k. The strings were ancient with that rusty feel, like you'll need a tetanus shot after playing it. I'm sure it sounded great, but I was tired and thinking more about making our flight than playing guitar. Wonderful instrument but uninspired performance on my end.
Then, I played a 1953 D-18 coined "Grandpa" by Kurt Cobain. I picked up the deeply sacred D-18, and my hands went to an A minor. This sounds like hype, but honestly, I closed my eyes and connected with a deep, beautiful sadness. The feeling was palpable as soon as you picked it up. This guitar pretty much played itself, leading me to a sad version of "While My Guitar Gently Weeps." I don't know if it was any good, but I know I felt something deeply. That's why I started playing guitar in the first place. I don't have to play well to feel moved.
I later talked to the museum director, who told me the D-18 was given to Cobain by his 1991 girlfriend Mary Lou Lord. Cobain played it on tour before and after Nirvana's Nevermind. It was returned to her after Cobain married. Shortly after that, Mary Lou loaned the guitar to Elliott Smith, who played it until his death.
When I'm sad, I make myself play guitar to feel better, because it usually works. This 70-year-old guitar spent a lot of time literally pressed up against the hearts and chests of two artists who were so tormented by their emotions that they ended their lives. That's heavy. You can't explain those feelings that make the hair stand up on your arm, or when you feel like crying for no reason … but hitting that A minor made me feel it.
We had to split for the airport, so Chris Kies and Perry Bean started packing up. As they did, I saw this cute little 1880 Martin 000 that belonged to Joan Baez. In the photo next to it, Joan looks like my mom in the '60s. I asked the curator if I could play it, and Chris grabbed his phone to do a quick Insta video. I swear there was a happy vibe coming off this tiny guitar. It felt like watching my mom dance—like a warm hug I needed after Cobain's D-18.
In Chinese culture, there is a superstition that antiques may hold evil spirits, and chi (energy) transfer can bring this negativity into your home. Feng shui is all about objects carrying good or bad chi. Here's how I see it: All matter is made of atoms. Atoms contain energy. Ergo, everything contains energy, or, more aptly, everything is energy. Ever walk into a room and feel powerful emotion: joy, sadness, fear, tranquility? That's energy. We all have felt energy coming from people, places, and things. But that's what I love about old guitars: Their atoms spent the first few hundred years as a tree in the forest connected to nature. Then, they're turned into an instrument that makes people happy or consoles them when they are sad. That's the kind of chi I want around me.
The Saddest Martin Ever? A 1953 D-18 Owned by Kurt Cobain & Elliott Smith