David Fiuczynski: Mega Micro Man
Photo by Rich Gastwirt.
The genre-fusing "Fuze" talks funk, punk, and the microtonal madness fueling the Screaming Headless Torsos' new LP, Code Red.
Twenty years ago, David Fiuczynski was at a level most people only dream of attaining. He boasted blistering speed, superior funk chops, advanced chord knowledge, and a fluency in multiple idioms and styles. His 1994 album Lunar Crush—which he co-led with John Medeski of Medeski Martin & Wood—is what first made jazz fans and guitarists sit up and take notice. Even more paid attention when his band, the Screaming Headless Torsos, began recording, touring, and performing in and around New York.
Besides focusing on his sophisticated-yet-visceral approach, the attention garnered by Fiuczynski (aka "Fuze") over the years has often centered on his incorporation of non-Western tonalities in genres with a Western foundation. And much of thathas to do with his gear. For a period he was an unapologetic abuser of his guitar's vibrato bridges. And when the world music he studied in college inspired him to really dive in and experiment with microtones—the notes between notes of typical 12-notes-per-octave Western music like rock and blues—things changed even more. A 1992 gig in Morocco further opened his eyes—Fiuczynski realized some notes sounded better when you played them out of tune on purpose. He then experimented with fretless and quarter-tone guitars (instruments with frets added betweenthe frets), and transcribed indigenous music using tuning systems germane to those cultures.
In 2006, Fiuczynski returned to his alma mater, the New England Conservatory, to earn his masters degree and study the music of Turkey, India, and China, as well as an entire system of microtonal composition. Five years later, he was named a Guggenheim Fellow, and his commissioned composition drew on influences as disparate as French composer Olivier Messiaen and hip-hop producer J Dilla (A Tribe Called Quest, De La Soul, the Roots).
"I was a jazz snob at first, at 13 or 14. But luckily—unlike other people—I outgrew that by the time I was 15."

In 2012, he launched Planet Micro Jam, an institute that explores use of microtones in jazz, ethnic folk, and other contexts. And this year, the latest incarnation of the Torsos also released a new album, Code Red.
That only tells a fraction of Fuze's story, though. Because many of the world's greatest musicians want a measure of what Fiuczynski has to offer, his resume includes albums and tours with the likes of legendary jazz drummer Jack DeJohnette, founding Parliament-Funkadelic keyboardist Bernie Worrell, Meshell Ndegeocello, Stewart Copeland, Ronald Shannon Jackson, and many others. To date, he is credited on almost 100 albums—andhe's a full-time professor at the Berklee College of Music.
Premier Guitar recently spoke to Fiuczynski about everything from punk rock to odd time signatures, the Lydian Chromatic Concept, microtones, and his ripping work on the Torsos' latest effort.
Considering how heady so much of your work is, it's interesting to note that, in the early Torsos days, you were interested in punk rock and Nina Hagen.
Yeah, the earliest days—the first demo I did was in 1984. I was a big Nina Hagen fan and a big Bad Brains fan. Bad Brains, to me, were one of the most happening hardcore bands ever. But they also did some reggae stuff. I've been to reggae festivals where everyone is chill—you just inhale and you're chill—but I've never seen a band completely mess people up: Bad Brains played three tunes and then a roots-reggae tune. The mosh pit was like a sea—a brotherhood sea—and then they played more hardcore and it was up and down, up and down.
David Fiuczynski's Gear
Guitars
Custom Campbell American FuZix doubleneck
Campbell American Precix modified quarter-tone guitar
Campbell American UK-1
Campbell American Transitone

Amps
Fryette Pittbull Ultra-Lead head
Carvin VL100 Legacy head
Two Carvin 1x12 cabs with Celestion Greenbacks
Effects
Ernie Ball Volume Pedal
Seymour Duncan Twin Tube Classic
Seymour Duncan Pickup Booster
Boss DD-6 Digital Delay
Vox ToneLab multi-effector
Strings and Picks
Ernie Ball custom-gauge strings (.011, .015, .018, .028, .038, .050)
Heavy teardrop-shaped picks
I saw ['70s San Francisco punk outfit] Flipper live, too. That was my first punk show. I was nervous, as an African American—there was something of a skinhead scene—but I went. I showed up and the bass player was wearing leather cutoff gloves and he had three distortion boxes in a row. I saw the LED lights—they were all on, and he was tuning—BANG BANG BANG—and I thought, "Oh no." But then the show started and it was such a great experience.
The first Torsos was punk rock/reggae with an opera singer. I've got some recordings lying around. I talked with the former drummer [Al Pahanish, also formerly of Powerman 5000], and we have to find some funds to bake the tapes.
Code Red's title track has a metal edge to it. Were you into metal as well?
I was a jazz snob at first, at 13 or 14. But luckily—unlike other people—I outgrew that by the time I was 15 [laughs]. I got into the Mahavishnu Orchestra, but then I wanted harder stuff. I got into Van Halen—that was in the late '70s, early '80s—and then I got into punk. Punk and free jazz. That was my progression.
Meanwhile, "Wizard of Woo" has a real funk feel….
Yeah, I played with Bernie [Worrell] for a year in the mid '90s.
You once said Bernie was one of the greatest musicians you ever worked with.
I've worked with some very happening people. I would obviously include Jack DeJohnette now that I have played with him. But Bernie, his pocket is just so unbelievable. I don't know if I used those words—that he was "one of the greatest musicians I ever worked with"—but I mentioned an experience: I was on a gig and Bernie took a clavinet solo and it was so funky. I mean, he just ruined the audience. He ruined the stage, ruined the joint—it was just amazing. For a minute I forgot I was on a gig. I was onstage, but I was a bystander. I became part of the audience.

David Fiuczynski plays his custom Campbell American FuZix doubleneck with his band, the Screaming Headless Torsos. Photo by Lia Rueda.
Had you played funk before you played with Bernie?
Well there's funk and then there's funk. I mean, I got my ass kicked when I played with Meshell Ndegeocello. I was on the road with her and we were playing in Sweden. I took a solo and the audience went nuts. And then the song broke down to just Wah-Wah Watson [Melvin Ragin] on guitar. And again, he just ruined it. People lost it. And he didn't solo. He just played chords—rhythm—and I realized that I have to knuckle down.
You do a lot of funk in odd meters. There's a song on the new album in five…
I was never a natural—and I mean never ever. This last record, Gamak, with [alto saxophonist] Rudresh Mahanthappa was by far the most difficult music I've ever played—all these Indian rhythms, and not just stuff in 11, 13, 21, and so forth. The drummer, Dan Weiss, has been studying with a tabla guru for 14 years, and even when we were playing in 4/4 he would start doing odd-time stuff.
"I remember once this guy was giving me a great compliment. He was drunk—but sometimes when you're drunk you have this clairvoyance—and he said, "Man, you're amazing.
You play so out of tune."

Did you study the Indian rhythmic solfège [a method of teaching pitch and sight singing]?
I am more of a grazer. When I went back to the New England Conservatory for graduate school, I split my lessons between Peter Row, the sitar player, and Turkish music lessons for two years. I told them, "I can't do everything, and what I'm most interested in is the melodic part." I let the rhythmic stuff slide, which in hindsight was probably a mistake. But I just didn't have time. I am primarily interested in the melodic aspects, although the rhythmic stuff is amazing, too. But what really blows me away is the lyricism of Hindustani alaps or Turkish taqsims. Those rubato intros are mind blowing.
Who are some of the jazz players you listen to?
I started with some pretty traditional stuff—Bird [Charlie Parker] and Miles Davis and John Coltrane. John Scofield was one, too. And then I got into fusion—John McLaughlin—and then some of the more free players. I'm a big fan of James Blood Ulmer, especially when he had that free/funk thing—that period with Jamaaladeen Tacuma [bass] and Grant Calvin Weston [drums]. I saw that trio in Cambridge around 1985, and it blew my mind. I walked out of there shell-shocked. It was so out and so rich.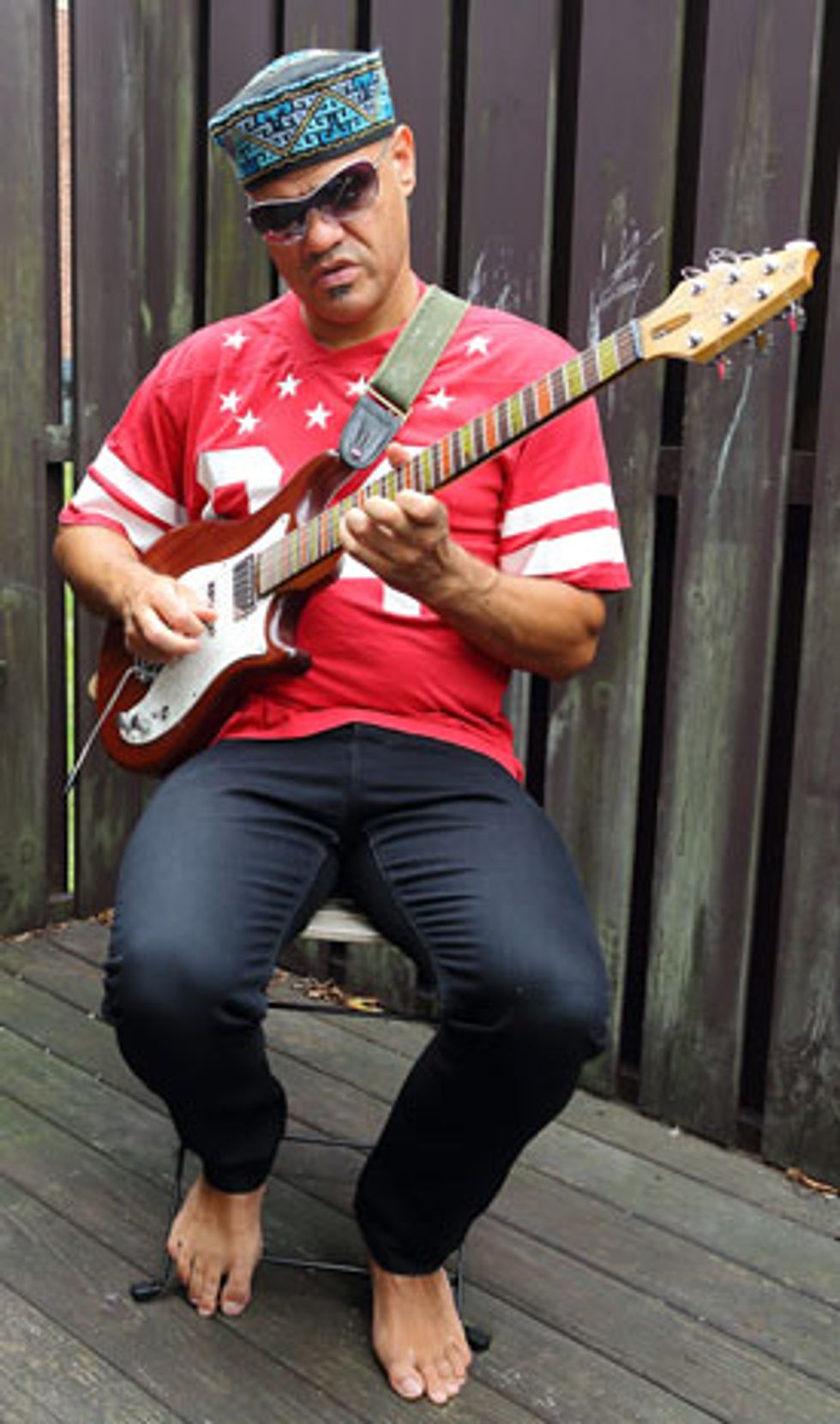 "Melodically and harmonically, I know where I want to go—there is so much further I can go, microtonally—but rhythmically I am still looking."
Photo by Rich Gastwirt.
On your earlier albums, it sounds like you're often just leaning on the whammy bar.
Yeah, with the whammy I would disguise stuff. But looking back, I can see that microtones were where I was heading. It was an abstraction. I remember once this guy was giving me a great compliment. He was drunk—but sometimes when you're drunk you have this clairvoyance—and he said, "Man, you're amazing. You play so out of tune." And that was before I was doing microtones!
When were you first introduced to microtones—was it on your 1992 trip to Morocco?
It was before that. I briefly went to Hampshire College in Western Massachusetts, and I took an Indian music class and that blew my mind. I listened to Ravi Shankar for the first time. Plus, there was an English composer who wrote a choral around an Arabic Call to Prayer. That juxtaposition really messed me up. I tried to play the Arabic Call to Prayer, but my 12-note-per-octave ruler didn't work. That is where I first got interested. I encountered [microtonal composer] Joe Maneri at the New England Conservatory when I transferred, but I didn't take a class of his until I went back for graduate school in 2006. Actually it was his last class—that was the last semester he taught. I almost feel like it was meant to be.
But the microtonal thing really comes from non-Western music and just being interested and wanting to play. That's how I hooked up with [Manhattan-based experimental klezmer group] Hasidic New Wave—they were one of the few bands that would have me and let me do whatever I wanted [laughs]. But when you're trying to do that stuff—especially Eastern European and Middle Eastern stuff—the 12-note-per-octave ruler is a joke. But I look at those notes in Middle Eastern music in an unorthodox manner—I look at them as Eastern blues. It's just like the blues—you know, those beautiful, heart-rending notes that fall between the cracks. But that Moroccan gig was off the charts. It was another mind-blower—it ranks in the top five.

"The blues is a feeling not a scale," says jazz-funk-groove master David Fiuczynski. Photo by Rich Gastwirt.
What was so pivotal about that visit to Morocco?
What the Moroccan government did [for the Moroccan pavilion at the World's Fair] was that, instead of sending the usual Berber folklore groups, they decided to do an East-meets-West thing. It was funny, though, because it was not really a musical decision—it was more of a political decision. They decided to have a house band of Western musicians from places like Paris, London, and L.A. The guy in charge asked one of the other musicians, "Do you know any guitar players that are crazy enough to do this?" And he said, "I've got the guy for you." So I went to Morocco and we rehearsed for 10 days in Marrakesh, with 10 or 12 different folklore groups. Overall, we're talking about a hundred people. Some of these folklore groups had 20 or 30 members.
Nobody knew me, but because I was the guitar player, one-by-one at least 25 people came up to me during the week and said, "Did you know that Jimi Hendrix was here?" That put a seed in my mind, a thought. Eventually, that's where KiF [another Fiuczynski project] came from. Many people celebrate Hendrix for what he was—and they should, he was one of the best guitar players ever—but there seems to be a tendency to celebrate the dead Hendrix. I wanted to celebrate a possible living Hendrix. Maybe—if he had lived—he would have retired to Casablanca and would, every now and then, go down on a Saturday night and rock the kasbah. That's where I started to realize that, if I don't know these tuning systems, it was never going to really happen.
When you're soloing, do you stay loyal to the scale or tuning system you're using?
I wouldn't say that [laughs]. If something is in Hijaz [the Arabic name for the Phrygian dominant scale]—which is the fifth mode of harmonic minor—in certain regions the flat 9th is pushed sharp, the 3rd is flatted, and the flat 6th is sharp, plus additional spices and inflections. It's not so much staying loyal as it is having a base and knowing, "This is what it 'should' do." And then, "This is what I'm going to do with it." But it's not this 12-note-per-octave base. The grid I use is either 72 or 96 notes per octave.
YouTube It
David Fiuczynski and the Screaming Headless Torsos go inside the sessions and inspirations for their 2014 release, Code Red.
You say that when you went back to the Conservatory you focused on melody, but you have a very sophisticated rhythmic sense, where did you develop that?
Thank you. I'm not sure if I agree.
Well, you can groove and stay in the pocket.
[Laughs.] I'm trying to.I have a good pocket, but it's not great. I once saw Prince live, and they broke it down to just him. It was just mouth-watering—just groove … just his rhythm guitar playing. And that was besides everything else he does—dancing, writing, playing, singing.I like different styles, too. I am aware of jazz, popular styles, free playing, and obviously you have to put on different rhythmic "hats." After playing with Rudresh Mahanthappa—the Indian rhythms—my goodness! That is just a completely different stratosphere. I wouldn't say the rhythms are "better," but I would go out on a limb and say that the Indian rhythmic system is the most codified. They can play the craziest stuff and break it down to you. They can tell you exactly where it begins, where it ends, where it began before, where it ends later, and in between. Playing with Rudresh really opened my eyes to new possibilities. Melodically and harmonically, I know where I want to go—there is so much further I can go, microtonally—but rhythmically I am still looking.
Talk a little about the new song "Fried Tongue."
Sure. What I was trying to get out of those jazzy sections was kind of a punk-jazz aesthetic, that untrained energy, but I was specific. It was frustrating to get the drummers to play, because the Torsos has high-level drummers. I told them, "Play jazz but preferably turn the beat around. And if you can drop a beat or two, that's even better. And maybe instead of playing like this [mimics standard drumming grip], maybe you can play like this [grabs sticks as if they're weapons]." And our bassist, DJ [David Ginyard], plays with some high-level people and his pocket is ridiculous. These guys can play "correctly" impeccably. But I wanted them to play "wrong" impeccably. There is that je ne sais quoi that I was trying to get. When you see a lounge band that sucks, they suck. But if you see a lounge band that really sucks, it really sucks—but there is a magical thing about it, because they hit this zone. And that's what I wanted.
Photo by Rich Gastwirt.
Fuze's Custom Campbell American Doubleneck
David Fiuczynski's main axe—the FuZix—is a custom Campbell American with a fretless 6-string neck on top, and a standard 6-string on bottom.
"This is probably the best instrument I've ever had," Fiuczynski says. "It sounds great, looks great, and is light for a doubleneck." The guitar wasn't Fiuczynski's first attempt at building a doubleneck. There were others—including a failed effort with Campbell. "I made a doubleneck the way I wanted it, and it sounded like shit. I used to be very specific; mahogany body and rosewood neck and blah blah blah. But Dean ruined all that."
Campbell American's Dean Campbell agrees, though he uses more charitable wording. "He set the specs on what he wanted. We disagreed with him and I told him as much. In the end—much to his credit—he came back and said, 'Well this isn't really doing what I wanted it to do. Maybe I should have just listened to you [laughs].'"
The first big departure for Fiuczynski was the choice of wood for the chambered body. Campbell used American Linden, better known as basswood. "Basswood grows all over the world," says Campbell. "There are better species of basswood and better grades that can be used for making an instrument. A lot of basswood you'll see has a lot of knots, it's green, and it's used for molding, the inside of a cabinet, or something similar. But you find really nice, slightly tighter grain linden or basswood, too. It gets a bad name because not that many people use it, but it is a great tonewood." According to Fiuczynski, the guitar sings, and he especially loves the way it feeds back at higher volumes.
"Those two necks are a little more rounded and a little bit thicker than our standard necks." Fiuczynski likes it that way, though. "I might actually make them thicker [on future versions], because the neck is really part of the sound. If it sounds unbelievable, I'll just grin and bear it."

Another big change was the upper horn, which is extended so the guitar will hang comfortably when worn up high. "David came by the shop several times and we showed him different things that we were kicking around," Campbell said. "We showed him some drawings and he told us what he liked. We made some rough cuts with wood that was lying around the shop as well."
The necks are a flattened C shape, with a 12.5" radius. According to Campbell, "Those two necks are a little more rounded and a little bit thicker than our standard necks." Fiuczynski likes it that way, though. "I might actually make them thicker [on future versions], because the neck is really part of the sound. If it sounds unbelievable, I'll just grin and bear it."
The bridge for the lower neck is a double-fulcrum Hipshot vibrato. "He liked the pivots because he could drop it more, raise it more, and get more than a half-step [of pitch change]," Campbell explains. But the guitar does not have a locking nut, and Fiuczynski says the rationale is simple. "I don't monkey around on the bar the way I used to. I mean, a dive bomb is cool, but how many times do you do that in a set? And with a locking nut, you lose the sound of the headstock."
Speaking of the headstock, Campbell's unique shape enables lower tension and allows the strings to run straight from the saddle, through the nut, and into the machine head. Fiuczynski uses .011–.050 string gauges for both necks, even though the fretless is shorter. "What I like about that is that the strings are a little floppier," he said. "It has a type of acoustic sound in a very electric way." The Campbell Standard pickups were designed by Steve Blucher at DiMarzio and are a slight deviation on the PAF formula.
Photo by Rich Gastwirt.
The Lydian Chromatic What?
In 1953, George Russell published the Lydian Chromatic Concept of Tonal Organization. It was a watershed theory in jazz and—at least according to Miles Davis—led to the birth of modal jazz, Davis' album Kind of Blue, and John Coltrane's modal period. But its influence wasn't limited to jazz. If you're a fan of Carlos Santana, Frank Zappa, the jam-band scene, or one-chord funk vamps that groove forever, much of that traces its origins back to modal jazz and, ultimately, to Russell's concept.
David Fiuczynski studied with Russell at the New England Conservatory and was a member of Russell's Living Time Orchestra (he's on 1989's The London Concert album). And although Fiuczynski doesn't claim to have mastered the concept, at least two of Russell's ideas play a significant role in Fiuczynski's playing and teaching.
"The first is the ingoing-outgoing concept," says Fiuczynski. "That means taking all the scales you know and realigning them. I do that according to 7th chords. Slowly, you get further and further away until you're playing in keys that are on the other side of the circle of fifths. Your chord is a C major 7 and you're playing in either B or C# major, or you're just playing chromatically. Or—if you're a nut job like me who works off a 72-note-per-octave microtonal grid—you're doing microtonal chromatics, complete!
"What I like about that system," Fuze explains, "is that it's not so much about right and wrong. It's about you deciding where you want to be. In other words, what's more 'out' for you? You and I will probably have different perceptions of that." But that aesthetic flexibility, according to Fiuczynski, is the concept's universal appeal. "You're not thinking, 'right or wrong.' You're thinking, 'neighborhood, city, country, continent, planet,' and so forth."
"The other thing I use from Russell is the vertical, horizontal, and super-vertical concepts." That sounds more far out than it is. A "vertical structure" is a chord, so a vertical solo outlines the chord changes. A "horizontal structure" is similar to a 12-bar blues—it's essentially a number of vertical structures (chord changes), but the solo uses just one horizontal melody or scale like a minor pentatonic or a blues scale. (Though Fiuczynski hates the latter term. "The blues is a feeling not a scale.")
The "super vertical" is what Russell used to try to explain Ornette Coleman. "Basically, this guy blasts off into the universe," says Fiuczynski, "and every now and then comes back down. He plays something free, he outlines a chord, and then he plays something free, and then he comes back. So those are the two main concepts I use in my playing and teaching. But beyond that, you are on your own [laughs]!"