Imagining and drawing an instrument is only the beginning. You have to make sure that it will physically work. Shapes that look great on paper can be impractical to replicate in the real world.
High school shop classes are mostly a thing of the past. In their march to churn out white-collar robots, education experts have argued shop classes out of existence, contending that they are a waste of students' time. If you or your kids are hell bent on occupying that thankless and unfulfilling office job, you might as well turn the page now. For me, those classes were a welcome interlude where I could indulge myself in scheming, doodling, and designing guitars. Okay, it was more like tracing guitars.
What I was really doing was learning real-world problem-solving skills. In study hall, I would pull my copy of The Ventures Knock Me Out! album from my book bag, place a sheet of thin drawing paper over the photo of the band's namesake Mosrite guitar, and sketch an outline. I practiced the proportions until I could draw an accurate guitar without reference. And not satisfied with merely mimicking every detail, I would add pickups, knobs, and modify the shapes of my little guitar drawings—"soup them up" as the hot rodders would say. It was 1965, a time when aftermarket parts and even specialty work was not common, but for me, the custom car aesthetic carried over into all things. Art classes taught me to render my drawings with perspective, which inched them closer to being real. I learned about balance, composition, and contrast, as well as how to follow the rules and when to break them.
Meanwhile, in shop class, my fellow students and I had graduated from cobbling together crude birdhouses and serving trays for our moms, to building actual furniture. Working with wood by chiseling joints and fitting parts together in three dimensions brought life to my spiritless and flat sketches. Still, I found it difficult to translate my ideas into parts that actually worked together as a whole. That's when I elected to take mechanical drawing, a discipline that allows for the relationship between solid parts in a three-dimensional world. It is a skill that has served me well ever since, because design isn't merely an outline.
The final element was the part of shop class that dealt with machining materials like wood, plastic, and metals of all kinds. We drilled, sawed, screwed, and sprayed—certainly a liability insurance nightmare in today's coddled world. But back then, you simply put on a bandage or visited the school nurse if you cut yourself, and then returned to class.
Learning the properties and limitations of stuff is indispensable if you want your projects to succeed. Again, it was about learning rules and getting the feel for when not to follow them. I was curious, and I took the path my curiosity dictated without regard to the outcome. I was unknowingly foreshadowing my entire career—in a decidedly 3-D world.
When I started building guitars, it was the combination of my experience in school and from a half-dozen factory jobs that kick-started the process for me. I had been exposed to hard tooling—the jigs and fixtures that shops use to create consistent parts. Imagining and drawing an instrument is only the beginning. You have to make sure that it will physically work. Shapes that look great on paper can be impractical to replicate in the real world. Even as manufacturing has moved into five-axis computerized routing, you can't defy physics—and you still have to hold your parts down in the machine. Actually, part of the enjoyment of building is solving the tooling challenges.
Another issue is the practical stuff. Where will the wires run, and how will the holes for them be drilled? Will each pickup require a separate wire-channel? You might want to create a single rout in the body before the top is bonded on instead. If time and money are of no importance, all of these things can be done in separate steps. But in a commercial shop, it's better to accomplish things in a single operation. Even something as simple as aligning the centerline of the body requires forethought to create repeatability. During a restoration of a 1937 D'Angelico, for instance, I found the centerline of both the top and back didn't line up with the seams of the sides, but a massive tail strip hid this fact.
In design, there are always many roads to the same goal. For example, switches, volume pots, and tone pots mount to a surface at 90 degrees to the axis of the part. This way, the fastening nuts will sit flat on the instrument's face, pickguard, or metal control-plate. With an arched top, however, it poses a problem because the inside of the control cavity may not be parallel to the guitar's face. This is where the designer has to make a decision. One solution is to minimize or even eliminate the arch in the area of the controls. This is somewhat the case with a Les Paul where its outermost controls are located. Any slack can then be taken up by the use of a washer and a little bit of force. Another approach might be to create a dimple in the top so the locknut can sit flat, such as on a PRS. A third option would be to machine the inside of the arch to be parallel to the outside—which is what occurs on true hollowbody guitars. As you can see, this is a design consideration that isn't readily apparent in a simple outline drawing, but one that experience anticipates.
The odyssey from copying shapes in study hall, to building guitars and other cool stuff, is a journey I'm still on. I now can draw in CAD and am versed in applications like Rhino and SolidWorks—3-D programs used for designing and manufacturing with computer-controlled equipment. Oddly enough, I still prefer to do my blue-sky designing on a sheet of paper. I'll never know it all, but that motivates me. Every day brings new knowledge … if you let it.
---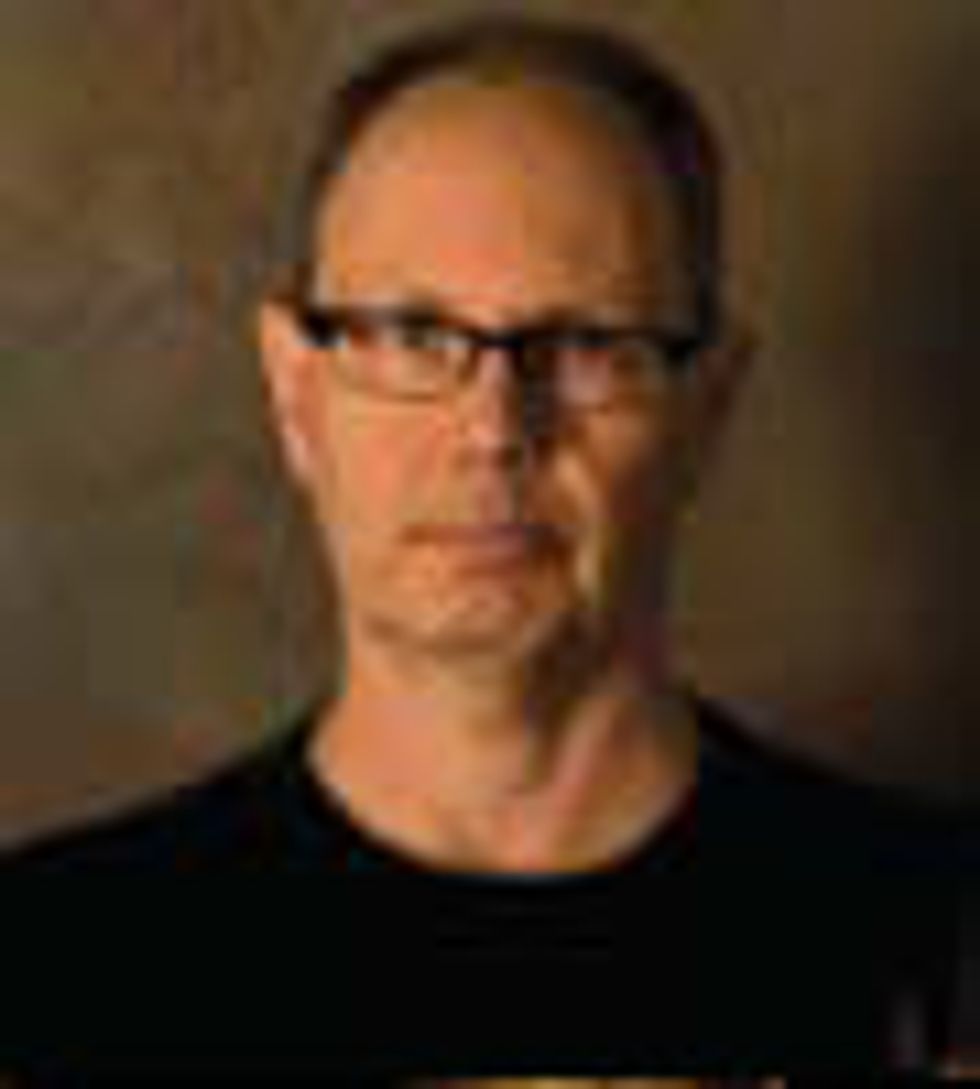 Jol Dantzig
is a noted designer, builder, and player who co-founded Hamer Guitars, one of the first boutique guitar brands, in 1973. Today, as the director of Dantzig Guitar Design, he continues to help define the art of custom guitar. To learn more, visit
guitardesigner.com
.
Looking for more great gear for the guitar player in your life (yourself included!)? Check out this year's Holiday Gear Finds!
Created in collaboration with legendary guitarist George Lynch of Dokken and Lynch Mob fame, the Mr.Scary Mod adds an adjustable tube gain stage and an onboard Deep control, which together are designed to enable an amp to have increased sustain while still retaining note definition and dynamics.
LegendaryTones, LLC today announced production availability of its new Mr. Scary Mod, a 100% pure tube module designed to instantly and easily expand the capabilities of many classic amplifiers with additional gain and tone shaping. Created in collaboration with legendary guitarist George Lynch of Dokken and Lynch Mob fame, the Mr.Scary Mod adds an adjustable tube gain stage and an onboard Deep control, which together are designed to enable an amp to have increased sustain while still retaining note definition and dynamics.
Originally released as the Lynch Mod in February 2021, the updated Mr. Scary Mod features the same core circuit as the Lynch Mod but is now equipped with a revised tube mix combo per George's preference as well as a facelift in a newly redesigned electro-galvanized steel enclosure. As with the Lynch Mod, each run will be limited and the first run in Pumpkin Orange with Black hardware is limited to just 150 pieces worldwide.
​The Mr. Scary Mod adds an adjustable tube gain stage on top of the cathode follower position, keeping note definition and articulation while further increasing sustain. Each Mr. Scary mod is meticulously built by hand in the USA, one at a time, and tuned using high-grade components. Equipped with a single ECC81 (12AT7) in the first position and ECC83 (12AX7) in the second, the Mr. Scary Mod can clean up beautifully when rolling down your guitar's volume, and still adds scorching gain when you roll it back up. This is a gain stage that's been tuned and approved by the ears of the maestro George Lynch himself.
"The Mr. Scary Mod excels with dynamics and is incredibly touch-responsive, allowing me to shift from playing clear, lightly compressed cleans to full-out aggressive sustain and distortion –and control it all simply by varying my guitar's volume control and picking," said GeorgeLynch. "In many ways, it's an old-school approach, but it's also so much more natural and expressive in addition to being musically fulfilling when you can play both the guitar and amp dynamically together this way."
The Mr. Scary Mod installs in minutes, is safe and effective to use, and requires no special tools or re-biasing of the amplifier. Simply insert the module into the cathode follower preamp position of compatible amplifiers (includes Marshall 2203/2204/1959/1987 circuits) and

immediately get the benefit of enjoying a hot-rodded amp that delivers all the pure harmonic character that comes with an added pure tube gain stage. The handmade in the USA Mr. Scary Mod is now available to order for $319.
For more information, please visit legendarytones.com.
October Audio has miniaturized their NVMBR Gain pedal to create two mini versions of this beautifully organic-sounding circuit – including an always-on gain device.
The NVMBR Gain is a nonlinear amp that transitions gracefully from clean boost to overdriven tones. Volume increases from just over unity to about 10db before soft-clipping drive appears for another 5db of boost. Its extraordinary ease of use is matched by outstanding versatility: you can use it as a clean boost, push a stubborn amp into overdrive or create a just-breaking-up sound at any amp volume.

October Audio's new family of mini NVMBR Gain pedals includes a switchable version that allows you to bypass the effect: one option features brand logo pedal graphics, while the other sports a fun "Witch Finger" graphic with a Davies knob as the"fingernail".
The second version in the new lineup is an always-on device featuring the Witch Finger graphic and Davies knob, with the same NVMBR Gain circuit that lies at the core of the switchable version.
Features:
Knob controls gain and clipping simultaneously
Stunning silver hammertone finish
Switchable versions are true-bypass, available with classic or witch finger graphics
Authentic Davies knobs, including the "fingernail"
9V center negative power supply required
Dimensions: 3.63 x 1.50 x 1.88 in​
Witch Finger (always on NVMBR Gain) demo
​All October Audio pedals are assembled in Richmond, VA, and available for purchase directly through the online shop. Street price is $109 for NVMBR Gain footswitch versions and $89 for the always-on device.
For more information, please visit octoberaudio.com.