Genzler Introduces the 4 on the Floor Bass Overdrive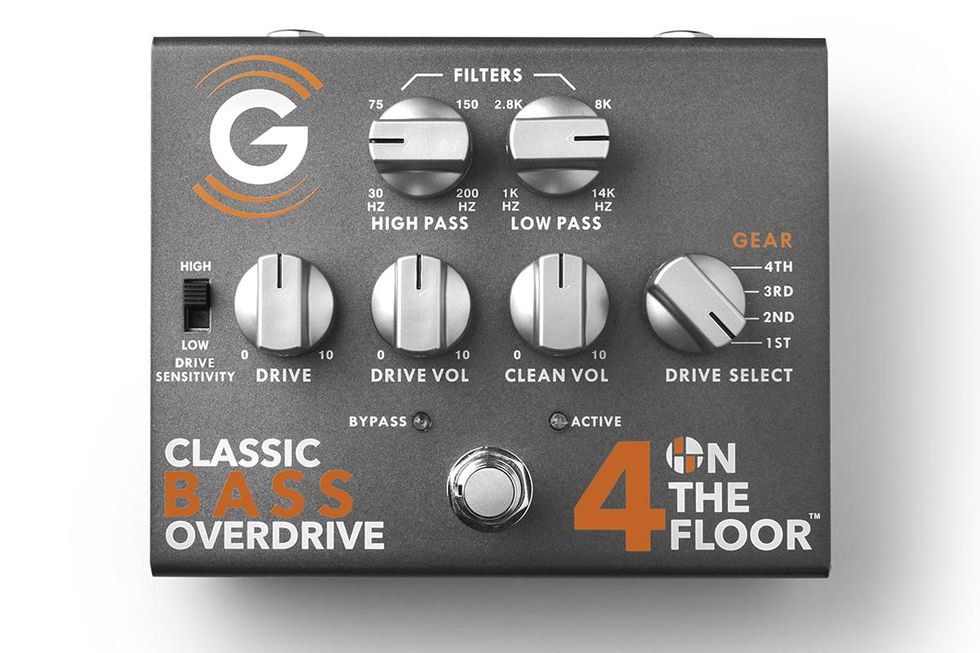 The company's first stomp carries a 4-pack of separate "gears" of variable analog overdrive textures and harmonic content along with a clean blend feature.
GENZLER AMPLIFICATION proudly announces a "redux collaboration" that brings Jeff Genzler and Andy Field back together again developing a newline of bass effect pedals under the Genzler Amplification brand. Both forces have shared design passions that date back to the early 1990's while working together at Jeff's former company, Genz Benz. Andy and Jeff, along with current Genzler Amplification engineer Scott Andres, were responsible for the products that put Genz Benz on the map so many years ago.
---
Along the way, corporate acquisitions of GB by KMC Music and eventually Fender Musical Instruments, and the decisions that lead to the finale of Genz Benz, all principals went their separate ways. Andy was soon brought-on at Mesa Boogie to develop their flagship line of Subway bass products. Eventually Jeff and his wife Catherine decided to jump back into the game, starting up Genzler Amplification with Scott Andres again as principal engineer. Jeff and Scott working together again developed such innovative products as the Bass Array cabinet designs, the Magellan series of bass amplification, the recent Nu Classic series bass cabs, and Acoustic Array combos.
While Andy remains at Mesa designing new Mesa specific products, with the blessings of management there, this new "gig" brings back the fun and collaboration of working closely with good ole friends and compadres. "When you've worked so long together in the trenches over a few decades, having this team back together just feels good all over again," Genzler states.
"Through the years, and through all of the crazy adventures of this music products industry, we remained close friends," reminisces Andy Field. While chatting one day, they realized right then, that they missed the unique collaboration that had fueled years of design passion and decided that this would be as a good a time as any to "get the band back together" for a "fun and creative" side project (or reunion tour) that was more than 30 years in the making.
The Genzler Amplification pedal line will be exploring a variety of pedal concepts based on decades of collaboration together, looking back into hundreds of pages of their old design ideas, and to explore interesting circuits that were started but never used, blending them with new innovations. A retrospective of sorts, this is a chance to dig into their collective pasts to develop what they feel players would use and appreciate, going forward.
The first pedal in the line is the 4 ON THE FLOOR, CLASSIC BASS OVERDRIVE, offering 4 separate "gears" of variable analog overdrive textures and harmonic content along with a clean blend feature. HPF and LPF controls are included to shape the overdrive engine's signal path. This pedal offers touch sensitive asymmetrical and symmetrical overdrive characteristics, variations of compression and overdrive complexity, along with a true bypass. The versatility allows this to be used as a clean boost, shifting through various overdrive gears to all out heavy, saturated drive. This pedal also offers another level of versatility as it accepts nearly any power supply; 9 – 18 Volts, either polarity.
DRIVE (GEAR) DESCRIPTIONS – This 4-position switch works like the 4 speed gearshift on the transmission of your favorite classic car, selecting one of four available drive algorithms.
1st GEAR: Reminiscent of a tube amp's clean channel (including natural harmonics) with a bit of overdriven tone when driven hard. Many players will find that this works well as an "always on" tone.
2nd GEAR: Emulates a tube amp's mildly overdriven tone, with a small amount of dynamically compliant clipping asymmetry. This is a natural feeling, touch sensitive algorithm with very mild compression.
3rd GEAR: A more aggressive up-shift from 2nd gear, this moderate, asymmetrical overdrive is less compliant, with greater compression for a tighter feel.
4th GEAR: This is the most aggressive gear of all -- a heavier, symmetrical, low compliance overdrive that can enter distortion territory when driven hard.
The 4-OTF-PEDAL will be an excellent compliment to the companies MAGELLAN 350 and MAGELLAN 800 Bass amps. The new pedal will start shipping late June, 2021, and USA MAP is $229.99 .
Genzler 4 on the Floor Demo
Genzler Amplification is looking forward (and backwards) to this new journey together and engaging with the player community on exciting new designs, while hoping the community appreciates these bonds of friendship and longevity that have joined up again to create exciting and enduring products. More to come, soon......