November '09 Media Preview
Solo Sessions: Chet Atkins; Canyon of Dreams: The Magic and the Music of Laurel Canyon; Travelin' Man: On the Road and Behind the Scenes With Bob Seger; Red Hot Chili Peppers: Me and My Friends; B.B. King: Live at Montreux 1993 Blu-ray; The Moody Blues: Live at the Isle of Wight Festival 1970
Books

Solo Sessions: Chet Atkins

Three things you need to know: Chet Atkins, solo guitar, and clean, readable transcriptions.
This book contains a simple, easy-to-digest collection of some of Chet's most popular solo guitar tunes, transcribed by John McClellan and Deyan Bratic, and interspersed with some charming drawings of Chet by BriAnn Wassman. The introduction is blessedly short and to the point; less chat, more Chet. Disc information is included for most of the songs, which means you can head to the Chet section of your CD collection to listen to the songs before leaping in and attempting to play them. The CD included also contains one piece of music, the "Courante" from Bach's French Suite No. 1 in C minor. Chet never released the recording, which makes this a world premiere. The playing is lovely, and the idea of Bach being played by Chet on electric guitar makes me chuckle.
Most of the tunes are traditional, either old folk tunes or classical pieces, with a couple of old standards thrown in for fun. What other player in history could get away with "Arkansas Traveler" and "Maleguenas" in the same collection? There are a couple of Joplin pieces (Scott, not Janis), and even a little Dvorák. You have to respect somebody that can take that much musical territory and put his own stamp on it. This book is a must for Chetophiles. Its a splendid way to show just what the original "Certified Guitar Player" was capable of with two hands and a gittar. —GDP
List $25
chetatkinssolosessions.com
Canyon of Dreams: The Magic and the Music of Laurel Canyon
This is a huge, heavy book that's loaded with photos relating to the musical history of a California nexuspoint where music thrived and the party didn't end for the better part of three decades. Laurel Canyon native Harvey Kubernik tells the story lovingly through his memories and interviews with still-living denizens of the Canyon's glory days. Unabashed about the whole sex, drugs and rock and roll theme, it manages to avoid becoming tawdry while acknowledging it as a fact of life.
It is an engaging and comprehensive tome, yet at times the stories cut off rather abruptly and you're left shifting gears before you're ready. The writing style is also a little rough, and at times the author uses devices that don't quite work. He usually gets the point across, but sometimes you have to read things over a couple times to get it. But being treated to such an intimate look at the workings of the patch of real estate that brought us the likes of Jackie Deshannon, Frank Zappa, The Monkees, Buffalo Springfield, CSN&Y, Joni Mitchell, Carole King, the LA Wrecking Crew, Jackson Browne, Sonny and Cher, Glen Campbell and the Doors (to name a tiny fraction), is a pleasure you don't have to feel guilty about. —GDP
List $30
sterlingpublishing.com
Travelin' Man: On the Road and Behind the Scenes With Bob Seger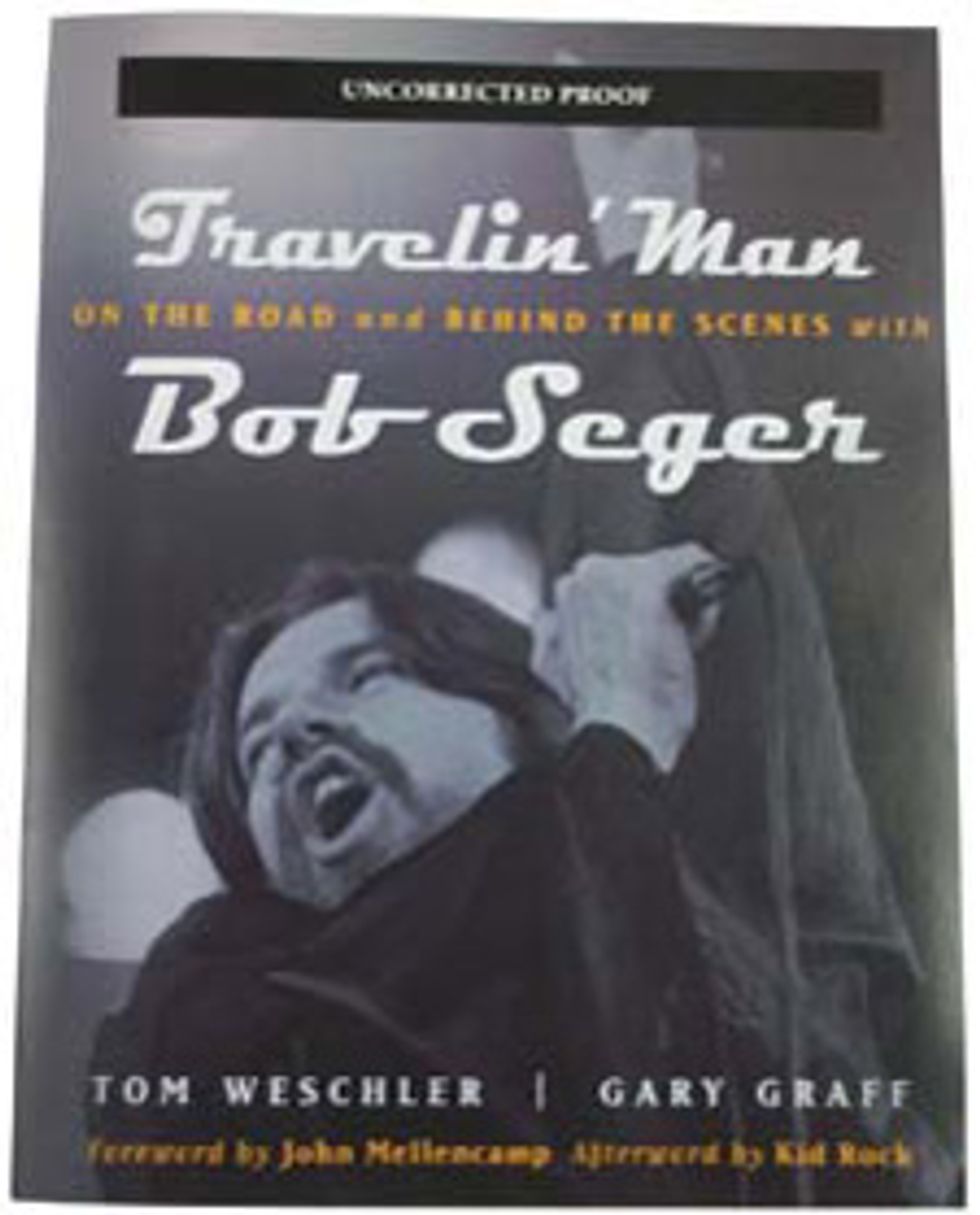 Bob Seger was all over the radio when I was growing up; he's the biggest rock star that was never in your face—but he was always in your ears.
Travelin' Man: On the Road and Behind the Scenes with Bob Seger
is a photo-rich tribute by photographer Tom Weschler and music journalist Gary Graff, who traveled and worked closely with Seger during the late '60s and through the '70s. It chronicles Seger's career from the very earliest babyfaced incarnation—The Bob Seger System— through what ultimately evolved into The Silver Bullet Band, including his brief time as a solo singer-songwriter, which Seger describes as, "like Simon and Garfunkel without Garfunkel." The story is told with many photos and few words; there are short little memories of moments and events, but not lengthy stories or gig-by-gig reflections. The captions are a bit sparse, and sometimes it's not too clear who the people in the photos are, but then you remind yourself that this is about Bob Seger in the '70s, and it all makes perfect sense. The booze, drugs and women stories are kept to a minimum, seemingly because that's the sort of stuff that "goes without saying," and as a result of that, Weschler and Graff end up telling a far more compelling story by allowing the reader to craft up their own descriptive captions.
The forward and afterward are written by John Mellencamp and Kid Rock respectively, and there's a very complete discography at the end. —GDP
List $27.95
wsupress.wayne.edu
Red Hot Chili Peppers: Me and My Friends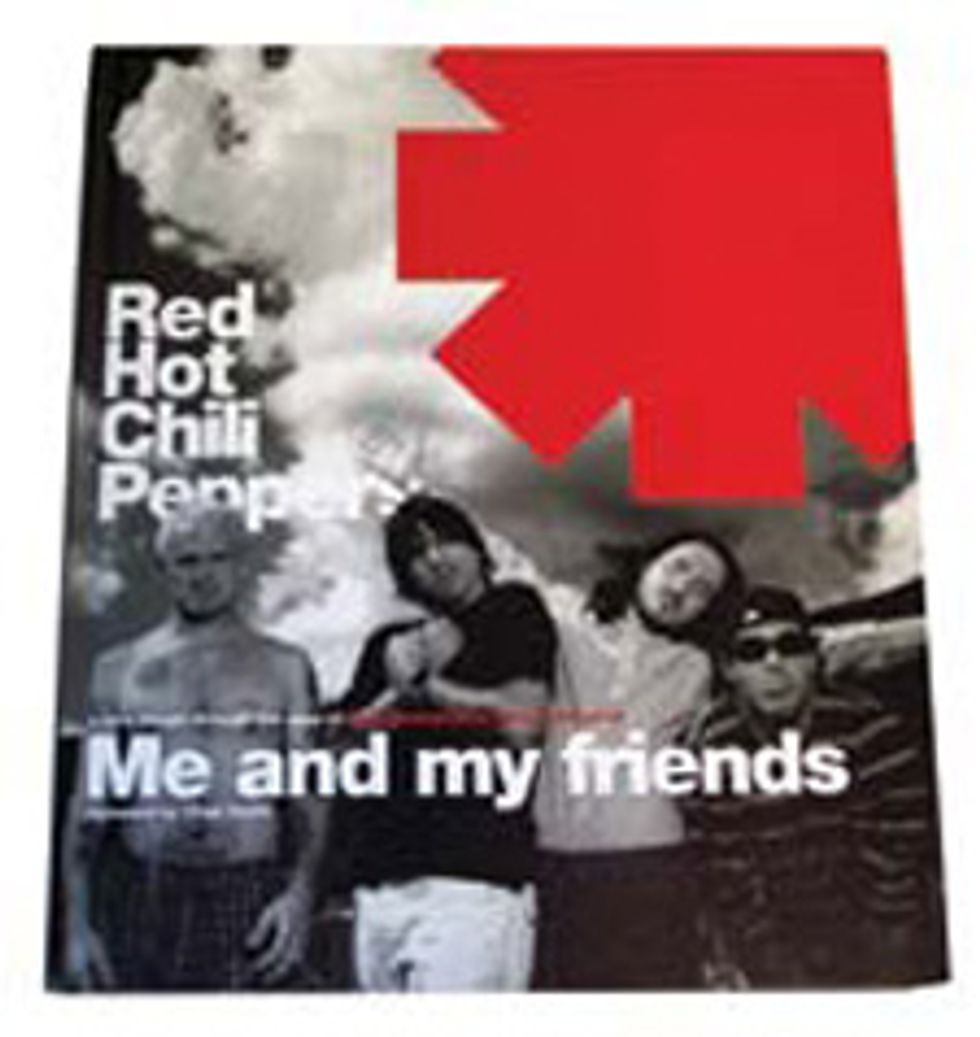 Every family has one. You know, that inconspicuous lens-snapper who never stops taking pictures even during the most obvious of inappropriate times. But with all these ill-timed and obnoxiously private photos, you're able to capture real people and real emotions. And that's just what rock photographer Tony Woolliscroft does in
Red Hot Chili Peppers: Me and My Friends
.
Woolliscroft has been documenting the band through his still lens all over the world for nearly 20 years, capturing them at their most vulnerable times. For instance, when the Peppers reunited with long-time guitarist John Frusciante in 1998, he shot the band in a pre-show huddle that was later used on the Californication sleeve. And of course, we can't forget the band's legendary get-ups, or lack thereof, which includes the tube sock incident at the Nassau Coliseum, flaming hats at Lollapalooza '92 and the light bulb outfits at muddy Woodstock '94.
The book is chronologically laid out with sections dedicated to the Peppers' albums— Mother's Milk through Stadium Arcadium— and the resulting tours. Mixed in between the collection of photos, Woolliscroft adds some personally intimate anecdotes that add another layer to the visually-driven book. Some of the stories weaved between photos include having to crash on the Peppers hotel floor, By the Way recording sessions with Rick Rubin and the record-breaking three consecutive sold-out shows at London's Hyde Park.
With over 300 photos on 225 pages, Me and My Friends provides a confidential look at a group of exuberant characters. With his nearobtrusive clearance inside the Peppers' lives, Woolliscroft tears down the rock star fantasy and exposes four friends who've been on a musical journey for over 20 years. —CK
List $24.95
abramsbooks.com
Videos
B.B. King: Live at Montreux 1993 Blu-ray

Anybody that's seen B.B. King in concert knows the man can play the blues. After all, the "King of the Blues" was practically born with a Gibson ES-345 in his hands. Add the fact that he's been performing live for the better part of the last 60 years and you get the makings of a timeless performer that knows how to work his way around a stage.
Unfortunately, working his way around a stage has become somewhat of a problem for the 84-year-old legend, as he now takes a seat for most of his performances. He still, however, maintains a rigorous touring schedule that rivals many of today's much younger musicians. And of course, he continues to deliver the same awe-inspiring blues guitar playing that made Englishmen the likes of Page, Clapton, Beck and Richards first pick up a guitar.
All of this makes us appreciate B.B. King Live at Montreux 1993 that much more. No one knows for sure how many times King has played the renowned Swiss festival, but suffice to say the number is more than 20. Fortunately, B.B. King Live at Montreux 1993 captures one of the best ever. His band revs it up like an old-time blues revue, warming up the crowd with three standards before the King—dazzling in his beautiful blue and pink paisley tuxedo jacket—takes the stage to a thunderous reception. His band is as tight as it gets, but the show is all King and his flawless, amazing guitar playing. From the stirring "Let The Good Times Roll" to the classic "Caledonia" to the incomparable "The Thrill is Gone," King delivers a vibrant and eclectic mix of classic blues that only he can deliver.
So grab yourself a cold one, pop this into your Blu-ray player and watch the King do his thing. For this is certainly the teacher's finest hour. —GH
List $24.98
eaglerockent.com
The Moody Blues: Live at the Isle of Wight Festival 1970
Whether you're a fan of the rock fusion symphonic group that so proudly incorporated the flute or not, you have to acknowledge the role they played influencing musical styles by meshing rock and classical music in a way that has sold over 50 million albums worldwide. And in 1970, The Moody Blues were in the midst of a creative and commercial high point riding on the success of A Question of Balance.
This DVD features the renowned 1970 Moody Blues performance in front of more than a half million people at the Isle of Wight Festival, which was previously only available on CD. However, unlike the CD, the DVD only features 10 tracks from the set because some of the video footage has been lost. That said, the existing tracks include "Ride My See Saw," "Tuesday Afternoon" and the epic "Nights in White Satin." While the audio and video are raw—guitarist Justin Heyward admits this—they provide a true nostalgic representation of the historic festival, and the Moody's wide spectrum of tones can still be fully appreciated. Also, the band does delineate from some of the traditional recordings and song structures for improvisation, but they still crank out their hits note for note. It's a pleasant mix for avid and new fans alike.
After the concert, the DVD includes 20 minutes of contemporary interviews from four band members—excluding flautist/vocalist Ray Thomas—who fondly reflect on their Isle of Wight performance. The best part is when pianist and technical contributor Michael Pinder describes and walks through the mellotron featured all over Moody records and performances. All and all, this is a great offering that accurately captures an early incarnation of the Moodies at a pinnacle. —CK
List $14.98
eaglerockent.com