Quilter MicroPro 200 Full-Range 8" Amp Review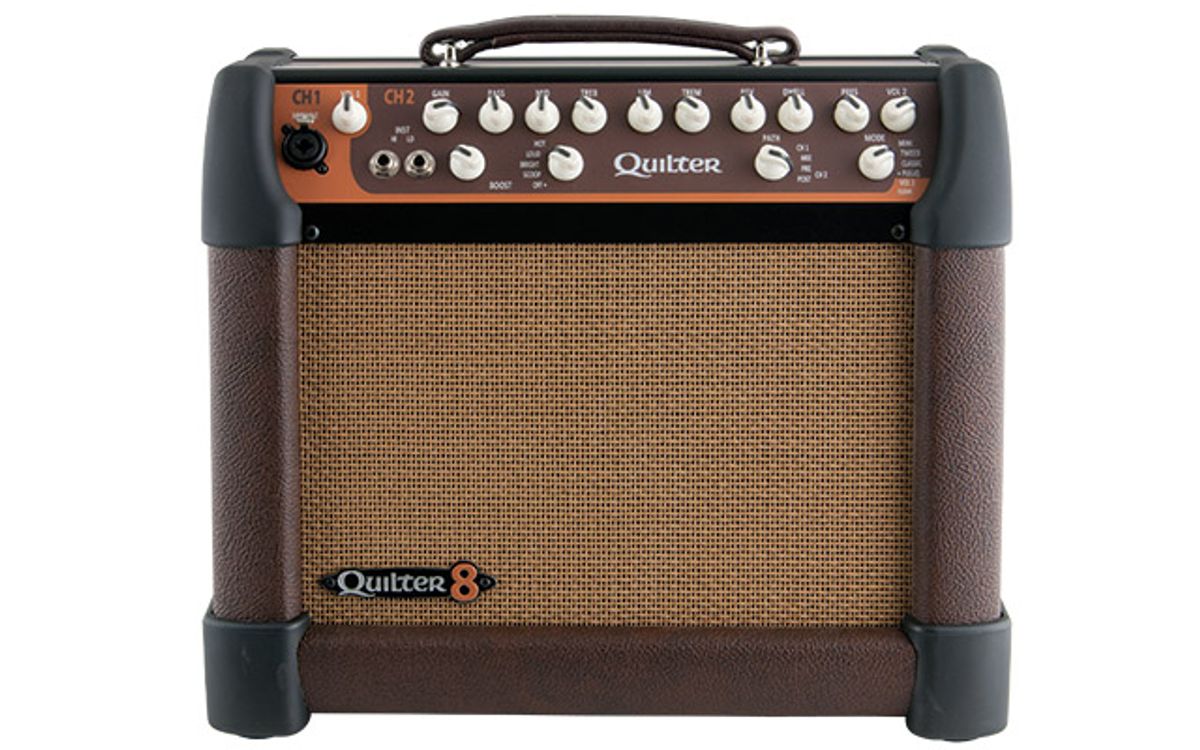 The founder of QSC turns his pro-audio expertise to crafting a stellar-sounding, portable solid-state amp.
After building his first amplifier in '67, Patrick Quilter would go on to spend years building QSC, the highly esteemed pro-audio company, before returning to his guitar roots. With his wealth of experience developing top-quality power amplifiers, Patrick launched Quilter Laboratories in early 2011 to apply his solid-state technical know-how and industrial-design sensibilities to guitar rigs with a vintage vibe. The first product of that effort, the 2-channel MicroPro200, is a compact, feather-light amp with an impressive array of voices and considerable live and studio flexibility. Here, we take a look at the Full-Range 8" version (it's also available in 10" and 12" combos, and there's a 1x12 extension cab option, too).
Whole Lotta Knobs
Under the homey wood aesthetics, the Full-Range 8" is a little monster with 200-watts of solid-state power pushing a single 8" Celestion speaker. The mode selector acts as a sort of colored lens to change the amp's overall character. FullQ is the signature full-frequency Quilter tone, classic dials in a '60s flavor with a glassy top end, tweed shoots for '50s Fender flavors, and mini aims for the feel of a lo-fi practice amp. Vol 1 mode is essentially a clean channel that disables the gain parameter that gives the other modes their crunch.
Aside from the bass, mid, treble, and presence controls, the MicroPro 200 also features boost, tremolo, limiter, and reverb effects. Limiter is used to shape the overdrive function and compresses the output as it's turned clockwise. The tremolo depth is fixed but the effect has a strong presence, and the tremolo knob can be used to control the rate. However, with the reverb function you can change the intensity (rev) and decay (dwell). The path selector applies reverb to channel 1, channels 1 and 2 (post overdrive), or allows you to designate reverb to the pre or post gain stage of channel 2. The boost function has a similarly large range of control, sweeping from 3–15 dB of gain. The associated selector provides four types of boost effects, ranging from a midrange scoop to high-end spike, overall volume increase, or a hot overdrive.
The Full-Range 8" ships with a 2-button footswitch that can be set to change the mode, boost, limiter, tremolo, reverb, or effects loop. A 6-button footswitch is also available to give you more immediate access to all of the effects. The switch plugs into the back of the Quilter using a provided Cat5 cable (the same type used for Ethernet computer connections). Overall, the MP200 seems fairly durable, although the plastic corner brackets seem likely candidates for serious surface wear on the road.
… with this rig, you could forego monitors in most mid-sized gigging situations—which is pretty impressive for such a diminutive amp setup.

Warm Tones in Solid State
When an amplifier has this many controls, you really need to get a good tone at ground level before adding bells and whistles. That's not to say that the MP200-8 is complicated, but taking the time to dial in a solid foundational tone pays off big time. A Telecaster on the clean (Vol 1) channel was perfect for toying with the effects. I wanted a touch of reverb to pull in some '60s garage flavors, but engaging the switch first found me awash in shoegazing digital verb, so I drew back the dwell knob and found the desired blues yelp with rev dialed to 10 o'clock. It's an effect with a lot of range, and keeping dwell in the lower regions gives you a more conventional 'verb, while pushing it yields a very long and rich echoing tail.
The tremolo is a bit limited, because you can't adjust the intensity. That being said, it does have a nice-sounding wave that will be useful to players who like their tremolo up front and with a heaping dose of reverb.
Engaging the FullQ voicing opens up a huge dynamic range—from chunky low end that's surprising for an 8" speaker to a bright top. Classic mode is very similar, although it seems to trim a bit of the bass response and girth. Either mode is a great contender for classic rock, however, and both are especially well suited to gliding, Tele-powered funk riffs of the sort you might hear responding to a sweaty James Brown howl. A humbucker-equipped Les Paul needed a bit more tweaking to get a crisp, articulate tone at lower volume levels. Kicking up the volume helped clear the hurdle, adding genuine sustain and warmth to the tone. The best humbucker tones were brewed well beyond bedroom volumes, though. To keep things on the quieter side and yet still hefty sounding, you'll probably want to place an overdrive pedal before the Quilter.
Ratings
Pros:
Wide variety of warm, useable tones. Lots of features and control without sacrificing simplicity.
Cons:
Some features are a bit limited. Humbucker tones not as pleasing at low volumes. Somewhat pricey for a solid-state rig.
Tones:


Playability/Ease of Use:


Build/Design:


Value:


Street:
$899
Quilter Labs
quilterlabs.com
I got great use out of the scoop and loud function in the boost department, but the hot setting tended to sound fizzy at higher boost levels. This isn't such a big problem if you have the Quilter cranked, but at times it seemed to drop the volume a touch, so it's not exactly perfect for a lead boost.
When I tried the Quilter with the optional 1x12 extension cab, it gave the MP200 a cool mini-stack stature and enabled easier adjustment while standing. It also yielded a little more low end and impressive volume. In fact, with this rig, you could forego monitors in most mid-sized gigging situations—which is pretty impressive for such a diminutive amp setup.
The Verdict
While some of the Quilter MicroPro 200 Full-Range 8" features lack some dynamics (mostly for simplicity's sake), the MP200 is a really superb-sounding solid-state amp. Patrick Quilter definitely knows how to achieve convincing tube saturation with a solid-state circuit, and folks who are tired of caring for (and lugging around) vintage combos may find a great-sounding, practical, workable solution with the MP200-8. Single-coils have a better plug-and-play adaptability at all volume levels, although humbuckers will certainly be fine with a little tweaking and at stage volumes.
The $899 price tag is a bit steep, given that a couple hundred more bucks could get you a remarkable-sounding small vintage or vintage-reissue amp, albeit with fewer features. Considering how few real limitations the Quilter has—particularly given the quality of tones and light weight—it's an amp of great practical worth that could improve a lot of gigging guitarists' lives.