Can you add separate bass and treble controls to a Marshall-style amp channel with a single tone pot?

Photo 1
Hey Jeff,
I recently purchased a handwired clone of a Marshall 2061 JMP and I love it. But is there any way to add a bass control or maybe a bass-boost switch? I want the bottom end without losing clarity. The amp currently has high and low inputs for both the lead and rhythm channels. The head was a kit designed by Soultone Amps.
Thanks,
Bobby
Okay, Ask Amp Man readers, it turns out Bobby is local to me. Because I thought this might be a cool project, I had him drop off the amp. It has two channels, lead and bass, each with a single volume and tone control. We discussed what Bobby wanted, and it turned out that the single tone control on each channel weren't cutting it for him—he needed more control over both the treble and bass. He already bridges the channels with a jumper (we used to call this "double jacking").
I decided the best action would be to retain an individual volume control for each channel, and then install global bass and treble controls for overall tone shaping. Here's a description of that mod, along with a couple of additional changes to enhance the amp's performance.

Photo 2
First, I removed the original control set from the amp (Photo 1), leaving it connected as an assembly (Photo 2). This makes it easy for any future owner to return the amp to its stock configuration.
Next, I installed new volume pots in the front panel, placing them between the two sets of input jacks, each next to its respective channel. The other two locations can now become individual treble and bass controls.
Wiring up the volume controls is simple: The CW leg connects to the output capacitor for the individual channel outputs of the first preamp tube. The CCW leg goes to ground, and the wiper connects to the respective 470k mixing resistor.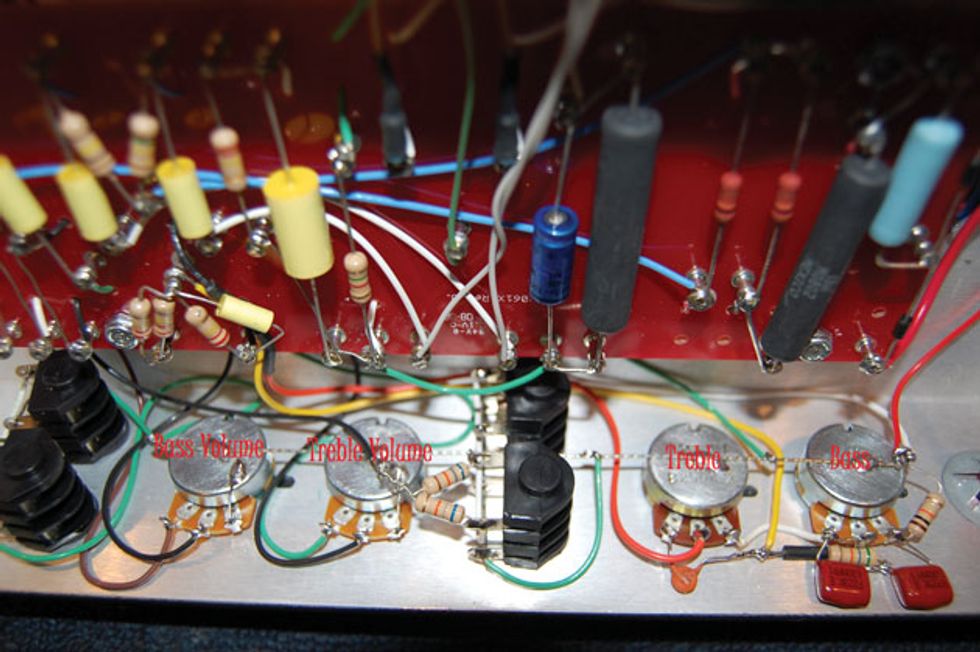 Photo 3
Now for the tone controls: I didn't want to add to the existing circuit board, so I simply built the tone stack by attaching the components directly to the controls (Photo 3). This, by the way, is the true definition of "point-to-point" wiring. I chose the tone stack values traditionally found in older Marshall amps: a 470 (or 500) pF treble capacitor, 0.022 ?F midrange and bass capacitors, and a 56k dividing (slope) resistor. The input to the tone stack comes from the junction of the two 470k channel mixing resistors. (The one for the lead channel has a bright cap in parallel). I disconnected the original 220k grounding resistor from this point, since it's no longer needed, thanks to the new tone stack.
The tone stack's output (the treble pot's wiper) is connected to the input (grid) of the phase inverter. Since there's no midrange control, I chose a value of 10k to approximate a mid-position control setting. This value could be anywhere between zero ohms (jumper) and 25k—or even higher, depending on your personal midrange preference.

Photo 4
That completed the new control set, but I wanted to make a couple of other changes as well. This particular amp design uses only two preamp tubes. One is dedicated to the phase inverter, so there really isn't much gain in the preamp stage. Most of the amp's drive characteristics are generated by pushing the output stage into distortion—which is great, since it's a 20-watt amp with two EL84 output tubes. Since we added a traditional tone stack to the circuit, putting additional load on the signal path, I compensated by increasing the gain in the phase inverter.

Photo 5
I did this by decreasing the value of the cathode resistor of the phase inverter tube. The original value was 8.2k, but I lowered this to a 2.7k (Photo 4), noticeably increasing the gain. The other change I incorporated was to parallel the bass channel's 220k mixing resistor with another 220k resistor to better match the level of the channels. (Photo 5). (I simply repurposed the disconnected grounding resistor.)
There you have it: a cool Marshall-style 2061 amp with full tone control. Now it's a more versatile low-power gem. Enjoy!
Warning: All tube amplifiers contain lethal voltages. The most dangerous voltages are stored in electrolytic capacitors, even after the amp has been unplugged from the wall. Before you touch anything inside the amp chassis, it's imperative that these capacitors are discharged. If you are unsure of this procedure, consult your local amp tech.
Looking for more great gear for the guitar player in your life (yourself included!)? Check out this year's Holiday Gear Finds!
Created in collaboration with legendary guitarist George Lynch of Dokken and Lynch Mob fame, the Mr.Scary Mod adds an adjustable tube gain stage and an onboard Deep control, which together are designed to enable an amp to have increased sustain while still retaining note definition and dynamics.
LegendaryTones, LLC today announced production availability of its new Mr. Scary Mod, a 100% pure tube module designed to instantly and easily expand the capabilities of many classic amplifiers with additional gain and tone shaping. Created in collaboration with legendary guitarist George Lynch of Dokken and Lynch Mob fame, the Mr.Scary Mod adds an adjustable tube gain stage and an onboard Deep control, which together are designed to enable an amp to have increased sustain while still retaining note definition and dynamics.
Originally released as the Lynch Mod in February 2021, the updated Mr. Scary Mod features the same core circuit as the Lynch Mod but is now equipped with a revised tube mix combo per George's preference as well as a facelift in a newly redesigned electro-galvanized steel enclosure. As with the Lynch Mod, each run will be limited and the first run in Pumpkin Orange with Black hardware is limited to just 150 pieces worldwide.
​The Mr. Scary Mod adds an adjustable tube gain stage on top of the cathode follower position, keeping note definition and articulation while further increasing sustain. Each Mr. Scary mod is meticulously built by hand in the USA, one at a time, and tuned using high-grade components. Equipped with a single ECC81 (12AT7) in the first position and ECC83 (12AX7) in the second, the Mr. Scary Mod can clean up beautifully when rolling down your guitar's volume, and still adds scorching gain when you roll it back up. This is a gain stage that's been tuned and approved by the ears of the maestro George Lynch himself.
"The Mr. Scary Mod excels with dynamics and is incredibly touch-responsive, allowing me to shift from playing clear, lightly compressed cleans to full-out aggressive sustain and distortion –and control it all simply by varying my guitar's volume control and picking," said GeorgeLynch. "In many ways, it's an old-school approach, but it's also so much more natural and expressive in addition to being musically fulfilling when you can play both the guitar and amp dynamically together this way."
The Mr. Scary Mod installs in minutes, is safe and effective to use, and requires no special tools or re-biasing of the amplifier. Simply insert the module into the cathode follower preamp position of compatible amplifiers (includes Marshall 2203/2204/1959/1987 circuits) and

immediately get the benefit of enjoying a hot-rodded amp that delivers all the pure harmonic character that comes with an added pure tube gain stage. The handmade in the USA Mr. Scary Mod is now available to order for $319.
For more information, please visit legendarytones.com.
October Audio has miniaturized their NVMBR Gain pedal to create two mini versions of this beautifully organic-sounding circuit – including an always-on gain device.
The NVMBR Gain is a nonlinear amp that transitions gracefully from clean boost to overdriven tones. Volume increases from just over unity to about 10db before soft-clipping drive appears for another 5db of boost. Its extraordinary ease of use is matched by outstanding versatility: you can use it as a clean boost, push a stubborn amp into overdrive or create a just-breaking-up sound at any amp volume.

October Audio's new family of mini NVMBR Gain pedals includes a switchable version that allows you to bypass the effect: one option features brand logo pedal graphics, while the other sports a fun "Witch Finger" graphic with a Davies knob as the"fingernail".
The second version in the new lineup is an always-on device featuring the Witch Finger graphic and Davies knob, with the same NVMBR Gain circuit that lies at the core of the switchable version.
Features:
Knob controls gain and clipping simultaneously
Stunning silver hammertone finish
Switchable versions are true-bypass, available with classic or witch finger graphics
Authentic Davies knobs, including the "fingernail"
9V center negative power supply required
Dimensions: 3.63 x 1.50 x 1.88 in​
Witch Finger (always on NVMBR Gain) demo
​All October Audio pedals are assembled in Richmond, VA, and available for purchase directly through the online shop. Street price is $109 for NVMBR Gain footswitch versions and $89 for the always-on device.
For more information, please visit octoberaudio.com.