The PG Dawner Prince Pulse review.
Deep, thick, luxurious rotary simulations—particularly in stereo. Super intuitive and easy to use.
Side mounted output gain pots are useful but awkward to access.
5
4.5
5
4.5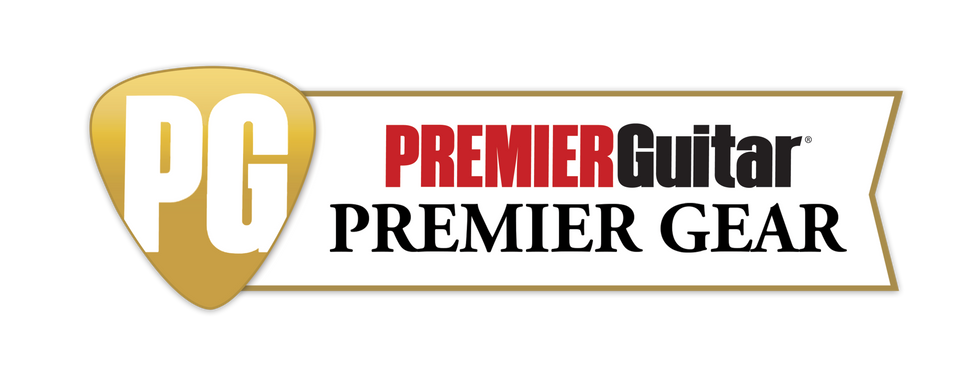 When you think about David Gilmour's guitar sounds, you tend to think of big Hiwatts, creamy Big Muff or blazing Fuzz Face tones, and Echorec delays bouncing infinitely off the columns of Roman amphitheaters.
---
But modulation has always been an equally foundational part of Gilmour's outsized sound picture. And while he's probably most famously associated with the Electro-Harmonix Electric Mistress when it comes to signal wobbling, he has embraced rotary speakers regularly since 1969. For much of his career, Gilmour used Leslie 147s or Yamaha RA-200s in this role. But at some point, he started to work with the Maestro Rover—an unusual stand-mounted rotating speaker that his technicians would use as inspiration for his more powerful, custom Doppola units. By the mid '90s—a period that looms large for Gilmour tone hounds of a certain breed—the Maestro and Doppolas were elemental parts of his sound.
If the name wasn't hint enough, Dawner Prince's Pulse pays homage to this sound in a loving and well-executed way. But even if you aren't out to replicate Gilmour modulation textures from The Division Bell and Pulse, this Croatian company's exceptional rotary simulator is a fine way to introduce the immersive, extra-liquid textures of a rotary speaker to your signal chain without hauling a cumbersome antique and its own team of mechanical medics.

Surprising Simplicity
With five staggered knobs, two footswitches, stereo outs and an expression input, the Pulse looks more complex than it is. In reality, it's very intuitive to use. And even superficially esoteric controls like the distance knob (which shifts the proximity of the virtual "mic" picking up the rotary speaker signal) and the inertia knob (which regulates the rate of the virtual speaker's acceleration or deceleration) have a very organic, natural feel and are simple to add and modify to taste. The more straightforward controls are satisfying to use, too. The slow and fast speed controls have great range (the modulation rate spans .4 to 8 virtual speaker rotations per second). You can toggle between fast and slow rates using the fast-slow footswitch and you don't have to worry about "progamming" a fast or slow preset—the switch simply ramps up or down (at a rate prescribed by the inertia control) between whatever speeds you've set on the respective knobs.
Dawner Prince also accounted for the possibility of perceived volume loss at some of the most intense modulation levels by mounting small gain pots adjacent to each output jack. You need a small flathead screwdriver to adjust them. Obviously, top-mounted knobs would be user friendly, but I was generally pleased with the output level at maximum modulation intensity. And on the whole, I'd venture that Dawner Prince made a smart compromise between cluttering the main control panel and concealing these pots inside the enclosure.
Worlds of Whirl
If you had to briefly characterize what sets the Pulse apart from lesser rotary simulators, it would be the deep and real sense of motion that pedal communicates. This quality is especially apparent if you take time to set it up for stereo output, which I did through two amplifiers as well as a DAW.
The Pulse's output very effectively replicates the complex interactions between fundamentals and overtones that occur when moving air and speakers are added to a tone equation.
These highly kinetic qualities don't just come from bouncy stereo pictures, however. Even in mono, the Pulse's output very effectively replicates the complex interactions between fundamentals and overtones that occur when moving air and speakers are added to a tone equation. At the right settings, you can almost see and feel the rise, dissipation, and passing of sound as bodies and particles (entirely without pharmaceutical assistance, I might add). It's a very visceral way to experience a guitar sound, and it comes pretty close to the thrill of parking your head right by a rotary speaker in motion.
The harmonic complexities and kinetic sensations generated by the Pulse are best enjoyed, at least to my ear, at slower settings where it's easier to perceive the bloom of these sounds. And even though the Pulse's fast modulation settings generate very rich, throbbing pulses, I preferred to keep my fastest modulation sounds on the slower side so I could bask in the dimensionality of the sound picture.
The Pulse also excels at walking the fine line between the practical and the ridiculous. Even the most modulation-heavy mix settings are never overbearing. And while you can generate relatively extreme metallic high-mid peaks in the modulation by bringing the virtual mic proximity in close and cranking the mix, these sounds still have a full-spectrum richness and help the Pulse achieve some of the funkier sounds you hear from Leslies and Fender Vibratones.
The very-well-made Pulse is also super quiet, by the way. I wouldn't hesitate to try it on other instruments or vocals in a mix situation.
The Verdict
If you're chasing realistic rotary speaker tones in a stompbox, the Pulse will likely pay back the extra money you'll spend. The sense of real mechanical motion and dimensionality is perceptibly stronger than a lot of digital rotary simulations I've played. And while the Doppola/Rover-based tone emphasis does give the Pulse a unique voice, it rivals the best high-end Leslie emulators I've encountered in terms of realism and atmosphere.
Rhett and Zach unpack the big news for secondhand guitar sellers and buyers: Sweetwater has launched their new Gear Exchange. How does it compare to Reverb, Craigslist, and Marketplace? To find out, Zach takes the site for a spin and buys a pedal. He calls the process both "very easy" and "normal." They discuss the pros and cons of the various used-gear outlets and share tips for not getting got when buying gear. Plus, Zach grew a mustache, Mythos Pedals is moving, and he talks about his forthcoming line of Strat pickups inspired by Hendrix's reverse-stagger setup.
Sweetwater vs. Reverb

The Royale was designed to deliver loud and vivid clean tone with a responsive, tactile low end.
Designed to offer massive headroom, the 50-watt Royale Head lets you indulge in smooth clean tones at even higher volumes on stage without any breakup. Select between class A and class AB modes, with its variable mode switch, so you can choose between gushing Supro tone or a punchier, tight midrange response.⁠

Introducing the Royale Head & Extension Cabinet | Supro
The Royale 1x12 Extension Cabinet features the custom Supro BD12 high-power driver, offering the same mid-range punch and clean articulation as the Royale combo but with additional stage volume. ⁠More info: suprousa.com.
Royale Head | $1,499⁠.99⁠
Royale Cab | $669.99
D'Addario Foundation's education project sets out to help schools throughout the country and kicks off with an online auction.
​The D'Addario Foundation will host a virtual auction from November 9 to November 30, 2022, with the overarching goal of raising $30,000 for the D'Addario Foundation's Immersive Music Challenge.
​Inspired by a new study published in the Journal of Youth Development, the D'Addario Foundation recently launched the Immersive Music Challenge. This ambitious project will help school districts and charter systems throughout the country boost academic achievement by implementing effective, multi-day-per-week music-based mentoring programs that include training, administration, and evaluation. The D'Addario Foundation has invested in an incredible team of consultants that include school superintendents, public health experts, and data analysts to ensure sound results. In addition, D'Addario is actively seeking corporate partners to support the establishment of these programs and champion their success.
Thanks to the generosity of D'Addario artists and industry partners including Gibson, PRS Guitars, D'Angelico, Taylor Guitars, and more, one-of-a-kind items & experiences are up for bidding. Some of the items include:
Evans Drumhead signed by Anderson Paak
ESP Mirage Deluxe '87 Signed by Bruce Kulick of KISS and Grand Funk Railroad
Gibson Les Paul Custom electric guitar
D'Addario bass string set signed by Bryan Beller of the Aristocrats
PRS S2 McCarty 594 Singlecut
Virtual Lesson with Marty Schwartz
To celebrate its 20th anniversary, Xotic Effects unveils an updated version of their classic boost pedal.
Xotic's RC Booster pedal is back to celebrate its 20th anniversary. The RC Booster's original design was a customer favorite due to its versatile clean boost, active treble, bass, gain and volume controls. This classic reissue will join their regular pedal lineup permanently.
Features
• Transparent boost pedal for electric guitar
• Up to 20dB of boost for adding volume or sending your amp into overdrive
• Treble and bass EQ controls with +/-15dB range for fine-tuning your sound
• True bypass switching removes the effect from your signal path when disengaged
• Powered via 9-volt battery or optional AC adapter (sold separately)
• 9-18 volts
The first 1000 pedals will contain a special limited edition packaging with special items and actual guitar picks from Andy Timmons, Paul Jackson Jr, Dean Brown, Kirk Fletcher, Allen Hinds, Chris Duarte, Scott Henderson, Oz Noy, Michael Thompson, Yuya Komoguchi, Toshi Yanagi.
RC Booster with limited edition packaging street price is $172.00. More info: xotic.us.