Electro-Harmonix Slap-Back Review
A sweet drive section and rowdy repeat tones make this resurrected delay much more than a rockabilly machine.
A cool source of many rich short-delay-time tones. Great drive section. Fantastic price.
5
4.5
5
5
In a complex world, thinking less, particularly where music creation is concerned, is a joy. The Electro-Harmonix Slap-Back delay is a particularly delightful way to pursue that bliss. The new, smaller Slap-Back is a new take on an EHX pedal that went largely unnoticed in its original late-'70s incarnation. It's easy to understand why the first iteration didn't set the world on fire. Great bucket-brigade analog delays were everywhere at the time—not least EHX's own superb Memory Man. And each offered more expansive echo textures. Yet, as this reissue demonstrates, the Slap-Back is capable of much more than greasy rockabilly tones.
---
For starters, the Slap-Back features a very cool drive section, quite like the one that makes the Memory Man so extraordinary. It's a lovely source of low-gain drive that doesn't add too much coloration. But with 20 dB of available boost, it can significantly enliven an otherwise thin amplifier tone. The drive is made more useful for the delay blend knob, which enables you to remove the echo entirely and use the Slap-Back as a preamp (Echoplex devotees take note). As for the delay itself, it's beautiful stuff. Instead of a continuously variable delay-time knob, there are three presets. The shortest delay time, 45 ms, is a bit longer than Beatles-style ADT, but delivers much of the same super-fast, mirror-image animation. And 65 ms lends cool, mysterious menace to lead tones—particularly when fuzz and an ample dose of the Slap-Back's gain enters the mix. The 100 ms setting, meanwhile, will delight any Sun Studios tone chaser.
Electro-Harmonix Slap-Back Echo Demo | First Look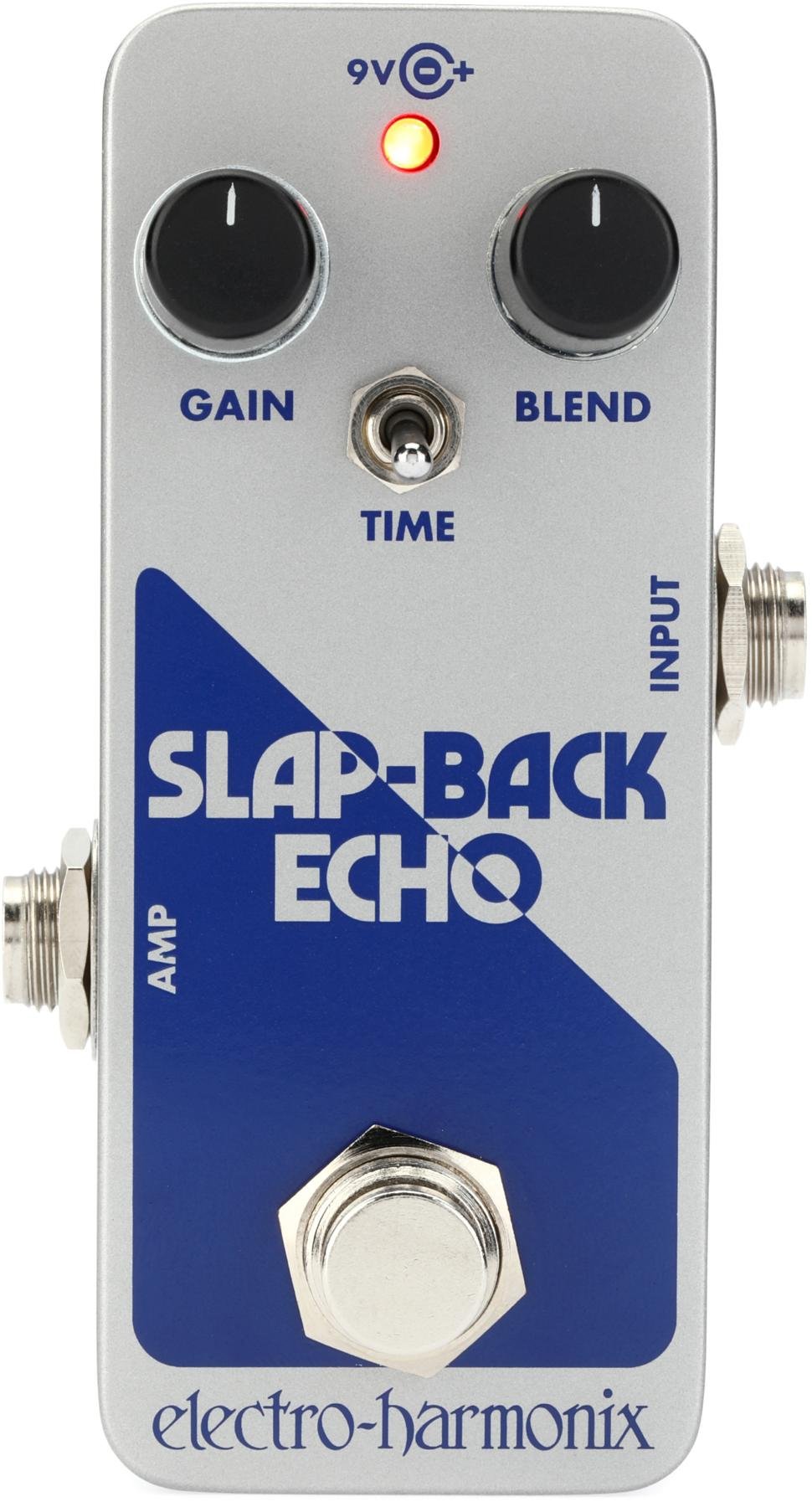 Electro-Harmonix