How to Use the iPad Like a Pro Guitarist
A guitarist and musical director explains how the iPad has become a central hub for surviving in the studio, in rehearsals, and on the road.
Jim's studio, anchored by the iPad
Everyone knows the iPad is changing the face of media and music. To date the iPad has sold 25 million units, paid $2.5 billion to software developers for apps, and sold 130 million iBooks— according to Apple's latest announcements made from the World Wide Developers Conference in San Francisco on June 6, 2011.
Let's not forget the iPad's importance—and usefulness—for professional musicians. For many, it's like the reinvention of the wheel. The iPad has revolutionized how musicians—myself included—approach practice, rehearsal, recording, and live shows.
The Musical Director
As a professional musical director, producer, and musician, my days are hectic. An average morning for me includes running through a rehearsal with Avril Lavigne at 11 a.m., then running across Los Angeles to a studio session with Weezer in the late afternoon. Because I am always hustling to fit every ounce of rock in, I always have to make sure I have my keys, shades, phone—and now, my iPad.
In preparation for Avril Lavigne's latest world tour supporting
Goodbye Lullaby
, I used the iPad extensively in rehearsals. As Avril's musical director, it is important for me to have all of her music at my fingertips—and easily accessible—so I load every one of her new and old tracks onto the built-in iPod. I also use Notes to jot down thoughts or ideas, and I import or create lyrics with the Pages app. The iPad is always on a stand next to my pedalboard—far easier than walking over to a computer all the time.
The iPad can also be a lifesaver when working out new material in rehearsals. As musical director for Weezer, we were working on a cover version of Radiohead's "Paranoid Android." I brought the iPad to the studio to access the Radiohead recording, as well as several live versions I pulled up on YouTube. With five guys set up in normal playing positions, I bring the iPad around to each of them and play them a riff from iTunes, or show them a YouTube clip without anyone having to get up and walk around to me.
The iPad is popping up in other high profile, real-world applications as well. Paul Mirkovich, musical director for Pink, Cher, Christina Aguilera, and Janet Jackson, uses the iPad in rehearsals and live onstage for the new hit CBS show
The Voice
.
"I use the iPad extensively on
The Voice
during rehearsals. I use the GoodReader app to read all the PDF charts I have for the show, which is almost 160 songs at this point," said Mirkovich. "I also use it for personal playback, and looking up live versions of the songs we do on YouTube. The iPad is an indispensable piece of gear and is always on the stand with me."
The Guitarist
Of course, there are multitudes of applications for guitarists not in charge of major productions as well. There is a wealth of guitar-specific apps [as covered previously in
Premier Guitar
's
"The Guitarist's Guide to iPad Apps"
] that simplify and enhance life as a guitarist. They let you record, stay in tune, learn, and capture ideas. And some push you to approach the instrument in a whole new way.
Ryan James Cheung, a musician from Winnipeg, said "As a guitarist and bassist, the most interesting aspect of using something like the virtual guitars in GarageBand is that you play the onscreen guitar more like a piano than a guitar. What I like about this is that it breaks the conventional techniques we guitarists usually employ on the guitar, once we transfer what we have written on the iPad, to an actual guitar."
Among guitar-specific apps, I find that AmpliTube iRig is essential. It allows you to plug in and play your guitar through choices of amps, cabs, speakers, and effects. The sound quality is superb and the app itself is instantly inspiring. For tuning, TuneORama is one of the most accurate stand-alone tuners available. It has guitar and chromatic tuner mode, which is perfect for tuning instruments like mandolin and violin (and is a great value at $2.99). For capturing ideas on the fly, BPM is a great app for taping out a tempo. The built-in Voice Memos Recorder is indispensable for getting an idea down quickly, before it falls into the abyss of "Man, what was that awesome lick I came up with the other day?"
The Road Dog
Though there are thousands of music-specific apps, some of the more general apps can be a lifesaver for touring musicians. I probably use Facetime more than any other app. You can video call anyone who has an iPhone, iPad, or any Apple computer with a camera over WiFi. The quality is dependent on your WiFi connection, but in most cases, it has worked flawlessly for me. Recently, I had a video chat from Cologne, Germany with a friend who was driving on the freeway up the East Coast in the US. With long distance phone charges at a premium, Facetime saves me a ton of cash. Psychologically, it's a great feeling to be able to see the people I love anytime I want—without worrying about coming home to a massive phone bill.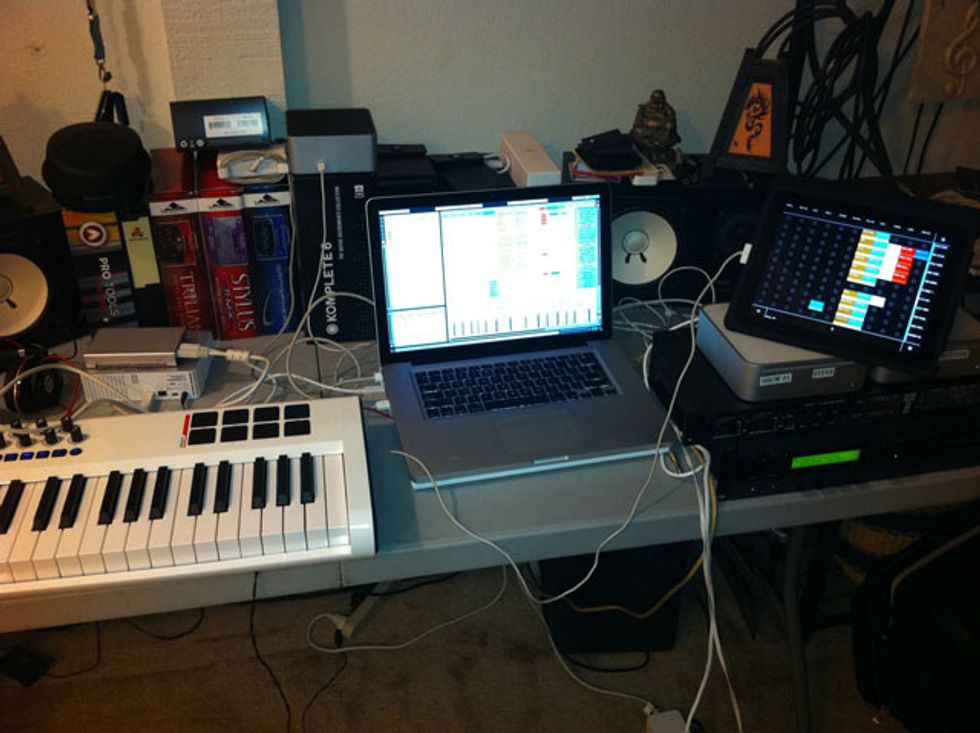 Steve Ferlazzo's system that uses the iPad to control keyboard programs
Another reality of touring today is the importance of staying up-to-date with social media—it's crucial for musicians because you need to get people to the shows. Guitarists and bands can use Twitter, Facebook, and Ustream on the iPad to promote upcoming events on the road, without needing to stop by a coffee shop or hotel to jump onto WiFi. When you get into a heated debate with bandmates in the back of the bus or van about who played the solo on Steely Dan's "My Old School," the iPad has the answer in seconds. It's the little things that count on the road.
The iPad helps touring musicians in other ways too. FlightTrack Pro is perfect for managing flights for gigs with to-the-minute information on delays, gates, and flight duration. And the SeatGuru app provides valuable info for securing the primo seats on any type of aircraft.
The Producer or Studio Musician
The iPad also creates an innovative way to collaborate with other musicians who may not be living near you, and to make life in the studio easier.
As a producer, I have used Facetime for writing and pre-production sessions with clients remotely. I am based in LA, and have worked with people virtually through Facetime in Connecticut, New Jersey, Florida, and even Canada. When I am on the road, I can communicate with my engineer back at my LA studio by sending mixes, files, and notes through Dropbox or emails. Producer Matt Chirichillo says, "To me, the iPad is a form of inspiration on the go. I use it to construct loops and put grooves together. It's like having a travel size sequencer at your fingertips."
DJ and producer Tom Colontonio uses the iPad to "scratch pad ideas." Colontonio uses Studio Pro for full WAV file editing, and he stresses the fact that "The iPad rules," for DJs in the digital realm.
In addition, musicians are using the iPad to replace sheet music. The BT-105 Bluetooth wireless page turner from AirTurn allows you to control the turning of pages wirelessly from a foot switch. It's especially useful for guitarists who need to keep both hands on their instrument while using apps for reading sheet music and guitar tabs. Classical musicians who use sheet music live can use the iPad to play entire symphonies and operas without ever having to turn a page. Instead of breaking rhythm, they can fluidly play through a piece of music simply by tapping the switch with their foot.
Live Onstage
Finally, in addition to use during preparation for shows, many musicians are using the iPad while playing live. Steve Ferlazzo, the keyboardist and programmer for Avril Lavigne, uses the iPad as a VNC controller/front-end for the computers. It eliminates the need for a separate screen, keyboard, and mouse for him. Ferlazzo uses a custom app called GriidRed by Liine, which enables the iPad to control and manipulate clips and data in Ableton Live. The units are synched via WiFi on a private network. "The iPad allows me to focus more on performance, as opposed to computer-related tasks. It's a seamless process," says Ferlazzo. "It's all right in front of me at my fingertips. After using the iPad in a live setting where computers are a requirement, it's hard to imagine it not being a permanent piece in my workflow."
The iPad was released in 2009 to massive success. Though it seemed to have amazing possibilities for music, no one really knew how the iPad would be used in every day musical applications. In 2011, the iPad has not only become a mainstay in studios and on stages all over the world, it is an indispensable tool that musicians can't live without.