A pop idol's signature edition shines a light on an underrated and intriguing Martin body style.
Easy playability. Great harmonic balance between high and low strings. High-quality build. Crafted from sustainable woods.
Electronics don't entirely capture guitar's balance.
4
5
4.5
4
There's not a lot of reason for Martin to mess with new body styles. Just about every standard shape in their line—from the 0, 00, 000, up through their dreadnoughts—are inarguably stone-cold classics and foundational works from which much of the rest of the acoustic-guitar industry takes their inspiration and cues.
The release of the $799, Mexico-made 000JR-10E Shawn Mendes, however, turns a spotlight on a Martin body style that, to date, could qualify as underappreciated. It also finds the company toying with construction based completely on Forest Stewardship Council (FSC)-rated sustainable tonewoods and, in turn, addressing the reality of shrinking and endangered traditional tonewood supplies that faces the whole guitar industry. The results of this effort are a comfortable, affordable, high-quality, and inviting flattop that says a lot about where the industry can still go in terms of design and materials.
A Body in Between
If you don't play a lot of different acoustic guitars, you could conceivably pick up the Mendes (which is based on the existing standard 000JR-10) and notice little more than the fact that it's smaller than a dreadnought and bigger than a parlor guitar. If you've got a little more experience with the breadth of acoustic body shapes and neck sizes out there, though, you'll notice that the Mendes is indeed a unique and unusual amalgam of design elements.
"Junior" designation aside, Martin's decision to call the Mendes and its 000JR-10 and 000JR-10E stablemates "000s" is a curious one. The Mendes is actually closest in dimensions to a 00, though the body is shorter and the profile is a bit more pinched at the waist than on that venerable Martin shape. The neck, too, may feel unusual to a seasoned acoustic player. It's built around a short 24" scale, where most Martins are a 24.9" or 25.4" scale. The short scale feels even more unique for the presence of the 000JR-10E's most 000-like element, a 1 3/4" nut width.
Combined with the relatively substantial neck profile, the wider nut width makes the Mendes feel very easy to play.
Together, the Mendes' most vital dimensions and design elements add up to an interesting whole. It's small enough to feel a little like an instrument from the larger "travel" guitar category populated by guitars like Taylor's GS Mini. But few guitars in that loose categorization feature a neck as expansive feeling as that on the Mendes, which benefits immensely from the wider nut width. Combined with the relatively substantial neck profile, the wider nut width makes the Mendes feel very easy to play. The wider spacing facilitates alternate thumb picking, while the shorter scale makes extended chords easier. For players used to classic formulas, the mix could feel strange. For less biased players and many novice players who aren't attuned to such nuances, the blend could be ideal.
Construction quality, by the way, is excellent. The woods used here are all FSC certified, right down to the bracing—which means they are sourced from responsibly managed forests. But they will be familiar tonewoods to Martin enthusiasts and acoustic players in general. The back and sides are layered sapele, while the top is Sitka spruce. The grain on the latter is rather plain, but the top is no less lovely for it, and an informal tap test reveals it to be a very resonant, lively section of lumber. The 2-piece neck is made from sipo, an African hardwood quite like mahogany. The fretboard, meanwhile, is surprisingly made from ebony. Responsible sourcing of the ebony on the fretboard means that the wood used here isn't the uniform, ultra-dark type you see on top-shelf acoustics. But the grain variation is lovely and works well with the Mendes-specific design touches like the signature at the third fret and diamond-pattern, mother-of-pearl inlay. Inside and out, fit and finish are perfect. And we can't say that about every $800 flattop we see.
 Easy Equilibrium
Like most small-body guitars, the Mendes won't bowl you over with low end. But the projection from the 000JR body is still impressive. You hear very, very little of the messy, compressed, blur you typically hear from guitars of this size when you strum vigorously. In fact, the guitar feels very punchy and exceptionally balanced across the whole frequency spectrum when you hit it hard.
That balance is just as evident in fingerstyle situations. The first and second strings ring with a particularly sweet and crystalline clarity that chimes beautifully against the round, concise resonance of the third and fourth strings. And again, while the low end won't dislodge any pictures from the wall, the output from lower strings creates a very cohesive and rich, if compact, harmonic whole.
The Verdict
While there aren't a ton of structural details to differentiate the Shawn Mendes signature edition from its less expensive 000JR-10 and 000JR-10E stablemates, the little differences add up to an interesting guitar. The honey-hued finish on the top and the inlay both add an upmarket aura to the instrument. And construction from 100 percent FSC tonewoods is no small or inconsequential distinction. We love to see guitar companies follow this path and execute the instruments made with these woods with such care. Materials and ethics aside, however, it's cool to see this signature release shine a light on a Martin model family that, to this point, may have received less than its due respect. Like the 000JR-10 and 000JR-10E, it's an exceptionally comfortable and sweetly ringing instrument that fits many styles.
Martin 000JR-10E Shawn Mendes Demo | First Look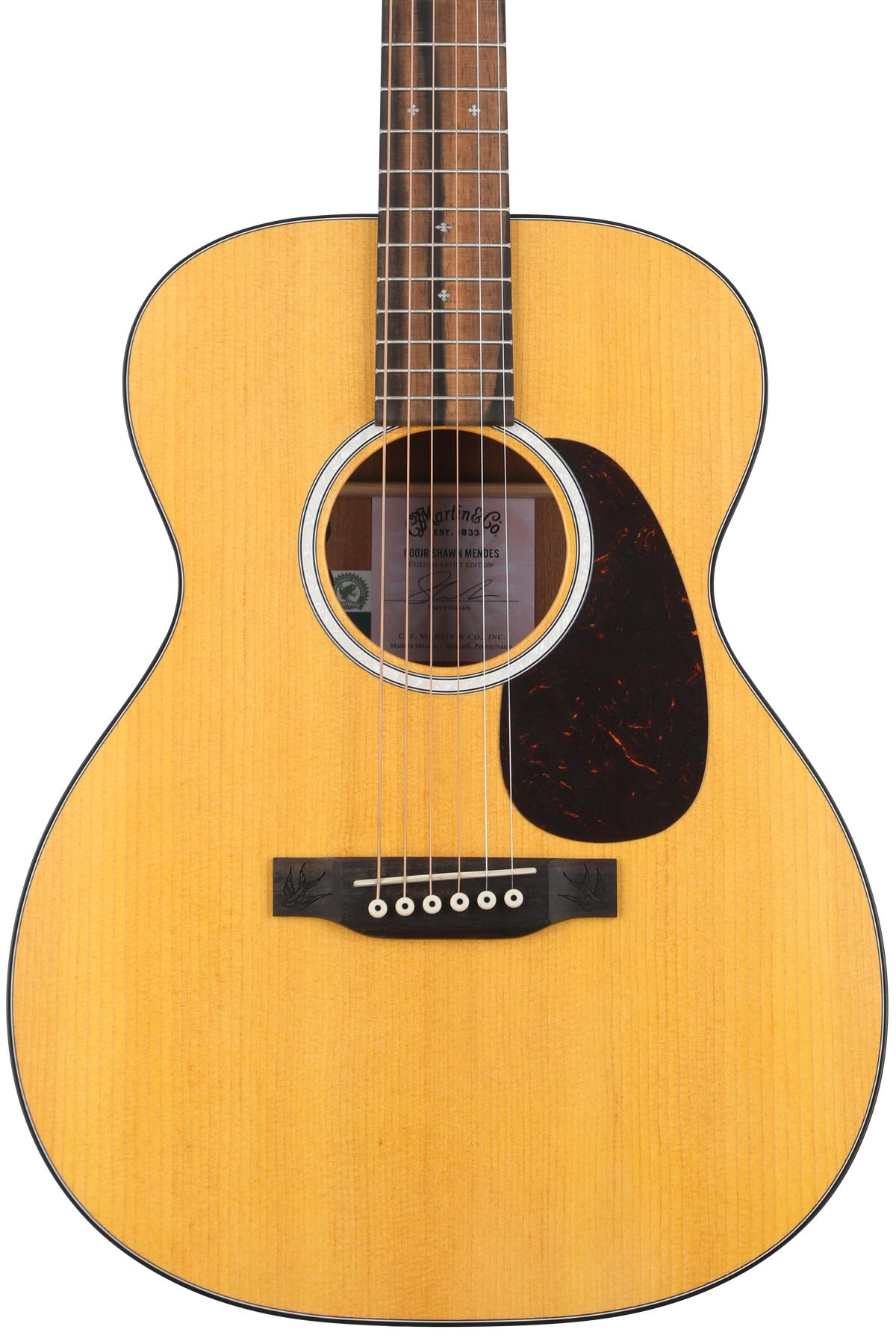 Shawn Mendes signature embellished with swallow design that recalls his hand tattoo symbolizing home as a place filled with family, friends, and loved ones
Spruce top and sapele back and sides offer strong, bright fundamentals with balanced tone
Scaled-down Auditorium body shape sits easily in the hands of any player
Martin
Rhett and Zach unpack the big news for secondhand guitar sellers and buyers: Sweetwater has launched their new Gear Exchange. How does it compare to Reverb, Craigslist, and Marketplace? To find out, Zach takes the site for a spin and buys a pedal. He calls the process both "very easy" and "normal." They discuss the pros and cons of the various used-gear outlets and share tips for not getting got when buying gear. Plus, Zach grew a mustache, Mythos Pedals is moving, and he talks about his forthcoming line of Strat pickups inspired by Hendrix's reverse-stagger setup.
Sweetwater vs. Reverb

The Reference II Series 112 and new 115 feature a new look, ceramic magnets, and Poplar ply shells.
​With gigging musicians in mind, portability was paramount to the design of these cabinets, which still feature all of the power that you expect from Bergantino. Using a lightweight Poplarply shell and Baltic Birch baffles to encase the ceramic-based speakers, these cabinets are extremely easy to transport, while still packing all of the low-end presence and warmth that is required for professional bassists in any genre of music. Covered with rugged tolex finishes and cloth grills, these cabinets look as good as they sound and provide long-term durability that is required for the wear and tear of touring and gigging musicians.
​The Reference II Series utilize ceramic magnets with vented pole pieces for the fullest and roundest low-end possible. Along with their high-power handling capability, the Reference II Series cabinets boast versatility fit for players who utilize fingerstyle, pick, slapping, and tapping techniques. Their presence and punch matches their low-end output and produce an accurate, full-bodied, and authentic representation of your bass guitar in both live and studio settings.
Reference II Series 112
​The Reference II Series 112 is new and improved, featuring the tone that bass purists love, but in a lighter package without sacrificing any of the full-bodied, robust properties that have made this a favorite. The 112 can achieve any sonic palette you desire while faithfully reproducing the natural tone that comes directly from your bass and your fingers. Many bassists love the Reference II Series 112 because of the "blank canvas" it provides the player seeking a solid, no-frills bass tone, and this updated edition upholds that, but with noticeable improvements. Seamless, tight, quick, and responsive, this cabinet is the right choice for players of all levels.
Reference II Series 115
​After receiving many requests to bring back our 115 cabinets, lovers of rumbling low-end can rejoice, as the latest edition to our lineup is here to maximize your bottom end with a responsiveness second to none. We've taken everything our players loved about our previous15" offering, shaved some weight, and updated its design to fit our high standards of the Reference II Series. With our proprietary speaker curves, it can be made to sound full and modern or vintage and rolled off, but never dry. The 115 cabinet provides a massive sound in a lightweight, easily transportable package that is ready for small venues, arenas, and everything in between.
Reference II Series 112: $1059.00
Reference II Series 115: $1099.00
These Cabinets Currently Shipping in the USA. For more information, please visit bergantino.com.
The Royale was designed to deliver loud and vivid clean tone with a responsive, tactile low end.
Designed to offer massive headroom, the 50-watt Royale Head lets you indulge in smooth clean tones at even higher volumes on stage without any breakup. Select between class A and class AB modes, with its variable mode switch, so you can choose between gushing Supro tone or a punchier, tight midrange response.⁠

Introducing the Royale Head & Extension Cabinet | Supro
The Royale 1x12 Extension Cabinet features the custom Supro BD12 high-power driver, offering the same mid-range punch and clean articulation as the Royale combo but with additional stage volume. ⁠More info: suprousa.com.
Royale Head | $1,499⁠.99⁠
Royale Cab | $669.99
D'Addario Foundation's education project sets out to help schools throughout the country and kicks off with an online auction.
​The D'Addario Foundation will host a virtual auction from November 9 to November 30, 2022, with the overarching goal of raising $30,000 for the D'Addario Foundation's Immersive Music Challenge.
​Inspired by a new study published in the Journal of Youth Development, the D'Addario Foundation recently launched the Immersive Music Challenge. This ambitious project will help school districts and charter systems throughout the country boost academic achievement by implementing effective, multi-day-per-week music-based mentoring programs that include training, administration, and evaluation. The D'Addario Foundation has invested in an incredible team of consultants that include school superintendents, public health experts, and data analysts to ensure sound results. In addition, D'Addario is actively seeking corporate partners to support the establishment of these programs and champion their success.
Thanks to the generosity of D'Addario artists and industry partners including Gibson, PRS Guitars, D'Angelico, Taylor Guitars, and more, one-of-a-kind items & experiences are up for bidding. Some of the items include:
Evans Drumhead signed by Anderson Paak
ESP Mirage Deluxe '87 Signed by Bruce Kulick of KISS and Grand Funk Railroad
Gibson Les Paul Custom electric guitar
D'Addario bass string set signed by Bryan Beller of the Aristocrats
PRS S2 McCarty 594 Singlecut
Virtual Lesson with Marty Schwartz