Two Notes ReVolt Guitar Review
Tube power and digital cab sims add up to a formidable compact hybrid amplification solution.
Analog tube power meets Wall of Sound DynIR Software in a compact package. Takes pedals well. Easy to use.
Bypass doesn't have dedicated switch. Single cabinet sim in hardware.
4.5
5
5
4.5
Two Notes Audio Engineering is best known for their digital DynIR cabinet modeling technology. This tech is the backbone of the company's Torpedo load boxes and cabinet simulators, as well as cab simulations used by Mesa, Victory, and others. But the new ReVolt Guitar amp simulator pedal is a departure. It's a tube-driven, 3-channel preamp with analog cabinet emulation that comes in a solid, compact 7" x 4.5" x 3" stompbox. The ReVolt is intuitive, too. If you know how to twist the knobs on your amp to get a sound you like, you'll fare well with the ReVolt Guitar. There's no menu diving or secondary footswitches or knob functions. It's a true WYSIWYG device.
---
The ReVolt Guitar uses a 12AX7/ECC83 preamp tube in triode mode running at 200 volts as an output-stage cathode follower—a tried and true amp design that adds some of the warmth and compression digital amp modelers can miss. With a built-in cabinet emulation and balanced XLR line output, it's a powerful, economical, and very space-efficient solution for the stage and studio.
California Cleans and Metal Means
Each of ReVolt's three channels—clean, crunch, and lead—feature independent gain and volume controls. For EQ, the clean channel has bass and treble controls, while the crunch and lead channels share a 3-band EQ with mid control. A single boost output level knob rounds out the upper panel controls. Each channel is activated by a footswitch, and the unit is bypassed by pressing the clean and crunch channel footswitches simultaneously.
The clean channel, modeled on a Bassman 100, is classic Fender stuff—glassy top end, scooped mids, and round lows. It has headroom for days—maybe even too much for some players. It doesn't break up at high gain, but imparts mild compression that feels like tube rectifier sag. With the tone controls at noon, it's boomy and bright, and, generally, I needed to run those controls at more modest levels to get the right balance of warmth and sparkle.
The crunch channel offers a broad drive range. Below 11 o'clock, the sounds are old-school plexi, complete with grinding and chunky Super Lead-style tones. Beyond the halfway mark on the gain control, you'll start to hear hot-rodded Marshall tones with husky midrange and tight distortion. Some preamps miss the mark when approximating the toothy upper mids that are a Marshall signature. But Two Notes approximated this characteristic well. Paired with a low-gain drive pedal, the output takes on an intensity and warm thickness that avoids being shrill. And it's reassuring to know you can drive the ReVolt's front end aggressively without sacrificing sweetness.The 3-band EQ, with crossover at 100 Hz, 750 Hz and 1.5 kHz, makes it easy to fine tune as you move between screaming and merely heavy.
The lead channel is inspired by the Soldano SLO-100, and it has much of the heavy low end, scooped midrange, and rich high harmonics that are Soldano hallmarks. Lower gain settings (below 10 o'clock) yield tight, responsive overdrive. Like the crunch channel, the lead channel is reactive to gain pedals, and placing a low gain overdrive or boost before the input adds similar thickness. It also sounds articulate through its gain range and almost never muddled or fizzy.
Staying Self-Contained
Though the ReVolt Guitar responds well to drive pedals, you don't necessarily need one. It comes with a boost that's activated by pressing a footswitch and is shaped by the boost knob. The boost is inserted in front of the preamp.On the clean channel, it helps generate classic Tube Screamer-meets-Fender sounds and a very useful range of low- to mid-overdrive tones. But I was less impressed with how the boost paired with the crunch and lead channels. In both cases, using the boost came at the cost of the inherent warmth in both channels, lending an edgy feel. Some players may find good use for this tonality, but I found the warmer side of crunch and lead more useful. The good news is that some of this issue can be remedied with a tweak to the rangy 3-band EQ. And while I didn't find the ReVolt's boost a best match for crunch and lead, both channels sounded good with external drive units, including a Barber Burn Unit, Greer Lightspeed, and a good klone. I also had success using the mono effects send-and-return for time-based effects, and pedal integration via that method is a breeze.
The cab-sim mini-switch on the front panel enables an internal cabinet simulation, which can be routed via the balanced XLR output as well as the headphone output. The ReVolt Guitar is bundled with the Wall of Sound cabinet collection, which utilizes Two Notes' DynIR algorithms. You'll need to experiment to find out which cabinet emulations work best with each channel. But the algorithms give you a lot of tone-shaping flexibility—particularly when working in a DAW.The ReVolt Guitar is MIDI-enabled, by the way.
You can also use a 4-cable method, which is enabled by a mini-switch on the front panel, to utilize an effects loop amp and create four discrete channels. In this mode, when a ReVolt channel is activated, the signal is sent to your amplifier's effects return, bypassing your amplifier preamp so you can pair the ReVolt directly with your amplifier's power amp—subtracting your own preamp colors from the blend.
The Verdict
The ReVolt Guitar's ease of use and intuitive interface make it quick and easy to integrate into a creative flow. It delivers tube-amp-like response and dynamics as well the natural compression that a tube amp gives you as you advance the gain. You sense warmth, you hear that slight buzz as the front end of the amplifier overdrives, and feel real, interactive, push and pull. And you can access all these elements while using the ReVolt at low volume with your DAW. This combination of attributes results in a lot of exciting and practical amp tones that I don't always hear and feel in DSP-based amp sims. This well-thought-out and well-executed design makes ReVolt Guitar a great hybrid alternative to those all-DSP compact amp solutions.
For DAW recording, bedroom players, and gigging, the ReVolt is a solid choice—especially if you like a little hair and aggression in your tone. The bundled Wall of Sound software has a dizzying array of options and ups the tonal versatility. Used together, the ReVolt and Wall of Sound offer the best of analog and digital modeling.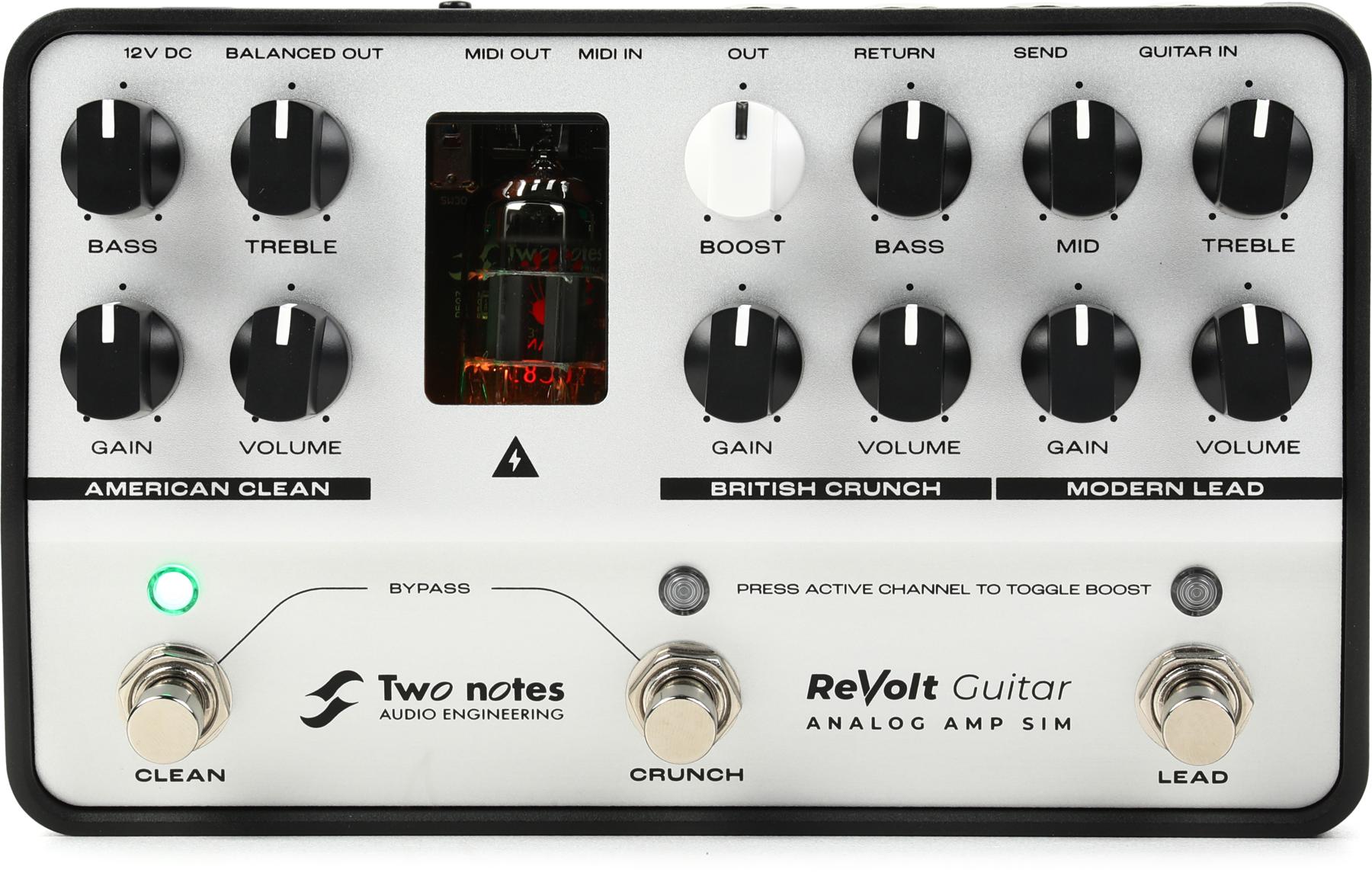 Two Notes