Vintage Vault: Reassessing a Rare Semi-Hollow '73 Les Paul Signature Model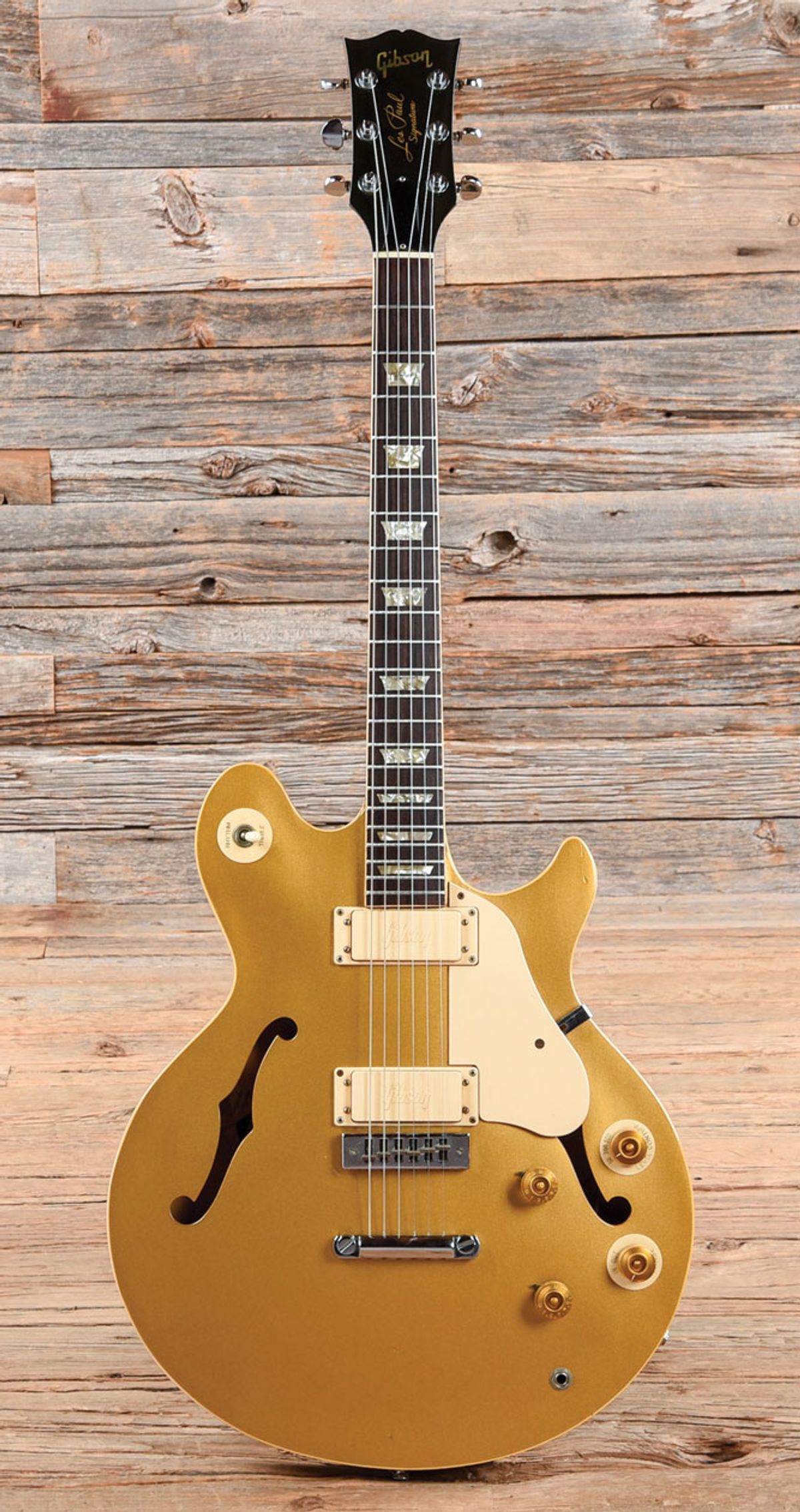 After Norlin acquired Gibson, the historic musician lent his name to a new series of guitars, including this goldtop.
When guitarists hear the term "Les Paul Signature," chances are the first thing that comes to mind is some sort of Gibson Custom Shop or Gibson USA single-cut with custom appointments that was built in collaboration with, or in honor of, some rock star like Slash or Joe Walsh. For the more vintage-minded of us, Les Paul Signature means something else: It refers to a somewhat obscure, though undeniably striking, semi-hollowbody guitar that was first produced by Gibson in the early 1970s.

This guitar is all stock except for the replacement Grover tuners, and its goldtop finish has retained its luster.
The Les Paul Signature model was among a series of guitars that were made as part of a reunion between Les Paul and Gibson, starting in the late '60s, after the brand was acquired by the Norlin Corporation. First came the similar Les Paul Personal and Les Paul Professional in 1969, and then the Les Paul Recording in 1971. They all included souped-up electronics with low-impedance pickups—a technology that Paul praised for clear, clean tones. The great guitar innovator would play a version of the Les Paul Recording in performances through the rest of his career.
This new semi-hollow guitar shared little with any other Les Paul design to come about in the previous couple of decades.
Starting in 1973, these same pickups would be used on the newly launched Les Paul Signature model, which also included knobs for phase and impedance selection, but shared little aesthetically with the earlier entries in the series. Indeed, this new semi-hollow guitar shared little with any other Les Paul design of previous decades, apart from the name, headstock, and goldtop finish. Its body was more like an ES-335, with a pair of offset cutaways unlike anything else in the company's historic catalog.

The back of this guitar shows no signs of belt rash or divots, leading to the conclusion that it wasn't in constant play.
Best estimates put total production numbers of all four of these models at somewhere around 1,400 goldtops, with fewer than 100 in the rarer sunburst option. On Reverb, over the years we've seen about 17 listings for sunburst examples out of 120 total listings for Les Paul Signatures, but, of course, many of these may be for the same guitars trading hands more than once. There was also a bass version of this design produced in the same era, which has since been reissued as the Epiphone Jack Cassidy model.

The absence of checking and greening also seems to indicate that this guitar didn't spend much time onstage or in sunlight, but it is, nonetheless, a classic example of where Les Paul's designs were heading into the 1970s.
Today's featured guitar was listed by Chicago Music Exchange and is original save for the swapped tuners. The goldtop finish is especially fine and pristine, particularly compared to the many examples of this model that display some greening in the gold.
While not the most famous Les Paul by any stretch, these guitars can be seen in the hands of plenty of players. Indie rock guitarists Bradford Cox of Deerhunter and Hugh Harris of the Kooks are good examples. Vintage prices tend to vary quite a bit owing to the wide range of conditions on circulating specimens. On Reverb, we've seen near-mint guitars sell in the $4,000 to $5,000 range in recent years, with worse condition examples selling for closer to $2,000. In those latter cases, the lack of the original, characteristic Les Paul-approved pickups is usually the culprit.
---