The acoustic alchemist shares the secrets to his massive, multi-dimensional tones.
Mike Dawes' main guitar is this signature model built by Andreas Cuntz. It features an Indian rosewood back and sides, 38-year-old sitka spruce top, ebony fingerboard, Indian rosewood rosette, and quilted maple binding. There's a 44 mm spacing at nut, 55 mm at bridge and Gotoh 510 tuners. Dawes strings up this guitar with a set of D'Addario Nickel Bronze strings (.013–.056). Throughout a show Dawes will tune on the fly to a variety of tunings.
Inside the guitar sits a DiMarzio Black Angel magnetic pickup, a Black Angel piezo, and a K&K Trinity mic and preamp, along with a Schatten Dualie soundboard transducer for his kick drum sound. All of the pickups are routed to a single 9V battery. The cabling is a bit complex. The guitar uses a custom DiMarzio-wired cable built by Eric Corpus. Inside the cable is a single mono line that carries the piezo and mic signals along with a stereo cable that mixes the kick drum and magnetic pickup. The magnetic pickup is wired to the tip of the output jack so Dawes can use the Tonewood amp when appropriate.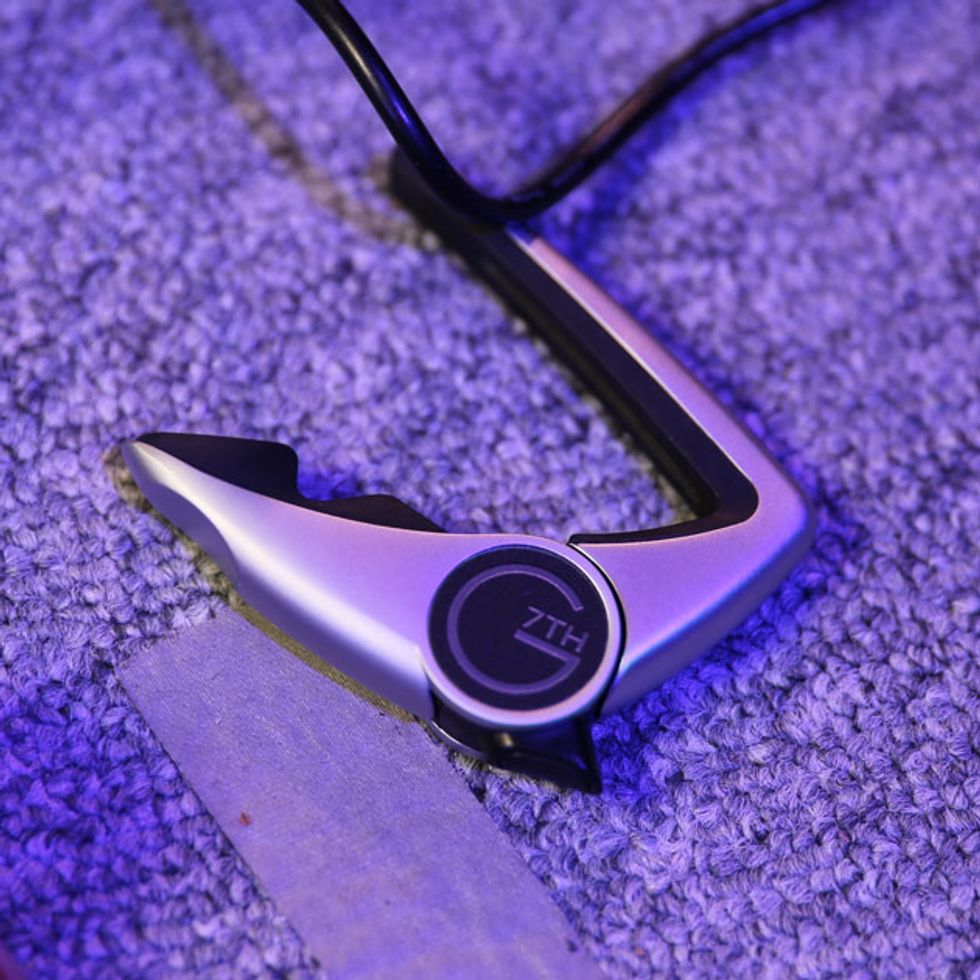 Dawes also employs both full and partial capos built by G7th Capos.
Dawes' custom cable splits into the first three channels of a Bose T8S Tonematch mixer. This is where the pickups get EQ'd and blended. There's light compression on the piezo/mic channel and a limiter on the kick drum channel is also used.
The DiMarzio magnetic pickup then feeds the Boss OC-3 Octave pedal, Joyo JF-14 American Sound, and a DigiTech Whammy Ricochet. These three pedals are looped into channels 4, 5, and 6 of the Bose mixer. The Joyo is also fed signal by a Dunlop mini volume pedal, allowing Dawes to fade in the sound of a dirty Fender-style amp.
Finally, the stereo outputs of the Bose mixer hit the Strymon Timeline which runs stereo out into a DigiTech JamMan Express looper and a TC Electronic Hall of Fame 2 reverb pedal. Those stereo outputs get panned left and right and out to FOH. A mono output of his kick drum channel also goes to FOH so they can use a more comprehensive EQ setup if necessary.
While on tour with the Moody Blues' Justin Hayward, Dawes plays this Tom Anderson T. It was a gift from Justin Hayward. The Anderson is strung with D'Addario NYXL strings.
For most venues, Dawes runs his Tom Anderson into a Fractal Audio AX8 modeling an American-style clean amp with compression, reverb, and drive. In front of the AX8 sits a Lovepedal Kalamazoo and a TC Electronic Corona and another Strymon TimeLine are placed in the effects loop.
For larger venues, Dawes runs two reissue Fender Dual Professionals.
---
Click below to listen wherever you get your podcasts:
---
D'Addario XT Strings:https://www.daddario.com/XTRR
---
---