Rig Rundown: Nita Strauss
With a new Ibanez signature model and an ultraportable plug-and-play rig, the rock heroine travels light to create the heavy tones on her new solo debut, Controlled Chaos.
Furious, focused, and expansive, the playing of Nita Strauss is the stuff emerging-rock-guitar legends are made of. During soundcheck at Nashville's Basement East, PG's John Bohlinger checked in with Strauss, who was on a break from her regular gig with Alice Cooper, touring in support of her debut solo album, Controlled Chaos. Strauss wrote, produced, engineered, and recorded all the guitar and bass parts on the album, which, in testament to her abilities and her fan base, was made via a Kickstarter campaign that exceeded its $20,000 goal by $145,755. As she rips for our cameras, Strauss, the first woman to have an Ibanez signature model—which debuted at Winter NAMM 2018—talks about her JIVA10 and her backup S6570Q, and puts her easy-traveling rig, a Boss GT-100, though her core settings. Check out how Strauss shows off the JIVA10's radical tuning stability at the 15-minute mark! And yes, she is a descendent of the Austrian composer Johann Strauss.
A longtime Ibanez fan—especially of the company's S-series designs, Nita Strauss now has her own signature Ibanez JIVA10 model. The JIVA10 is based on her old, beloved S and features Nita's own design touches, including an EGK-pattern inlay up the fretboard. Its heartbeat wave gets more intense as it climbs into the high frets, since that's where the shredding—and the excitement—typically happens. The guitar has a solid Nyatoh body with a quilted maple top, a maple-and-purpleheart neck, an ebony fretboard, and an Edge Zero II double-locking tremolo bridge.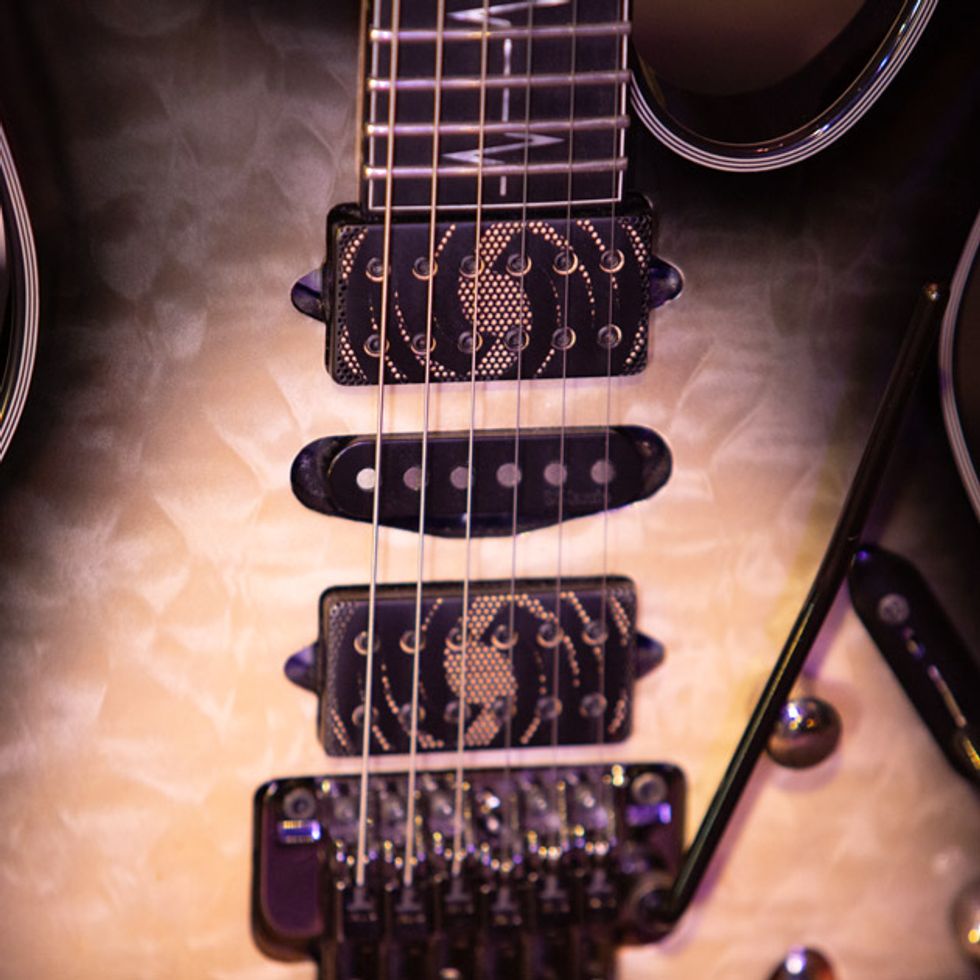 Here's a close-up look at the Nita Strauss JIVA10's pickup array: a pair of her signature Pandemonium humbuckers and a True Velvet single-coil in the middle, all by DiMarzio and all on tap with a 5-way switch. Her JIVA is stock—exactly what you'd get if you bought it in a guitar shop. The only variation is the Dunlop strap locks that she prefers on all her guitars.
Her backup is this lean, green machine: an Ibanez S6570Q Prestige. Its pickups are different from the JIVA10—all still DiMarzio, but with a Tone Zone humbucker in the bridge, a True Velvet in the middle, and an Air Norton in the neck slot. Strauss' guitars wear D'Addario NYXL .010–.046 strings, and she plays with Grover Allman .60-gauge picks.
Fitting for her force-of-nature style, the custom neck on Strauss' S6570Q bears the word "Hurricane" and a swirling eye-of-the-storm symbol where it meets the guitar's body.
Unlike her gig with Alice Cooper, where the stage is packed with amps and cabs, Strauss travels light on her own. A Boss GT-1000, which rests on the floor stompbox style, providing all the amp modeling and effects she needs. She's got four core tone variations—which she displays on our rundown—set up for clean, rhythm, lead, and effects lead sounds. She says the GT-1000's gotten the job done everywhere from small stages to stadiums. The other piece of mojo is a Shure GLX-D wireless.
Click to subscribe to our weekly Rig Rundown podcast:

D'Addario Micro Tuner:https://www.daddario.com/MicroTunerRR