The Big Score: Cutting Guitar Tracks for TV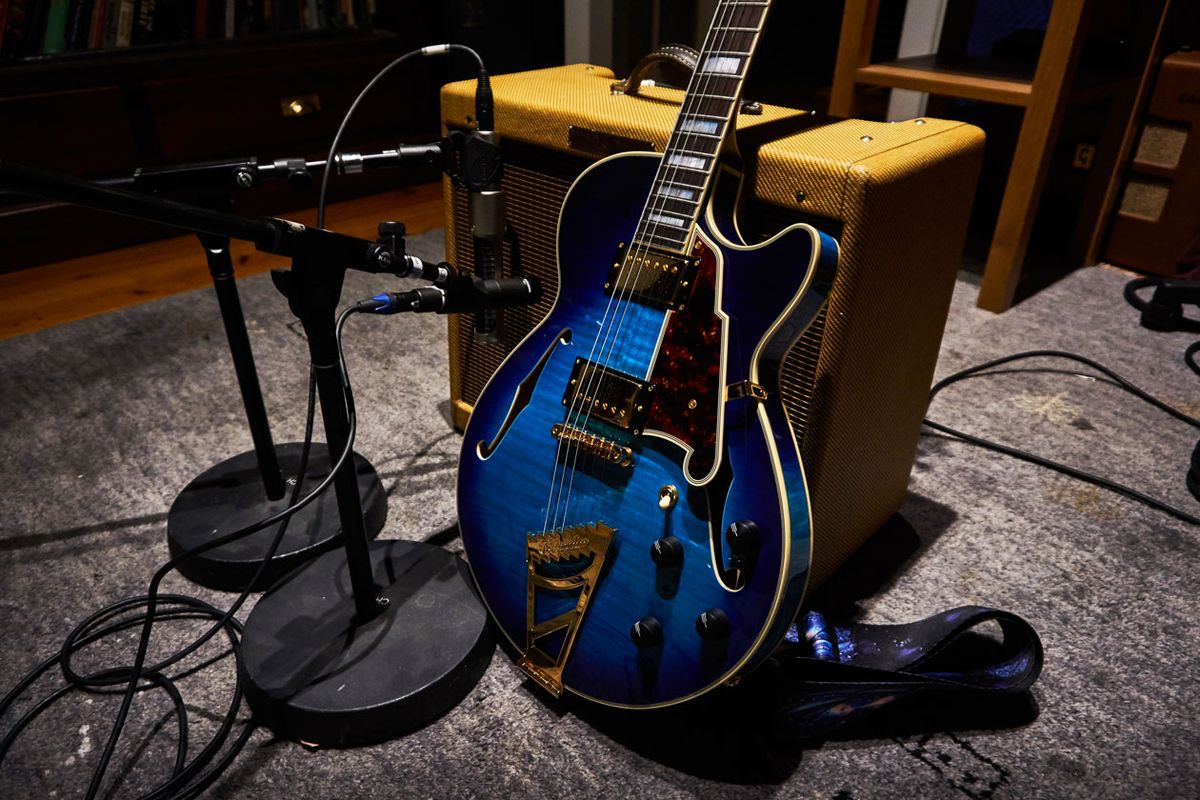 Composer Rich Tozzoli shares his secrets, tips, gear, and techniques for big-time small-screen scoring.
Providing music for television is a combination of creating, performing, recording, and mixing. It requires understanding the unique needs of the shows, then executing and delivering the highest quality tracks possible. It's about learning to minimize and say a lot with a little, and, most importantly, about supporting stories with sound and emotion.
Many of the shows I write for are guitar-centric, and that means you must be as versatile as possible as a player. From ambient soundscapes played on a baritone, to swampy bluegrass featuring flattops and cigar-box guitars, to detuned 8-string hard rock—you have to be ready for anything. It is also important to know how to use every tool at your disposal, from soft synths and drum machines to orchestral sample libraries and live-player orchestration.
I started making music for TV because I was lucky enough to have a creative demo tape (a cassette!) I made with a friend get heard by people at Nickelodeon years back, and they brought me onboard for some cues. That led to a variety of doors opening and, as a result, I simply evolved further out of music production and more into music composition. I've been hitting this full time for about 10 years now, and although it is a highly competitive market, I feel that by retaining the utmost production quality and always seeking to become better, you'll keep working if there's a need for your skills.
Assignments come in a variety of ways: through an agent, a production company, or directly from show producers. Either way, there's typically not much time to turn them around. Sometimes it's just a matter of hours or a few days, so I've learned to work fast over the years.
You have to think about the show, what they are trying to get across, and then create a sound that fits the attitude.
Picture This
There are only two ways to compose for television. Scoring to picture, or not. When scoring to picture, I'm sent QuickTime movies with timecode—either in the form of an entire show, or on a scene-by-scene basis. Scoring to picture has more complications: The timing and tempo has to be perfect based on the action onscreen, and there are, of course, more meetings and specific notes about the music from the producers.
More often, I don't have to work to picture, and that's what I prefer. It lets me push more boundaries and be far more creative. With that in mind, assignments come on a "global" show basis—meaning that the batch of tracks I deliver must fit the sonic needs of the show at hand. Lengths can vary, but will typically be under two minutes per cue—the term for each piece of music. The editors cut the tracks up as they need to for each scene.
Making Music
The creative process will vary depending on the sonic and emotional needs of the show assignment. For something like Counting Cars, for example, a show about acquiring classic muscle cars that's on the History Channel, it would involve a heavy electric-based sound with an edge. You have to think about the show, what they are trying to get across, and then create a sound that fits the attitude. So I would typically approach this type of show with classic drums, bass, and guitars—sometimes stretching the envelope into a bit of pulsing EDM, while retaining an overall hard and heavy sound.
For a show such as this, I like to cut tracks as live as possible. That means working with someone like drummer Ray LeVier, who has played on literally hundreds of cuts with me over the years. We'll either set up at his well-equipped home studio or go up to a bigger room, like the Clubhouse studio in Rhinebeck, New York, and cut on a vintage Neve or through my Universal Audio Apollo mobile rig, right in the live room.

Projects get finished in Tozzoli's home studio, which is based around a Pro Tools|HDX setup, a Grace Design 906 monitor controller, and a variety of good preamps from Manley, Grace Design, Universal Audio, and Millennia.
I'll bring an arsenal of guitars and amps that fit the sound I'm after. Typically, for a show like Counting Cars, that would include my Les Pauls, a few custom Telecasters, a 7-string Ibanez, and even one of my 8-strings with a low octave E. I'll also bring my 1970 Fender Precision bass and another custom Fender with a .95 gauge low B for detuned cuts.
Once we're set up, we work fast. We write the cues live on the spot, rehearse them once, and cut the take. I like to call it "top of mind" writing, and it's performing without thinking. If the take isn't good, we often cut the whole thing again. Rarely do we need more than a few passes before moving on. Overall, I don't go for perfection—just vibe, feel, and attitude. It is a creative way to work that doesn't get bogged down in overthinking. We typically don't work with click tracks in this type of session because we're not locked to picture or a grid. However, when composing at home with loops for the same type of show, I will definitely work with a click and a grid. It all depends on what I'm going for.

Sonic options abound at the author's go-to studio, the Clubhouse in Rhinebeck, New York, thanks in part to the many classic and contemporary amps available.
Choosing Amps
For the live sessions, I'll usually record real amps, with some additional overdubs added later using my Line 6 Variax and any good guitar amp plug-in. I love using real amps for the harder-edged shows, because they each sound unique and that makes you play differently through them. The spongy feel, the ability to dynamically alter my distortion using touch, and the pure tone is endlessly inspiring.
For heavier tracks, I have a Mesa/Boogie Mark IV head that usually gets paired up with an Orange or Marshall 4x12. I'll also turn to my 1962 Gibson Falcon, a 1947 Gibson BR-6, and a 1966 Magnatone M10A. One of the great things about using these distinctive vintage tube amps is that I can clearly hear them when I'm watching a show—even under the dialog—because they have their own character. I've also found the Creation Audio Labs Holy Fire distortion and a classic Ibanez Tube Screamer to be an important part of driving my amp sounds hard to maximize tone. Also, the Clubhouse has a huge selection of amps, and each one offers something special.
Since we're in full-speed TV production mode, mic setup is usually nothing more than a good Shure SM57 and either a Beyerdynamic M 160, AEA N8, Sennheiser MD 421, or Royer R-121. This lets me mix and match tones afterwards as needed: The 57 covers the mid growl, and the other mics provide a smoother bottom and top.
But Wait, There's More
Once I have the basic tracks done, I'll take the hard drive back to my home studio for additional guitars, pads, production, and final mixing. My home studio is based around a Pro Tools|HDX rig, a Grace Design 906 monitor controller, and a variety of preamps from Manley, Grace Design, Universal Audio, and Millennia. I've got an 88-key Native Instruments Komplete Kontrol keyboard, as well as some small analog synths for edgy oscillations.
The exciting thing about composing for TV is that each assignment brings something different.
Once I open up the rhythm tracks, I'll typically add more guitars to thicken up the production. That's when I mostly use my Line 6 Helix, which has a huge variety of sounds. I've found that the real amps, such as the Mesa/Boogie, when used together with the Helix, make for some massive guitar sounds. When they pull out that classic Camaro or Mustang on Counting Cars, you need to hit viewers over the head with your track.
One other tool that I've found incredibly useful for adding depth to my Helix sound and television tracks is the Eventide H9. I actually run two of them into the FX send/returns of the Helix, and control them from the desktop, or even my iPhone via Bluetooth. I'll turn to the Eventide for its massive reverbs, but also for great pitch shifting, choruses, and trem/vibrato effects. Combined with all the amps and effects inside the Helix, it lets me get deep into the guitar sounds and make them bigger and wider.
From Studio to Screen
Once I've got the tracks where I want them, I'll create a variety of mixes. First is the full mix, with everything in. Then I'll output a mix with no melody or solo. Then I'll do a bass and drum mix, muting all the guitars and any additional pad elements. Finally, I'll cut the full mix down to something like 10 to 15 seconds and deliver what is called a "sting." Typically they will all be placed on the client's File Transfer Protocol (FTP) server where they can download them, catalog them, and get them into the show.
These different mixes let the show's editors use only the music they need for each scene. For example, they may not want a solo or melody, because it distracts from the dialog. Or if Counting Cars' star Danny "the Count" Koker is driving around town checking out cars, they might want to use the melody mix. It all depends on the scene.

Even at the Clubhouse, Rich Tozzoli sometimes relies on his Universal Audio Apollo mobile rig, rather than the room's Neve console. Note the keyboards, pedals, and omnipresent laptop—all ready to maximize the tonal options needed to compliment the action onscreen.
The exciting thing about composing for TV is that each assignment brings something different. The day after finishing music for Counting Cars, for example, I'll have to start a totally different show. Something like Alaskan Bush People or Moonshiners on Discovery Channel involves a whole new approach, with a different set of guitars and orchestrations to evoke their rural settings.
For shows such as those, I create a more acoustic-based sound and add the elements as needed. Sometimes, it's extremely sparse, and I might just record a single track on my Martin OM-28 or Guild F-512 with a set of Earthworks QTC-50 microphones into the Grace Design or Millennia preamp. I might deliver a mix with just some shakers and light percussion behind the guitar, to give the editors a little extra movement.
If they need more production, I'll work with drum loops and add percussion and cymbals, keyboards, and strings—often with real players on fiddle/violin, viola, or cello. For bigger sounding tracks, I use my mandolin, a 4-string cigar box, a banjitar (aka 6-string banjo), a Paul Beard resonator, or even my James Tyler-designed Line 6 Variax, which lets me create unusual tunings and sounds that work great for television. For each cue, I will change up the instrumentation, tempo, and feel, all while retaining the overall sound of the show.
Know Thyself
Composing for TV allows me to use my guitars, amps, and the studio to create something new every week. It's fast-paced, challenging, and a lot of work. You need to know yourself, your gear and your own abilities, and, most importantly, continue to learn and grow. I like to think that with a guitar in hand and a show to score, the possibilities behind the screen are limitless.