An impressive modern take on a Dumble.
Clip 1 - Clean channel with EQ 2, bright switch on, mid and deep switches off, gain at noon, master at 11 o'clock, all EQ knobs at noon.
Clip 2 – Clean channel with EQ 2, bright switch on, mid and deep switches off, gain at noon, master at 11 o'clock, and tone stack bypassed.
Clip 3 – Lead channel with lead gain at 2 o'clock and lead master at noon.

 

Ratings

Pros:

An impeccably built amp. Amazing range of tones. Very musical reverb.

Cons:

Probably not enough gain for the hard-rock set.

Street:

$4,199 street

Two-Rock Amplifiers Bloomfield Drivetwo-rock.com

Tones:Ease of Use:Build/Design:Value:
---
It doesn't take long after plugging into Two-Rock's latest creation, the Bloomfield Drive, to realize that it's rooted in the Dumble sphere of influence. It was one of the standouts for me at this year's Winter NAMM show. And even amid the painful cacophony of the show floor, I was able to get a few minutes with the amp and noticed it was special.
It's a two-channel amp with cascading gain stages, half-power scaling (it's available as a 100/50 head and 40/20 combo), and a 3-spring analog reverb. Each channel shares a 3-band EQ along with a series of corresponding toggle switches that boost that frequency range, brightness, and more. (Both the channel and tone stack can be altered with the included footswitch.) We dug into the 6L6, 100/50-watt head and matching vertical 2x12 cab.
Clean Machine
Above each tone knob there's a toggle switch that gives corresponding frequencies a boost. Additionally, on the far left-hand side there's a toggle that lets you move between EQ 1 and EQ 2, which I suspect is similar to the rock and jazz settings on some Dumble-style amps. The EQ 1 setting is a flatter curve while EQ2 sounds more like a full frequency boost with some added gain. This switch alone is a godsend for players who move between single-coils and humbuckers during a set.
I checked out the clean channel with my T-style Schroeder Chopper TL loaded with Lollar single-coils and noticed right away how responsive the Bloomfield was. Every note I hit seemed to leap and bloom from the speakers. It's not as crystalline as a blackface Fender, but there was more weight and harmonic information in each note. Plus, the dynamic response was superb, and I could get lots of extra gain from picking attack rather than cranking up the dirt—a hallmark of Dumble amps and their offspring. The Bloomfield also gives you the option to remove the tone stack entirely, which bumps the gain considerably and lends a hit of Vox-style bite. The crunchy tones were full of life and much less compressed than the normal clean sound.
Cascade is Key
Typically, a multi-channel amp will have a few distinctly different sounds. That's the point, right? Well, yes and no. I've always gravitated towards amps that have a strong base sound that allow different guitars, pickups, and pedals to color the edges. The Bloomfield Drive, although a two-channel amp, does just that, but with a much greater tonal range. In effect, you get more of what makes the amp basically great.
The key is the cleverly designed cascading gain stages. This means that the clean channel feeds into the lead channel, keeping the clean channel's gain control active when you're on the lead channel. This feature alone provides an amazing amount of breadth and variety to the tones you can get out of the Bloomfield, and it was genuinely difficult to get a "bad" sound out of the amp.
The cascading gain stage also means the amp's lead channel is an organic and natural extension of the clean channel. And though there's obviously a bit more tonal overlap between the two than you would hear in some multi-channel amps, the two gain controls on the lead channel really help broaden the palette. With both the Schroeder and a Les Paul, the amp delivered rich, harmonic overdrive that never overshadowed the sound of the guitar. Even with the gain maxed out it never became too wooly or unruly.
Good Reverberations
The 3-spring tube reverb is controlled by a send and return control, which makes it easier to tune the reverb to work with more gain-heavy output, and unlike Fender-style reverbs, the Bloomfield's 'verb never feels like jumping in the deep end too quickly. The reverb send control (which is located on the back panel) controls the amount of signal sent to the tank. On the front, the reverb return is essentially a mix control that combines the wet and dry signals. Need more decay and attack? Turn up the send control. Need more presence? Turn down the return knob. Even at maximum settings, the reverb never felt too surfy or ambient. The fundamental signal is universally present at nearly all settings, which is quite a bonus for reverb addicts that like to retain pick dynamics. (Tone tip: Try setting the lead gain all the way off, the regular gain about halfway, and add a healthy amount of reverb. You'll get quiet, but cavernous tones.)
The Verdict
Even though it might be difficult to get past the pro-level price, the Bloomfield Drive is an incredible sounding amp in which any almost any player—apart from a high-gain addict—could find beautiful tones to work with. I'd imagine the hype surrounding Dumble mythology could be tiring for players who wonder, "Are they really worth that much?" Well, if you plug into a Bloomfield Drive and you find that it completes a perfect symbiotic circle between the string, speaker, and your ears then, yes. Yes it is. Given what I heard—and felt—from the Bloomfield Drive, the chances of that mystical connection are pretty high.
Watch the Review Demo:
Looking for more great gear for the guitar player in your life (yourself included!)? Check out this year's Holiday Gear Finds!
Outlaw Effects introduces their next generation of NOMAD rechargeable battery-powered pedal boards.
Available in two sizes, NOMAD ISO is a compact, versatile tool that offers the convenience of a fully powered board plus the additional freedom of not having to plug into an outlet. NOMAD ISO is ideal for stages with limited outlet availability, quick changeovers, busking outdoors, temporary rehearsal locations, and more!
NOMAD ISO builds upon the legacy of the ultra-convenient and reliable NOMAD rechargeable pedalboard line originally launched in 2018. The brand new NOMAD ISO editions feature eight isolated outputs (1 x 9V DC, and 1 switchable 9V/12V DC) for even more versatility and clean, quiet power. With an integrated lithium-ion battery pack boasting 12800mAh capacity, NOMAD ISO can fuel a wide array of pedals, and will last over 10 hours* on a single charge.
Each NOMAD ISO pedal board includes adhesive hook & loop pedal-mounting tape, eight (8) standard DC connector cables, and one (1) reverse polarity DC cable, giving you everything you need to build your ultimate "off-the-grid" rig. A rugged, road-ready padded gig bag with shoulder strap is also included, to safely protect your gear while you're on the move.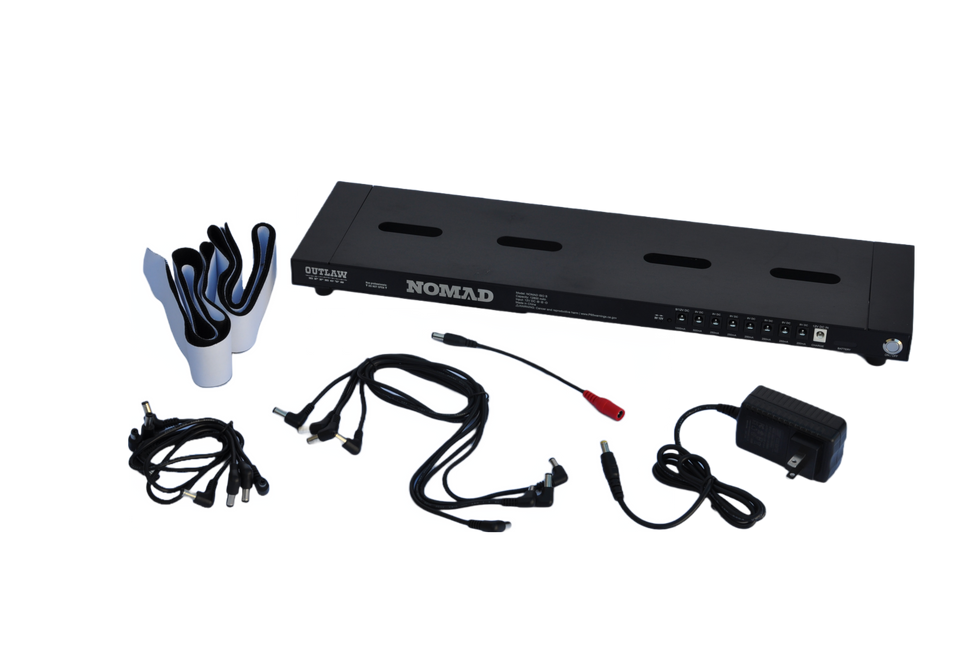 Dunable announce new Minotaur model featuring Grover Rotomatic Keystone tuners.
The Minotaur's DNA is rooted in their classic Moonflower model, which Dunable discontinued in 2017. However, they have long since wanted to create a fresh take on a carved top guitar design, and various attempts to rework the Moonflower led them to a brand new concept with the Minotuar.
Dunable's goal is to give the player a guitar that plays fast and smooth, sounds amazing, and gives maximum physical ergonomic comfort. The Minotaur's soft and meticulous contours, simple and effective control layout, and 25.5" scale length are designed to easily meet this criteria.

Dunable Minotaur!
Features
25.5" scale length
Dual Humbucker
one volume, one tone, push pull for coil splitting
Grover Rotomatic Keystone tuners
Grover Tune O Matic bridge with brass Kluson top-mount tailpiece
jumbo nickel frets
12" fretboard radius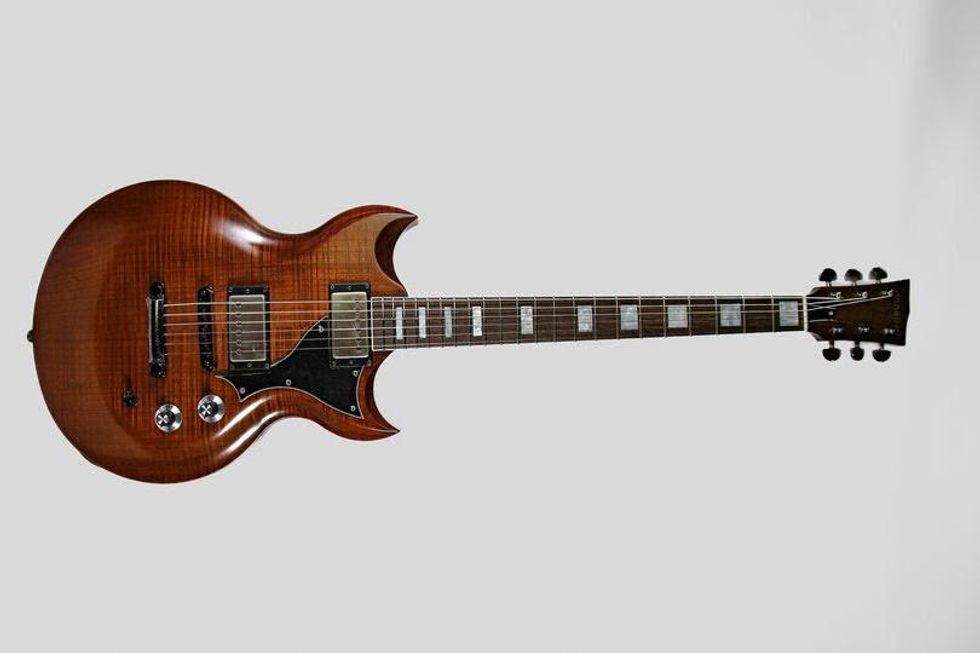 Dunable
This full-amp-stack-in-a-box pedal brings a new flavor to the Guitar Legend Tone Series of pedals, Missing Link Audio's flagship product line.
Adding to the company's line of premium-quality effects pedals, Missing Link Audio has unleashed the new AC/Overdrive pedal. This full-amp-stack-in-a-box pedal – the only Angus & Malcom all-in-one stompbox on the market – brings a new flavor to the Guitar Legend Tone Series of pedals, Missing Link Audio's flagship product line.
The AC/OD layout has three knobs to control Volume, Gain and Tone. That user-friendly format is perfect for quickly getting your ideal tone, and it also offers a ton of versatility. MLA's new AC/OD absolutely nails the Angus tone from the days of "High Voltage" to "Back in Black". You can also easily dial inMalcom with the turn of a knob. The pedal covers a broad range of sonic terrain, from boost to hot overdrive to complete tube-like saturation. The pedal is designed to leave on all the time and is very touch responsive. You can get everything from fat rhythm tones to a perfect lead tone just by using your guitar's volume knob and your right-hand attack.
Features 
Three knobs to control Volume, Gain and Tone
Die-cast aluminum cases for gig-worthy durability
Limited lifetime warranty
True bypass on/off switch
9-volt DC input
Made in the USA
MLA Pedals AC/OD - Music & Demo by A. Barrero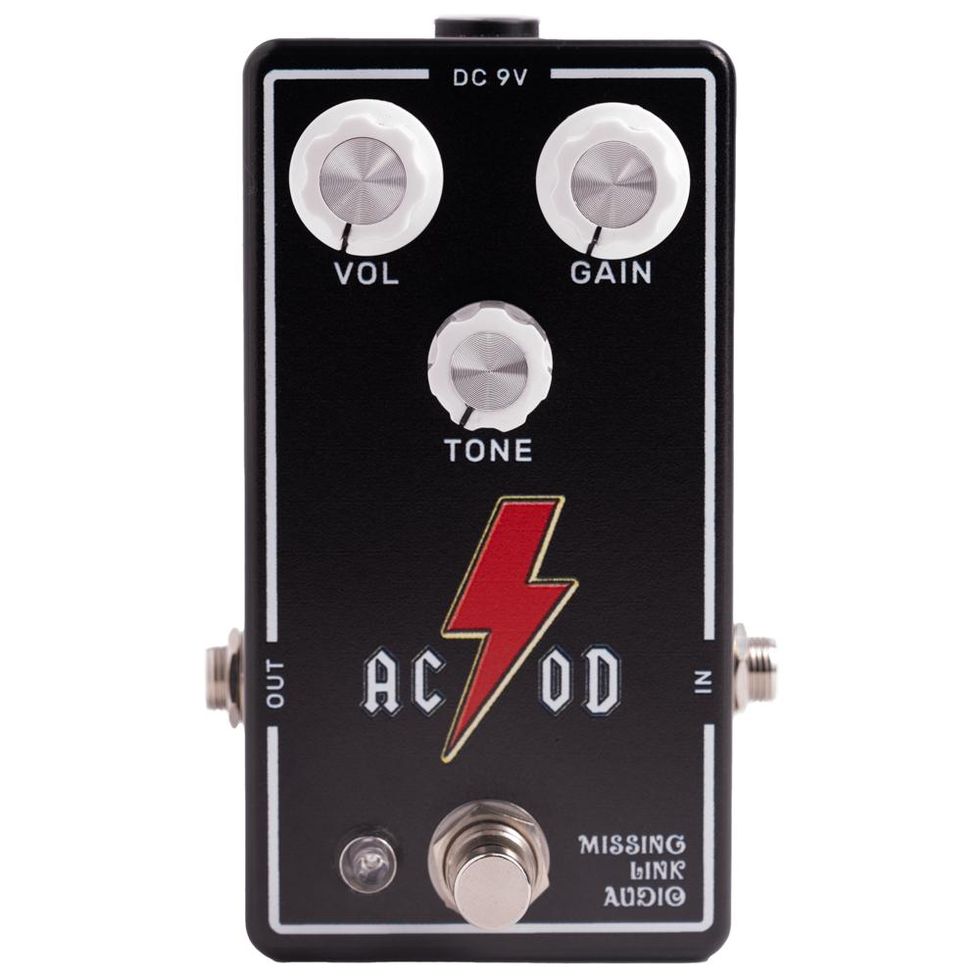 www.mlapedals.com.