IK Multimedia, the leader in mobile music-creation apps and accessories, is proud to announce the new version of the highly acclaimed AmpliTube app, which now adds a complete multi-track Studio with timeline audio editing and new gear models.
Modena, Italy (May 30, 2013) -- May 30, 2013 — IK Multimedia, the leader in mobile music-creation apps and accessories, is proud to announce the new version of the highly acclaimed AmpliTube app, which now adds a complete multi-track Studio with timeline audio editing and new gear models, making it the most comprehensive guitar and audio production app available. Now users can play, practice, compose and record complete songs from start to finish, anywhere inspiration strikes, on their iPhone, iPad and iPod touch.
The new release of AmpliTube completely changes the game for mobile music production and offers everything musicians need to quickly and easily record complete songs: a full guitar/bass rig; a multi-track recorder with effects; a new timeline audio editing suite for arranging, editing, mixing and mastering; a built-in programmable drummer; professional export features for sharing creations with the world; and the possibility to work simultaneously with other audio apps.
When used with the IK Multimedia iRig line of guitar interfaces (like the new high-quality iRig HD, iRig STOMP or the iRig adapter), microphone products (like iRig Mic or iRig PRE) AmpliTube 3.0 provides an all-in-one solution with unmatched sound quality, guitar tone, recording flexibility and ease of use for the professional mobile musician.
The New AmpliTube Studio — Timeline Audio Editing Suite
The newest feature in AmpliTube 3.0 is the Studio, where users will see their audio tracks on a timeline with a waveform display, much like they are used to on their DAW (digital audio workstation) software on their computer. Audio regions can be manipulated with a full set of commands and controls: cut, copy, paste, delete, normalize, split (at playhead), create fades and crop clips.
Clips can easily be moved and adjusted with a simple gesture for precise alignment with other clips, and a grid feature provides "snapping" of regions to the timeline for easy positioning. Recording into a track is as simple as touching it, arming it and hitting record. AmpliTube Studio makes recording, arranging, editing and perfecting a complete song from start to finish a breeze, and once again revolutionizes the way musicians create on the go.
The new Studio is an extension of the AmpliTube recorder,which starts as a single-track recorder, and can be expanded to 4-track (iPhone/iPod touch) or 8-track (iPad) putting a full multi-track recorder with mastering effects the fingertips of the user. The multi-track recorder has features rivaling even the most sophisticated studio setups, like effects send and master multi-effects, which can add that professional feel to any recording. The recorder with the new Studio section is designed to allow players to quickly and easily get their musical ideas recorded, polished and ready for prime time.
A Complete Guitar Rig with New Gear
At its core, AmpliTube continues to be all about outstanding guitar and bass tone, and offers a full guitar/bass rig including tuner; selectable stomp box effects; amplifiers from the world's top amp manufacturers like Fender, Ampeg, and Soldano; collections from artists like Jimi Hendrix, Slash and others; plus selectable speaker cabinets and microphones.
Exclusively for iRig HD users, AmpliTube 3.0 now also offers four new free gear models that address the tone needs of the most demanding metal and rock players — the Metal 150 and Metal W amps, and the X-Flanger and Wharmonator "Whammy" pedals. Never before has such a massive and comprehensive collection of tone machines been offered to mobile guitarists, right at their fingertips.
A Drummer Always in the Pocket
With AmpliTube's built-in Loop Drummer, players will always have a professional drummer with them. Loop Drummer features complete groove "building blocks," including intros, fills, main and alternate rhythms, and outros. It's extremely flexible and easy to use, and covers virtually every style of music. Start with the free Rock style installed, and add more genre packs via in-app purchase, covering most musical styles, including Metal, Funky, Blues, and many others.
The Perfect Rehearsal Tool
AmpliTube also features a robust Song section that allows you to load pre-recorded material into it, change the tempo and/or pitch if desired, and practice along. This is a great tool for learning new material, or simply creating new riffs over existing material by using the "No Voice" center-cancel button that mutes audio panned to the center of the stereo field.
Supports Other Favorite Mobile Music Apps
AmpliTube is also Audiobus compatible, which means that it can be used simultaneously with up to 4 other compatible audio apps. Players can use other IK apps like SampleTank, iLectric Piano or iGrand Piano; record material directly into the AmpliTube recorder or studio section; or use the AmpliTube signal chain as a tone generator, effects processor or recorder for other apps like GarageBand.
Price and Availability
AmpliTube 3.0 is a free update for all previous users and it's available now on the AppStore both as a free or paid app for iPhone/iPod touch or iPad for only $19.99 for new users. The new Studio feature is available as in-app purchase for ony $9.99 (iPhone) and $14.99 (iPad) for users who have already purchased the multi-track recorder, or at a special bundle price that includes also the multi-track recorder for new users.
The four new gear models are exclusively available to iRig HD interface users, through simply connecting the interface to the app.
For more information:
IK Multimedia
Looking for more great gear for the guitar player in your life (yourself included!)? Check out this year's Holiday Gear Finds!
This full-amp-stack-in-a-box pedal brings a new flavor to the Guitar Legend Tone Series of pedals, Missing Link Audio's flagship product line.
Adding to the company's line of premium-quality effects pedals, Missing Link Audio has unleashed the new AC/Overdrive pedal. This full-amp-stack-in-a-box pedal – the only Angus & Malcom all-in-one stompbox on the market – brings a new flavor to the Guitar Legend Tone Series of pedals, Missing Link Audio's flagship product line.
The AC/OD layout has three knobs to control Volume, Gain and Tone. That user-friendly format is perfect for quickly getting your ideal tone, and it also offers a ton of versatility. MLA's new AC/OD absolutely nails the Angus tone from the days of "High Voltage" to "Back in Black". You can also easily dial inMalcom with the turn of a knob. The pedal covers a broad range of sonic terrain, from boost to hot overdrive to complete tube-like saturation. The pedal is designed to leave on all the time and is very touch responsive. You can get everything from fat rhythm tones to a perfect lead tone just by using your guitar's volume knob and your right-hand attack.
Features 
Three knobs to control Volume, Gain and Tone
Die-cast aluminum cases for gig-worthy durability
Limited lifetime warranty
True bypass on/off switch
9-volt DC input
Made in the USA
MLA Pedals AC/OD - Music & Demo by A. Barrero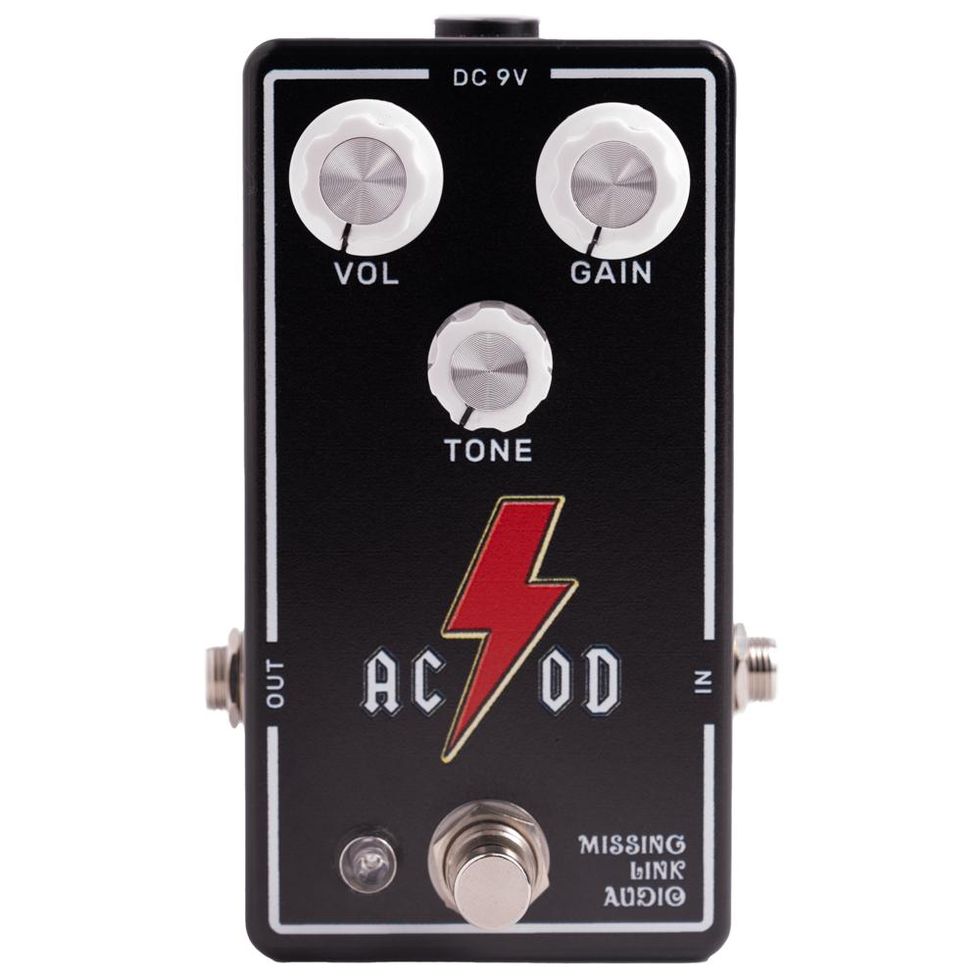 www.mlapedals.com.
Sporting custom artwork etched onto the covers, the Railhammer Billy Corgan Z-One Humcutters are designed to offer a fat midrange and a smooth top end.
Billy Corgan was looking for something for heavier Smashing Pumpkins songs, so Joe Naylor designed the Railhammer Billy Corgan Z-One pickup. Sporting custom artwork etched onto the covers, the Railhammer Billy Corgan Z-One Humcutters have a fat midrange and a smooth top end. This pickup combines the drive and sustain of a humbucker with the percussive attack and string clarity of a P90. Get beefy P90 tone plus amp-pummeling output with the Railhammer Billy Corgan Z-One.
Patented Railhammer Pickups take passive guitar pickups to a new level with rails under the wound strings lead to tighter lows, and poles under the plain strings offer fatter heights. With increased clarity, the passive pickup's tone is never sterile.
Railhammer Billy Corgan Signature Z-One Pickup Demo
Designed for utmost comfort and performance, the Vertigo Ultra Bass is Mono's answer to those who seek the ultimate gigging experience.
Complete with a range of game-changing design features, such as the patent-pending attachable FREERIDE Wheel System, premium water-resistant and reflective materials, shockproof shell structure and improved ergonomic features, the Vertigo Ultra Bass takes gear protection to the next level.
The Vertigo Ultra Bass features:
Patent-pending FREERIDE Wheel System that allows for wheels to be attached on the case in no time, giving you the option to travel with it seamlessly
Upgraded materials, including a water-resistant 1680D Ballistic Nylon outer shell, plush inner lining and new reflective trim for maximum backstage and night visibility
Enhanced protection with a shockproof shell structure and heavy-duty water-resistant YKK zippers for protection from the elements
Improved ergonomics and functionality including added back support and load-lifting detachable shoulder straps with side release buckles
Flexible storage options with added space for touring essentials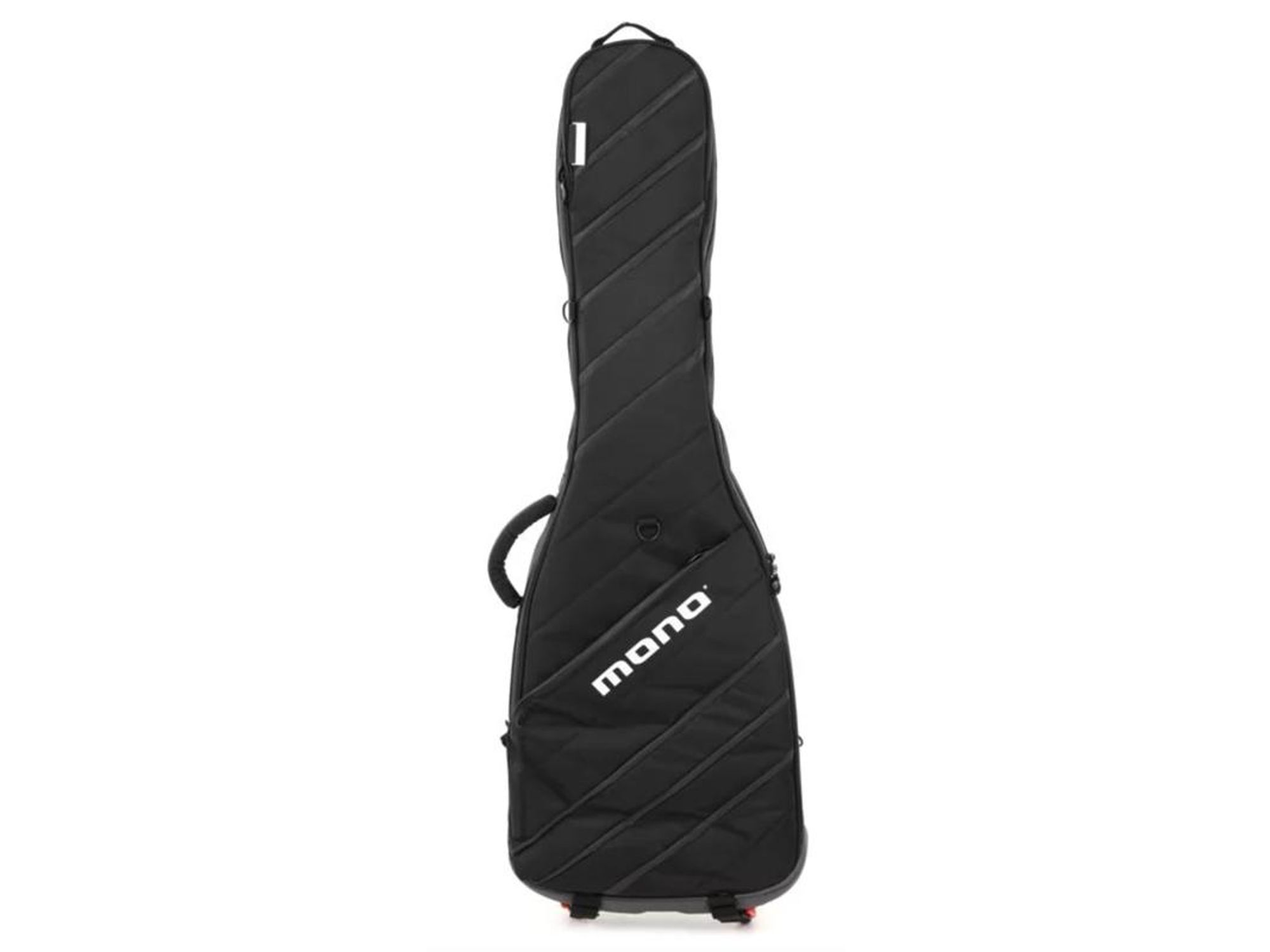 For more information, please visit monocreators.com.
Mono