Jol Dantzig's Esoterica Electrica: Strats, Teles, and Dan Smith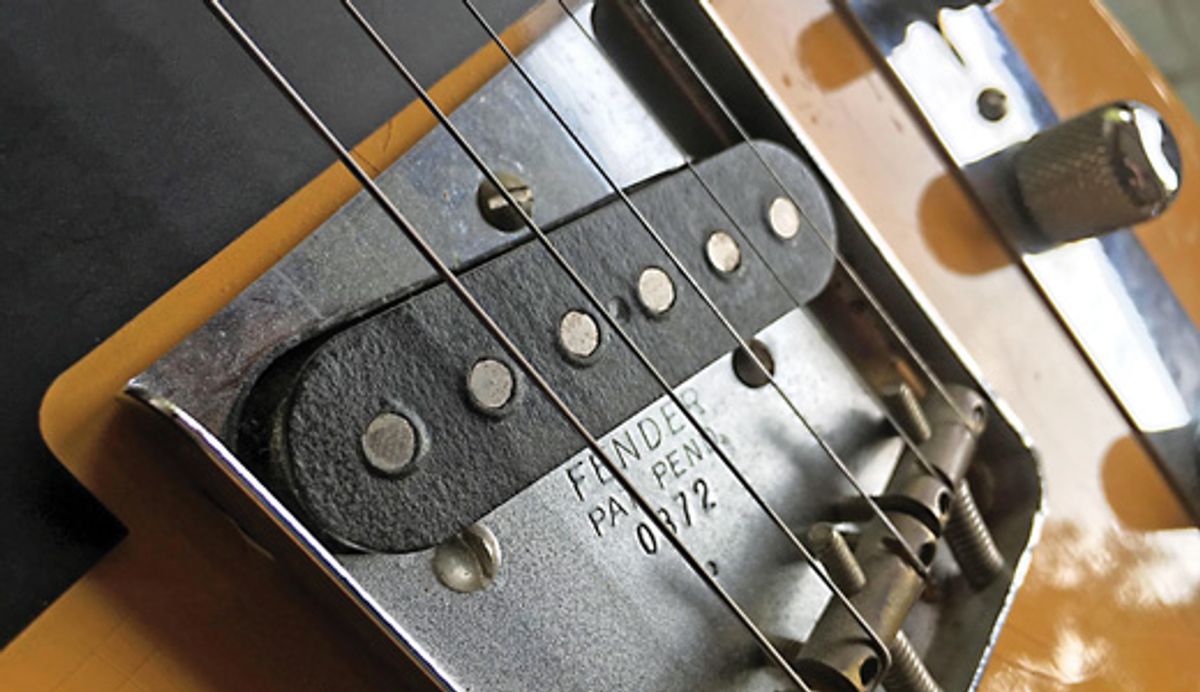 Jol Dantzig ponders just how many Stratocasters are in existence as he pays tribute to his friend and industry vet, the late Dan Smith.
Sometimes I wonder how many Stratocasters exist. The late Dan Smith—a man who had a lot to do with just how many Strats (and Teles) there are today—wondered the same thing. Smith was a large, friendly presence with a deep laugh that was as irresistible as double-chocolate cake. Smith is probably best known for his tenure as vice president of marketing at Fender, but, perhaps more notably, he was one of the chief architects of Fender's rise from the ashes into what it is today. While at Fender beginning in the 1980s, Smith wore many hats, including head of R&D, creating the Custom Shop, and overseeing the entire product line. He is credited with befriending Eric Clapton and convincing him to endorse the Clapton signature guitar. Before Fender, Smith was at Yamaha and had been part of the team that developed the SG2000 guitar.
I met Smith in the late 1970s when I was at Hamer. At the time, he and his wife ran a small music store called Merrimac Sound in Rochester, New York. They became one of the first Hamer dealers in the country, and from the moment I initially spoke to him, I realized his passion for instruments came from his background as a musician. We both shared a love of music, which was our bond.
Things were tough in the musical-instrument business in the late 1970s, and many of our conversations back then were about survival. So it didn't come as a total surprise when the Smiths closed up shop and headed out to California. Smith had taken a position at Yamaha, and although I knew his heart was with American guitars, he knew that he had to put food on his family's table. We kept in contact over the years and I stayed at his small home when I visited him in California. He wouldn't have it any other way.
Things were looking up for Smith when he accepted an offer from Bill Schultz in 1981 to join the team at Fender, where he was quickly put in charge of revitalizing the entire range of products. One of the first things he and his colleagues wanted to do was to make a statement guitar: a faithful resurrection of the original black-pickguard Telecaster.
You haven't really lived until you've stood in a room with 1,000 Stratocasters hanging from the ceiling.
The factory produced a batch of prototypes for evaluation and then went into production. Smith sent me #0372 as a gift. Not long after, Schultz and the employees at Fender purchased the company, thereby ending the CBS chapter. The result of their efforts is that today you can buy a Tele or a Strat that can stand tall next to the originals from the 1950s.
In the early 1990s, I found myself in Fender's parking lot with Smith, casually strolling towards the employee entrance. It was my first visit to the Custom Shop in Corona, California, and as fate would have it, not my last. As we approached the door, Smith turned to me and said with a chuckle, "Every day I expect a sign on this door that says, 'go home, we've made enough.'" I had toured the massive Fullerton factory years before, but that seemed like ancient history when I viewed the spectacle inside. You haven't really lived until you've stood in a room with 1,000 Stratocasters hanging from the ceiling.
Smith was beaming with pride, but he later confided his difficulties with trying to balance what salespeople wanted, what dealers needed, and what regulatory officials demanded with what musicians craved. I listened to his wisdom and never got the feeling he was lecturing me or disregarding my opinion. He was a man who had a forceful reputation for getting things done his way without making enemies. Unlike many, Smith was always quick to share sources for parts and materials. And he never kept score of the favors he did.
I went to work for Fender in 2008 and was tasked with improving some of the processes in their Corona, New Hartford, and Ensenada factories. One exercise was in the Custom Shop, where I was probably more in the way than any kind of help. Smith had retired by that time, but I saw his shadow everywhere. We never got to work together formally.
Now, a year after his passing, I still feel the presence of Dan Smith in much of what I do. His words and voice are never far from my mind as I carry on in my shop. His son Jason continues the family tradition as a master builder in the Corona shop. To me, Dan Smith was a friend, a mentor, and a tough son of a bitch with a heart of gold—all rolled into one. And yes, I still have that Telecaster.