Musikmesse '15 – Editors' Picks
Our Editors' Picks from Musikmesse—Europe's biggest guitar and bass gear show.
Gear shows can be funny things for a variety of reasons. At Winter NAMM in Anaheim each January, the planet's biggest selection of new guitar and bass toys is ogled by an oft amusing-looking crowd largely composed of rockers aging with varying degrees of grace—middle-aged hair-metal fans in the same ripped trousers and high-top sneakers they wore in '85, bearded, skinny-jean-wearing 30- and 20-somethings with drastic fade cuts and gauged earlobes, young shredders wearing the same makeup and leather Nikki Sixx wore in '85, and everything in between. Summer NAMM in Nashville is more about blues dudes in guitar-print button-ups, and country cats in boots and hats. Meanwhile, Musikmesse—held April 15–18 in Frankfurt, Germany—has a lot of Europeans in dark suit coats, scarves, and pointy dress shoes.
Despite their fashion differences, all gear shows are similarly chock-full of guitar addicts wailing at raging volumes in efforts to impress each other. They're also similar in that they tend to go through varying degrees of busyness, both in terms of visiting gear freaks, dealers, and distributors, and in terms of companies choosing to exhibit or sit this one out. Inevitably, lulls create concern—often leading to predictions of the demise of whichever show happens to be at the bottom of the rollercoaster hill at that moment.
For glass-half-empty attendees, this year's Musikmesse was a bit of an occasion for doomsday prophesying—at least with regard to guitar and bass products. Nowhere to be seen were big companies like Fender, PRS, and Warwick/Framus—in years past, one of the most prominent Messe exhibitors. Further, many boutique European luthiers who typically stun us with their exquisite high-end designs opted to spend their time and money on the new annual Holy Grail Guitar Show in Berlin.
Nevertheless, the Premier Guitar crew found a lot to dig during our trip to Frankfurt—enough that we're choosing to look at the lull merely as part of the circle of life (cue Elton John'ssoundtrack for The Lion King here). Sure, we've seen a bit more guitar and bass gear at Messes past, but this time we did see more boutique pedal outfits, which are often under-represented at this show. Plus, you never know how things are going to shake out for everything else going on in the gear universe—the knowns and the unknowns. Things and people adjust and evolve, new companies move in to fill voids, and the overall result is good for everyone as long as you've got your eyes peeled. And you can bet ours are. So, without further ado, let's take a look at our favorite gear from Musikmesse 2015.
Bachmann Guitars & Tonewood
Italian luthier Rudolf Bachmann's acoustics wowed us—and then some. They feature intricate inlay work and the same fine spruce and rosewood building materials that some of America's most respected luthiers purchase from Bachmann, but what really got us was the gorgeous bending of the AC-6 Luxury's richly figured back. Exquisite!
bachmann-guitars.com
JJoye Guitars
At Musikmesse we're so accustomed to seeing sophisticated boutique guitars that blend Swiss Army knife utility with posh, Mercedes-Benz-like appointments that it was a treat to see French designer Jeremy Joye's gloriously gaudy new Starlette. Decked out like a '50s dinette, it's equipped with custom pickups wound to evoke old-time rock 'n' roll attitude, an alder body, a heelless maple neck, ebony fretboard, locking tuners, and either a Tune-o-matic and a stop-tail bridge or a Duesenberg vibrato.
jjoyeguitars.com
Lâg Guitars
Lâg brought perhaps its sexiest-ever solidbody to Frankfurt this year. Like a T-style crossed with a Porsche Boxster, the BuxSter blends elegant lines and daring colors with classic appointments that yield plenty of bite and twang.
lagguitars.com
Soultool
Swiss guitar outfit Soultool unveiled the Laguz the Junior at Messe. Available with a mahogany or korina body, it features GoodTone/Häussel P-90s, a Graph Tech nut, an ABM wraparound bridge, glow-in-the-dark side position markers, and a "Full Access" neck joint.
soultool.com
Vice Guitars
Munich's Vice Guitars formed just in time to make its trade-show debut in Frankfurt (they don't even have a website yet). It's a good thing they did, though, because they had some of the most intriguingly adventurous designs we saw at Musikmesse—so cool we put one on the cover of our June 2015 issue. The 707 semi-hollowbody (left) features a 2-piece mahogany "sandwich" design with aged, engraved-steel top plates, a LeoSounds T-style bridge pickup, and a TV Jones Classic whose enclosure has been beautifully aged by founder/luthier Vice Brekalo. Meanwhile, the semi-hollow 717 (right) features an aluminum body, neck-through construction, and a Vintage Vibe Charlie Christian-style pickup.
Bigfoot Engineering
This year was Bigfoot Engineering's first Musikmesse appearance, but the word's been out for a while with players like Graham Coxon, J Mascis, and Rich Robinson that their line of octave fuzzes, fuzzes, and boosts are exceptionally dynamic and moldable.
bigfootengineering.com
EBS Red Label
Long a bass-centric outfit, EBS dipped its Swedish toes back in the guitar-pedal waters at Musikmesse with the release of the Red Label line. The MultiComp GE and DynaVerb GE are 6-string-optimized versions of the Black Label pedals so popular with world-renowned bassists, while the Red Twister GE is an improved take on the short-lived chorus EBS released for guitarists in 1999.
ebssweden.com
GTC Revpad
Israeli company GTC Sound Innovations' Revpad is a four-footswitch effector that lets you wirelessly control multiple parameters in real time using a touchpad that you attach to your pickguard with Velcro. You can freeze effects, change presets, and patch other stompboxes into the signal chain, too.
gtcsound.com
Greenhouse
Also from Israel, Greenhouse Effects came to Musikmesse with the new Self-Titled—a modular effector that lets you swap out a variety of cartridges (lower right) to have four stomps in a single 9V-powered housing. Meanwhile, the Double Edged Distortion (lower middle) has rhythm and solo channels with a pretty impressive range of sounds, from gritty to liquid sustain, and the Sonic Orb (lower right) serves up at least as many tasty phaser sounds. gheffects.com
Orange
The incredibly loud and flexible new Bax Bangeetar preamp—Orange's first pedal in decades—features a Baxandall EQ with parametric mid controls, internal adjusting of 9V power operation up to 18V (for more headroom), a super-transparent buffer, cab simulation, and boost functions. orangeamps.com
Joyo
Joyo debuted two small amp heads at this show, but the 12-watt Beale Street impressed us most. Priced at an impressive $499 street, it's armed with 6V6 tubes, a 5Y3 rectifier, a tone knob, and volumes for the two inputs that can be jumpered together for grittier output.
joyoaudio.com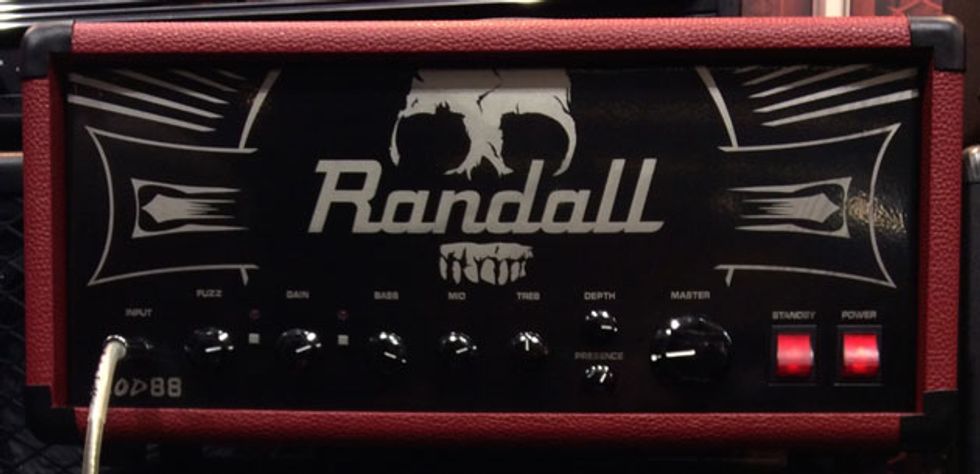 Randall
Fans of stoner metal should be intrigued by the latest from Randall. The EOD88—which got its moniker from Ozzy's pronouncement that Black Sabbath was just blues with an "element of doom"—features a KT88 power section, a nasty built-in fuzz circuit, 3-band EQ, gnarly gain, and possibly the world's largest volume knob. randallamplifiers.com
Vox
Probably the coolest amp deal we saw at Musikmesse was Vox's new AC10C1. Equipped with an EL84 power section, a 12AX7-driven preamp, a 10" Celestion speaker, and a surprisingly authentic-sounding "spring" digital reverb, it's shockingly loud and punchy—all for under $450 street. voxamps.com
Bassline
Some of the coolest basses at Musikmesse were from Bassline—a small team of German luthiers who haven't exhibited at this show since 2004 or so. Their Buster Re:belle 4-string features aesthetics simultaneously reminiscent of a Rickenbacker and audiophile gear. The body is made from 15-year-old elm, and the 1-piece neck is made of European hornbeam. Controls include a series-parallel toggle, push-push volume for passive or active operation, and tone and balance knobs.
bassline-bass.de
EBS
EBS has long been one of the preeminent makers of bass pedals, with multiple models that have been used by pros the world over for years. The new Studio Edition versions of their Black Label bass pedals include low-noise mechanical-relay switching, larger LED indicators, 9V–12V operation, better voltage-spike protection, quieter circuitry, and new aesthetics.
ebssweden.com
Sandberg
The amazing-looking Forty-Eight 4-string features an alder body, maple neck, rosewood fretboard, custom Sandberg tuning machines, and versatile humbuckers that yield everything from Jaco-esque bridge tones to fat rawk tones via volume, blend, treble, and bass knobs that can run in passive or active modes.
sandberg-guitars.de