On Bass: The Incredible Journey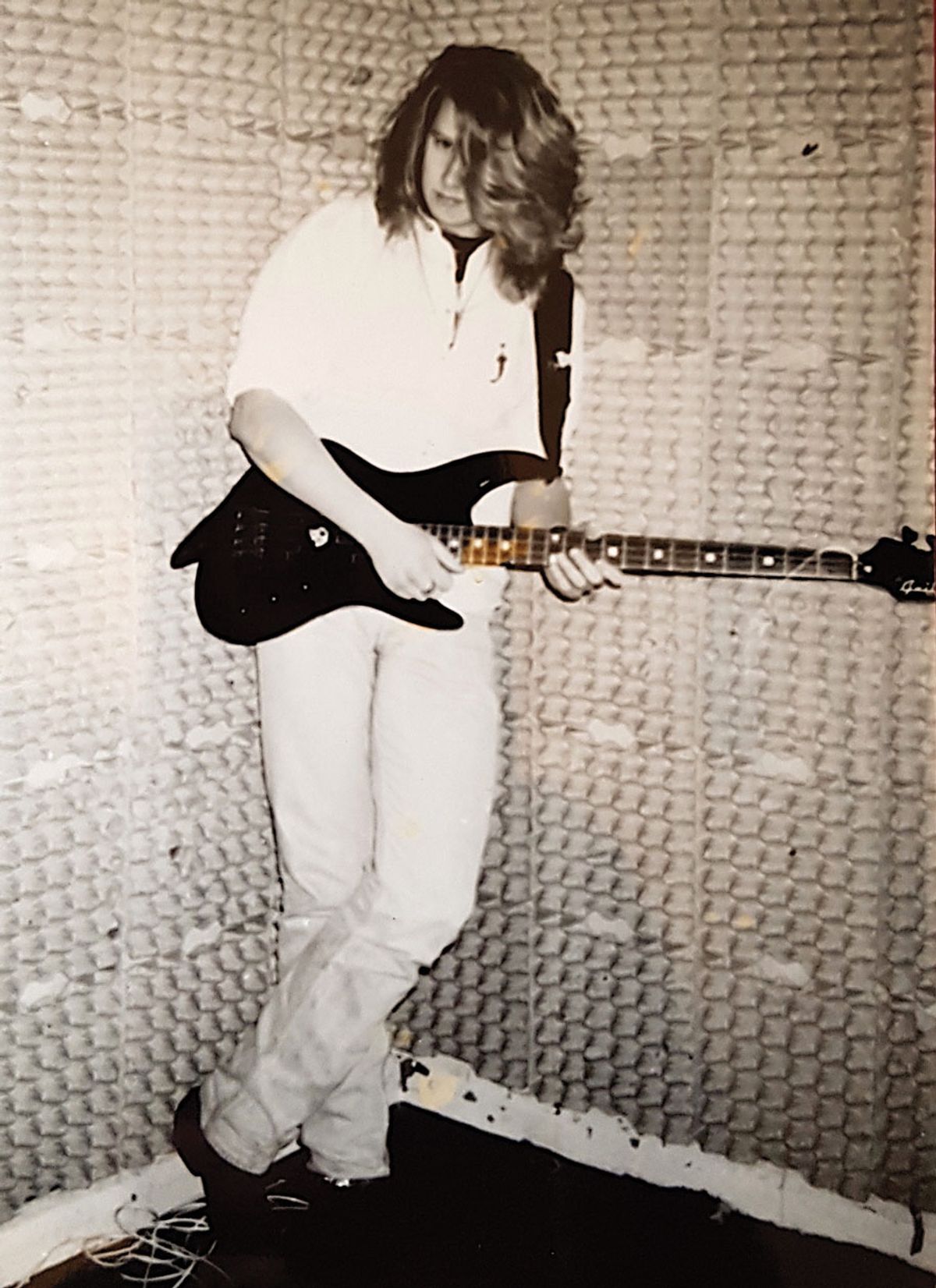 Our columnist's recent trip home to Sweden results in an unexpected, sentimental reunion with a bass he purchased almost three decades ago.
When I was 12 and told my mother I wanted to switch from piano to bass guitar as my main instrument, she informed my grandfather. And he promptly sponsored my dreams with the $90 needed to buy my first bass: a short-scale Gibson copy made by Kasuga.

My second bass was a passive Aria Pro II—a budget version of the ones played by the likes of John Taylor from Duran Duran. It cost me just a little bit more than my first bass and was fine for my formative years of playing. Unfortunately, the Aria was severely injured at my first gig, in a small hockey arena (and a very empty one at that), when I decided that the size of the venue required me to throw the bass a good 20 feet in the air to end the show. I did not catch the bass.

Which brings us to my third bass and how it just recently reentered my life. During the height of the '80s, I was quite obsessed by the bass playing on Bon Jovi's Slippery When Wet and New Jersey. Meanwhile, the bass magazines had ads for a Guild Pilot in the hands of Alec John Such—the credited bassist on the albums. (Unbeknownst to me at the time, Hugh McDonald actually played all the bass.) I naturally started devising a plan on how to get my hands on the instrument I had seen in the ads.
I did eventually save up enough to buy it, and I can still remember the smell of the case and the sheen of the perfectly glossy black paint job when it arrived.
The Pilot was a $1,200 bass then, but since I was on the other side of the Atlantic in Sweden, all the fees and taxes made the price tag quite a bit higher. Either way, it was a lot of money for a working-class teenager. So I took a job in a large, industrial laundry, where I loaded military and hospital laundry onto a giant conveyor belt. It was a dirty, hot, and unsanitary job, but I knew it meant eventually owning a real instrument like the "big guys."
I did eventually save up enough to buy it, and I can still remember the smell of the case and the sheen of the high-end, perfectly glossy black paint job when it arrived. I was convinced I had never seen anything that beautiful in my entire life. Because all good things must come to an end, however, my EMG-equipped, modern-sounding Guild would later have to be sold to finance my next bass when my tastes changed to more vintage tones. (I was also still at an age where keeping one bass at that price point while trying to acquire another one was impossible.)

Fast-forward to a few weeks ago when I went home to Sweden. While there, I visited fellow bassist Andi Grigson, and after a few beers and some barbequing, he asked me to come to his garage to show me something. I couldn't believe it when he pulled out a brown hardshell case with the same stickers I put on it when I bought the Guild 27 years ago! He explained that he'd been in possession of the bass for quite a few years and that it hadn't seen much action, since he kept it as a backup.

And Victor reunited with his long, lost friend.
The paint was scratched up from spending years at a junior high school where it was used as a student instrument. In spots, the paint color was now more of a black/grey burst rather than gloss black. The other damage included a missing tuner and a missing tone knob. Still, it was a strange but really wonderful sight to see the bass in person after all these years. When Andi saw my reaction, he told me to take it while explaining that he paid very little for it and always felt it was my bass.
When I returned to Nashville last week, I started renovating it right away. Andi had used the bass while playing the role of Gene Simmons in a Kiss tribute band, so the interior of the body had quite a bit of theater blood in it. After cleaning the "blood" out, replacing the broken/missing parts, putting a fresh coat of oil on the fretboard, and stringing it up with steel roundwounds, the bass sounded fantastic from the get-go. Even if it didn't sound fantastic, I would still have a fine wall piece to gander at from time to time. But now it will get played, and played a lot!

Because of the literal sweat equity I put into this bass, it has become a symbol of how badly I wanted my dream all those years ago. Thanks to the unbelievable kindness of a fellow bassist, I'll get to play it on albums and in concerts for a lot of people. The 17-year old with the big rock 'n' roll hair who originally bought the bass would have surely wanted that.