On Bass: Tips for TV Gigs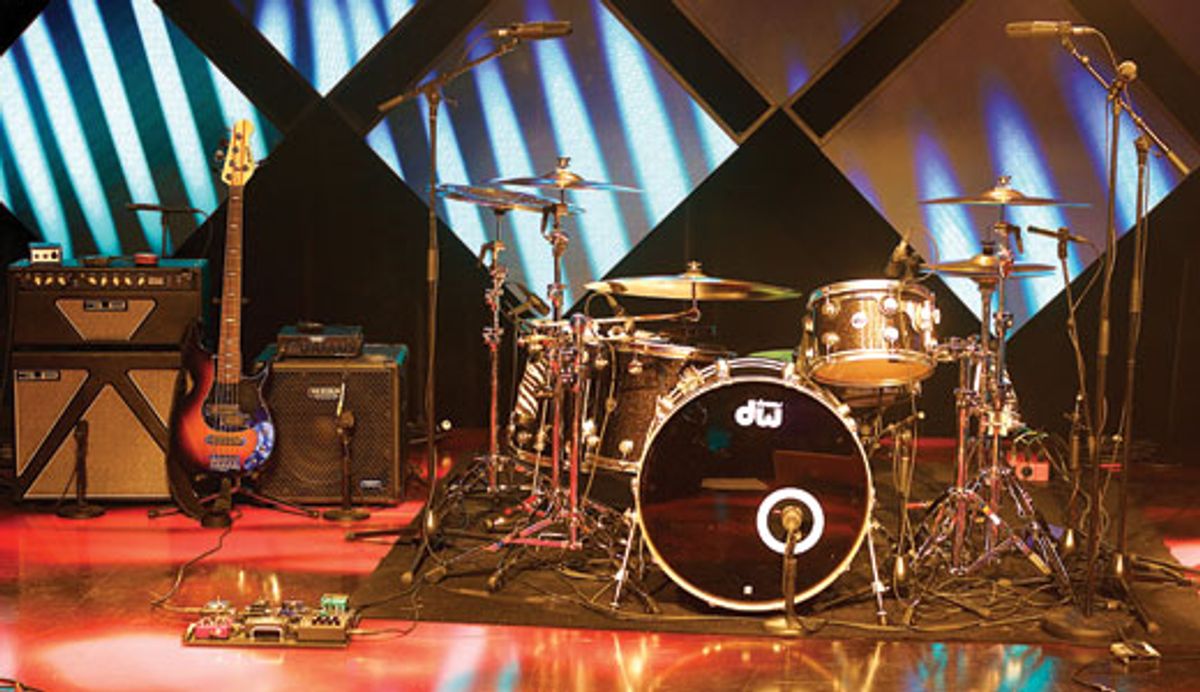 Keeping your playing, gear, and footprint tight is the best strategy for live-recorded broadcast performances.
I'm often asked what it's like playing bass on TV, and the short answer is that it isn't really that different from many other shows. You just have to make some small mental and technical tweaks that you may have had to do on other gigs already. Like everything I touch on in my column each month, my techniques for how I go about performing on television are what work for me personally, so you might have a different experience if you get the opportunity to work on a set. That said, I have experienced it enough times over the years that there are certain things I try to do every time.

It's a short gig. First of all, it's very rare that you'll play a full, headlining set on a television show. Sometimes you get lucky enough to play an entire hour-long special—something like Austin City Limits—but most of the time, all your travel and rehearsal leads up to three to four minutes of music. And this music is often played (or at least soundchecked) at ungodly inconvenient hours of the day.

It's a small gig. Second, most television studios are small and have very tight quarters. Some of these studios look huge on TV, but they are not, and this means that loading in, loading out, and maneuvering on set in general are slightly inconvenient. We bassists are used to big rigs for big sound, but that's not necessary for television since your onstage footprint will most likely be similar to that of a small bar-band setup.

This fall and winter, I'm fortunate to be the bassist in the house band for the weekly series American Supergroup on Pop TV (with re-airs on MTV Live and MTV Classic). I am taping with a single, miniature 1x15 cabinet to minimize my stage footprint and am keeping stage volume down by using a small amp. This is tremendously useful since a TV performance is essentially everyone recording in the same room simultaneously. Bleed between channels is unavoidable in this scenario, but it can be seriously improved by playing a very small bass rig at a quiet volume.

Another aspect of the small footprint is that you have the luxury of focusing on your playing rather than your Flea- or Eddie Van Halen-style jumps. Use that lack of space in the studio to play like you are playing a session. Rather than body movement, let the intensity come from your notes and facial expressions.
Bleed between channels is unavoidable, but it can be seriously improved by playing a very small bass rig at a quiet volume.

Up until a few years ago, I found that many TV mixes done by an in-house sound engineer would be overly compressed and small sounding. As a result of this "TV compression," the kick drum would sometimes push the bass notes out of the way, so listening to bass on a live-TV show wouldn't nearly measure up to hearing bass tones achieved in a recording studio. But this has changed. Today, I find that I actually prefer to hear many of the current crop of younger artists' radio hits played live (with the help of some prerecorded tracks) on TV. The sound is often punchier, clearer, and just better on the major talk shows or one of the channels, like MTV Live, that provides high-end mixes for live performances. This trend of good, clear TV mixes is another excellent reason for treating your performance in a small studio like a session.
Pinpoint your sound. The legendary Will Lee, who played bass on Late Show with David Letterman for many years, has a preamp with an 800 Hz-boost switch in his signature-model Sadowsky bass. Boosting 800 Hz is not always a pleasant sound when playing through an amp, but I recall reading a piece where Lee pointed out that many people hear TV audio through tiny low-quality speakers, and these speakers are unable to reproduce lower-bass frequencies well. By boosting this frequency in particular, Lee feels like he has the chance to have his bass speak and truly be heard in a TV mix.

Minimize your risk. That pedalboard you have been using on tour or in bars with your band might not be needed for a TV show. When you are playing in front of millions of people, things that never break (like the cable you use every night or the pedal you've jumped on hundreds of times without issue) just might decide to die on you during this particular four-minute performance. And going back and fixing things in this medium is most often not an option.

For example, I had the pleasure of playing bass with Thompson Square on NBC's The Today Show just yesterday. I only brought my EBS compressor—which stays on constantly for every gig I play—and a tuner. But just using these two boxes is not selling my tone short. It's what I use nightly on tour when performing the particular song we played on the TV show—no more, no less. And by bringing only what I needed, I cut out four pedals and five cables. That translates into less risk and a cleaner, less-diluted recorded signal.
Performing on television is the ultimate on-the-spot task and the worst time to play a wrong note, but once your nerves are under control, it's an extremely satisfying one-take musical experience.