Fender introduces six anniversary models.
In celebration of 70 years of musical excellence, Fender is releasing a collection of limited edition models and anniversary color options. The 70th Anniversary Stratocaster guitars pay homage to the legacy of the iconic Stratocaster.
70th Anniversary Player Stratocaster
Maple Modern "C" Neck
Alder Body, Rosewood Fingerboard
Pure Vintage '59 Single-Coil Strat (Bridge, Middle, Neck) Pickups
22 Medium Jumbo Frets
Black Stratocaster-Style Skirt Control Knobs
Deluxe Gig Bag Included
Available in Nebula Noir
70th Anniversary American Professional II Stratocaster
Maple Deep "C" Neck
Flame Maple Top over Alder Body, Rosewood Fingerboard
70th Anniversary V-Mod II Single-Coil Strat (Bridge, Middle, Neck) Pickups
22 Narrow Tall Frets
Aged White Control Knobs
Deluxe Molded Hardshell Gig Bag Included
Available in Comet Burst
Player Stratocaster
Alder body with gloss finish
Three Player Series single-coil Stratocaster pickups
"Modern C"-shaped neck profile
Maple Fingerboard, or Pau Ferro Fingerboard
9.5"-radius fingerboard
2-point tremolo bridge with bent-steel saddles
Now available in a new color option, Anniversary 2-Color Sunburst
American Professional Stratocaster II
Three V-Mod II single-coil Stratocaster pickups
Upgraded 2-Point Tremolo with Cold-Rolled Steel Block
Deep "C"-shaped neck profile with rolled fingerboard edges
Maple Fingerboard, or Rosewood Fingerboard
Bone nut; 22 narrow-tall frets for easy bending
Treble bleed circuit maintains highs when reducing volume
Includes Deluxe Molded hardshell case
Now available in a new color option, Anniversary 2-Color Sunburst

All six models are available now on Fender.com and participating dealer sites.
This guitar, which Kurt Cobain used in the late '80s, has pickups that really shine with high gain.
As 2023 draws to a close, I find myself in an unusual place. Why? Because I'm just about the happiest I've ever been in my life—seriously! Seeing my kids grow and loving what I do has all coalesced into a wondrous feeling of bliss. Also, yours truly turned 50 this year! To be honest, I never thought I'd make it this far, and perhaps that's why I feel such joy lately. Who knows, who cares? Don't look a gift horse in the mouth, I think?
Anyhoo, I was pondering guitars and the year of 1973, reflecting on the era. That year in particular was important because most of the crazy designs of the '50s and '60s were gone, and the second guitar "wave" came in the form of copy guitars (mostly Gibson and Fender clones), in which I am aggressively disinterested. In my view, almost all of the coolest guitar designs were gone. Even the uber-cool greenburst Kimberly Bison guitars were gone by '73. So then, I started thinking about guitars I've gotten for my birthday, like my Japanese-made Squier Vista Series Jagmaster that my girlfriend bought for me, new, for $150. Or how I recently got a custom-made BilT El Hombre as a present to myself, in greenburst, of course. But those choices just weren't right for this column.
So here's how my thinking went. I was recently reading about the time William Burroughs and Kurt Cobain met, and then my daughter was asking me about that, and then she asked me about Kurt's guitars and if I had any like his. And then I thought about the guitar for this month, which was still being made in 1973. Life is all about connections, folks!
"Most of the crazy designs of the '50s and '60s were gone, and the second guitar 'wave' came in the form of copy guitars, in which I am aggressively disinterested."
The Epiphone ET-270 was used by Kurt during the Bleach era; I used it off and on during the '90s and early 2000s. If you look at an Epiphone catalog from 1973, you'll see this model sold for $159, which made it the most affordable electric guitar in the lineup. At the time, the Norlin Corporation had purchased Gibson and shifted Epiphone production to Japan, specifically the Matsumoku factory. Before then, the giant woodworking factory was partnering with FujiGen to produce electric guitars, and Singer to produce sewing machine cabinets. The ET-270 featured the all-in-one vibrato/bridge unit that had been seen on several Matsumoku guitars from at least 1966.
The pickups were also recycled Matsumoku units, but man, these are really special pickups, measuring out at a healthy 9.44k at the bridge, and 9.09k at the neck. I friggin' love these pickups! They're loud as hell and handle high gain with aplomb. The ET-270 has a really cool "bass boost" switch that totally increases the output. In catalogs, it was labeled as a tone switch, but that darn switch really boosts the sound. I've seen a lot of rhythm/solo switches that don't seem to do too much, but the effect from this one is profound! Otherwise, the electronics feature a single volume and tone knob and a 3-way switch for pickup selection. The guitars were made well, generally, and in a few short years, almost all the surviving Japanese factories were churning out some very high-quality instruments. As Fender and Gibson quality went down, Japanese guitar quality went way up.
So, was the Epiphone ET-270 the last of the "cool" Japanese guitars? It's debatable—but for me, this guitar marks the end of the coolest era in guitar design, and pop culture in general. An era that yielded the birth of hip-hop, the Epiphone ET-270, The Exorcist, the debut of Miller Lite, and yours truly.
You could WIN an ASTRO-20 Head from Soldano in this all-new giveaway! Enter before Jan 2, 2024 for your chance to win.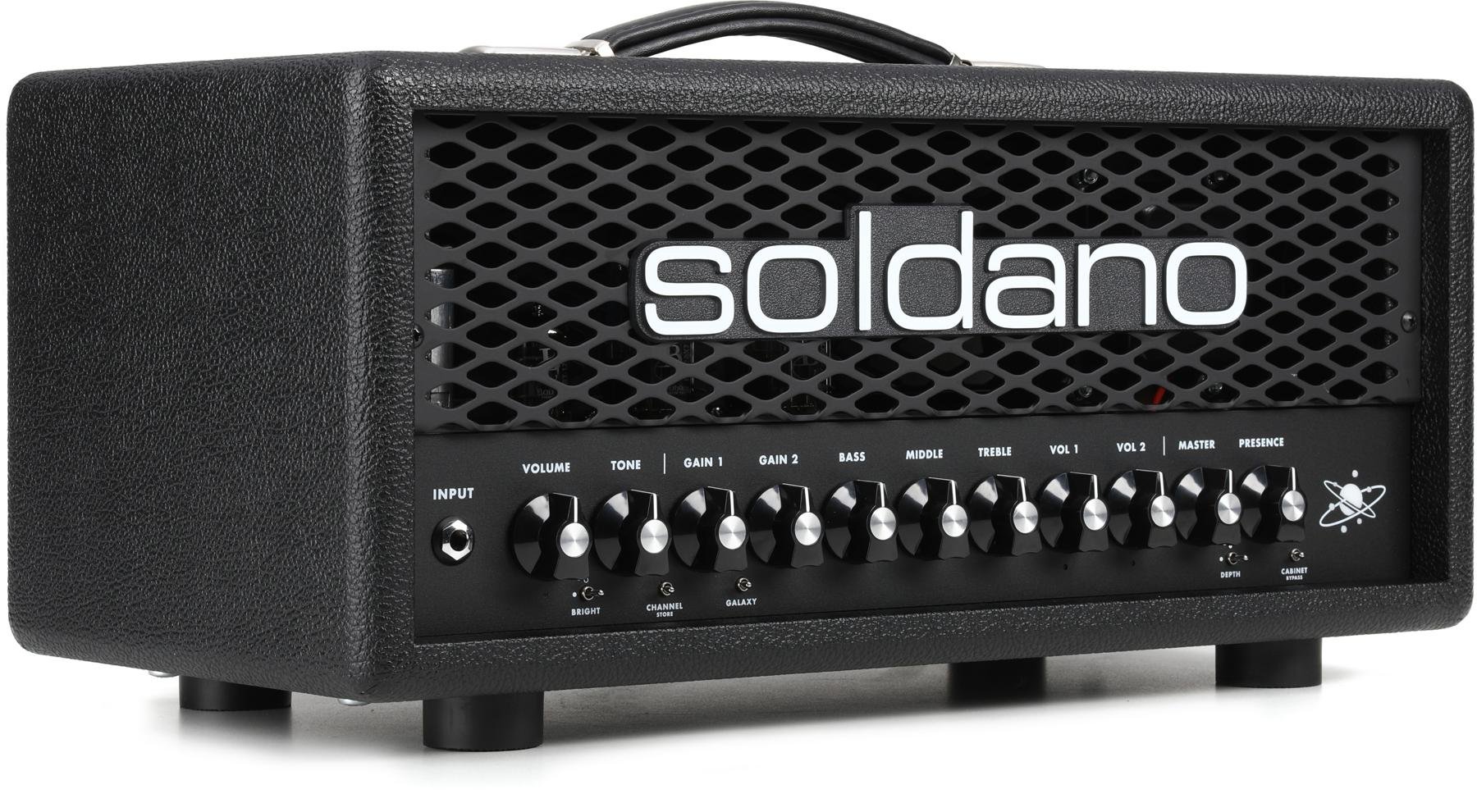 The ASTRO-20 is a 3-channel, 4-Galaxy, Built-In-USA head that combines authentic all-tube tone with features ideal for today's modern guitarist. Mike Soldano designed this sonic powerhouse to be a fully featured versatile 20w guitar amplifier. The ASTRO-20 can also be used as a stand-alone cab-less amplifier ideal for live sound, rehearsal and studio recording sessions, thanks to the DSP powered IR cabinet simulation.
The simple front panel design of the ASTRO-20 lets you save any combination of the channels, Galaxies, and IRs and quickly recall them with the included 4-button MIDI footswitch. The free downloadable Soldano Editor Software makes organizing presets and integrating your own IRs fast and easy.
Soldano