So, You Wanna Be a Luthier?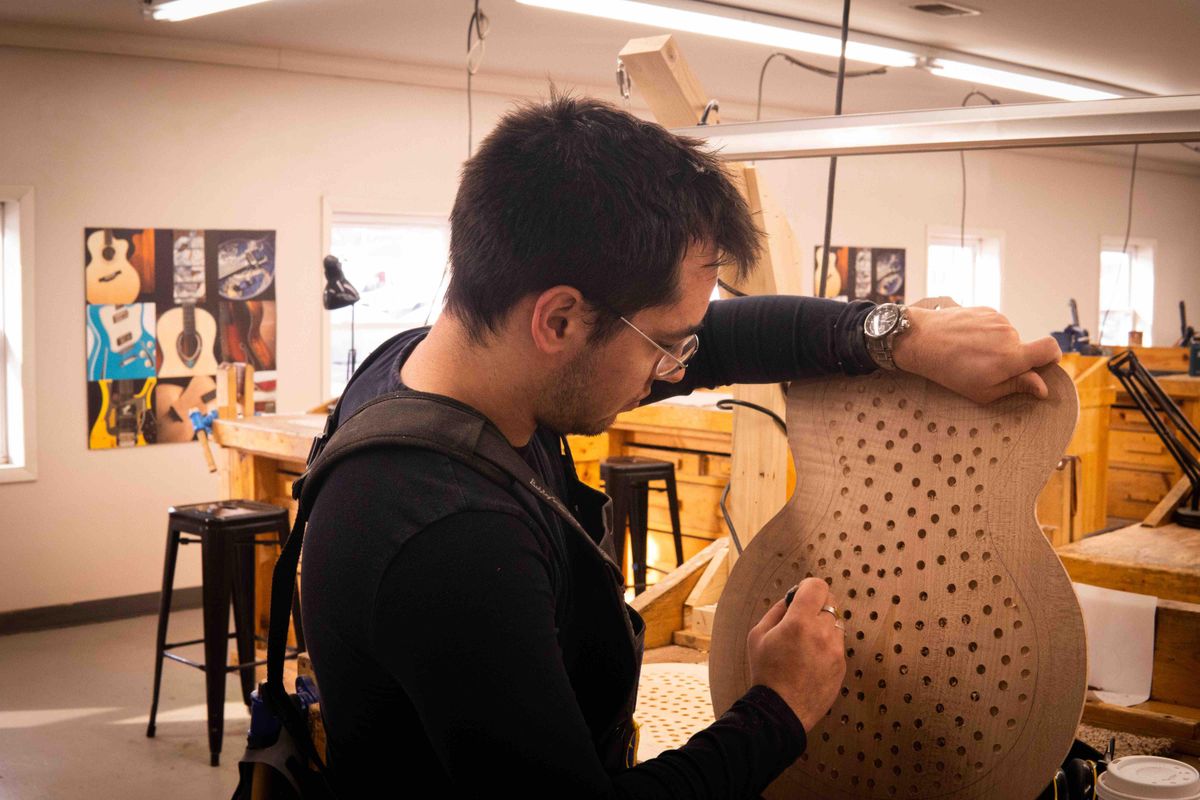 From enrichment classes to six-month master-luthier training, here's a big-picture view for potential lutherie students.
As many of you know, I have operated a school of lutherie for over 40 years. It all started when I took control of the Guitar Hospital repair shop from my friend Dan Erlewine in the mid '80s. The establishment was already offering short-term training to select individuals, and, at first, I focused on teaching repairs, which was the prime area of interest for most students. Since then, my school has grown from working with one student at a time to a peak of over 20 students in a single term.
---
Our training options eventually segued into ground-up builds of both electric and acoustic guitars, and grew from a single-month session to two-month and six-month training programs. To date, we offer enrichment classes, extra-curricular seminars, and expanded graduate classes that, in total, can run up to a year in length. Like all trade schools, our classes constantly shift and change with the times, and, in many cases, our research has developed technology and techniques that keep our school relevant and up to date.
Surround a person with like-minded people and inspiring topics, and they will blossom.
So, what does it mean to be enrolled in a program such as mine and how does it prepare you for the guitar industry? Let's start with the name of my six-month Masters Program. This title, by no stretch of the imagination, means you will be a master luthier after six months of training. The name came from a questionnaire I sent to many top luthiers asking what topics a student should be able to cover and what skills they would want to see from a potential employee. Then, I took that information, kicked it up a few notches, developed a reasonable curriculum, and founded the Master Class.
What would a day in the life of a fledgling luthier look like once enrolled in our program? First, the name of the game with any trade school is safety, safety, and safety. We are dealing with jointers, band saws, and routers—all of which could certainly cause harm if not monitored appropriately. Then there are the solvents, finishes, and exotic woods that could all be irritants (or worse) if the proper precautions are not taken into consideration.
After safety is covered, students can fully consider what classes they want to take and what their personal lutherie goals are. For those who already have a job in the industry, they could choose the longer sessions. However, for many students the much shorter à la carte session—which can be taken over time–—is the way to go. Retirees looking for a second career generally opt for the longer sessions, grinding through the program and getting back to work.
To stay current, trade schools constantly adjust their programs so students are up to speed with current trends. Nylon-string crossover guitars have become very popular in recent years, so we added it to the program to round out the flattop guitar program.
And, as with all trade schools, vocational rehabilitation is always part of the picture. We collaborate with many departments nationwide, retraining people for a career in lutherie. Additionally, we work with the U.S. military to offer our knowledge and education to disabled veterans, or those taking advantage of the post-9/11 G.I. Bill. This has become a popular way for veterans to jumpstart a career in lutherie.
It's the younger students who need to put a little more thought into how they are going to make the most of their training dollars. There are many who have already gone the university path and now want to focus on something they feel more passionate about. Many of these students end up going back to school, focusing on business-related classes once they see a clearer path for their future. I also see students arrive here fresh out of high school that are right-brain thinkers. If you plug these students into the wrong environment, they may never flourish. I have seen this time and time again. But surround a person with like-minded people and inspiring topics, and they will blossom.
For me, after four decades of operating a trade school and watching students maneuver their way through the world of lutherie, I have come to understand that my student body can take many forms. However, the bottom line is this: Choosing the correct training program is key for success, and there's no one training class that's right for all. Each student has to figure out their own goals, and then my school will provide the path to achieving it.