Last Call: Award Show Stuff You Don't See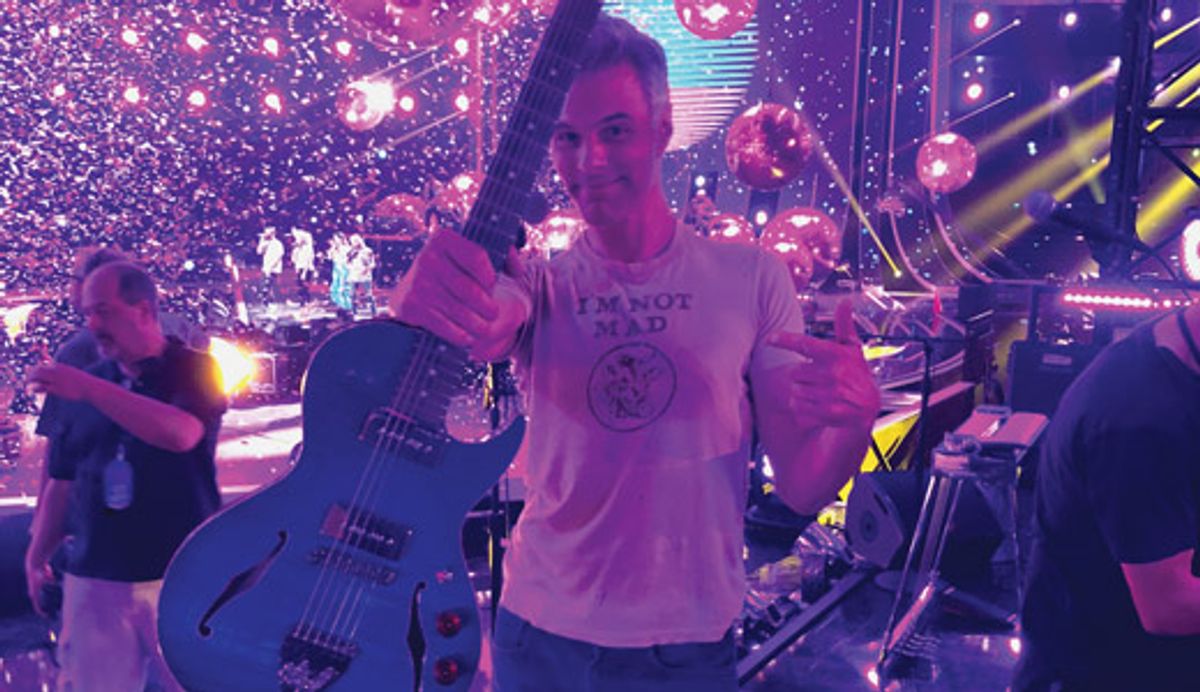 Double-pay, free guitars, bumps, vamps, and green-room gaggles behind the magic of the small screen.
I work primarily in country music—a genre that has a shockingly high number of awards shows. I've played the CMT Music Awards, the Academy of Country Music Awards, the Country Music Association Awards, the CMT Artist of the Year Awards, the American Country Awards, and the American Country Countdown Awards. There should be an award for the most redundant awards show.
Why so many, you ask?
---
According to British newspaper The Guardian, "even though pop outsells country, according to Nielsen, defining what constitutes the genre is difficult. That makes country the single largest defined genre of music, which can be perfectly packaged for a televised event geared for a mass viewership. Country fans like seeing their favorite stars rewarded."
For those who haven't played an awards show, here are some interesting tidbits.
• Awards shows pay union scale. You are not paid for how long you play. You are paid for the total running time of the show. Three minutes of playing on a three-hour show pays way more than 23 minutes playing on an hour show.
• Sometimes, you gotta fake it. On some shows, to avoid the logistical nightmare of all the inputs and live mics needed for every act, bands will pantomime to a track as the singers sing live. I played an awards show in Vegas where we pre-recorded the songs in a studio and then mimed as the singers sang live. I was paid for the recording session, and then paid a second time for faking my own part on TV. And if the track is used on another show, I will get a "new use payment," for a sweet trifecta. (Without an American Federation of Musicians contract, that won't happen.)
• Why we play live song "edits." I'm currently prepping for the CMT Awards—a show I've MD'd (music directed) for the past nine years. Each year on the CMTs, six new artists who've had a hit are featured, but they don't get a full song. So, we come up with a truncated arrangement of their hit that includes an intro, a chorus, and a vamp out, played under a VO (voice-over) announcing what's coming up next.
I once shared a dressing room with LL Cool J, Randy Travis, Charlie Daniels, and five other incongruous stars and bands.
Typically, it's these artists' first award show, so you can imagine the pressure of playing your hit live with a band you just met in front of a packed arena and millions of viewers. Artists like Kelsea Ballerini, Thomas Rhett, Maren Morris, Brett Eldredge, Eric Church, Brett Young, and Jon Pardi totally nailed their performances and went on to sell millions of albums. Others fade.
• Riding the "bumps." The house band plays live "bumps" to lead into breaks and during intros as presenters walk toward their mark as a VO introduces them. All of this music is "live" live because we have to adjust on the fly depending on how the show is doing on time and when presenters hit their mark. A few years ago, we were scripted to vamp the rocking power chug (da-da-da-da) intro of Shania Twain's "Man! I Feel Like a Woman" for 10 seconds as Shania walked through the crowd to the mic. We vamped … and vamped, but no Shania. We kept chugging that one chord for what felt like an eternity (a little over one minute), until she reached the mic and performed her bit. Apparently some overly enthusiastic fans reached over the barrier and gave Shania a tug as she strutted toward the stage. The grab, combined with some very high heels and the slippery concrete floor of Nashville's Bridgestone Arena, sent Shania toppling. After righting herself and fighting through the mob, Shania hit her mark and performed with absolute poise. Nobody watching her would ever imagine the brutal death march she endured to get there. That woman is as pro as it gets.
• Product placement is a big deal. Backstage there are often reps from different guitar companies offering guitars to play on the show. Sometimes the manufacturers are so happy to see their instrument on the show that they let the player, or holder, keep it. I've seen artists come in with one guitar for the rehearsal, then leave the show with a brand-new upgrade axe. Speaking of swag, most award shows offer incredibly generous gift bags to the performers that include anything from a MacBook to a Tempur-Pedic mattress. Regrettably, anonymous band members get nada.
• The really "green" room. Depending on the venue, dressing rooms are often shared, which makes for some interesting hangs. I once shared a dressing room with LL Cool J, Randy Travis, Charlie Daniels, and five other incongruous stars and bands. As cool as that room was, I wished I was in the Willie Nelson/Kris Kristofferson dressing room, next to ours, that had some calming aromatherapy billowing out of the open door. Those guys seemed to be having a lot more fun.
Live TV has become a rare and exotic bird that's beautiful to observe in the wild. People keep tuning in because anything can and will happen. You may witness the greatest or the worst performance ever. And I love seeing it all from the stage!