Last Call: Bohlinger's Unofficial Guide to Music City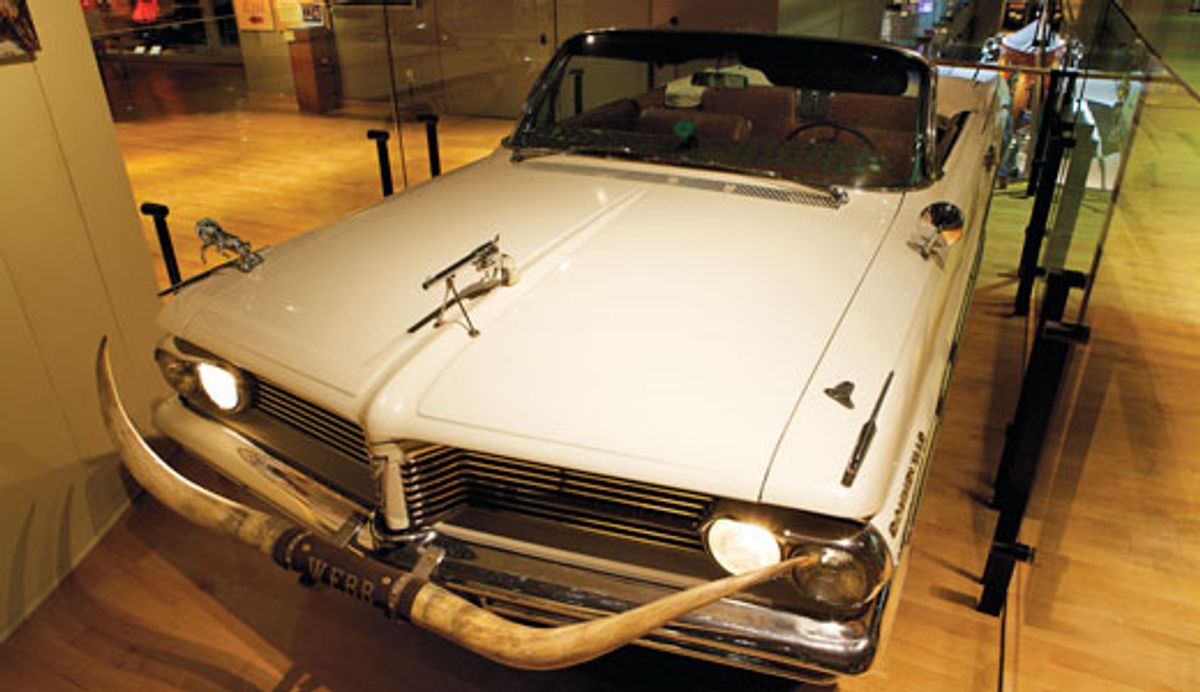 Our columnist's take on the 6-string delights of Nashville—with a little added spice.
I've been kicking around Nashville for over a quarter-century. Of late, this funky rhinestone-encrusted burg has become strangely popular. Not chic, but kind of hip—like if Austin, Portland, and New Orleans had a love child with a Southern accent. In-flight mags will tell you what to see in Nashville, but that's the antiseptic version for the straights. Today, I give you the keys to the kingdom: Bohlinger's Unauthorized Guide to Music City: Where to see, and perhaps play, guitar in area code 615.
---
Ever wonder what it's like to play a Fender Nocaster, a 1960 Les Paul, or other guitars you desperately want but probably will never afford? Start at Gruhn Guitars at 2120 8th Avenue South. Last time I was there, I played one of Albert King's Flying Vs, Nancy Wilson's 12-string electric handbuilt by Paul Reed Smith himself in 1978, and saw a room full of scary snakes and Vince Gill. (Fun fact: Gruhn is a herpetologist with a collection of snakes in a private room upstairs.) Not a bad little time spent on a Saturday.
Right down the street you'll find Carter Vintage Guitars at 625 8th Avenue South. I saw the first-ever Les Paul 'burst there, but I was too afraid to play it. They also offered free beer, perhaps thinking that if I'm drunk I'd be a bit looser with my wallet. I was not.
Between those shops, at 1805 8th Avenue South, you'll find Rumble Seat Music. My buddy Jon Stone bought his stock '61 LP there and named it Red Jesus. They currently have a wall full of vintage 'bursts that will make your head explode, with literally millions of bucks worth of classic Les Pauls—just hanging there! Also worth a visit is the local Guitar Center's Platinum Room, which has a high rotation of heavy hitters.
Ever wonder what it's like to play a Fender Nocaster or a 1960 Les Paul or other guitars you desperately want but probably
will never afford?
And for the truly unattainable, check out the actual museums—like the Gallery of Iconic Guitars, aka GIG, on the Belmont University Campus. It's at 1907 Belmont Blvd., and boasts a 1939 Martin D-45 valued at $350,000, a Lloyd Loar-signed mandolin from the 1920s considered even rarer than a Stradivarius violin, and a boatload of other drool-inspiring axes. After that, roll down to the Musicians Hall of Fame and Museum at 401 Gay St. It's housed under the Nashville Municipal Auditorium, where concerts of all genres happen. The Musicians Hall of Fame and Museum displays historic instruments that will melt your heart. More than just guitars, you can currently catch The Rolling Stones Exhibit, as well as gear and goodies from Hendrix to Hank to L.A. to Motown.
The Country Music Hall of Fame and Museum is a longtime attraction, chartered by the state in 1961—although the cool, modern building at 222 5th Avenue South (right across from where the Predators hockey team plays home games) opened in 2001. The instruments are amazing, but the clothes and Webb Pierce's 1962 Pontiac Bonneville convertible, complete with steer horns, six-shooters, and a saddle console, are worth the price of admission alone.
What else to see in Music City? Major venues like the Ryman Auditorium, where the Grand Ole Opry was staged from 1943 to 1974 (and still occasionally rears its head), the Bridgestone Arena (where the aforementioned Preds hit the ice), the acoustically badass Schermerhorn Symphony Center, and the Ascend Amphitheater have top-tier artists practically every week. But for something a bit down and dirty, head to Lower Broadway, where the very best and worst musicians in the entire world line the clubs on both sides of the street to compete for your dollars. You can kiss a lot of frogs looking for your Prince, or the next Chet Atkins, so here's what to see and what to avoid there.

This might look like an unassuming order of crispy fried chicken, but it's actually a culinary secret weapon—hot enough to melt tonsils, with a side order of white bread and pickles to dampen the fire. Photo by Sean Russell
Start with Robert's Western World at 416 Broadway. That's where the Don Kelley Band has featured incredible pickers like Brent Mason, Johnny Hiland, J.D. Simo, Daniel Donato, Guthrie Trapp, Redd Volkaert, and a ton of others. Over the years, I've done more than my fair share of torturing patrons there with my own guitar wankery. PBR is $2.50 and the burgers are greasy good.
Right next door you'll find Layla's, for equally cheap drinks and equally great music—although Layla's leans more toward the rockabilly side. Across the street you'll find Alan Jackson's AJ's Good Time Bar, for traditional country that's usually good. The rest of the clubs are hit or miss, in my opinion.
For chow, you've probably heard about Nashville's gift to world cuisine: hot chicken. There are many imitators, but for me, Prince's Hot Chicken is the real deal. At the original location at 123 Ewing Dr., the orders move slowly as they are built one-at-a-time, but it's worth the wait. Be warned: The XXX hot is inedible at best and fatal at worst. I've made that mistake once, and as painful as it felt going down, it was way worse going out the next day.
So, there are my inside tips. Now y'all come on down, and don't forget to bring your Telecaster.