Reader Guitar of the Month: Larry Fine
A guitarist named his custom violin-shaped gem after the violin-playing comic from The Three Stooges.
Name: Tucker Christine
Hometown: Bensalem, Pennsylvania
Guitar: "Larry Fine" by Coyle Guitars
Years ago, I came across a blog article spotlighting the Shadow violin guitar from the mid '70s. This was a beautiful instrument that was shaped somewhere between a Les Paul and a violin. I became obsessed, but being as there weren't many made, they are very hard to come by. And when you do see one, they aren't exactly affordable. (Also, rumor has it that they don't sound quite as good as they look.)
---
Fast forward a few years: I'm sitting in the waiting room for my daughter's voice lesson and the proprietor of the store (Kevin Coyle, Richboro Music in Richboro, Pennsylvania) is hanging a beautiful handbuilt custom guitar of his own design. I immediately asked if he'd be interested in helping me recreate my dream guitar. We got to work right away.
The shape is based on the Shadow but is not exact. Some adjustments were made for comfort as I do most of my playing seated. The body and neck are mahogany, with an ebony fretboard. There is something about Kevin's fretboards that make them a dream to play. A pair of Lace Alumitone Grillers and a Duesenberg Steel Saddle Piezo Bridge make for some versatile tone possibilities. My band, Pleated Gazelle, plays everything from jazz and blues to prog to gothic soundtrack music for a local library/museum, so versatility is very important.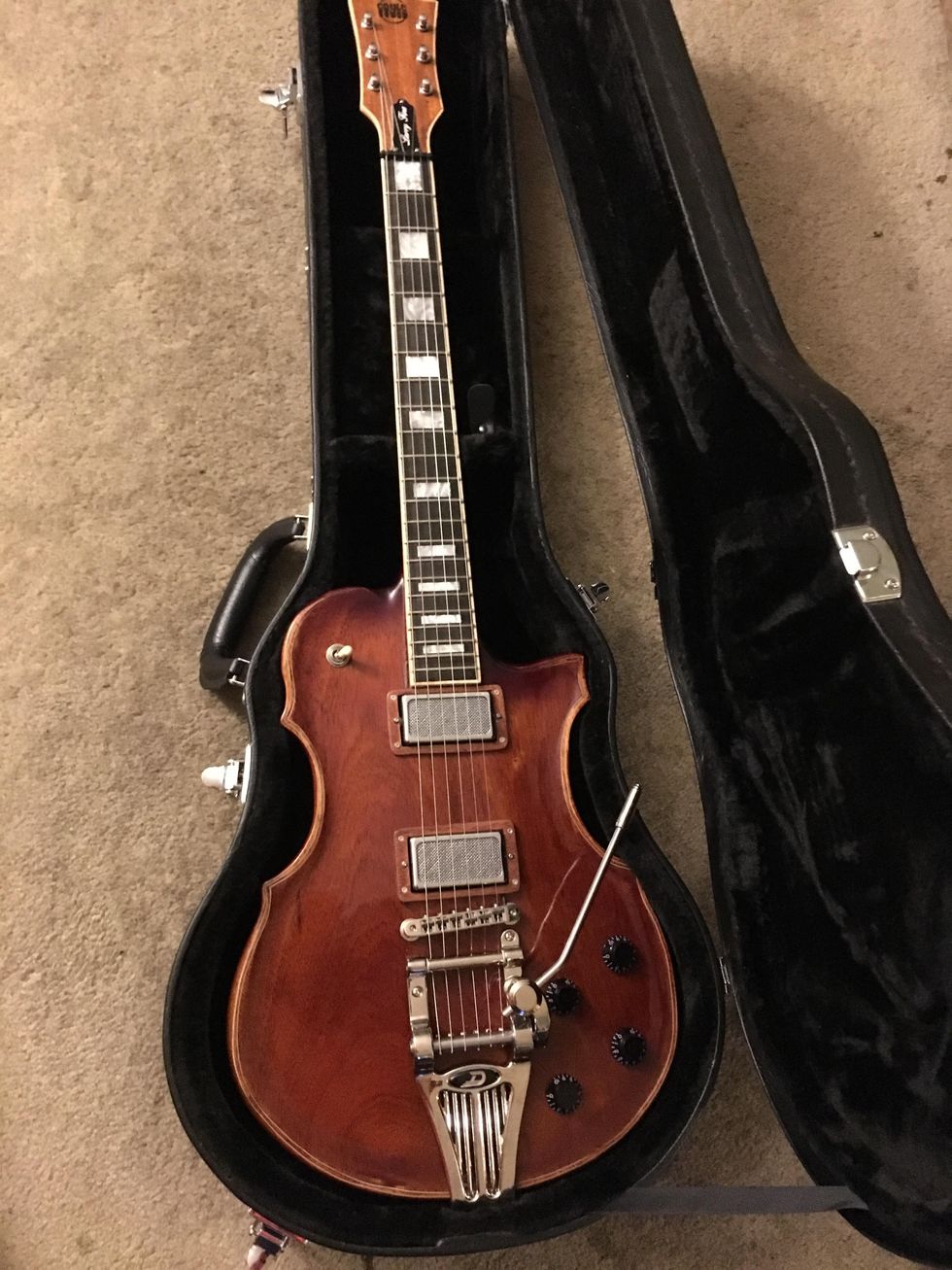 The Duesenberg Radiator Tremola is the most comfortable and stable in my arsenal, and it looks stunning. We gave it banjo tuners just because I like them. And Kevin even recreated the Shadow logo with his own name. We've joked that this guitar is a work of art and should be a museum piece, but it's also so much fun to play that you never want to put it down.
All of my customs are named for characters from The Three Stooges. Moe is a black and white Triple-T-style with Brian May-inspired wiring/switching. Shemp is a Les Paul with Jimmy Page-wired lipstick humbuckers. Besser is an SG-style guitar I built with my son. Being that Larry was the violin-playing Stooge, we named this one after him. I haven't found Curly or Curly Joe yet, but Kevin Coyle will certainly get the call when inspiration strikes.
Send your guitar story to submissions@premierguitar.com.