The Birth of Live Hip-Hop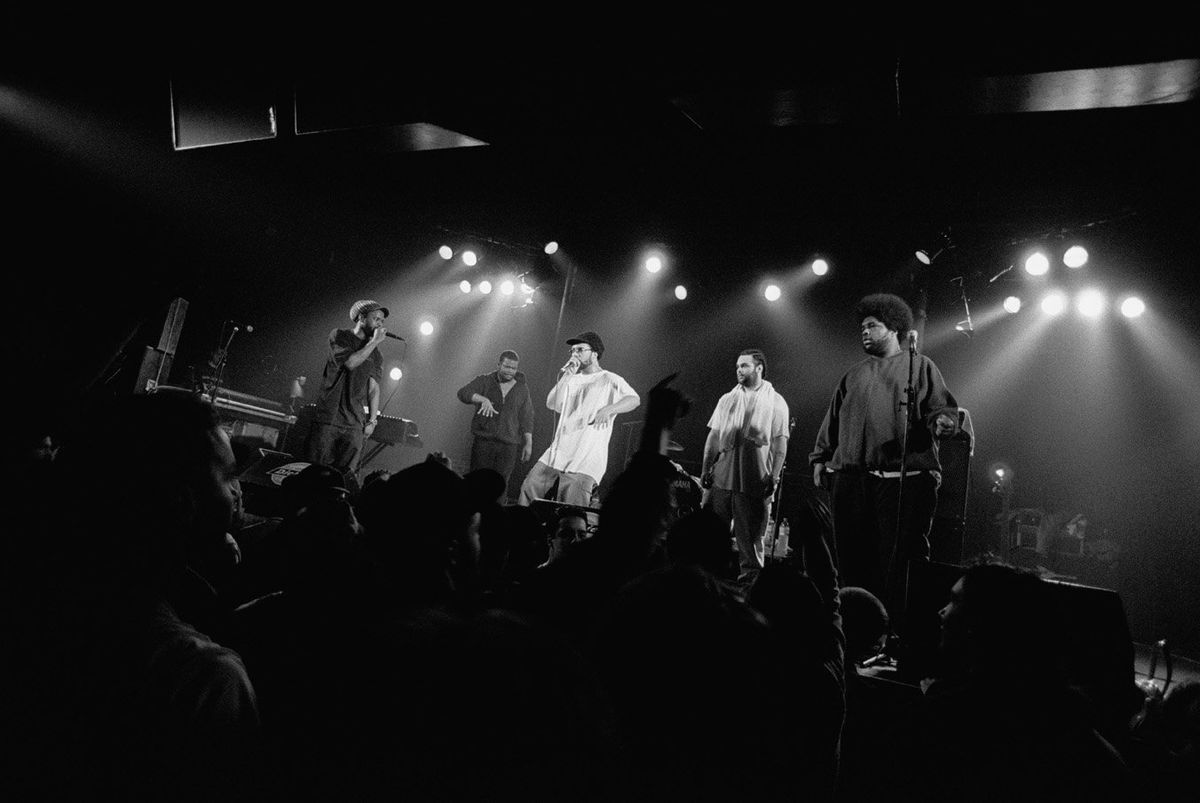 Photo by Mika Väisänen
A Philly jam session with the Roots crew helped bring performing musicians into the fold.
Hip-hop officially turned 50 this year. And since its entire history is a book's worth, I'll just talk about what hip-hop did for live music, based on my own experience.
Though not many people know it nowadays, some of the finest and most important moments in hip-hop history actually occurred in Philadelphia during the turn of this century, at a jam session called the Black Lily. I was there, so take my word for it: None of us realized how important this would become in the future, or what it would do to transform live hip-hop. Photo by Mika Väisänen
---
When it comes to music and culture—and certainly Black American music and culture—it's exceedingly difficult/near impossible to say when a particular sound "began." New sounds and genres emerge organically over time; there is always something that came before, which transforms into the next thing. The idea that one person started this or that sound is usually inaccurate. Still, the Black Lily began in the late '90s when the Roots, up-and-comers at the time and under the guidance of their manager, Richard Nichols, decided to begin a movement. What they started actually had as much to do with the Sun Ra model, as it did with anything hip-hop related.
The Black Lily was built upon a long tradition of Philly jam sessions. But the thing that made it different from the outset was that it was actually made for and run by women artists. Tracey Moore and Mercedes Martinez, collectively known as the Jazzyfatnastees, grew sick and tired of having to fight to get on stage at jam sessions, so they pitched the idea to Rich to create their own.
This live hip-hop jam session began in Ahmir "Questlove" Thompson's basement. At the time, nobody could afford to rent a venue, and the basement gave us a chance to see what this could be. Within a week or two, the event had grown so rapidly that Ahmir and his neighbors were complaining about how many people were attending, and the event moved to the Five Spot, a two-story nightclub in the Old City neighborhood.
At this time, live hip-hop was not common, or something that emcees even wanted to be involved in. Producers like DJ Premier were sampling classics by artists such as Nina Simone, Miles Davis, John Coltrane, and Thelonoius Monk, and this eventually paved the way for the crazy idea to have a live drummer playing behind an emcee instead of a DJ.
At the same time, hip-hop production had changed out of necessity, so it was now almost impossible to hear which songs a particular producer sampled to create a track. However, this still didn't prevent publishers from trying to take everything on the few occasions where they figured it out. As a result, producers began to use less samples and more live musicians, who could sound like samples, which brought bands like the Roots, the Fugees, and the Black Eyed Peas (the first incarnation) into the light. All of this laid a foundation for live-music events like the Black Lily to come into existence.
The Black Lily soon became one of the main weekly scene-building events in Philly, and musicians on all kinds of instruments started playing to hip-hop audiences, with an authentic hip-hop sensibility. Every Tuesday beginning at 9 p.m. for around eight years, this event redefined the idea of a hip-hop show. Picture an audience of 250 hip-hop heads watching emcees and vocalists trade on stage with live drums, bass, guitar, Fender Rhodes, a tuba, maybe a vibraphone—all in the pocket, sounding like something that J Dilla just whipped up. If that wasn't enough, Jill Scott, Common, or Amy Winehouse might also jump up. There was never a dull moment, and none of what took place was planned. People just got on stage and did their thing. And this would often happen while the Roots were on the other side of the world spreading the gospel of live hip-hop by dominating some stage in Paris.
Eventually, having 10 to 15 audience members flying in from Paris, Tokyo, or Rome on a Tuesday just to experience this event became the norm. More than 40 artists, who later went on to sign major record deals, were first discovered at the Black Lily. Lots of musicians, who are now musical directors for the biggest names out here, got their start at the Black Lily. Most importantly, entire approaches to playing hip-hop with a live band were refined there.
Like jazz, hip-hop is actually a massive universe, covering everything from Black dance to literature. There were so many regions and people involved over the years, but for me, the Black Lily was a special and transformative period within the history of hip-hop that everybody should learn about.