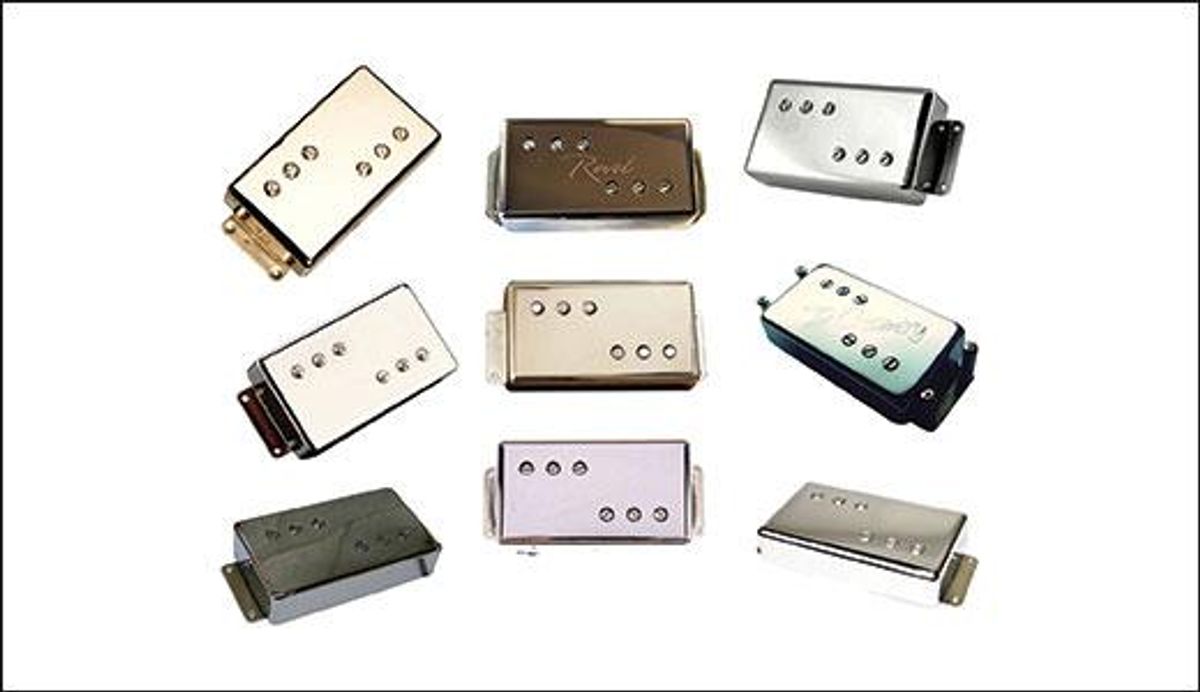 Fender's hallowed vintage humbucker with CuNiFe-magnet pole pieces boasts one-of-a-kind tones. Problem is, it costs $500+ per pickup on the used market.
There are present-day options for chasing the tone from Seth Lover's originals of yore—without spending a small fortune on a '70s Wide Range pickup or going for a rebuild. We've rounded up 10.
---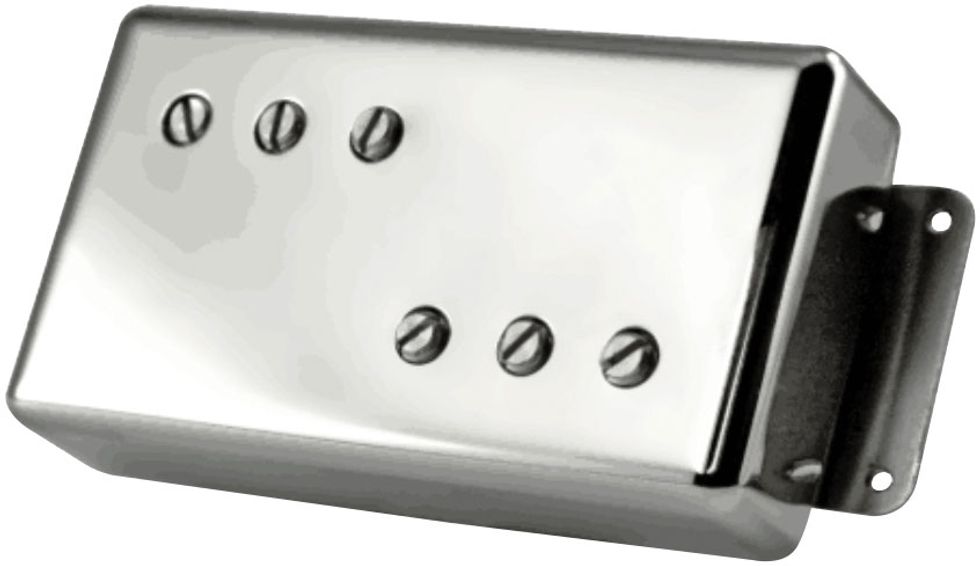 These one-at-a-time handwound versions of the original are made with all-U.S. parts, and are designed to be clean, articulate, and bright for era-specific tone.
LINDY FRALIN
Built with staggered, alnico-5 magnets—with beveled, exposed poles—these 'buckers are 20 to 30 percent overwound, compared to the company's regular-sized humbuckers, for bigger, thicker tone.
PORTER
For classic, fat, single-coil "doubled-up" sounds, these pickups are made with a warmer midrange sound than standard singles and, with a higher output, intended to break up an amp nicely.
CREAMERY
These vintage-correct Wide Range-style pickups are handwound with threaded-rod magnets using the larger Fender-style frame and cover, and can also be ordered with a Fender logo cover.
CURTIS NOVAK
For his version of a classic Wide Range, Jason Lollar designed the tooling to accurately produce his pickups to the original specs, and they are available in chrome, nickel, or gold.
LOLLAR
Fully vacuum potted, these clones of the original were designed to completely capture historic sound, but include some improvements, like a slightly underwound neck pickup and 4-conductor wiring.
MOJOTONE
Utilizing threaded alnico-5 rod magnets and a period-correct wind pattern, these pickups are designed to get as close to the bark and bite of the vintage originals as possible.
SEYMOUR DUNCAN
Another homage to Seth Lover's original design, these pickups promise jangle and power with their vintage-correct and -sized bobbins—and to be a great option for indie sounds to blues tones.
REVEL
Ready to fit into Fender Tele Deluxe and Custom guitars from the '70s, the WideTone Fats are geared for extra sweetness, girth, and beefy overdriven tones.
GUITAR FETISH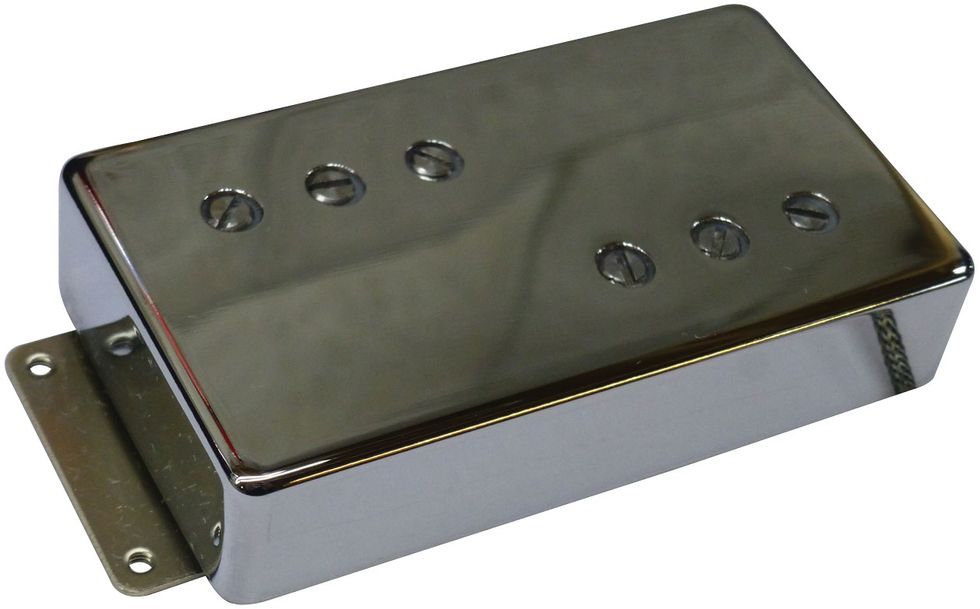 Using a plastic injection mold to produce the correct-size bobbins for the correct-size wire on the '72 originals, these pickups also feature a version of alnico-2 and alnico-5 threaded magnets.
BRANDONWOUND
Rhett and Zach unpack the big news for secondhand guitar sellers and buyers: Sweetwater has launched their new Gear Exchange. How does it compare to Reverb, Craigslist, and Marketplace? To find out, Zach takes the site for a spin and buys a pedal. He calls the process both "very easy" and "normal." They discuss the pros and cons of the various used-gear outlets and share tips for not getting got when buying gear. Plus, Zach grew a mustache, Mythos Pedals is moving, and he talks about his forthcoming line of Strat pickups inspired by Hendrix's reverse-stagger setup.
Sweetwater vs. Reverb

The Reference II Series 112 and new 115 feature a new look, ceramic magnets, and Poplar ply shells.
​With gigging musicians in mind, portability was paramount to the design of these cabinets, which still feature all of the power that you expect from Bergantino. Using a lightweight Poplarply shell and Baltic Birch baffles to encase the ceramic-based speakers, these cabinets are extremely easy to transport, while still packing all of the low-end presence and warmth that is required for professional bassists in any genre of music. Covered with rugged tolex finishes and cloth grills, these cabinets look as good as they sound and provide long-term durability that is required for the wear and tear of touring and gigging musicians.
​The Reference II Series utilize ceramic magnets with vented pole pieces for the fullest and roundest low-end possible. Along with their high-power handling capability, the Reference II Series cabinets boast versatility fit for players who utilize fingerstyle, pick, slapping, and tapping techniques. Their presence and punch matches their low-end output and produce an accurate, full-bodied, and authentic representation of your bass guitar in both live and studio settings.
Reference II Series 112
​The Reference II Series 112 is new and improved, featuring the tone that bass purists love, but in a lighter package without sacrificing any of the full-bodied, robust properties that have made this a favorite. The 112 can achieve any sonic palette you desire while faithfully reproducing the natural tone that comes directly from your bass and your fingers. Many bassists love the Reference II Series 112 because of the "blank canvas" it provides the player seeking a solid, no-frills bass tone, and this updated edition upholds that, but with noticeable improvements. Seamless, tight, quick, and responsive, this cabinet is the right choice for players of all levels.
Reference II Series 115
​After receiving many requests to bring back our 115 cabinets, lovers of rumbling low-end can rejoice, as the latest edition to our lineup is here to maximize your bottom end with a responsiveness second to none. We've taken everything our players loved about our previous15" offering, shaved some weight, and updated its design to fit our high standards of the Reference II Series. With our proprietary speaker curves, it can be made to sound full and modern or vintage and rolled off, but never dry. The 115 cabinet provides a massive sound in a lightweight, easily transportable package that is ready for small venues, arenas, and everything in between.
Reference II Series 112: $1059.00
Reference II Series 115: $1099.00
These Cabinets Currently Shipping in the USA. For more information, please visit bergantino.com.
The Royale was designed to deliver loud and vivid clean tone with a responsive, tactile low end.
Designed to offer massive headroom, the 50-watt Royale Head lets you indulge in smooth clean tones at even higher volumes on stage without any breakup. Select between class A and class AB modes, with its variable mode switch, so you can choose between gushing Supro tone or a punchier, tight midrange response.⁠

Introducing the Royale Head & Extension Cabinet | Supro
The Royale 1x12 Extension Cabinet features the custom Supro BD12 high-power driver, offering the same mid-range punch and clean articulation as the Royale combo but with additional stage volume. ⁠More info: suprousa.com.
Royale Head | $1,499⁠.99⁠
Royale Cab | $669.99
D'Addario Foundation's education project sets out to help schools throughout the country and kicks off with an online auction.
​The D'Addario Foundation will host a virtual auction from November 9 to November 30, 2022, with the overarching goal of raising $30,000 for the D'Addario Foundation's Immersive Music Challenge.
​Inspired by a new study published in the Journal of Youth Development, the D'Addario Foundation recently launched the Immersive Music Challenge. This ambitious project will help school districts and charter systems throughout the country boost academic achievement by implementing effective, multi-day-per-week music-based mentoring programs that include training, administration, and evaluation. The D'Addario Foundation has invested in an incredible team of consultants that include school superintendents, public health experts, and data analysts to ensure sound results. In addition, D'Addario is actively seeking corporate partners to support the establishment of these programs and champion their success.
Thanks to the generosity of D'Addario artists and industry partners including Gibson, PRS Guitars, D'Angelico, Taylor Guitars, and more, one-of-a-kind items & experiences are up for bidding. Some of the items include:
Evans Drumhead signed by Anderson Paak
ESP Mirage Deluxe '87 Signed by Bruce Kulick of KISS and Grand Funk Railroad
Gibson Les Paul Custom electric guitar
D'Addario bass string set signed by Bryan Beller of the Aristocrats
PRS S2 McCarty 594 Singlecut
Virtual Lesson with Marty Schwartz