Here are a handful of options to keep everything powered up, no matter how big—or small—your board might be.
It takes an absurd amount of time for us to refine our approach to pedals by trying out anything we can get our hands on. However, not enough time is spent figuring out how to properly power those boards we've so carefully pieced together. Overall power, variable voltages, and portability all need to be considered when choosing the right power supply. Below are 10 different options that will assuredly keep your board up and running, but also give you peace of mind.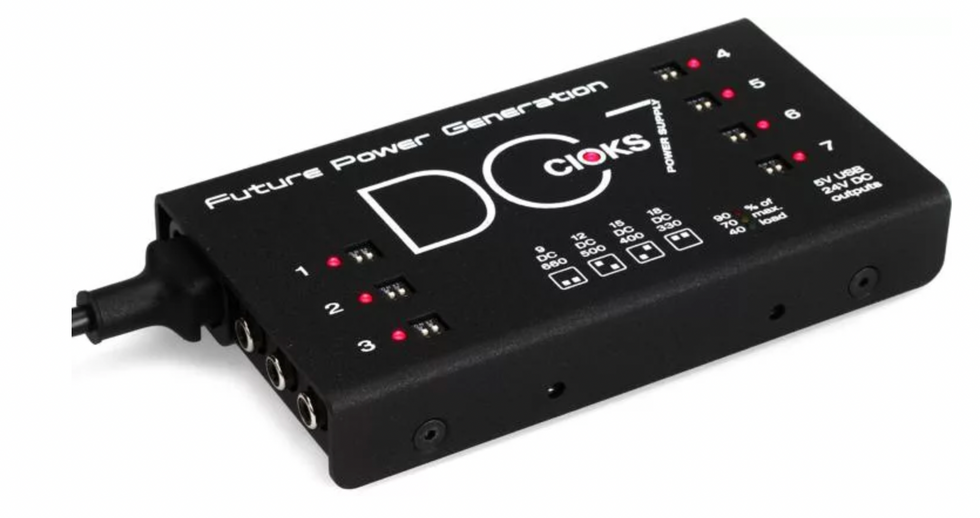 A slimline power machine, this 7-ouput unit offers four different voltages, a 5V USB outlet, and a 24V aux output—quite a bit of options for a supply that is only 1" thick. For international travelers, it will handle any type of power you throw at it.
$249 street
cioks.com
If your pedal inventory is creeping into the double digits, the CS12 offers a dozen customizable outputs to get all your stomps the power they need. Four of the outputs can move between 9V and 12V, while one output has variable voltage. All in, the CS12 cranks out 3000mA of isolated power.
$197 street
With nine outputs pumping out 500mA each, you'd be hard pressed to find a pedal that the Zuma can't hang with. It's also easily expandable, with a 24V thru jack to connect to other Strymon power supplies.
$279 street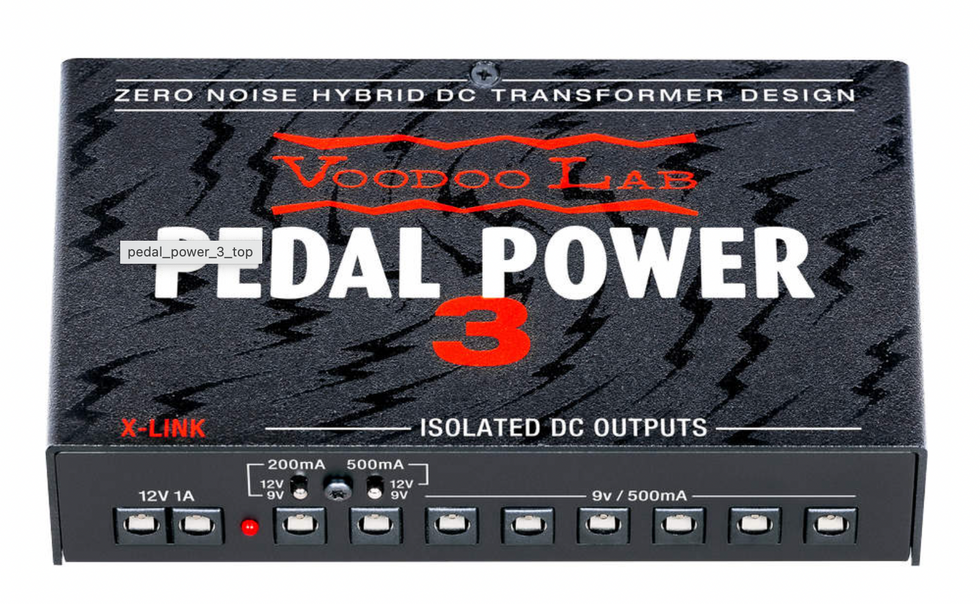 One of the oldest names in the power game offers up the latest iteration of their classic model. It sports six 9V outputs each spitting out 500mA, a pair of switchable 12V/9V outputs, and an X-Link output that allows you to connect a Pedal Power X4 or X8 for up to 16 more isolated outputs.
$229 street
voodoolab.com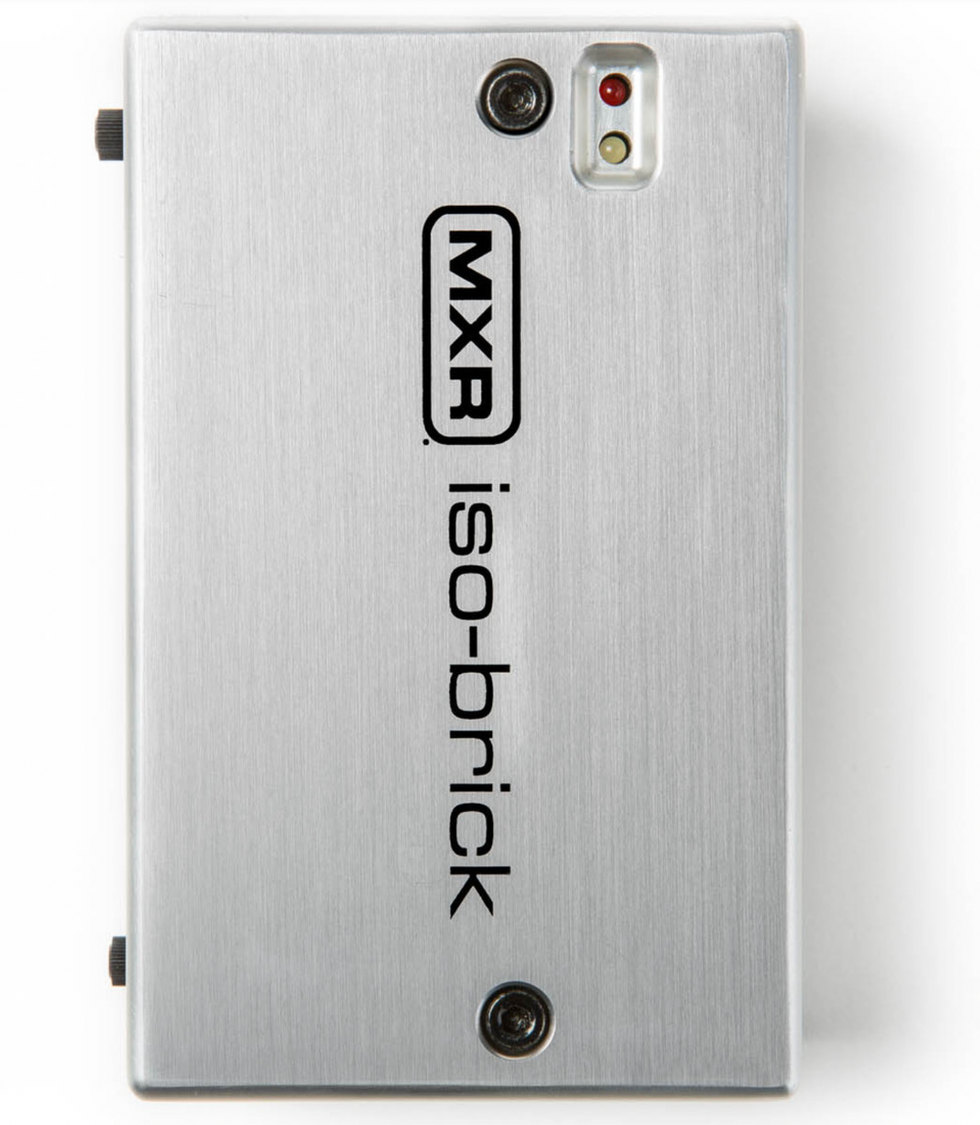 This compact power supply offers up 10 isolated outputs that range from 100mA to 450mA each, plus a pair of adjustable outputs that can be dialed in from 6V to 15V via a small knob.
$149 street
If you're named after a close friend of the God of Thunder (no, not Gene), you better bring plenty of power to the table. It features a total of eight isolated outputs (six of them at 100mA and two at 300mA) and has a complimentary power output.
$169 street
walrusaudio.com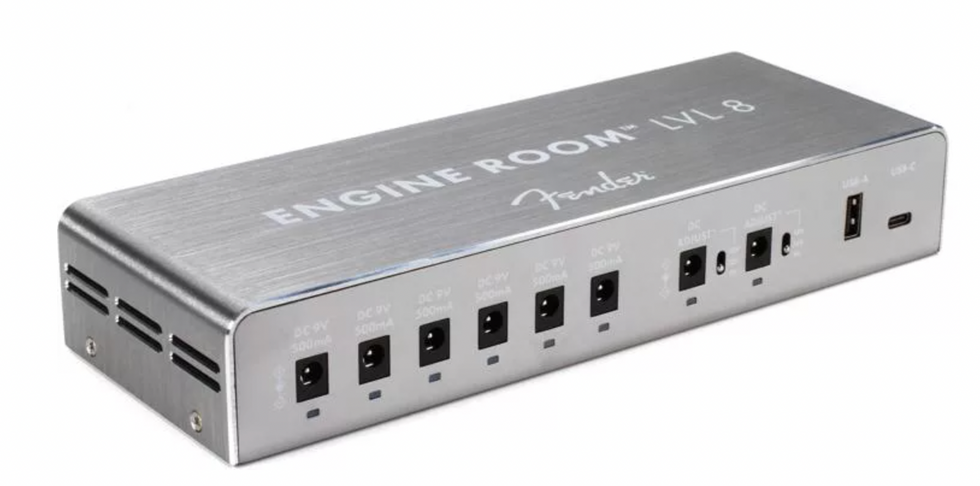 If you have a mid-sized pedalboard with a handful of power-hungry pedals, this expandable eight-output unit offers plenty of juice. Alongside the six 9V, 500mA outputs you have two adjustable outputs that can go from 9V to 18V and a pair of USB outputs to keep your non-pedals gadgets powered up.
$219 street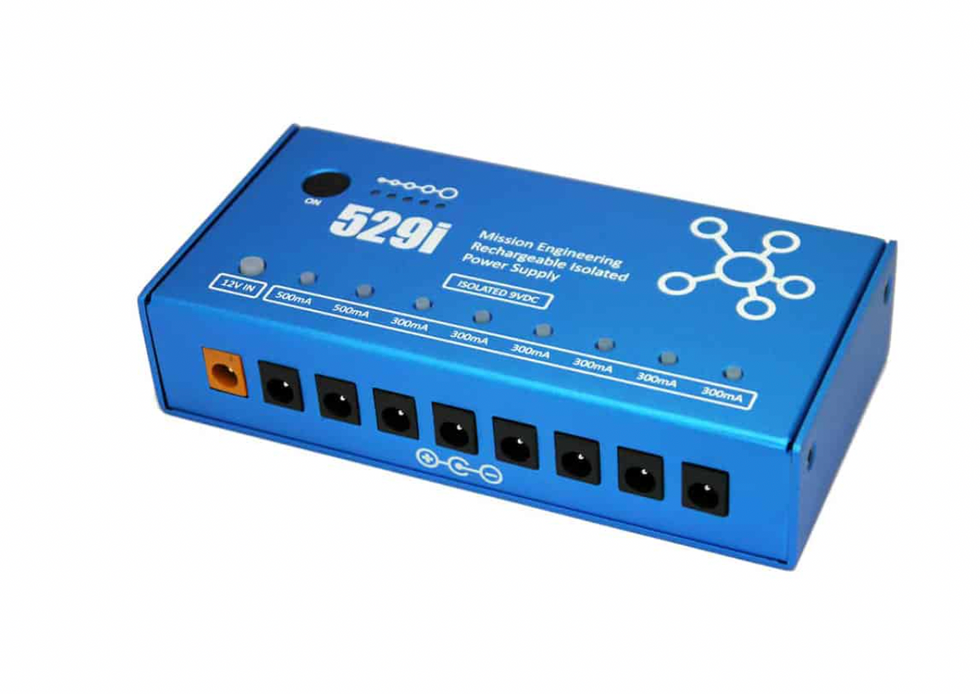 If you need to be really portable, this rechargeable power supply might be the ticket. With two hours of runtime, it can be recharged by nearly any mobile device including computers and even your car. Housed inside are six 300mA outputs and a pair of 500mA outputs for more power-hungry stomps.
$175 street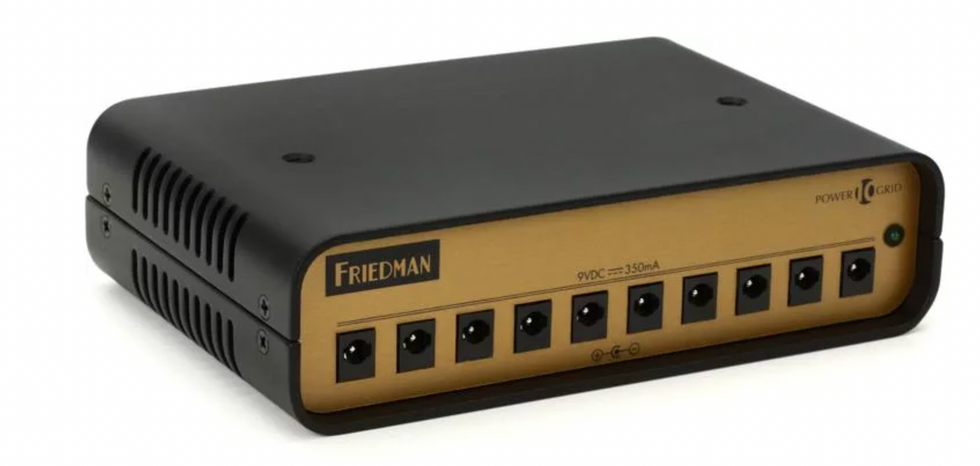 High-gain amp wizard Dave Friedman has created this power supply, which features 10 350mA outlets, to offer zero field hum. It works everywhere in the world, no matter what power you get to feed it. Plus, it's designed as a riser, so if you don't have room under your board, you can mount a pedal right on top.
$219 street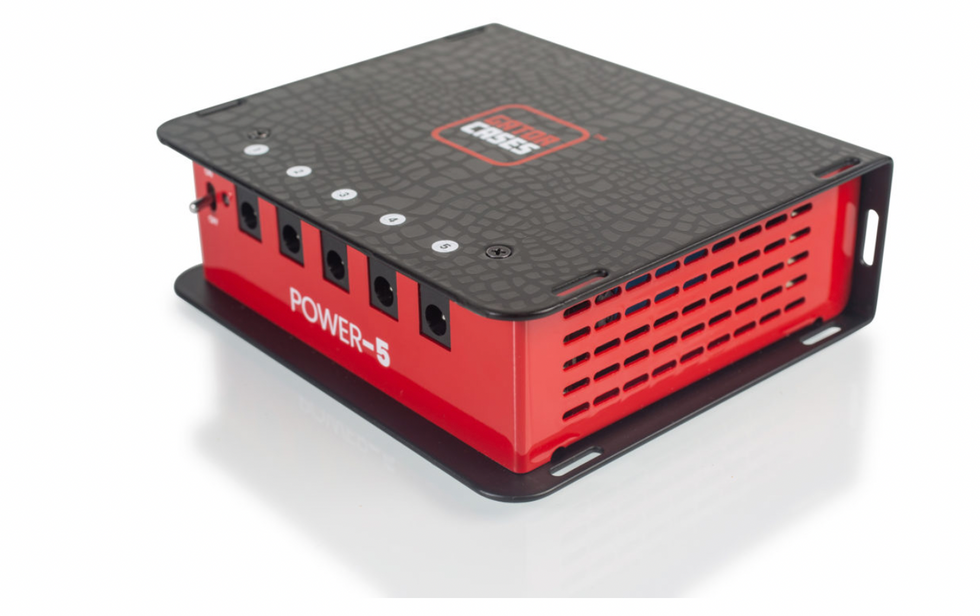 This small-but-powerful unit would be perfect for more compact rigs—even if your board is tight on space. The five outlets shoot out 120mA each, and you can switch between 115 volts and 240 volts for international travel.
$79 street
Actor H. Jon Benjamin recorded a jazz album wherein he played piano, but he doesn't know how to play piano. Let's explore the musical conundrum of skill versus emotion.
"The guitar is the easiest instrument to play and the hardest to play well." —Andrés Segovia
You probably know H. Jon Benjamin's voice. He's the voice actor for Archer in the animated sitcom Archer, as well as Bob in Bob's Burgers, and Carl in Family Guy. (Okay, so I watch a lot of cartoons). In 2015, Benjamin recorded a jazz album, Well, I Should Have…, with some true jazzers—Scott Kreitzer on sax, David Finck on bass, Jonathan Peretz on drums—and Benjamin on piano. Here's the twist: Benjamin does not play piano. Nor is he a fan of jazz. He just went for it, and Sub Pop released it.
Admittedly, I couldn't make it through the entire album, but I did enjoy a two-song serving. Most of the time, Benjamin sounds like a not particularly gifted 13-month-old child in a room with a piano and little else to entertain him. His timing is … well … time-less: a bit like tennis shoes in a dryer. His note choice is arbitrary, there's no sense of melody or dynamics, but every now and then, he plays something that sounds like music, usually when he gave it some space. Regardless, the band was swinging, so his pocketless nonsense sometimes kind-of worked. Honestly, I've been lost at a gig or a session and sounded about as musical as Benjamin until I recovered. As you might imagine, the album angered a lot of jazzers (who kind of seem a little angry anyway), but if the point of jazz is to push boundaries and transcend norms in a spirit of true artistic experimentation—mission accomplished.
Who hasn't listened to jazz and wondered, "Did they mean to do that?" Throughout Thelonious Monk's entire career, there were people who saw him, heard him, and even hired him, who thought Monk didn't know how to play piano; as if his entire career was a ruse, a deep fake. With his fingers splayed out and attacking the keys in this unorthodox method, all that dissonance and weirdness combined with mental illness made Monk's music a bit difficult to digest. But that's art: genius working on the border of the frontier of new ideas is rarely recognized.
"As you might imagine, the album angered a lot of jazzers (who often seem a little angry anyway), but if the point of jazz is to push boundaries and transcend norms in a spirit of true artistic experimentation, mission accomplished."
On the other hand, you don't have to know what you're doing to make good, or even great music. Even a cat walking across a piano can play something cool, or creepy, and almost always engaging. Even when a musician really knows what they're doing, there are often bits of music that go beyond what the player is capable of crafting intentionally. That's part of music's magic—play long enough, and your fingers will unconsciously stumble into a cool riff or melody. It may be dumb luck, or it may be that the player is channeling some benevolent spirit of music who sings through them.
For an example of channeling, check out Daniel Lanois. He's produced and played on a handful of albums that are on Rolling Stone's "500 Greatest Albums of all Time" list. When I watch Lanois play guitar or pedal steel, I get the feeling he has no idea where he's going, or what he's playing. It feels like he's connected to something spiritual, and the result is something between a prayer and a howl.
That's why those Lanois albums hold up so well. If a hired-gun guitar virtuoso played those sessions, those parts probably wouldn't have said as much. Most studio aces would play something they've played before. It would sound great, but probably wouldn't be as effective as Lanois' playing. If you know your instrument extremely well and work out a clever part, you run the risk of thinking your way out of the emotion. It happens to great players regularly, so maybe it's hard to let the muse drive the ship when you're a highly skilled captain. Kurt Cobain was not a technically gifted guitarist, but Nirvana's body of work expressed something—angst, depression, alienation—that millions of people immediately related to, so much that Nevermind single-handedly changed popular music. At a time when popular music was "Nothin' but a Good Time," big, teased hair, guy-liner, and garish colors, Cobain didn't shy away from dealing with negative emotions and the challenges of life. In fact, he embraced it and connected with the masses.
"But that's art: Genius working on the border of the frontier of new ideas is rarely recognized."
Music does not discriminate. It can be created by anybody: geniuses, idiots, children, or senile old people with one foot in the grave. There are no sure things. You can spend a lifetime dedicated to creating music, become a brilliant musician, and still occasionally sound like you have no idea what you're doing. As blues great Coco Montoya told me during his Rig Rundown, "Sometimes you get Coco, sometimes you get caca."