Reader Guitar of the Month: Two Sweet Rides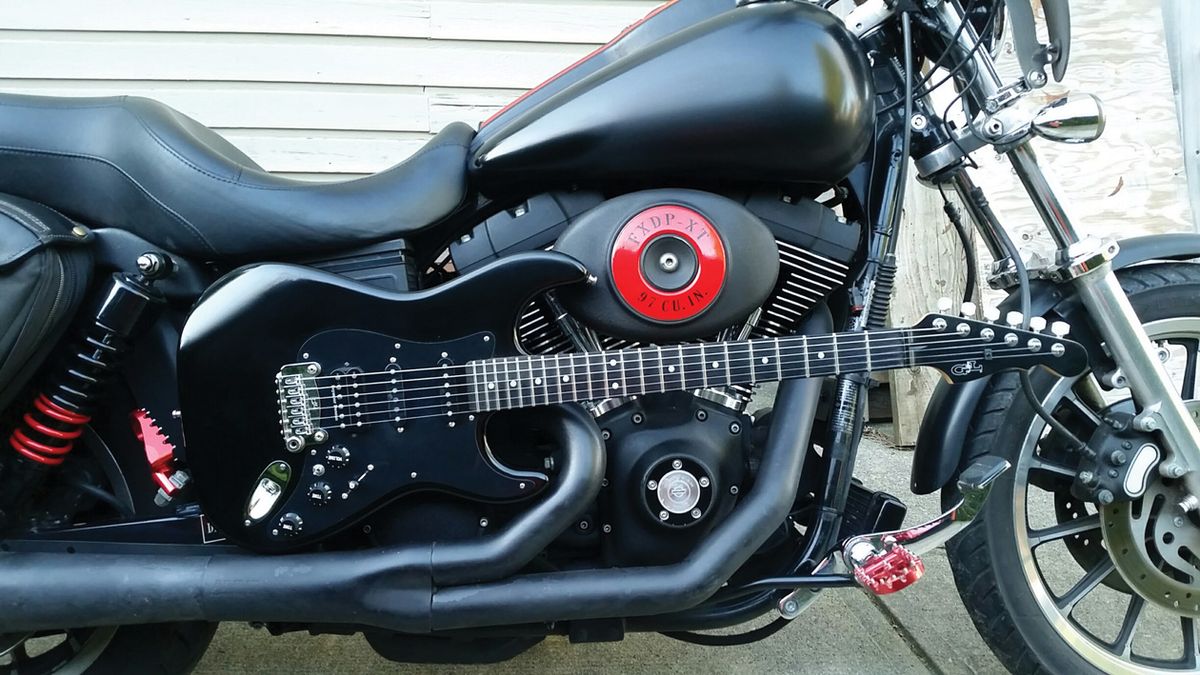 A Canadian guitarist has his dream G&L made to match his Harley.
Name: Dan Kyle
Location: Maple Ridge, British Columbia, Canada

Guitar: Custom Legacy HB
I'm a big Alice in Chains fan. I started checking out what Jerry Cantrell was playing and discovered the G&L Rampage, and it's been no looking back. I've owned tribute Rampages, S-500s, a Legacy Special, and the olive green HB with Dual-Rails and a Floyd. They're all fantastic instruments, made by the master, Leo Fender, in his prime. I loved them all so I decided to have one made.
This guitar is a Legacy HB, custom-made to match my 2004 Harley FXDP. I contacted Music Store Live and they did the rest. I wanted a Seymour Duncan JB for the heaviness, but wanted to have the G&L CLF-100 single-coils as well, because they're excellent sounding. The neck is an extra-wide C-shape that's 1 3/4" at the nut for my ham hands. It's perfect! It has an ebony fretboard, a Graph Tech nut, and Sperzel tuners. I play through a Mesa/Boogie Royal Atlantic into a 2x12 Mesa cab with WGS Reaper HP and Veteran 30 speakers. It's my dream guitar—a total tone machine. It sounds how I imagined it to, but it took many amps, speakers, and guitars to get here.
I'm just a hobbyist, but I've been playing since I was a teenager. I'm 56 now. Besides being a huge Alice in Chains fan, I love Robin Trower and got a chance to see him at the Moore Theatre in Seattle last May. It was a religious experience to see someone who's practiced his craft and constantly tried to get better his whole life. I was third row and still am riding a high from that.
It's a great time to be a guitarist, with new pedals released every day, it seems like. I have a modest board: Dunlop Cantrell wah, Fulltone CS-MDV mkII, Fulltone Robin Trower Overdrive, Mojo Hand Rook Royale (discovered by checking out Mike Zito), and an ISP Decimator II.
I play for my mental health. I forget about everything when I have the Mesa Royal Atlantic cranked. Then I go for a ride on my Harley and it makes for a pretty good day.
Send your guitar story to submissions@premierguitar.com.