Taylor Baritone 8-String Acoustic Guitar Review
Taylor grows up and takes risks with the new Baritone 8-String acoustic. The result is one of 2010''s early must-haves.
Thirty-five is an important age in most people's lives. It's a turning-point year; the year we really grow up and come into our own, yet are still young enough to try new things without getting seriously injured. Taylor Guitars turns 35 this year, and they're celebrating by—you guessed it—coming into their own and trying some astonishingly new things. While the Baritone 8-String is not a 35th anniversary guitar per se, its existence is due in part to the outburst of creative energy surrounding this milestone.
Taylor calls this guitar a "chocolate-meets-peanut-butter stroke of serendipity." The design team kicked into high gear in a no-limits, "anything is possible" state of mind earlier this year, and decided to do a regular 6-string baritone guitar, and also a 9-string standard guitar, which encroaches on the 12-string territory without completely going there. The idea for the 8-string evolved from there, as the design team was looking to add some sizzle to the baritone sound. They started with a 9-string version, but decided it was too "jangly," so they removed one of the octave strings and voila! The baritone 8-string was born.
I have never been a huge fan of baritone guitars, not having the desire to plumb those particular depths of the guitar register. Recently, however, I have discovered that songs I wrote many years ago are now unsingable. It seems that gravity takes its toll on more than just the obvious; my vocal chords are heading south as well. So suddenly baritone guitars have become, to my thinking, a wonderful idea.
Eight Strings? How in the World?
It took me a little while to get the hang of the idea of an 8-string guitar. I had seen 7-string acoustics, which add a low B to the bottom, but eight? It didn't occur to me that Taylor had added octave strings to each of the two middle strings, A and D, to significantly brighten the typically dark baritone sound. It works brilliantly, providing a shimmering high end that many baritones desperately lack without crossing over into jangly 12-string territory.
The addition of those two octave strings opens up new possibilities while also creating some limitations. This is not the sort of axe you'd want if you play screaming lead guitar in a bluegrass band, and capo'ing is not simply a matter of slapping a cheater on. Because the fundamental strings are considerably more robust than the octave strings, it requires some problem solving. The best solution I found was to use an original-style Shubb 12-string capo, place the cradle exactly behind the third and fourth strings, and (to quote Red Green) "horse her down tight."
The guitar comes tuned B to B, and with a 27" scale, it's not so manly that a girl can't make herself at home on the fretboard, yet it's long enough to keep the strings from going to mush when tuned down to AEADEA (which is baritone for DADGAD). The body is a GS-style, quite comfortable and made of Indian rosewood and Sitka spruce, understated but highly attractive. The Taylor-branded gold tuners are a striking complement, and the elegant Venetian cutaway really accents the look. The model comes standard with Expression System electronics. It's a Taylor, so yes, it's perfectly made; yes, it plays like buttah; yes, it sounds great; yes, it's gorgeous.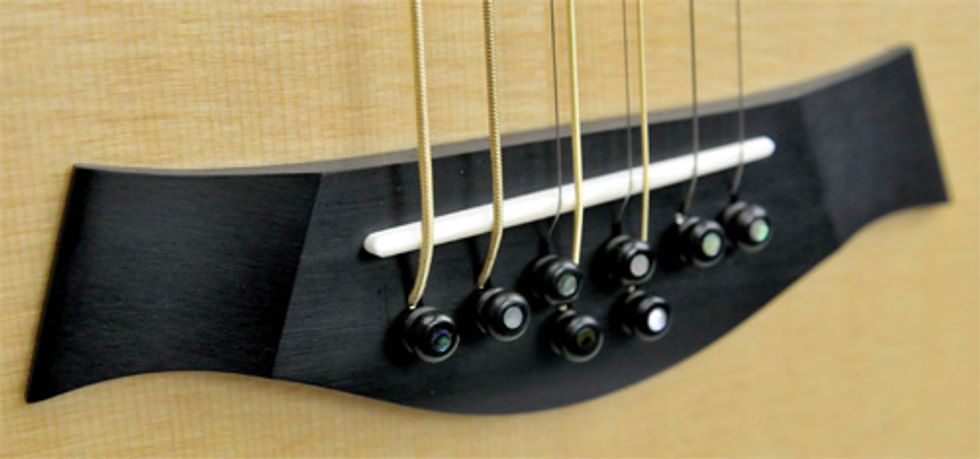 Taylor has partnered with Elixir strings to customize a set for this guitar, so if you just have to have one, you won't have to Frankenstein a set of baritone strings together on your own. If you're not crazy about coated strings, others brands do make 6-string baritone sets, including sets with a wound second string if you prefer that, and you can supplement with single strings found in most of your better guitar shops to complete the 8-string set.
Shut Up and Play the Guitar
I could spend many hours on the couch with this one, partly because it's so fun to dig into the memory banks to pull out songs I haven't been able to sing comfortably for years, and partly because every time I put my hands on it new ideas, new approaches or new grooves come flying out of the soundhole almost faster than I can play them. I keep having to remind myself that it's only with me for a while, and not to get too attached or write too many new songs I can't play on a normal guitar! Did I mention how very comfortably it sits in the lap? I ended up playing capo'd a lot, so I found it extremely ergonomic and, frankly, cuddly.
As a fingerstylist, I was a little confounded at first by the "extra" strings, but once I got the hang of it, I found I could avoid those strings part of the time, and then when I wanted an accent, sha-wing, I could dig in and let it shimmer. It's well worth the time spent experimenting with attack and touch, and it really didn't take long before I was completely comfortable with it.
With a flatpick, that 12-stringy vibrance really shines. It's a lovely, warm-but-shiny sound, like polished gold at sunset, or leaves after a summer storm. It's brilliant, but never cold sounding. It took a little time to get familiar with the way those two doubled middle strings affected songs I was used to playing and hearing with just six, but once I hit my stride, I found if I changed my approach slightly. I could do the "interior melody" thing DADGAD is so revered for, and never notice the difference between the doubled strings and the normal strings, especially with the flatpick turned "Tony-Rice-wise," sideways using the shoulder of the pick instead of the point.
Plug it in already
The Taylor Expression System is really intuitive and easy to use, and it sounds terrifically "guitary" and warm. With only three controls to master, Volume, Treble and Bass, it's almost too easy. The second string on this guitar is not wound, and my ears interpreted that as very mid-rangey when plugged in. I had to dial out the mids on my Baggs Core 1 quite a bit to satisfy my ears, but once I had that under control, it sounded awesome, very full and incredibly rich. I cranked the bass and was treated to some of the leanest warm bass I have ever heard, which is totally shocking considering I was playing a baritone guitar. It was incredibly full, but not even remotely muddy, and I had not a hint of feedback, even turned up pretty loud. I'm thoroughly impressed with the performance of the Expression System.
The Final Mojo
Baritone guitars are beyond hip. They're ultra-cool and endlessly inspiring. Capo'd or otherwise, they offer us something of a time machine, bringing back songs that gravity and depleted collagen stole from our repertoire decades ago. Taylor's 8-string version of the baritone is divine, and more addictive than Facebook. Like your typical Taylor, it's beautifully made, comfortable to hold and outstandingly playable. Add to that a remarkably reasonable price, and you have yourself the first "must-have" acoustic guitar of 2010. Congratulations to Taylor on 35 awesome years.
[youtube https://www.youtube.com/v/QVA2KDr6D0I&hl=en_US&fs=1& expand=1]
Buy if...
you want a baritone with sizzle to inspire and delight you.
Skip if...
you play mainly lead guitar or don't like the 12-string vibe.
Rating...