Tools for the Task: Soundhole Pickups
Looking for a simple way to amplify your acoustic? Fill that hole with an easy-to-install soundhole pickup.
This month, we've rounded up a sampling of the many acoustic soundhole pickups on the market. Some are passive, some active, and some have more bells and whistles than their contemporaries, but all make for a simple solution to amplify your treasured sound box.
DEAN MARKLEY
ProMag Plus
This single-coil pickup in maple housing is voiced and set at the factory for optimal string balance, easily fits virtually all standard acoustics, and helps deliver a natural sound with a smooth, high-end response at an affordable price.
$44 street
deanmarkley.com
L.R. BAGGS
M80
The secret behind the M80's tone capturing is a free-floating humbucking coil that acts as a 3-D body sensor. Other features include passive or active operation, adjustable pole pieces, volume control, and battery check.
$249 street
lrbaggs.com
FISHMAN
Rare Earth Blend
This system combines an active humbucking pickup with a miniature electret microphone. An easy-to-reach blend control allows players to dial in the desired mic/pickup blend for a warm, natural tone.
$309 street
fishman.com

SEYMOUR DUNCAN
Acoustic Tube SA-1
This passive humbucking stack has flexible mounts for quick and easy installation, and an easy access volume dial. Very feedback resistant, the SA-1 delivers crisp high-end detail and scooped mids for a smooth overall response.
$69 street
seymourduncan.com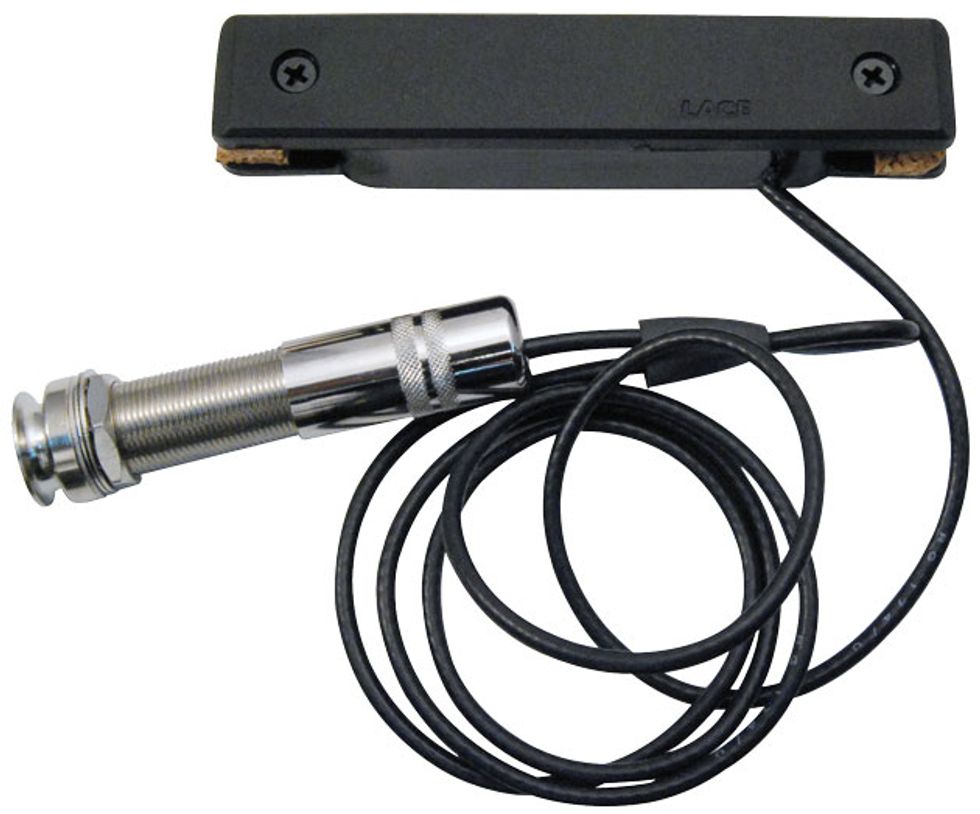 LACE
California Acoustic
This slim and sleek pickup was designed to be extra quiet, yet still deliver high output. Features include a high-quality cable, a Switchcraft endpin jack, and organic cork in the clamping setup for guitar-finish protection.
$84 street
lacemusic.com
DIMARZIO
The Black Angel
This quick-and-easy to install pickup was designed to "hear" the entire range of an acoustic guitar from top to bottom. Features include a built-in phase switch that makes the pickup a good option for use in a dual- or multi-source system.
$164 street
dimarzio.com
SUNRISE
S-1
Handbuilt in limited numbers, these sturdy pickups have individually adjustable pole pieces. A unique design feature allows the pickup to sense the body and top resonance of the guitar it's mounted in, and still maintain a 116 dB feedback threshold.
$294 street
sunrisepickups.com
SHADOW
PanaMag
This soundhole system features wireless operation up to 30 meters, an onboard tuner, a mini-USB in for charging the battery, and dials for volume, bass/treble, and panorama to fine-tune the PanaMag's stereo sound.
$499 street
shadow-electronics.com
BILL LAWRENCE
A245C
Aka the "Silencer," this pickup is balanced for bronze-wound strings and was designed to deliver natural sound at high volume without feedback. The fully shielded pickup mounts instantly, has a volume control, and comes complete with a 12-foot custom low-loss cable.
$49 street
billlawrenceusa.com
RIO GRANDE
The Bone
This alnico 5 drop-in pup boasts high output, includes a 14-foot cable with a George L jack (can also be wired to an endpin jack), and comes in a variety of wood options for matching up with a favorite guitar.
$120 street
riograndepickups.com