Photo by Tom Beard
Back to the Water Below is out September 8. Watch the video for "Mountains at Midnight" now.
Royal Blood announce the September 8 release of their fourth album Back To The Water Below and share its lead single "Mountains At Midnight". Listen HERE.
Throughout, their story has been one of independence. Relying on their friendship and intuitive musicianship to guide them through as they were catapulted into theaters and arenas around the world, favoring working independently away from prying eyes rather than enlisting the help of the latest big-name co-writer. Their victories have come from hard work, prodigious songwriting, fierce performances, and a smidgeon of good fortune. That spirit of independence continues into Back To The Water Below, which saw them self-produce an entire album for the very first time. It was a process which cancelled out the noise of any external influences, while also allowing them the convenience to write at their own studio in Brighton whenever inspiration struck.

They discovered that the best ideas were the result of following their instincts — their unspoken, subconscious connection honed over the course of 15 years playing music together. Just as importantly, they cast aside any preconceptions of what Royal Blood should be. They allowed themselves the freedom to embrace other ideas, at times being guided by melodies rather than riffs and rhythms, and in others deploying whatever instrumentation they felt best complemented the songs. If in doubt, they remembered a nugget of advice offered by Rick Rubin – that the sound of Royal Blood isn't defined by genre or the instruments that they play, but by the unique chemistry forged by the two friends.
Royal Blood - Mountains at Midnight (Official Video)
But as the single "Mountains At Midnight" proves, sometimes the result was a fresh take on the old school Royal Blood prototype – albeit with a supercharged rush. As we've come to expect, Mike Kerr inventively layers a heavyweight wall-of-sound solely with his bass, while Ben Thatcher's rhythms simultaneously swing with a spacious groove while pummelling us into submission. Meanwhile, Mike's lyrics complement the song's ominous, foreboding ambiance with vehement menace: "I'm a ticking timebomb hooligan come to light your fuse / 24-carat thug in a velvet glove."
Elsewhere, Royal Blood present plenty of surprises without ever compromising the essence of their identity. "Shiner In The Dark" sets a rock 'n roll swagger to the tight, danceable rhythms that defined the 2021 album Typhoons. Devoid of distortion, "The Firing Line" represents a bigger departure, its '90s alt-rock tone and an underbelly of psychedelia later elevated by a chiming piano melody. "Pull Me Through" goes further still, uniting the plaintive piano that fans loved in the live favourite "All We Have Is Now" with a full-blooded denouement. They're also songs which will not only provide a broader spectrum of moods for live shows, but that will offer the dynamic contrast to amplify the power of their most fiery moments.
'Back to the Water Below' Tracklist
1. Mountains At Midnight
2. Shiner In The Dark
3. Pull Me Through
4. The Firing Line
5. Tell Me When It's Too Late
6. Triggers
7. How Many More Times
8. High Waters
9. There Goes My Cool
10. Waves Deluxe Edition 7" single bonus tracks:
11. Supermodel Avalanches
12. Everything's Fine
Back To The Water Below is now available to pre-order HERE. In addition to its digital release, physical formats include deluxe vinyl (packaged with a bonus 7" featuring two additional tracks) and two cassettes, all of which are available exclusively from Royal Blood's official store. Amazon will stock an exclusive gold vinyl, while HMV (UK only) and select indie stores offer an exclusive clear vinyl. The range is completed by a CD and a regular black vinyl.
The John 5 Ghost Telecaster features an all-white fretboard, red killswitch, and debuts alongside a custom-branded instrument cable, leather strap, and a 6-pack of 351 celluloid picks.
"I've played Telecasters my whole life and getting to design my own is a dream come true," said John 5. "When it came to design, I was inspired by some of Fender's previous collaborations, but sought to create a model that would be both visually stunning and comfortable to play. Fender helped me design a Telecaster that was different from anything else on the market and the easy-to-play all-white fretboard and unique pickguard is proof of that. The leather strap and cable match the guitar's white aesthetic and the pick visuals are absolutely killer!"
Introducing the John 5 Ghost Telecaster. It features a top-bound alder body and 1-piece maple neck finished in an enchanting Arctic White gloss and accented by striking red appointments and a gleaming mirrored pickguard/control plate.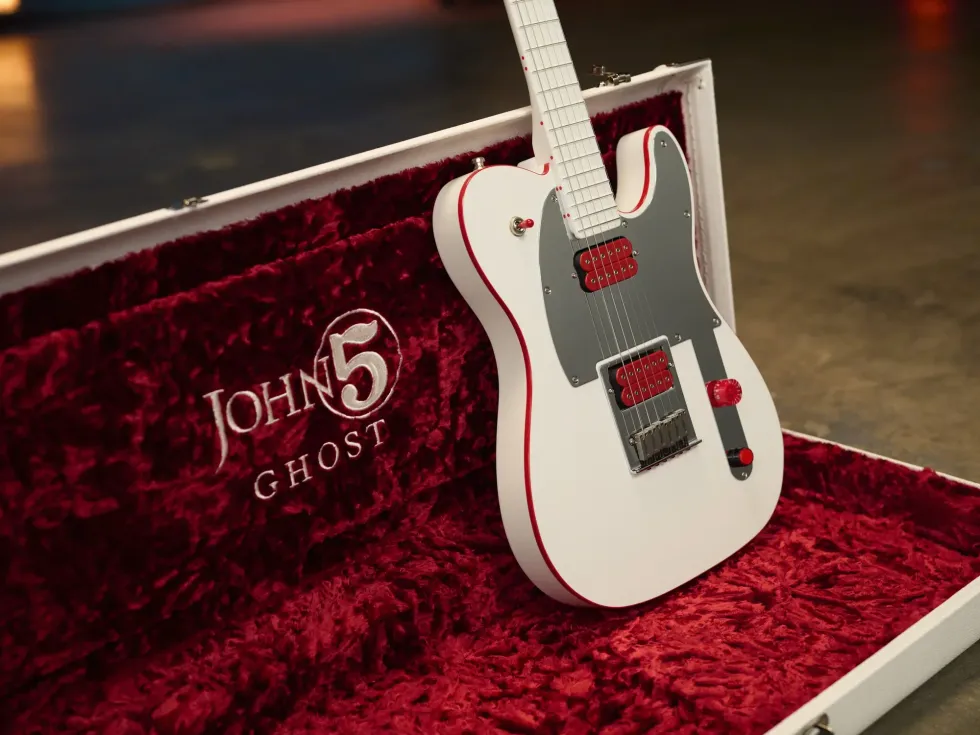 Along with the Telecaster, John 5 wanted to give something extra to fans, which has come to life in his signature collection of accessories. The accessories collection includes a white leather strap with red suede backing, a 10' cable in artic white with custom molded red ends and a six-pack of 351 celluloid picks featuring John 5's logo and graphics as twisted as his Telecaster playing.
"Over the span of his career, John 5 has shown that his guitar skills know no bounds in terms of genre or sound," said Justin Norvell, EVP of Product at FMIC. "The Ghost Telecaster® is a celebration of his iconic style, with a killswitch that allows rapid-fire stutter effects and a chrome pickguard that completes the stunning look of this guitar. Beyond that, the signature capsule collection allows John 5 to give fans something that celebrates the whole visual experience of his artistry, not just his inventive guitar playing."
John 5, now guitarist for Mötley Crüe, started his career as a session player before establishing himself as the ax-man for hard rock heavyweights including David Lee Roth and Rob Zombie. For almost three decades, John 5 has become one of the most in-demand guitar players on the planet, having worked with an impressive array of talent from across the industry. An eternal student of music, John 5's expansive knowledge of various genres shows up in his bluegrass licks, sweep-picking solos and high-speed chicken-pickin' lines – all with a Fender Telecaster® in hand. This summer, John 5 can be seen shredding on the Ghost Telecaster, giving fans worldwide the chance to catch him in action while on tour with Mötley Crüe.
Exploring the Limited Edition John 5 Ghost Telecaster | Fender Artist Signature | Fender
The John 5 Ghost Telecaster features a top-bound alder body and 1-piece maple neck finished entirely in an enchanting Arctic White gloss and accented by striking red appointments and a gleaming mirrored pickguard/control plate. DiMarzio D Activator humbuckers deliver harmonically rich modern crunch, harnessed by a performance-oriented control set with a 3-way toggle mounted to the upper bout for swift pickup switching and pickguard-mounted master volume and arcade-style "kill switch" for rapid-fire stutter effects. Deluxe locking tuners and 6-saddle tele bridge with block steel saddles ensure rock-solid tuning stability and spot-on intonation. The John 5 Ghost Telecaster is entombed in a custom white tolex hardshell case with crushed red interior featuring John 5 Ghost embroidery.
Fender