Vintage Vault: 1921 Washburn Model 1915 Style 1222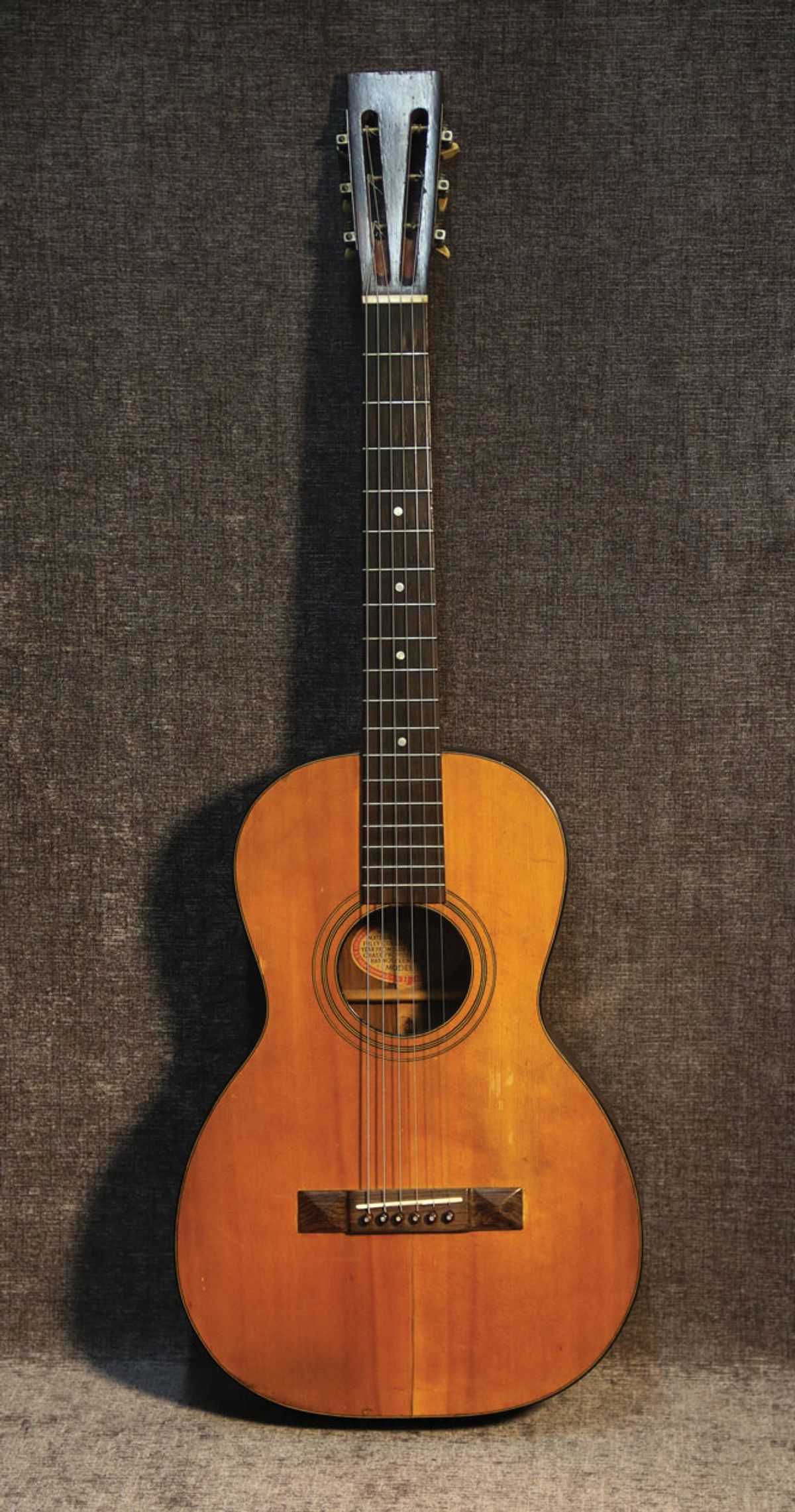 A little giant of the original parlor-guitar style still has stories to tell.
In all my decades of being involved in building, selling, and playing guitars, one type of 6-string that I've always gravitated to is the parlor guitar. I enjoy the sound and feel of parlor guitars. They're very comfortable to play and, as a result, easy to fall in love with. I'm really glad that after 60 years of being sidelined from the limelight by dreadnought and jumbo-sized acoustics, they're making a comeback.
Now, when most guitarists think of parlor-size guitars, they typically picture the Gibson L-1 or Martin O-style instruments, which have been favored over the years by guitarists from blues legend Robert Johnson to folk virtuoso Norman Blake. But the original parlor guitars are actually smaller. (This one's about 18 1/2" long, 4" deep, 13 1/8" at the lower bout, and 9 1/2" at the upper.)
They were made mostly by European immigrants who'd come to the United States. Thanks to their comfortable playability, affordability due to mass production, and a size that made them easy to travel with and easy to keep around the home—ostensibly in the parlor—they helped launch the popularity of guitar music in America in the late 19th and early 20th centuries.
What I love about this guitar is that it has such a big, beautiful yet delicate sound despite its size.
The 1921 Washburn 1915 model we're eyeballing here is perhaps one of the most noteworthy of these early American parlor guitars. Its playability is exceptional and the instrument's overall condition is really good considering its age. A few hairline cracks on the back and a center top seam crack have all been very professionally repaired. It feels and looks like a guitar that still has stories to tell.
At the time this guitar was made, Washburn was part of Lyon & Healy, a company that started in 1864 as a partnership of businessmen George Washburn Lyon and Patrick J. Healy. Lyon & Healy was originally formed to distribute the popular sheet music of Boston-based publisher the Oliver Dotson Company. By 1865, Lyon & Healy had expanded into making reed organs and some small instruments. The Washburn brand achieved independence by 1880, and around 1888 it launched fully into fretted and plucked instruments (guitars, mandolins, banjos, and zithers) under the Washburn name, which makes Washburn the second oldest guitar line in the U.S.—following Martin, which was established in 1833.

This ebony bridge has survived nearly 100 years and still looks solid. Note the comfortable string height.
Production of the Model 1915 began in 1915 and ended in 1921, so our example is from the final year of manufacturing. It's a great specimen. What I love about this guitar is that it has such a big, beautiful-yet-delicate sound despite its size. As a budget model, it has thinner bracing and the body thickness is merely .085 to .090 of an inch. But it does have a Brazilian rosewood back and sides along with its Adirondack spruce top, which deepens the tone. (It amazes me that Brazilian rosewood was considered a low-cost wood at the time.)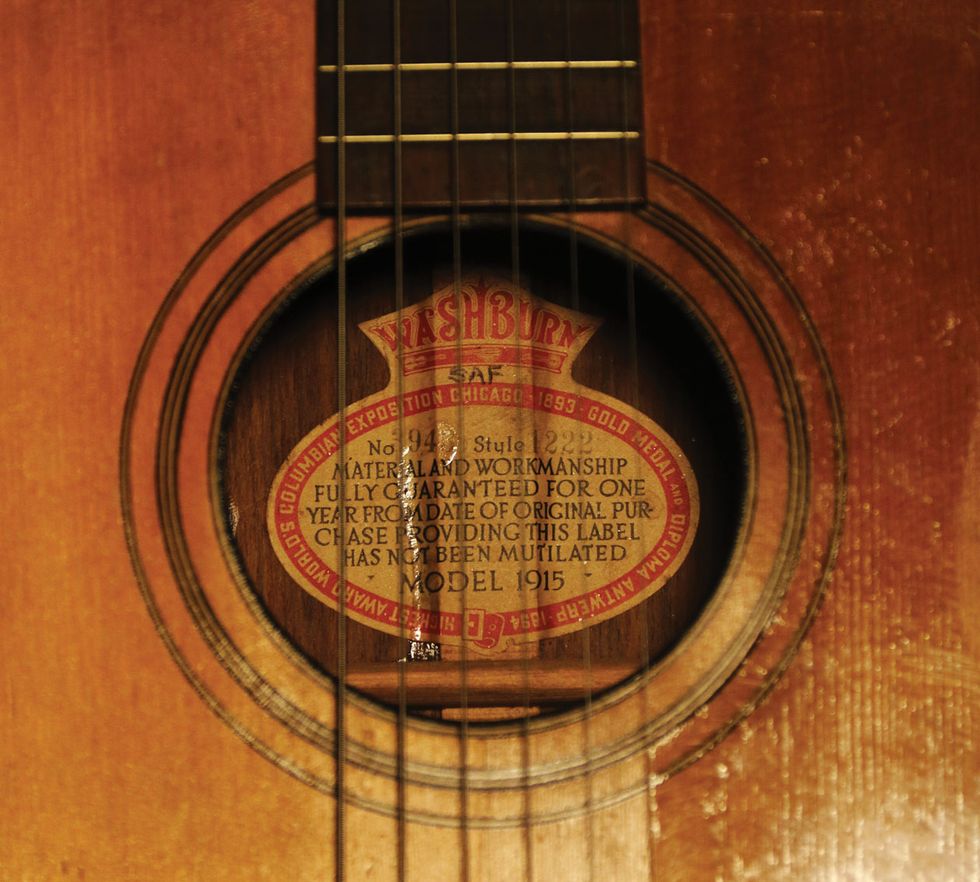 The label inside this guitar's body offers old-school testimony to its vintage as well as Washburn's one-year guarantee of 1921—provided the label was left intact.
This instrument also has a solid mahogany V-shaped neck, an ebony fretboard and bridge, and what we might call a Martin-style trim and back strip. According to a Washburn catalog from the period, the price to dealers was around $18, so whatever the retail mark-up was, this was a lot of guitar for the buck. Today, depending on condition, playable examples of the Washburn 1915 sell for $1,000 to $1,300, with an example this nice coming in at the top of the range.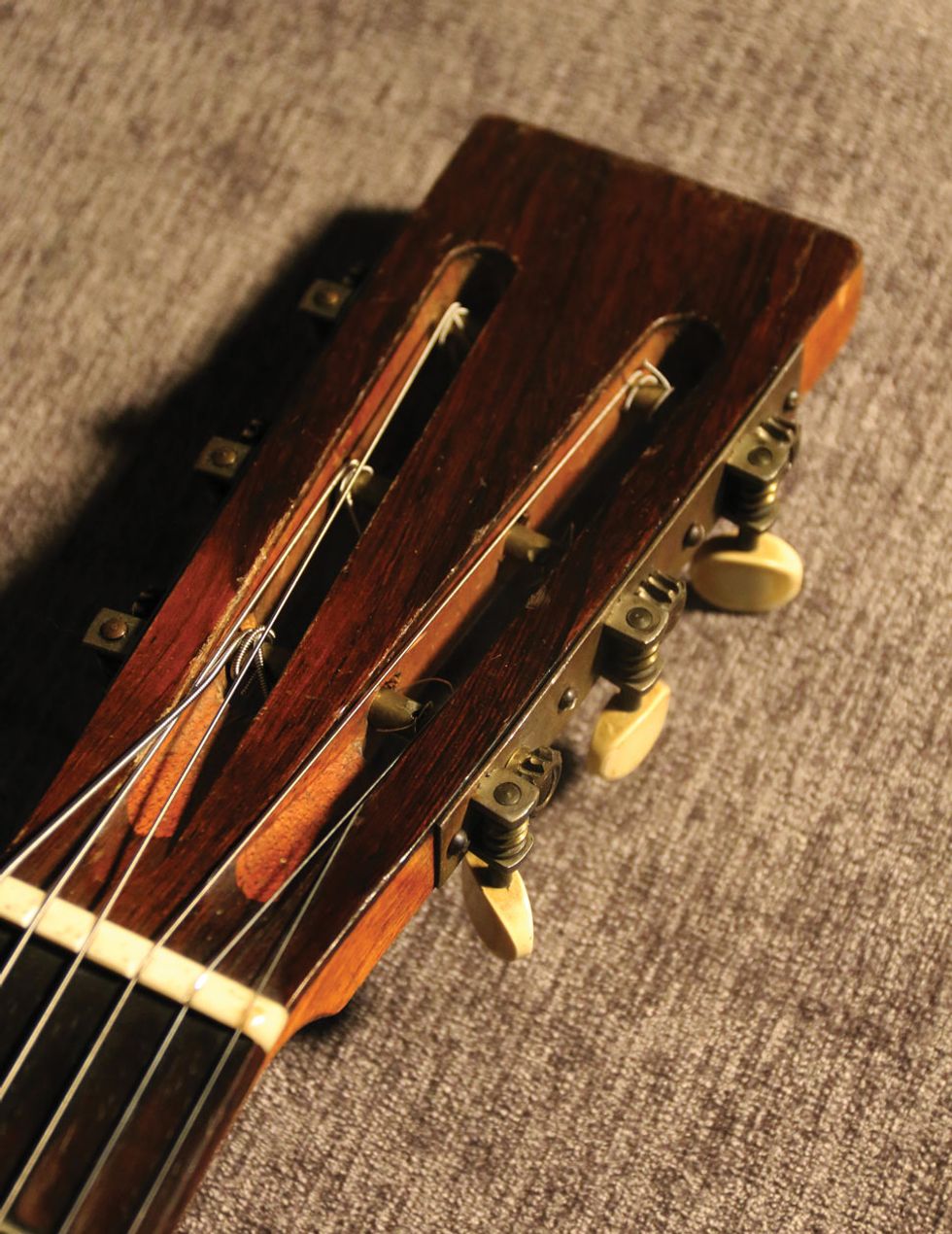 The open headstock and three-on-a-side tuning pegs on this 1921-built guitar are still functional, so it's no surprise the same headstock design appears on several of Washburn's modern Revival Series models.
Here's some cool trivia: Washburn, at the time, was mostly known for banjos and mandolins, so when they entered the guitar market, they were trying to make headway by producing quality instruments—even on the low end. These 1915's are great for fingerpicking, with their wide 1 7/8" fretboards and 18-fret shorter scale. It's been said that the fingerpicking styles used on the parlor guitars of the early 1900s inspired what became the modern bluegrass "roll" style of banjo playing, made popular by Earl Scruggs.

The model 1222 features a rosewood back and sides with a center stripe, with a similar trim around the body.
Washburn reintroduced the parlor guitar several years ago, as part of its Revival Series. Today, even Ibanez produces parlor guitars, so there are many options available to players who aren't concerned with an instrument's vintage. With modern-day electronics, the sound of these beautiful little guitars that remain affordable, light, and easy to play can translate onstage as well as in the parlor.
---