Will Ray's Bottom Feeder: 1994 Korean Epiphone Sorrento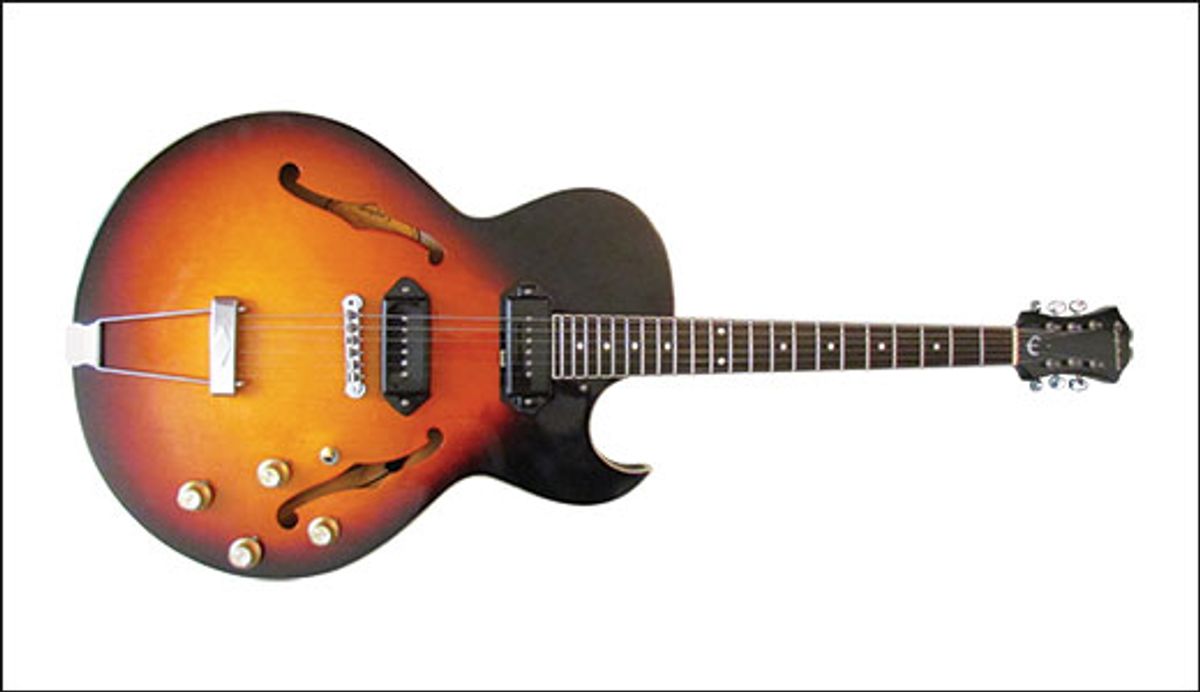 Dual P-90 pickups and old-school looks in a sunburst finish—what's not to love?
Every now and then, when I'm surfing eBay, I run across a guitar that just speaks to me with its picture. This 1994 Korean-made Epiphone Sorrento is one of those guitars. From the moment I laid eyes on it, I was smitten by the way it looked. It's kinda like when you first saw your future spouse walking down the street and had love at first sight. Kinda.

What really spoke to me was the vintage-looking sunburst finish with the two black P-90 pickups, instead of the usual chrome ones. The missing pickguard only seemed to enhance its beauty. To me, it resembled an old Gibson ES-125, with its cool sharp cutaway. I knew I had to have it, so I bookmarked it and waited patiently until the end of the auction to put in a snipe bid. I ended up winning it for $405, including shipping.
"When you receive a guitar off eBay with a problem, see if the seller will give you back a partial refund so you can get the problem fixed."

When I received the guitar a week later, it looked even better than in the pictures. It had nice low action and played like butter. But there was a problem. When I plugged it in, the neck pickup seemed to produce an intermittent signal. At first I thought it might be the pickup selector switch, but I eventually traced it to the pickup itself. When I tested it with a VOM meter and tapped it, I came to the conclusion the pickup had a short in the windings and needed to be replaced. Bummer!
So, I contacted the seller, explained the problem, and asked if he would give me a partial refund of $30 so I could replace the defective pickup. He reluctantly agreed, and so I ended up actually getting the guitar for $375. Bottom Feeder Tip #882: When you receive a guitar off eBay with a problem, see if the seller will give you back a partial refund so you can get the problem fixed. If they're smart, they'll realize that it's better to refund a portion of the price rather than have an irate buyer ship the guitar back for a full refund plus shipping. (For the record, I would've kept the guitar even if the seller had refused the partial refund. I wanted it that bad!)

The guitar arrived with a defective neck pickup, so after a little price renegotiation, a replacement was acquired and
this Epiphone was back on its tonal track.
Anyway, I replaced the neck pickup with a black dog-ear Seymour Duncan and all is well now. How does it sound? Awesome! I'm a real P-90 fan and Seymour Duncan, in my opinion, makes the best-sounding ones. Listen to the sound sample and hear for yourself.

So is it a keeper? Probably. I'm realistic about guitars and know that sometimes I need to let one go now and then to help finance others, but this one never fails to excite me when I play it. That's the sign of a keeper!