You could WIN a Set of James Hetfield Pickups from EMG! Enter here before October 7, 2022.
The JH Set consists of the JH-N (neck) and the JH-B (bridge). Both were patterned after the pickups James had used for 30 years, but the end result was a completely different animal. The JH-N has individual ceramic poles and bobbins that feature a larger core and are taller than the 60. This produces more attack, higher output, and fuller low end in the neck position. The JH-B uses the same type of core but has steel pole pieces, unlike the 81 that uses bar magnets. This produces the familiar tight attack with less inductance for a cleaner low end.
EMG
MG-400 houses 2 powerful DSP chips for high-definition White-Box Amp Modeling algorithm (TS/AC-HD) and Core-Image post-effects.
The Nu-X MG-400 is a value-packed modeler akin to his little brother, the MG-300. MG-400 houses 2 powerful DSP chips for high-definition White-Box Amp Modeling algorithm (TS/AC-HD) and Core-Image post-effects. Since releasing the MG-300, people have been blown away by the sound and playability, not to mention the ease-of-use tone tweaking and intuitive interface. And now, the MG-400builds upon the MG-300 feature set moveable signal blocks, extra 12 IR COLLECTION slots, flexible P.L block with MIN & MAX parameter setup, send/return fx loop, abundant SYSTEM MENU, and physical master volume knob, MG-400 is now the best value modeler for the money.
The white-box algorithm offers realistic playability and analog-chaos response. The concept of "Chaos makes the muse" perfectly applies to the analog circuit. When you tweak the knob, it affects itself as well as other parameters. For a linear digital system, the parameter is independent. The white-box algorithm offers real-time feedback, increment-by-increment. Nu-X TS/AC-HD replicates the same playability most guitarists crave in a real tube amplifier.
​MG-400 offers 512 samples of IR, you can also load 3rd party IR files through the editor software. The included 25 guitar cab IRs combine 4 classic microphones with 3 mic positions to allow beginners an easy way to jump into the multi-effects experience. Also included are 8 bass cab IRs and 3 acoustic guitar IRs, giving you the ability to play bass on MG-400 or use an electric guitar to simulate acoustic guitar sound.
NUX MG-400 highlights include:
​2.8" 320*240 color LCD with intuitive UI.
NG, CMP, EFX, AMP, IR, EQ, MOD, DLY, RVB, P.L | 10 independent moveable signal blocks.
White-box Amp Modeling & Pre-efx algorithm.
512 samples IR resolution and USER slot with each patch. (additional 12 IR COLLECTION slots).
Input trim under SYSTEM MENU.
Scene and Jam functionality.
5 output modes with global 3-band EQ for quick tone tweaking.
USB recording interface, firmware update, QuickTone™ edit software.
NUX MG 400: how it compares vs the MG 300 and the MG 30
Nu-X MG-400 carries a street price of $219.
For more information, please visit nuxefx.com.
Music Nomad introduces a patent pending Grip One, alongside the Humitar One, an all-in-one humidifier and hygrometer.
No feature is overlooked, starting with the precision bearing design they invented in 2016 that makes turning the handle effortless, silent & super fast. The innovative rubber-lined head smoothly & silently slips over your tuning pegs for a scratch-free & clank-free operation compared to traditional plastic peg winders. The contoured head design fits virtually all tuning pegs both big & small, & its narrow profile keeps you from hitting close-fitted pegs on electric guitars. The ergonomic & non-slip rubber grip handle gives you total control & comfort. Cutting strings is a cinch! Whether big or small, use the high-quality carbon steel String Cutter to effortlessly cut through all string types. Ready to pull pins? The Bridge PinPuller's innovative universal design allows you to pull acoustic guitar bridge pins easily. Simply slide under the pin & pull straight up. Grip One is perfect for electric & acoustic guitar, bass, banjo, mandolin, ukulele & orchestral strings. Don't lose it or loan it, you'll look forward to the next time you change your strings.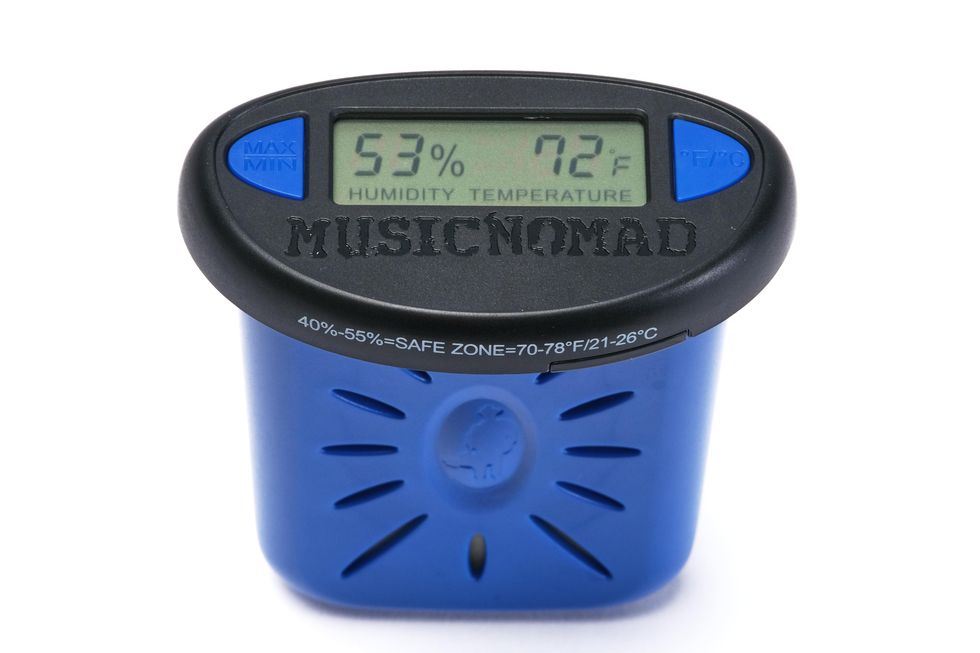 MusicNomad has developed an easy-to-use, no mess, low maintenance guitar humidifier and a humidity and temperature monitor that is simple, accurate, and reliable. The Humitar One safely releases moisture evenly to eliminate potential problems such as warping, shrinking and, worse yet, cracking. The Humid-i-Bar reusable sponge holds a lot more water than the competition. This means less monitoring on your end while, resting assured, your fine guitar is cared for.
To ensure your guitar is in the safe zone, the Humitar One accurate sensor monitors your string instrument's environment every 20 seconds and gives you the humidity and temperature readings on its LCD display. It also gives you the maximum and minimum range over the period you are measuring and can be reset at any time. The Humitar One comes with many cool features such as a reminder of the humidity and temperature safe zone at which you want to keep your string instrument, a long-lasting AG 13 battery, and Fahrenheit or Celsius readings.
Grip One: Available October 24, 2022 - Suggested Retail $16.99 - $19.99 USD
Humitar One: Available October 24, 2022 - Suggested Retail $29.99 - $34.99 USD
For more information, please visit musicnomadcare.com.
Using high-speed signal processing with a dedicated DSP and analog & digital audio circuits we perfected over time, this compact unit attains high sound quality.
A compact, but epoch-making digital delay with multiple filter functions. Using high-speed signal processing with a dedicated DSP and analog & digital audio circuits we perfected over time, this compact unit attains high sound quality. This unit's tone filter can process the delay sound to have a rich tone or conversely adjust it to be far from the original sound. The proprietary COSMIC filter creates an effect sound reminiscent of outer space, adding a new color to your delay sounds. Utilizing a new method, the newly developed reverse delay succeeds in producing a smoother, more musical reverse sound. In addition, we added a new function to adjust the number of output bits of the delay sound in 1-bit units, from smooth and high-quality 24-bit to rough 8-bit sound that contains distorted noise when the volume is lowered. You can reproduce the nuances of the delay sound used in the 1980s and 90s, and even the delay sound with the bit crusher effect applied.
Features
​*Built-in multiple filter effects including equalizer function. It is possible to apply multiple filters at the same time (Cosmic Filter, Bandpass Filter, 3-Band EQ, Tone).
Equipped with a newly developed reverse delay and output bit number adjustment function(8–24 bits).
Combination of high-speed arithmetic processing with 32-bit fixed-point arithmetic and high-precision arithmetic processing with 32-bit floating-point arithmetic achieves both high-quality sound and high processing speed and provides the best performance.
COSMIC WAVE carries a suggested retail price of $318.18, and is available now through their North American dealers. For more information, please visit freethetone.com.