American Spirit: Peter K. Siegel
Photo by Tina Tinay
Avant-garde guitarist Elliott Sharp talks to the producer behind classic albums by Roy Buchanan, Joseph Spence, and Doc Watson about a lifetime of historic music-making.
An intriguing offer on Craigslist for a vintage Galiano Decalcomania parlor guitar brought me to the Manhattan home of Peter K. Siegel. The walls were decorated with an obviously well-loved Martin D-28, as well as a number of unique banjos and guitars, old and older. After examining the guitar in question, which I happily purchased, our conversation turned to instruments and, from there, to Siegel's work in music. Many of his projects had resonated deeply with me: from the cacophonous joy of the Even Dozen Jug Band to Joseph Spence's rich Bahamian sounds to the exotic beauty of Japanese and Carnatic music to the first recordings of the legendary guitarist Roy Buchanan. Siegel spoke with affection and humor about the various musicians he had recorded or worked with, and it was clear he had a thousand stories.
When Siegel began to play guitar and banjo in his teens, he was already deeply indoctrinated in folk music, thanks to his parents, who had an extensive collection of both albums and friends who were part of the then-burgeoning folk movement. He started his career as a musician and engineer with a deep involvement in New York City's Friends of Old Time Music (FOTM), an organization that presented 14 concerts that helped define the city's folk scene in the early '60s. Fifty-five songs from those performances—all recorded by Siegel on his first reel-to-reel, a Tandberg 3B, and an Electro-Voice microphone—were released as the three-CD box Friends of Old Time Music: The Folk Arrival 1961–1965, produced by Siegel on Smithsonian Folkways in 2016. In 1963, he co-founded the influential Even Dozen Jug Band with Stefan Grossman. The band also included Maria Muldaur, John Sebastian, David Grisman, Steve Katz, and Josh Rifkin, who all went on to notable careers of their own.
Siegel became a staff producer and engineer for Elektra Records, where he founded and ran the hugely influential Nonesuch Explorer series. A track from his pioneering album of Japanese shakuhachi music, A Bell Ringing in Empty Sky, earned a place on the Voyager spacecraft along with Chuck Berry, Beethoven, and Blind Willie Johnson. Later, he was director of A&R for Polydor's American label, followed by a stint as president of ATV Records, and then, realizing that this work was taking him away from the music he loved, he left the corporate world to resume his life as an independent producer and musician in 1991.
"Roy Buchanan—he spoke through his music. He didn't speak a lot, himself. But in blues, especially, I can hear the words that
go with the notes."
Siegel remains a vital force in music as a performer and archivist-producer. His recent output continues to trumpet his passion not just for the old-time music of rural America of the 1920s and 1930s, but for all music created with soul and true feeling. His recent releases include a 2013 collection of union songs he performed and recorded with Eli Smith, The Union Makes Us Strong, which follows their collaboration Twelve Tunes for Two Banjos, and his latest release of never-before-heard recordings by the late Appalachian singer and banjoist Clarence Ashley, Live and in Person—Greenwich Village 1963, which arrived last May. He's currently preparing a Doc Watson and Gaither Carlton album he says is "really some of the best old-time music you'll ever want to hear."
Siegel's work as a producer and recording engineer brought him into contact with an amazing constellation of musicians that include Maybelle Carter, Mississippi John Hurt, Sam McGee, Fred McDowell, Hobart Smith, Frank Wakefield, Jesse Fuller, Rev. Gary Davis, Neil Young, and Bob Dylan. He brought to life recordings of musicians from Indonesia, India, China, and Sweden, and cut the psychedelic rockers Earth Opera, as well as songsmiths Paul Siebel, Tom Paxton, and Elliott Murphy, and the Grammy-nominated street singer Oliver Smith. Some of these encounters blossomed into friendships—especially with Doc Watson, Joseph Spence, and Roy Buchanan. In our conversation, he spoke of these famed guitarists at length, as well as many other topics.
Digging around, I came upon a note about a recording you did of one of Dylan's first "basement tapes."
That was in the basement of Gerde's Folk City, right after a Bill Monroe concert at the NYU School of Education presented by the FOTM. After the concert, there was some kind of jam session going on with … I don't remember. Gil Turner playing banjo, Bob Dylan singing ... anyway, Dylan says "Would you record me?" I said, "Sure." I was hoping he was going to say that! That was about the time of The Freewheelin' Bob Dylan album. He just had me record him for the fun of it.
TIDBIT: The recently released collection of Siegel's recordings from the influential Friends of Old Time Music concert series includes 55 song performances and a 60-page booklet.
Eventually I got hired by Elektra as an apprentice engineer/producer. Thing about Elektra at that time, all their producers were also engineers, worked hands-on. At Atlantic, the producer wouldn't. Tom Dowd would be the engineer. At Columbia, the producer—this was a union thing—was not allowed to touch the board. They also had a "machine man" in a little room behind a curtain. The engineer would be in charge of the mics and mixing. The engineer would say "roll," and the machine man would say "we're rolling." No one was allowed to touch anything! At Elektra, all the producers were trained to be recording engineers. They really taught it like, "You want to be a chef? You start by washing pots and pans." I had some great teachers: Jac Holzman, founder of Electra, plus Paul Rothchild and Mark Abramson—a fabulous producer who worked for a long time at Elektra and produced Judy Collins albums. My job at first was, every morning, align all the machines, clean all the heads with head cleaner and a Q-tip, then—when they could trust me a little bit—they had me do something which is a thing of the past: put leader in between tracks on an album—white paper leader. Eventually, I got to record stuff.
How did you come to record Roy Buchanan?
Around 1971, I got hired as the director of A&R at Polydor. They had signed Roy, and there were two albums produced. Neither was deemed worthy of coming out. The relationship with Roy had deteriorated to not actual litigation, but a number of lawyers' letters back and forth. He had a couple of guys representing him who were never going to get along with Polydor, and they wouldn't let Roy talk to me. I went to D.C. for a meeting with all of them, but Roy wasn't there. I found out that he was playing at the Crossroads club in Bladensburg, Maryland, caught his show, and went up to talk to him.
We went back into this room, covered with beer bottles and overflowing ashtrays. He had some favorite musicians that I could really talk about. One of his big influences was Gatemouth Brown, and he loved Hank Williams. I could talk about any Hank Williams song. So we spent the evening talking about music. I went back to New York and I told the people dealing with this fiasco, "I think if you talk to him now and tell him I'll produce the record myself, he might agree to do it."
---
---

Musician and producer Peter K. Siegel is an important figure in American roots music. His recordings have captured many historical performances, and his own albums celebrate the folk and protest traditions. Siegel built his favorite banjo
from a Boucher kit.
So they talked to the manager and the manager talked to Roy and they came back with one of the most bizarre counteroffers I've ever heard—which we accepted. The counteroffer was that it had to be with his band and we only get two sessions. It was all short notice, so we arranged for Roy to show up with his band. Let me tell you, Roy Buchanan—he spoke through his music. He didn't speak a lot, himself. But in blues, especially, I can hear the words that go with the notes. So he showed up, and I worked with an engineer who could do this on the fly. In the next couple of nights, we recorded the first album and Roy was powerful enough to make up for the fact that some of the musicians didn't have a lot of studio experience. And people who were outside the studio who heard him were saying, "What the fuck is that?" At the end, I said, "You got any more things we could try out?" And one of them was [the Don Gibson-penned country classic] "Sweet Dreams," and he played that and it killed me. The band really worked on that and it became a minor hit in England. That "Sweet Dreams" track still floors me. Roy Buchanan sold a lot of copies, hundreds of thousands. It really did the job for Roy. I stayed in touch with Roy and we talked about music a lot.
They wanted to do another record. I wanted it to be more about Roy—an instrumental record. What I wanted to do was have Roy playing the music he played: mostly blues, Chicago-style blues, B.B. King-style blues, some country stuff. We got this group together in Record Plant's Studio C and encouraged them to play the blues. And he played some well-known numbers like "After Hours," and I encouraged him to play in different styles, like, "Hey, you ever listen to Elmore James?" And he did "Tribute to Elmore James."
There's a great take where he broke a string in the middle and kept going and going: "Five-String Blues." We called it Second Album, which was the working title. That was the one that got a gold record. The sound was great. We worked on that with an engineer named Shelly Yakus. I sat next to Shelly for so many thousands of hours that it was like ESP. He knew what I wanted—how to do stuff that I didn't know how to get.
My whole philosophy about mixing is that tracks are mixed the way they want to be mixed. You could have a preconceived idea of the sound, but it very rarely turns out that way. In this case, Roy was clearly the voice of the band. He had a little old brown Fender amp—don't remember what model it was. He was not a screaming loud guitar player. One of the things you may have noticed: Stuff that's played really loud in the studio is not always the best way to get it to sound loud. We got it to sound big. Years later, the last time I actually saw Roy, he said, "How did you get that sound?"
"They stop at a light and Doc jumps out and hops in the back of the truck and says, "Let me see that, son," and he starts playing on the banjo and blows Ralph's mind."
Let's talk about one of the first highly influential guitarists you recorded: Joseph Spence.
Joseph Spence played guitar and did two types of vocalizing. One is very incidental, sort of like Erroll Garner or other guys who make sounds while they're playing, and he also did a style of singing called rhyming. It came out of the sponging. One of the principal industries at the time in the Bahamas was gathering natural sponges. And to do it, these crews of guys would go out on a boat, rickety craft, four or five guys, and dive for sponges. Anything can happen, really dangerous, a lot of guys drowned, lot of songs about that. They would go out for weeks at a time and at night tie up the boats together and they would sing. It became kind of a competitive sport. They'd sing old hymns they called anthems—really beautiful three-chord songs where a group of people would sing the anthem over and over again. Typically someone would sing the melody, someone would sing the treble, someone else the bass. And the rhymer would start improvising vocal parts, usually based on Bible stories. It was improvised, but if you do it enough you pretty much get a rap going, and Spence had it down.
In the summer of '65, the FOTM produced the last of their series of concerts at the New School, and one of the things they produced was music from the Bahamas. Pete Seeger volunteered to go down there to look for musicians. He found Joseph Spence, and arranged for Spence, his sister Edith, her husband Raymond Pinder, and their daughter Geneva Pinder to come up. It was my job—as a volunteer, nobody got paid—to host Joseph Spence and his family while they were in New York. Spence was legendary among people I knew. I got this idea to take Spence to the top of the Empire State Building and he was appropriately gassed by the whole thing. Years later, Guy Droussart, the Swiss guy who became the great expert on Joseph Spence, was down in the Bahamas at the Spence house and saw this little snow globe of the Empire State Building that Spence had bought on that trip.
I was living at home at the time. My parents had an apartment on East 31st Street, and I took the whole gang back and we went into my bedroom, and I said, "Hey, let's make tapes." And I recorded a lot of Joseph Spence in my bedroom. Great stuff. He was playing that guitar [points to a Martin D-28]. I got it in 1962 or '63. It was used but only lightly. I recorded all these songs with Joseph Spence playing that guitar. When you're 19 and suddenly you have Joseph Spence in your bedroom, it's a big deal!
Then I got the idea to go to the Bahamas to record people with my friend and polymath musician, Jody Stecher. By this time, I had a Nagra reel-to-reel tape recorder, a good mic, and a rudimentary understanding of how to produce records. I could get a sound that [musicologist/producer] Sam Charters didn't have the equipment to do. The first thing we did was find Joseph Spence. We had some instructions that we got from Rothchild, to go to Nassau and from there to a little village called Culmerville, and then ask around. And it worked ... but people were suspicious: these two white guys looking for Joseph Spence.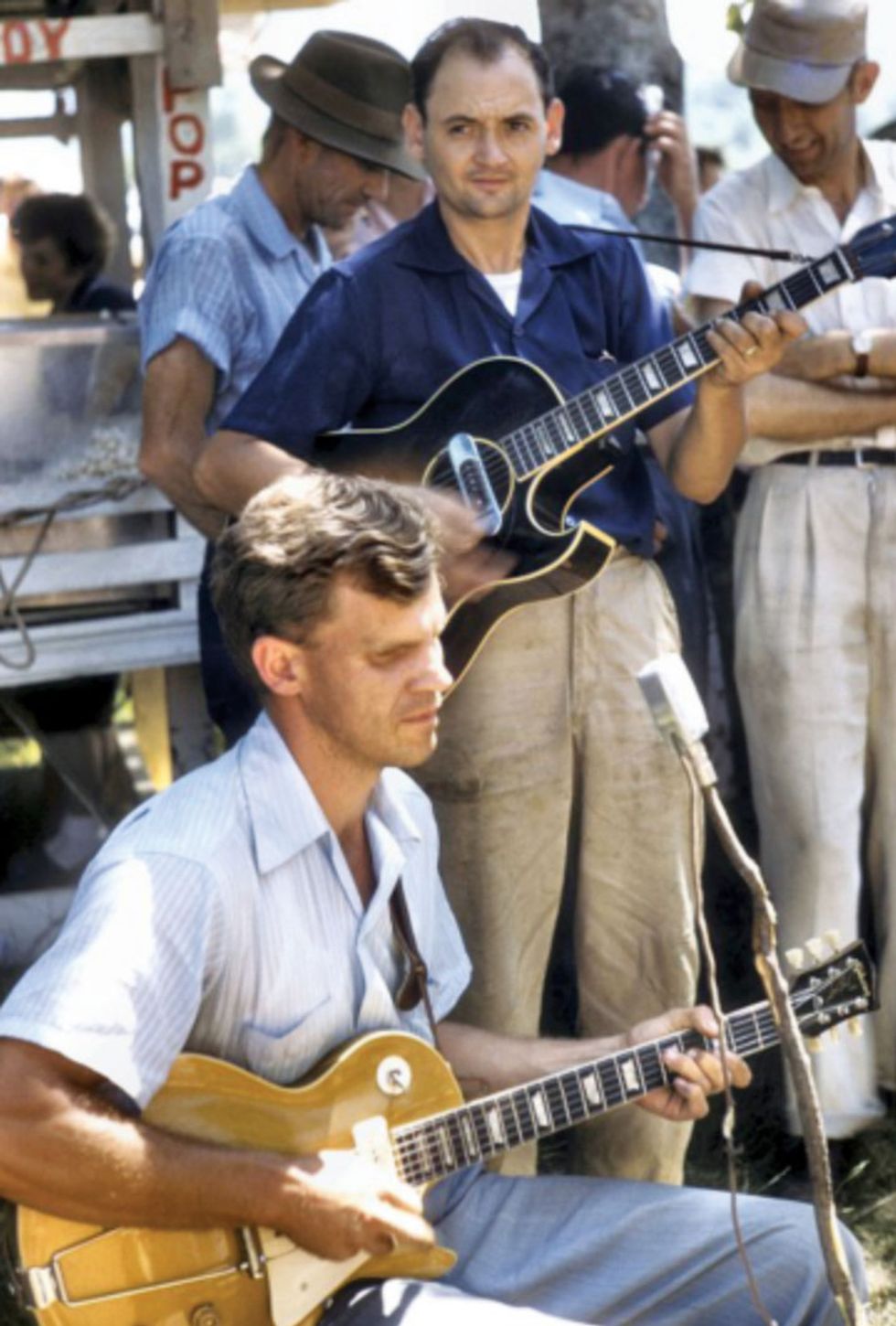 When Siegel first encountered the legendary Doc Watson, the Appalachian picker was playing a goldtop Les Paul—much to the consternation of folk music purists. Photo of Doc Watson in the Hugh Morton Photographs and Films Collection, copyright 1953, North Carolina Collection, University of North Carolina at Chapel Hill Library.
We were only down there a week, week-and-a-half, yet we recorded so much great stuff. We had this marathon recording session in the garden behind Edith Pinder's house. We went all over the island and recorded all these rhyming groups. I had two microphones: an AKG D24E and a Sony C-37. No mixer, but the preamp allowed me to put the D24 into the line input of the Nagra, and you could mix the line input and mic input in the recorder—a mono tape machine. We made a side trip to a place called Marsh Harbor in the Abaco Keys because we found a book in the Nassau Public Library that said in Marsh Harbor traditional British ballads are still performed as they were during the Revolutionary War. So we went there and actually recorded a woman called Mistress Lyndall Albury, who sang all those old ballads, apparently like they'd always been sung. We brought the tapes back to New York and went through the process of fashioning an album, which we brought to Moe Asch [of Folkways Records], who sat on them for months. So when I got hired by Elektra, a year had gone by and Moe hadn't done anything, so I went and asked Moe for the tape back. Jac Holzman of Elektra had a label, Nonesuch, which was focusing mostly on Baroque and pre-Baroque music. He came out with what he called the Nonesuch International Series, so I played it for Jac and he put out The Real Bahamas: In Music and Song.
You also met the Appalachian guitar virtuoso Doc Watson through the FOTM concerts.
After Doc Watson's FOTM concert, Doc and [fiddle and banjo player] Gaither Carlton stayed in New York City an extra week. So there was a club on Sullivan Street between Bleecker and 3rd called Blind Lemon's that was open for just like two weeks. [Folksinger and musicologist] Ralph Rinzler was friends with whoever had it, and they arranged for Doc and Gaither to play this gig for one night. Those are the tapes I'm now working with. Doc was singing beautifully.
The next thing that happened was Ralph got him a gig at Gerde's Folk City—a two-week gig, which I eventually put out as the album Doc Watson at Gerde's Folk City. Doc was staying at Ralph's apartment on Christopher, a sixth-floor walk-up, about a six- to eight-block walk to Folk City. I got the job of taking him over there. Doc was blind but never had a dog, never had a cane. You just put your arm out and he'd hold on to it and walk. We talked a lot. On the nights that Ralph's cousin Richard would take Doc over, I'd bring my tape recorder and record his performance. I started sending Doc tapes and he'd say which ones he liked and we eventually put that out on Sugar Hill. That was his first solo appearance anywhere. You have no idea how surprised Doc was that people went for this. He'd never been a professional entertainer. He was very good at playing the guitar and he played in a rockabilly band and dance bands.
"My parents had an apartment on East 31st Street, and I took the whole gang back and we went into my bedroom. And I recorded a lot of Joseph Spence in my bedroom."
Was he playing electric guitar?
Yeah! He didn't have an acoustic guitar, so he had to borrow one. He had grown up in a musical family in rural western North Carolina. Being blind in those days, especially in rural North Carolina, there were not a lot of job opportunities, so it was one of the reasons he played music—and he got really good at it. He was doing a lot of what we now call busking, but when he got married and had to try to make a living, he worked in a rockabilly band for Jack Williams and they played dances. The way I understand it is, they would sometimes do square dances and they didn't have a fiddle player, and Doc was like, "I think I can play that stuff on guitar," which is how he developed his playing. I believe it was on a goldtop Les Paul.
There's this whole story about how Ralph Rinzler came to record [legendary clawhammer banjo player and guitarist] Clarence Ashley. He'd met Clarence at the Union Grove Fiddle Convention in 1960, and he realized that this is the Clarence Ashley who recorded these great sides on Columbia [in 1929] and also with the Carolina Tar-Heels. Ralph found that Ashley could still sing and arranged to come back and record him. So Ralph returns a few months later with recording equipment, and Ashley has this electric guitar player accompanying him: Doc Watson. Now Ralph is like, "No, we want to get the real folk music. We don't want this electric music. This is on Folkways." And he asks Doc, "Could you maybe play that stuff on acoustic?" And Doc says, quite honestly, "I haven't played an acoustic in so long that if I try to play this stuff on acoustic, it wouldn't be very good." And Ralph says, "We can't use that. We'll go look for someone else."
So then, Ralph goes to find a banjo player named Jack Johnson. He comes back the next day and he's surprised to see that Doc Watson is still there, still playing the damn electric guitar. So, they're all going to Ashley's sister's house to record. They're driving in a pickup truck and Ralph is in the back, open-air part of the truck, playing a banjo. They stop at a light and Doc jumps out and hops in the back of the truck and says, "Let me see that, son," and he starts playing on the banjo and blows Ralph's mind. That's when Ralph realized what was going on. So by the time I met Doc, he had become acquainted with the idea that people would like to hear his traditional music, which he would never get paid for in North Carolina—he couldn't get people to sit still for it. And when he played at Gerde's, he said he couldn't believe that people would sit quietly and listen to these old ballads. It really blew his mind. Anyway, I always stayed in touch with Doc and I always loved his music—and he's much featured on that FOTM compilation. He was a special, special musician.
Doc Watson
Onstage at the Smithsonian, Doc Watson gives a lesson in how he plays the folk classic, "Deep River Blues," with a liberal dose of homespun wit. Then he plays a killer rendition on his ringing flattop.
---
Joseph Spence
In this definitive recording of "Out on the Rolling Sea," Joseph Spence's idiosyncratic playing and singing style are on full display. The theme reflects on his years spent sponge hunting, and his vocal improvisations are honed from the all-night singing competitions associated with that vocation. His playing is unrestrained, wildly improvisational, and stunning.
---
Roy Buchanan
Roy Buchanan performs a contemplative version of his signature instrumental take on the country classic "Sweet Dreams" onstage in 1976, on his longtime No. 1, a 1953 Telecaster. Note his exquisite use of volume effects, false harmonics, and his unique picking style.
Roy Buchanan's searing tone and impressionistic sonic techniques—done purely with volume and touch— are all over his Siegel-produced debut album from 1972.
Playing Styles, Enduring Influence
Let's take a quick look at the playing styles and importance of Roy Buchanan, Doc Watson, and Joseph Spence, as well as Peter K. Siegel himself.
Siegel has an assured and sensitive hand on both guitar and banjo. When he plays his well-worn Martin D-28, one can clearly hear his love for Doc Watson's guitar stylings, and, on the banjo, the stroke, frailing, and clawhammer styles of Clarence Ashley and other old-time players. Siegel plays a fretless banjo that he built from a Boucher kit. It's a reproduction of a Civil War-era instrument that reflects beautifully on the African roots of the banjo.
Working extensively with Watson, Spence, and Buchanan, Siegel had a hand in presenting these important players to a wider audience. One might hear Watson and Spence as representing two great rivers of guitar music: one from rural America and the other from the Caribbean, extending from deep into the 19th century and reflecting onward across the 20th. Buchanan's immediately recognizable guitar sound elevated blues, rockabilly, country, and spirituals into an art of great intensity—simultaneously earthy and ethereal, and likewise straddling past and future.
Watson took fiddle tunes, blues, sacred, and old-time songs from both the Scottish/Irish/English and African populations of rural America and synthesized something new. He developed streamlined techniques using a plectrum to create driving, fluid lines and approached fingerpicking with a thumbpick and one metal fingerpick for rich ringing melodies with alternating bass notes. He was a huge admirer of Merle Travis' playing, even naming his son Merle, and in his musical DNA there are strains of Travis and Chet Atkins, as well as the Carter Family and Jimmie Rodgers. His influence ranged widely across modern bluegrass, folk, and country music.
There has never been another guitarist like Spence. With a unique sense of timing and flow, a pianistic approach to moving lines, and even his tuning of the instrument, Spence remains peerless. His driving rhythms have roots in African songs, ragtime, blues, and calypso, and his melodies reflect the English colonization of the Bahamas. Using dropped-D tuning, Spence would snap the strings and use quick glisses and downward swoops as punctuation for his phrases. He rarely strummed full chords—instead picking out two- and three-note fragments which might be slid to create shifting countermelodies. He could sound like two guitarists in a friendly argument, with both commenting on his gruff and expository singing. One might even hear parallels with legendary pianist and composer Thelonious Monk, also of Caribbean heritage, and whose music features angular singsong melodies with brilliant corners and buoyant grooves. Monk could seemingly bend notes with his use of close-interval clusters, and Spence's slightly off-tempered tuning created much the same effect.
In Buchanan's hands, the Tele could scream, wail, talk, croon, preach, and even become a swooning pedal steel. He liked to keep his amp dimed so he could zoom from a delicate whisper to a roar with a subtle move from his pinky on the volume control. This allowed him to create sounds by hitting or flicking the bridge plate—and even blowing on it. He was a master of artificial harmonics, which he generated by pinching a string between his pick and thumb or finger to yield a scorching peal. Buchanan would play extreme bends, whether with his fingers or behind the nut, for deep emotional effect. Using what he called "circle picking," he could shred lightning fast lines—every note clearly articulated and rich with meaning.