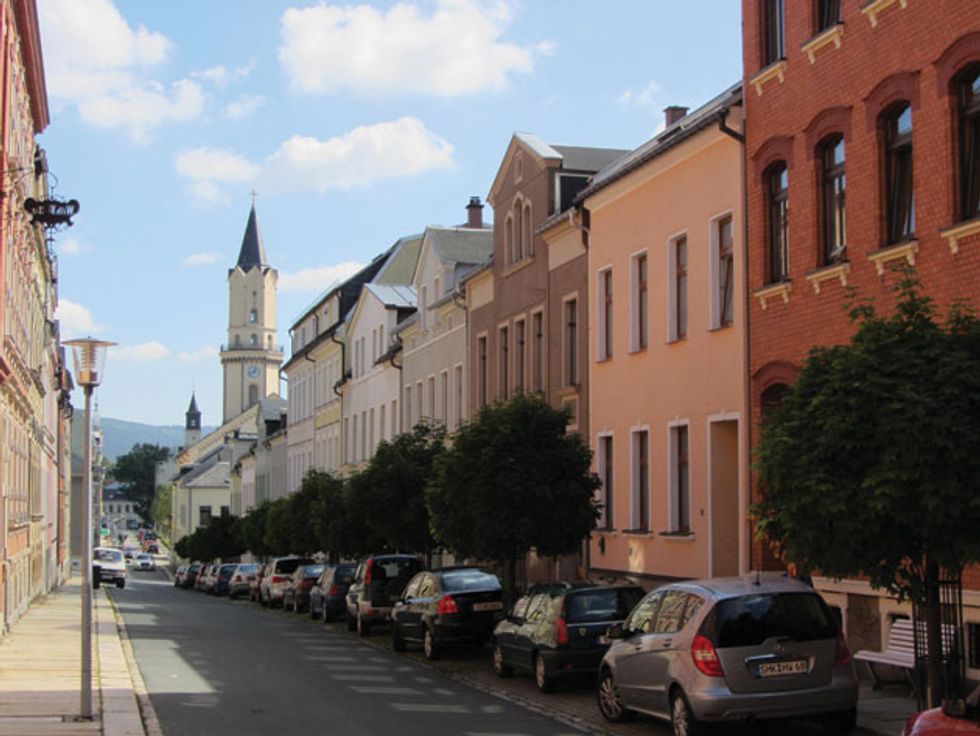 German lutherie has a 400-year history—and more connections to the United States than you might think. The best way to dive into this legacy is to visit Germany's "Music Corner" region. The three small main cities of Markneukirchen (aka "the music town"), Erlbach, and Klingenthal are known collectively as "Musicon Valley." This musical hub lies in a southern region of Saxony known as the Vogtland, nestled in the mountains at the Czech border, near Bavaria and Thuringia. It's a quiet, rural area, its stunning landscape dominated by lush forests and wide-open meadows full of cows.
For 40 years the region was part of the German Democratic Republic—the former East Germany. Decades of GDR policies have left their mark on downtown Markneukirchen, yet there are remnants of the town's former glory as one of Germany's richest cities. Breathtaking mansions display the sophisticated charm of the past. There's classic German architecture on every corner, and a town center with its mandatory beautiful church and placid cobbled streets. Nearly every building displays a sign indicating that musical instruments are built within. If you're a guitar nut or history nut (or both!), it's hard not to fall for this area's seductive charms.
My wife and I drove down to Markneukirchen for a two-week hiking holiday, which quickly morphed into a hike through the history of Germany's musical instrument industry. Here's what we found along the way.
The separation between building instruments and trading them started early, resulting in a highly effective economic structure.

The Golden Age
Farmers first settled the Markneukirchen area in the 11th century. In the 17th century, Protestants fleeing religious persecution in neighboring Bavaria settled here as well. These refugees included 12 violinmakers from the Graslica area. In 1677 they established a violinmakers' guild, which still survives as the world's oldest. Markneukirchen developed quickly, and by its golden age (1850-1880), 80 percent of the world's musical instruments were made in the region. The area was home to more than a thousand luthiers during the GDR era, and today approximately 130 companies make instruments and accessories here, including all orchestral instruments other than pianos.
When a group of violinmakers begins making instruments, it's only natural for other companies to build on that economy, settling down nearby to make strings, bows, chin rests, and the like. These companies required resources such as sheep gut for strings and lumber mills to cut wood. Eventually an entire marketing/export business emerged to handle the enormous output of instruments. By 1893 a U.S. consular office was established here to handle overseas exports.


Nearly every building in Markneukirchen's town center displays a sign announcing that musical instruments are built there. Many of these signs are historic. Photos by Dirk Wacker.
Significantly, the separation between building instruments and trading them started early, resulting in a highly effective economic structure. Trading agencies bought instruments in large quantities directly from builders and shipped them worldwide. Of course, traders made a lot of money—much more than the builders. Most of the superb mansions in Markneukirchen were built by trading agency owners. A prime example is the superb Villa Merz, a mansion near the Framus Museum that now houses a lutherie school, part of the University of Applied Science Zwickau. The mansion was built for Curt Merz, owner of a very successful trading agency.
Instrument makers usually worked independently in small workshops, often in their homes. Farmers would build instruments during the long, hard winters, when there was no work to do in the fields. Trading agencies would market these instruments under their own labels, with the actual builders remaining anonymous. Most of the instruments were exported to the United States, India, Brazil, Japan, and Australia. Example: the Andreas Morelli violins common in the United States. G.A. Pfretzschner, an important trading house founded in 1834, bought instruments from throughout the music-corner area and shipped them to his trading partner in the States. The U.S. partner thought an Italian name would boost sales, so they came up with the fantasy Morelli name. This was standard business practice, and instruments of all kinds are still made this way in Markneukirchen. Today you can see the original interior of the Pretzschner trading agency in Markneukirchen's Musical Instrument Museum. In its heyday, Markneukirchen numbered 21 millionaires among its 12,000 inhabitants, and hundreds of people worked in the instrument industry.