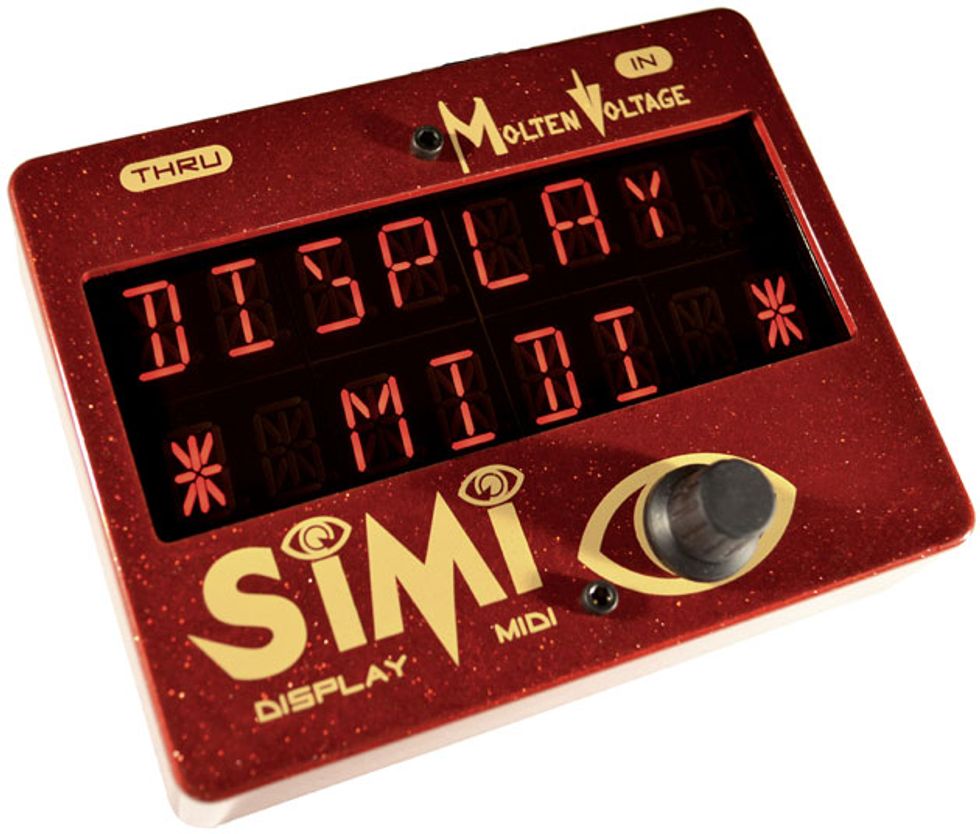 Cascade Range, OR (July, 2014) -- SIMI ("See Me"), Molten Voltage's sparkly new pedalboard MIDI Display, enhances any MIDI controller. SIMI features 16 large bright red alphanumeric LEDs making it extremely easy to read.
SIMI automatically displays the program number from your controller, or you can program it, using one knob, to display a custom message. SIMI stores and recalls custom text for each of 128 MIDI programs. Creating custom messages takes seconds using SIMI's single knob/button control.
Most pedalboard MIDI ontrollers have limited numeric displays, or just display single LEDs to indicate presets. SIMI's custom messages project precise preset details. Adding a display to your pedalboard has never been easier! SIMI includes a buffered MIDI Thru Jack to daisy-chain additional devices, or another SIMI...(give one to each member of the band and communicate effortlessly on stage!)
For advanced users, SIMI also features real-time message capability for use with Cakewalk, Sonar, and other digital audio workstations (DAW). Molten Voltage's pedalboard MIDI Devices are simple-to-use, flexible, infinitely expandable, and allow seamless control, letting musicians focus on making music.
Hand built in the Oregon Cascade Range, SIMI's bomb-proof design includes a sturdy aluminum enclosure and riveted steel MIDI Jacks. SIMI is road-ready MIDI machinery!
SIMI is shipping now. MSRP $225, $175 Street.
For more information:
Molten Voltage