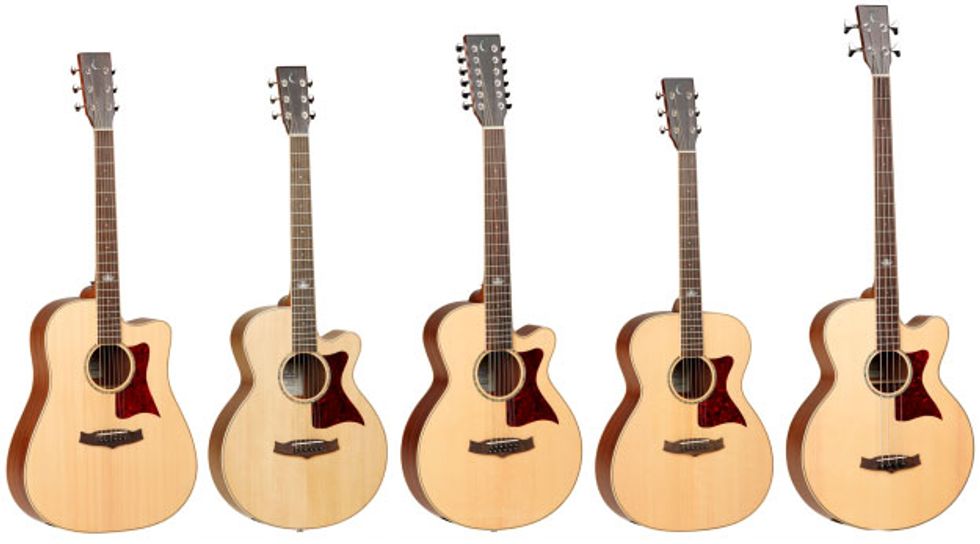 Montreal, Canada (August 20, 2014) -- Tanglewood Guitar Company UK, the United Kingdom's best-selling acoustic guitar brand, has revamped its Premier Series - one of the company's most long-standing and most popular ranges.
The third and newest generation of Premier Series instruments features solid AA Sitka spruce tops on all models, giving the guitars a robust tone that retains its clarity even under heavier strumming. Backs, sides, and necks are mahogany, and the bodies are finished in Natural Satin. The guitars are fitted with NuBone nuts and saddles, D'Addario EXP strings, and a B-Band Crescent pick-up system on electro-acoustic models. A 12th fret mother-of-pearl crown inlay and green abalone rosette contribute to the aesthetic elegance of the instruments.
Five new models will be available in North America (one of which, the Super Folk six-string, will also be available left-handed).
Suggested retail prices and details:
TW115-SS-CE | 739.00 Dreadnought cutaway with B-Band Crescent pickup
TW145-SS-CE | 739.00 Super Folk cutaway with B-Band Crescent pickup. Also available left-handed
TW145/12-SS-CE | 779.00 12-String Super Folk cutaway with B-Band Crescent pickup
TW170-SS | 659.00 Orchestra model (no pickup)
TW155-A/BASS | 779.00 Acoustic Bass with cutaway and B-Band Crescent pickup
For more information:
Tanglewood Guitars