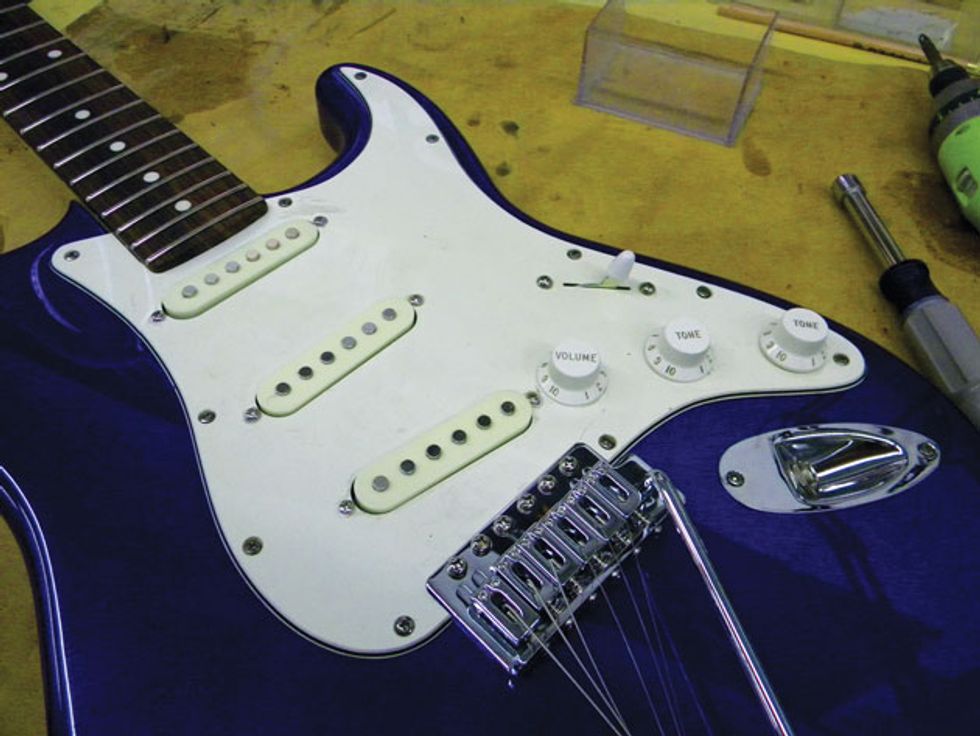 Photo 1
You know the feeling: Your favorite Strat isn't getting as much attention as it once did—that old spark just isn't there. Perhaps you've even been thumbing through gear catalogs or surfing the web to ogle new guitars. They look sharp, don't they?
Wait! Before you take another step toward replacing your trusty axe with a new one, consider something less drastic. Perhaps it's time to update your loyal 6-string's look with a snazzy new pickguard—it's a quick, inexpensive, and fun way to rekindle the flame.
Strat pickguards come in a mind-bending variety of colors and styles, from classic tortoise, mint green, or mother-of-toilet-seat to goth skulls, vintage pin-up artwork, Celtic knots, and even reflective acrylic. Why not shake things up a bit? It's easy to revert to the original guard if you decide you don't dig the new look. This project only requires a small investment of cash and time, so give it a shot. The hardest part might be selecting a new guard from the plethora of choices.
Strat pickguards come in a mind-bending variety of colors and styles ... why not shake things up a bit?

Replacing your pickguard is a relatively simple undertaking, but as with any guitar mod, it's important to plan ahead by having the right tools and understanding each step of the operation. By the way, the process is similar for Telecasters, and there are as many replacement options as with a Strat, so you can easily adapt this project to Leo's first 6-string creation.
Project overview. To walk you through the steps, I'll replace a worn, scratched, and cracked pickguard on a client's Fender Stratocaster (Photo 1) with a new, 11-hole antique white replacement from Allparts.
Tip: Before you tear into your guitar, take a moment to visually confirm that the holes in your replacement pickguard match up with the old one. Not all aftermarket pickguards will retrofit perfectly, and checking this now will spare some frustration.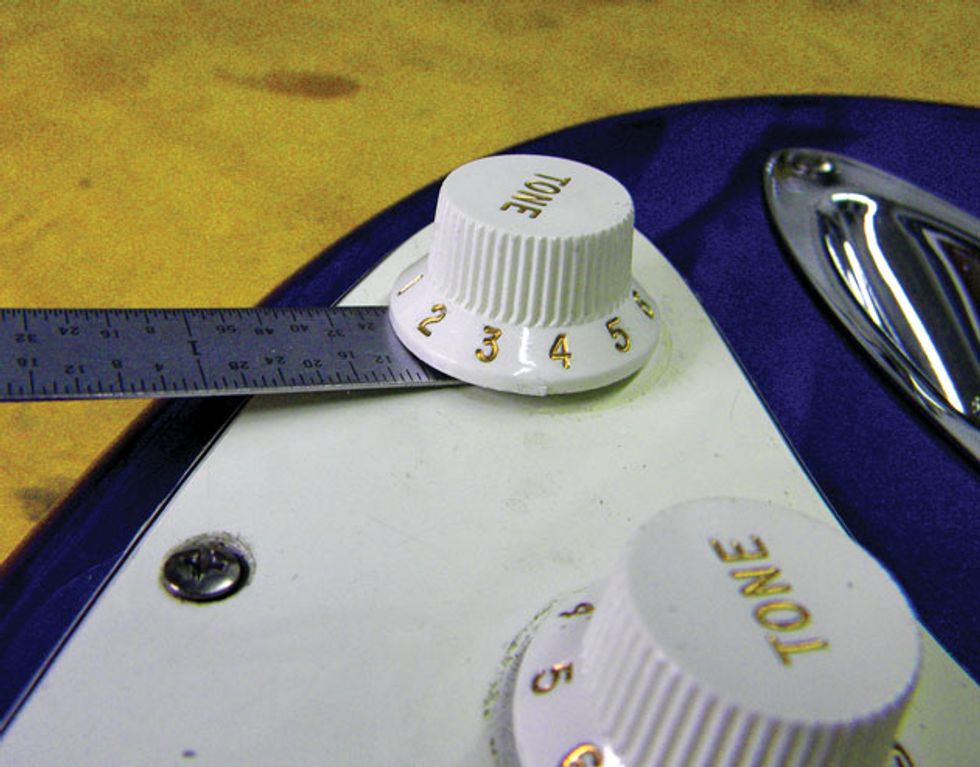 Photo 2
Here's what you'll need for this project: a 6" machinist rule, a 1/2", 7/16", or 10 mm nut driver, a medium Phillips head screwdriver, and a string winder. And, of course, your new replacement pickguard.
Getting started. First, remove the strings. Next, gently pull off the knobs and the tip of the pickup selector switch. If the volume and tone knobs don't pull off easily, slide a thin machinist rule under each knob and gently pry it off (Photo 2). It helps to turn the knob while prying and pulling.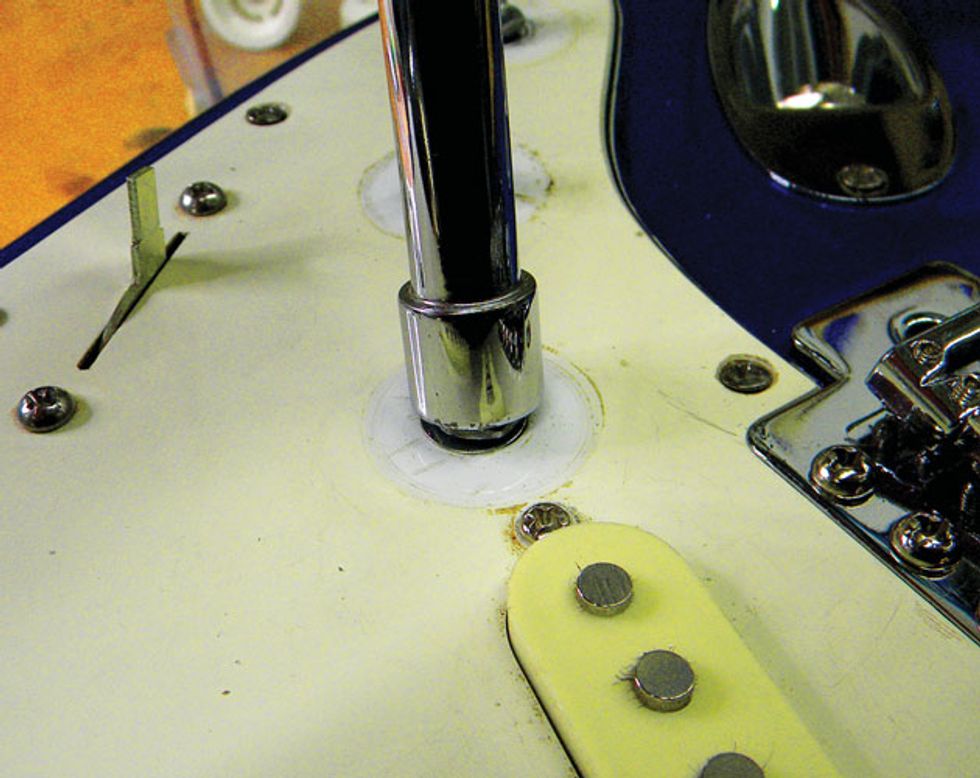 Photo 3
With your nut driver, unscrew the nuts that secure the volume and tone controls to the pickguard (Photo 3). Most volume and tone pots require a 1/2" socket, but in some cases you may need a 7/16" or even a 10 mm driver. Let the pots drop into the body.
Use a medium Phillips screwdriver to remove the screws holding the pickups and switch to the old pickguard. (Note: While most pickup selector switches have Phillips head screws, some have slot head screws. If so, you know what to do.) Turn these screws counter-clockwise to back them out. As with the pots, it's okay to let the pickups and switch fall into the body—it's a great way to keep everything organized and protected. Make sure all the height-adjustment springs stay with the pickups.