Brand New's Jesse Lacey and Vincent Accardi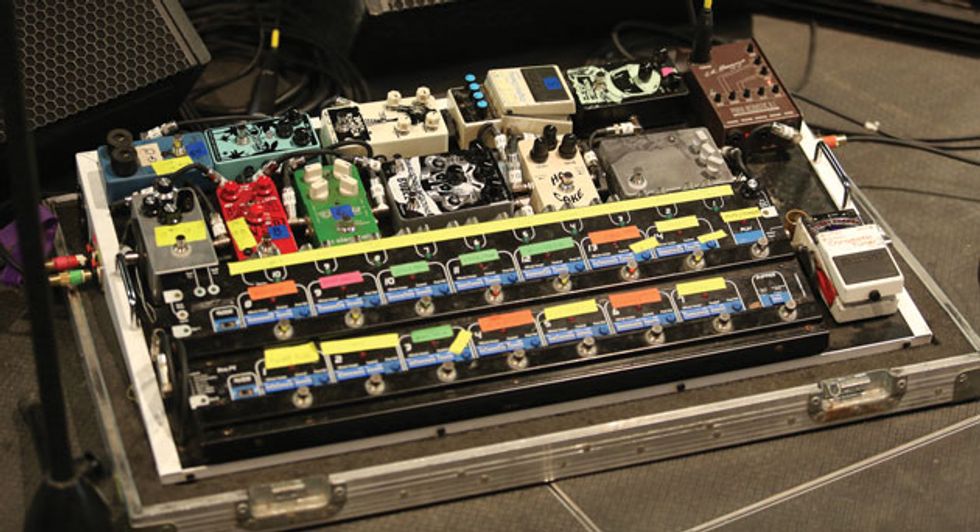 Jesse Lacey, vocalist/guitarist for alt-rock outfit Brand New, did all the wiring and soldering on his pedalboard. When his signal first hits the board, an L.R. Baggs Para Acoustic DI sends a signal to the front of house. Another line runs into a GigRig Pro-14 switching system, which routes the signal to a Crowther Audio Hotcake overdrive, a modded MXR Blue Box, a Fuzzrocious Zuul, a BYOC Large Beaver, a Walrus Audio Voyager, an Old Blood Noise Endeavors Black Fountain, a TC Electronic Corona, a Mr. Black DeluxePlus, a Dr. Scientist Radical Red Reverberator, a Smallsound/Bigsound Buzzz, a Boss DD-6 Digital Delay, and a Boss TU-2 tuner.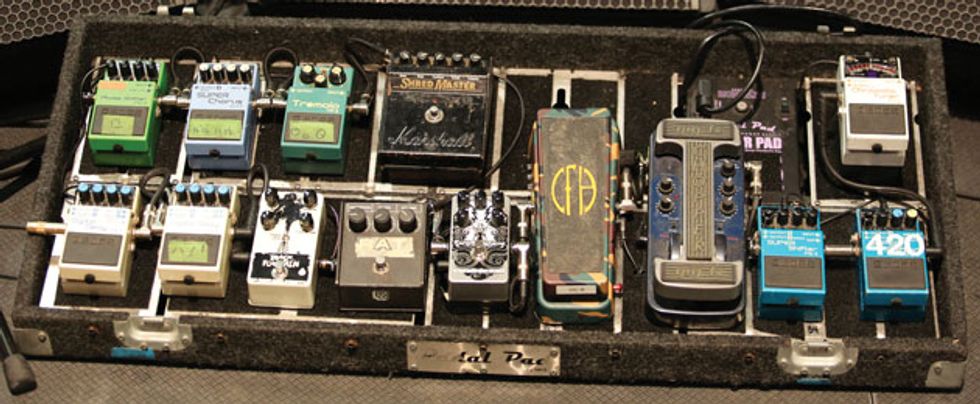 Vincent Accardi's MKS Pedal Pad uses both built-in MKS and Walrus Audio Aetos power supplies to juice a Boss TU-2 tuner, two Boss PS-5 Super Shifters, a Gig-Fx Chopper, a Dunlop Cry Baby from Hell wah, a Catalinbread Dirty Little Secret, a Pro Co RAT, a Marshall ShredMaster, a Boss TR-2 Tremolo, a Boss CH-1 Super Chorus, a Boss PH-3 Phase Shifter, and three delays—an Old Blood Noise Endeavors Black Fountain, a Boss DD-6, and a Boss DD-7.