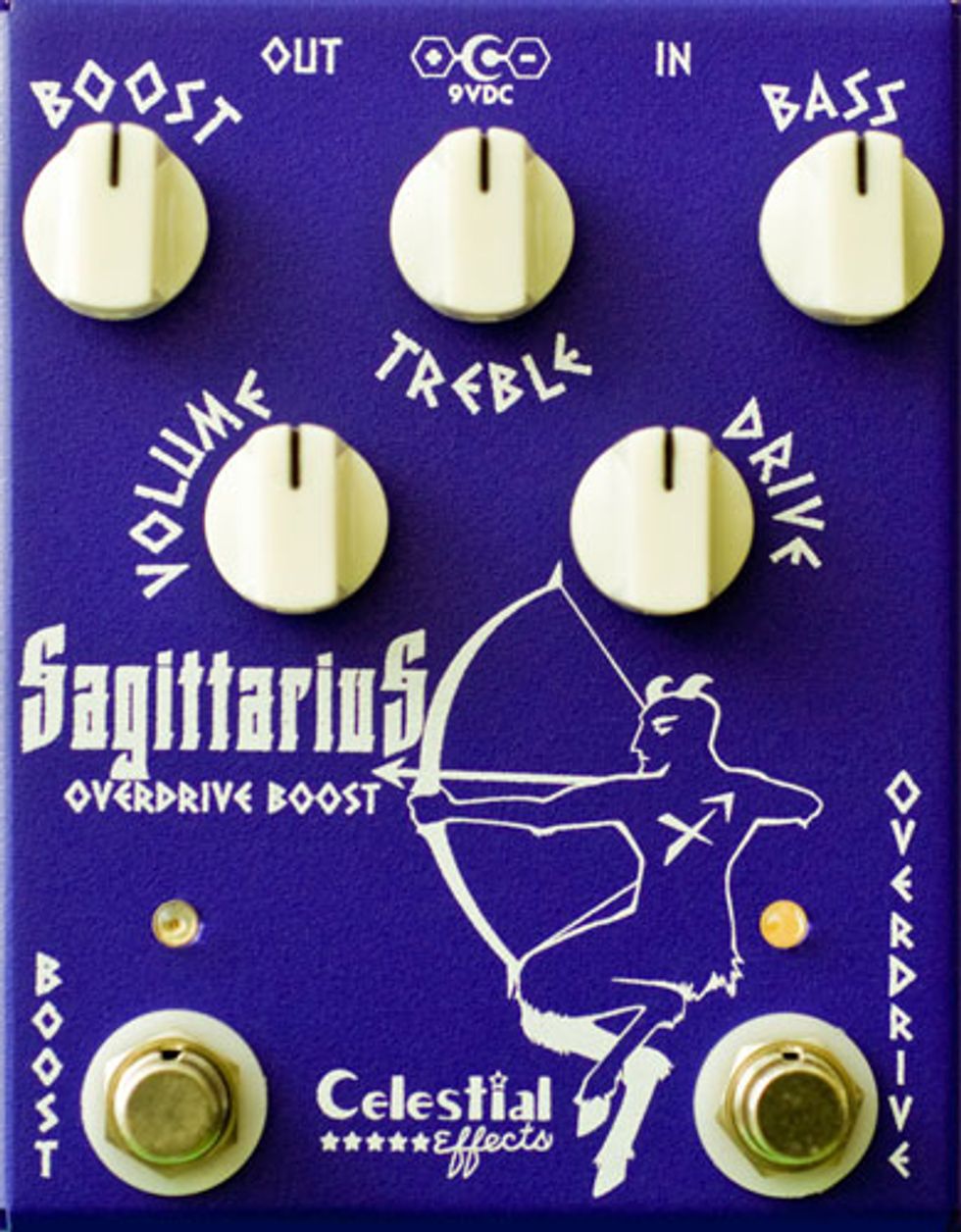 Hudson, MA (April 29, 2015) -- The Sagittarius Overdrive Boost includes two great discrete effects in one space saving pedal. A very transparent overdrive with presence coupled with our Scorpio Super Boost! The two effects are wired in series with the ability to choose effect order. OD into Boost or Boost into OD.
Overdrive Section An original design, merging qualities of two great overdrive pedals. The Sagittarius marries the crisp, non-compressed, transparent qualities of the Timmy OD with the in your face presence of the Klon in one package. The overdrive section's gain structure ranges from a soft boost to a semi-heavy grind with emphasis on low compression and lots of presence. Unlike the Virgo, Taurus, and Capricorn pedals from our line, which add tons of gain and compression at high gain settings, this overdrive is more of a pure overdrive; very transparent and crisp. Every nuance of guitar and amplifier combinations will shine through. It is a great effect to keep on all the time to set your "base tone". The overdrive does not change your guitar and amplifier combination's tone but just pushes it a bit more, enhances it and adds tons or presence. Couple it with controls for bass and treble and take over total control of your tone. Its a game changer.
Boost Section The Sagittarius boost section is actually our Scorpio Super Boost! pedal. Undoubtedly the most popular Celestial Effects pedal to date.
Effects Order Switch The effects order switch is accessed through a small hole on the bottom of the case. The latching push-button switch sets the order of the two effects. (A pencil eraser works great to set the switch but be gentle).
When gently pushed and latched "IN" or "DOWN", the order of the two effects is Boost into Overdrive.
When Sagittarius is configured in Boost into Overdrive mode, the Boost is wired first in the chain allowing the user to use the Boost to "push" the overdrive. With both effects ON, the volume knob will control the overall volume of the signal out of the Sagittarius.
When gently pushed and latched "OUT" or "UP", the effects order is Overdrive into Boost. This is the default position for the pedal.
When Sagittarius is in Overdrive into Boost mode, the volume knob will control only the overdrive section's overall volume and not the Boost section, which is now last in the chain. Turning on the boost section in this mode, will add a significant volume boost allowing the user to use this Boost section as a volume boost for leads and solos.
For more information:
Celestial Effects