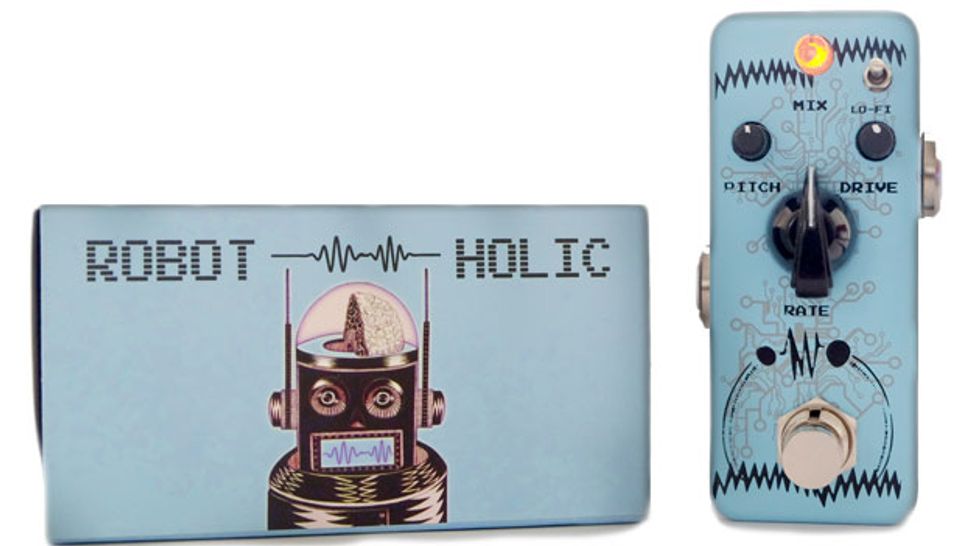 Studio City, CA (August 14, 2015) -- F-Pedals, the Los Angeles based company founded by International Artist Francesco Sondelli and legendary recording engineer Eddie Kramer, has unveiled RobotHolic, the first pedal under the company's new product collection - the Pulse of Rebellion (P.O.R.) Series.
Designed for creative guitarists, bassists and other musicians to explore new sounds for live performance and studio recording, RobotHolic™ is an extremely playable stompbox featuring a variable range of sounds from clean booster, crunchy drive, heavy distortion to analog-ringmod-resembling effect. It is the first mini pedal in the market that has an input for External Expression Control, which allows players to create some crazy retro and yet futuristic effects by changing the modulation rate by foot while playing. The mini lo-fi (High Pass Filter) switch emulates an old AM speaker, pushing the sound experiment even further.
Specs:
Four knobs to control Mix, Pitch, Drive, Rate and one Lo-fi switch – allows you to fine-tune your robot sound
External Expression Connector - allows you to change modulation rate by foot while playing
Compact size (3.6'' x 2.0'' x 1.5'') - extremely light weight and portable
True bypass on/off switch
Compatible with standard 9V DC supply (center negative)
F-Power Ready* (except for Lite version)
All F-Pedals are designed and manufactured in Naples, Italy and assembled in Studio City, California.
Pricing information
Street: $179 for Standard Version (wireless power ready) and $119 for Lite Version (non wireless power)
Watch the company's video demo:
For more information:
F-Pedals