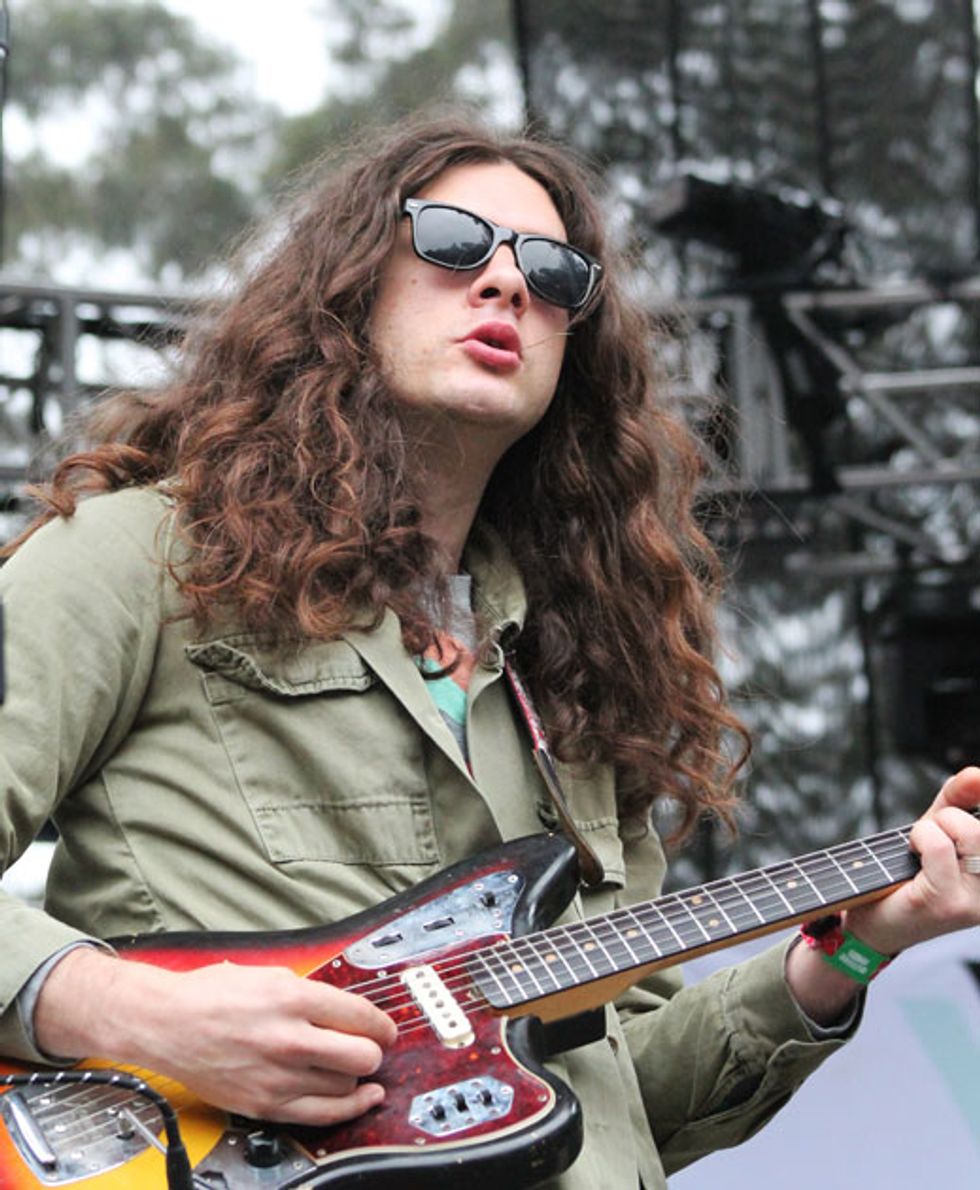 Kurt Vile with his trusty '64 Jaguar. "I bought it in 2011 when I was on tour. I really focused on getting familiar with it, so much so that I just bought another '64 Jaguar for the road." Photo by Susan Moll
B'lieve I'm goin down... is Kurt Vile's sixth album and the eagerly awaited follow-up to his 2013 breakthrough Wakin on a Pretty Daze. Recorded at seven different studios over more than a year of couch surfing and late-night sessions, it's a trippy and revealing portrait of a singer-songwriter whose reverence for classic sounds is shaping a new breed of indie rockers.
When Kim Gordon declares she's your biggest fan by writing the press bio for your latest album, you're probably doing something right. As an almost accidental working-class hero of Philadelphia's sprawling music scene, Kurt Vile deserves every accolade he gets, even if his quirky brand of woozy, psychedelic folk-rock is on the verge of shattering the underground ceiling and going mainstream. A recent two-night stand of packed shows at New York City's Webster Hall tells the current story: Vile and his backing band the Violators are a musical force to be reckoned with, but the hype has nothing to do with "selling out."
Put simply, Vile has tapped into a need—a quasi-spiritual calling, if you will—to make music that's primal yet provocative, rebellious yet revelatory. It's this innately down-to-earth throwback quality, drawing from influences as far afield as Bob Dylan, Neil Young, John Fahey, Royal Trux, and Pavement, that drew Gordon to his orbit and places Vile at the vanguard of a rising tide of 30-something artists—including his former bandmates in the War on Drugs (fronted by ace guitar-slinger Adam Granduciel)—who are looking to the '70s rock canon and its '90s revival to remake the future, all while staying true to do-it-yourself principles.
"You can pick up anything—a banjo, a guitar, a piano—and just find the notes. That's the beauty of it."

"For me, when I'm playing any instrument, it's fun to not be bothered about theory or traditional technique," Vile explains. "There's all these obvious things you know anyway, even if you don't know them by name. I mean, I'll capo something and put it in a different tuning, and I'll intentionally not think about the notes. I like the idea of not knowing too much about music, but just trying to be musical. You can pick up anything—a banjo, a guitar, a piano—and just find the notes. That's the beauty of it. It's sort of punk rock, but it's more of a melodic, musical thing—like utilizing the two and figuring it out for yourself, and just keeping at it. By default, you're gonna develop your own style."
Since he was first signed to the venerable Matador label in 2009, Vile has made it his trademark to chase new sounds with a well-honed sense of curiosity that's just as insatiable as his apparent lust for guitars. It all started at age 14, when his father, a fan of Doc Watson, Rusty & Doug Kershaw, Charley Patton, and other blues and bluegrass greats, gave him a banjo—a fateful choice for a kid who was already watching most of his friends jump feet-first into rock bands. As it turned out, the instrument defined his playing style before he'd even found one.
"Obviously that helped out my perspective in general," he says. "If I'd had a guitar first, I probably would've gotten lessons and been stuffed in the barre chord box, whereas the banjo, with the open tuning—like on the song 'That's Life, Tho' [from the new album], it's not a far cry from that. It's very Appalachian. But I've always favored open G because that's all you need to start playing music. You've just got to adapt that to the guitar later in life. I played banjo for maybe a year before somebody gave me a guitar—maybe even a little more. But all my friends were starting in bands, so I'd pick up their guitars. I was writing songs for guitar before I actually owned one, and then one day a guitar just showed up at my house."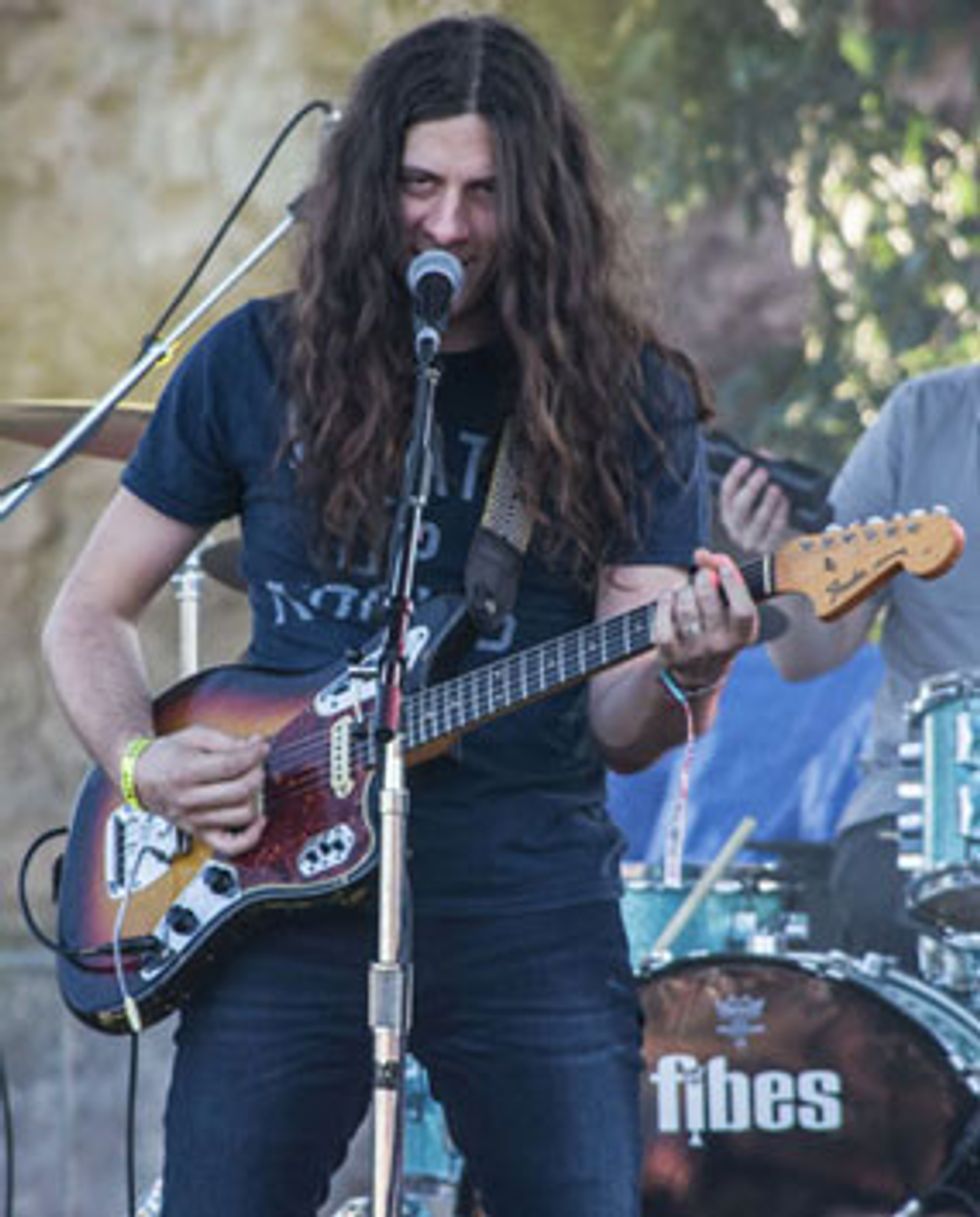 Kurt Vile now has two '64 Jaguars: one for standard tuning, one for open tunings. "Pretty much every electric song on the album is that guitar," he says. Photo by Nathan Edge
Vile also had a Regal resonator guitar as a kid, and that instrument defined his early lo-fi sound on his debut compilation Constant Hitmaker and the follow-up God Is Saying This to You.... "You can hear it on songs like 'Slow Talkers' and 'Can't Come,'" he notes, "and there's plenty of others, but I stuck with that resonator as basically my acoustic sound. I considered it my acoustic after a while."
With 2009's Childish Prodigy, Vile raised his game by bringing his touring band the Violators into the studio (whose lineup then featured Granduciel on numerous guitars and electronics) and delivering a knockout mix of jagged, Crazy Horse-style riffs, cavernous reverb, and kinetic beats, all hammered home in songs like the 7-minute road-trip jam "Freak Train" and the lead-footed "Hunchback," which was about as archly Tom Petty-ish as Vile might ever dare to sound.
He teamed up with producer John Agnello, known for his work with Dinosaur Jr., to track 2011's Smoke Ring for My Halo. Composed almost entirely on a Martin dreadnought, the album was much more acoustic-based than anything Vile had done previously, with finely articulated fingerpicking on songs like "Baby's Arms" and the haunting ballad "Peeping Tomboy." As his guitar collection grew to include such exotic pieces as a DiPinto Belvedere Deluxe and a vintage Greco Les Paul copy, Vile continued to tour relentlessly and expand his horizons. Chasing something new and different, he joined Agnello again to create the undulating wave of sound that colors Wakin on a Pretty Daze. Together, they crafted what many considered to be Vile's masterpiece—a spacious foray into beautifully flanged guitars ("Wakin on a Pretty Day"), classic rock riffs ("KV Crimes"), dreamy folk-pop ("Shame Chamber"), and cosmic Americana ("Goldtone," aptly featuring his Gold Tone resonator) that plays as a cohesive "concept album" from start to finish.