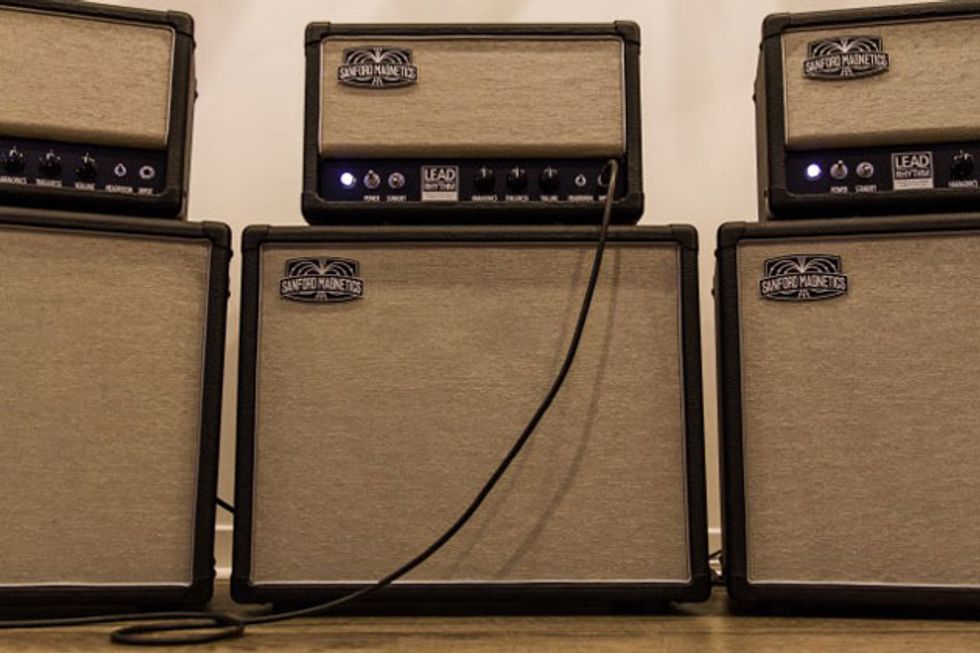 New Brunswick, Canada (December 2, 2015) -- Canadian Pickup maker Sanford Magnetics has released the first model in their line of handwired amplifiers. With the release of the Lead & Rhythm Professional (LR-Pro) Head and matching 1x12" cab, Sanford Magnetics have created a completely new and original, vintage-inspired amplifier. With lush, full clean tones to classic amounts of overdrive, the dynamics of the amplifier really set it apart.
The Lead & Rhythm Professional is an original circuit design that features a 6SL7 Octal tube, Class A Push Pull 6v6 power section and unique set of tone controls in a very compact package. At 15 1/2" x 10 1/2" x 8 1/2" and 28lbs, the LR-Pro is the perfect grab and go amp for Studio and Stage with a sound much bigger than it's deceptive size. At 20 watts and a tube compliment that's working hard from the moment it's turned on, the LR-Pro is the perfect amp for live use and recording sessions alike.
The SM-Slotback cab is a tuned 1X12", featuring 13 Ply Baltic Birch, UK Made G12H-75 Creamback. The rear opening is tuned to allow the cab to breath, yet thumps like a big cab when driven. The perfect balance between fully open and closed back cabinets.
The LR-Pro carries a street Price of $1399 USD for the head and $579 USD for the 1X12 cab
Watch the company's video demo:

For more information:
Sanford Magnetics