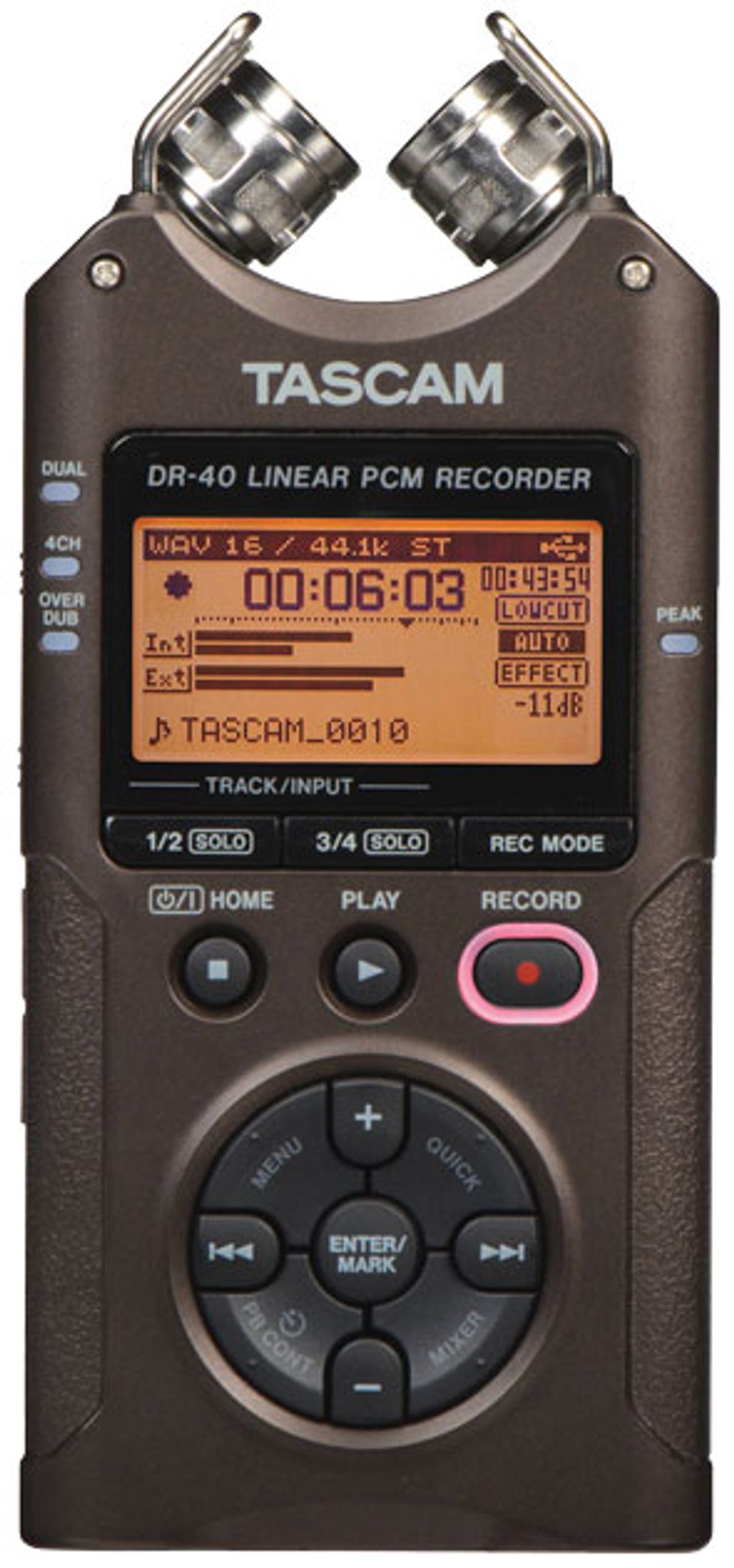 A stand-alone recorder, like the Tascam DR-40, is ideal for making a "homework tape"—a clear recording of your band's practices and performances. The advantage? Larger storage space and the fact that a dedicated recorder won't be interrupted by calls, texts, and other intrusions that can plague phones and tablets.
For a mobile setup that can come close or even match a home or project studio, a laptop and interface seems like the way to go. It can still be portable, and it's easy to add or subtract peripherals as needed. If you want something truly portable and don't need to record more than two independent sources at a time, a small bus-powered USB interface should have you covered.
"Make sure that all components are of good quality and work well together," adds Steve Oppenheimer, VP of marketing at PreSonus, which makes audio interfaces for computers and mobile devices, digital mixers, and software. "In addition to selecting a quality, bus-powered interface—you want bus power because an interface that requires AC power is not entirely mobile—you'll need a good microphone, headphones, and cables, as well as recording and production software and a reliable laptop or tablet computer, such as an iPad."
If you need more inputs, there are plenty of mid- to high-end interfaces to choose from. A good unit capable of recording eight or more individual tracks will fit in a single rack space and can be shoved into a laptop bag in a pinch. If the interface has built-in mic preamps and instrument inputs, it can serve as the sole peripheral (minus mics, headphones, and cables). With eight inputs, you can record a whole band, capture an electric-acoustic guitar on two independent tracks using its internal pickup and an external mic, and much more.
Packing for Tracking: Be Prepared
According to Tozzoli—who regularly does pro-level sessions away from his main studio—the specific equipment you choose for your mobile rig is less important than the way you organize your gear. One missing piece—no matter how small—can sabotage a session.
"For me, the essentials include a computer—usually a laptop—interface, speakers, headphones, and all the necessary cables," he explains. "I have several setups that vary in scope. The simplest is a MacBook Pro with a Universal Audio Apollo Twin interface running Pro Tools 12 and Propellerhead Reason. The next level up is a Universal Audio Apollo 16, with a variety of FireWire outboard eight-channel preamps from Focusrite and Audient, again running Pro Tools 12.
"With either rig, whenever I go remote, I like to bring the same gear, packed in exactly the same way—every time. For example, in my laptop bag, I have the charger, the external hard drive, all cables and adapters, and even the iLoks in the same place. That way, if something is missing, it has a better chance of registering with just a quick glance.
"I also create a written checklist in my iPhone to make sure I have everything. It gets easier the more you do it, and now its second nature."
A few years ago, a studio like the one Tozzoli just described would take a desktop computer and card-based audio interfaces, not to mention a rack of gear. Now you can do it all with a laptop. Will tablets and smartphones go the same way?
"When I started working with music on the iPad four years ago I thought it might become the new Portastudio," Leonard says. "When we started writing The Musical iPad, the industry was exploding with products. In some ways, it's like watching a repeat of 30 years ago when MIDI and the computer were starting to come together—dealing with the limitations of the hardware and watching the software developers ask for more power and flexibility."
Making albums on iPads
In late 2011, the music industry went abuzz after learning that Gorillaz's album The Fall had been recorded on co-founder Damon Albarn's iPad during a U.S. tour. "I literally made it on the road," Albarn told the Guardian. "I didn't write it before, I didn't prepare it. I just did it day by day as a kind of diary of my experience in America."
Albarn used a wide range of apps to make the album (which was mixed when he got back to England), but indie punk duo the Ultramods described how they only needed GarageBand for iPad to make Underwear Party. "I see [the GarageBand app] as an everything-combined-into-one package," lead singer Max "Bunny" Sparber told Wired magazine. "Both new musicians and professional musicians are going to be very surprised with what they can do with it."
YouTube It
Blur frontman Damon Albarn recorded his side project Gorillaz's 2011 album, The Fall, entirely on his iPad while on a U.S. tour, using a wide variety of apps including AmpliTube, SoundyThingie, StudioMini XL Recording Studio, and Bassline.
These days, there's a lot less gee-whiz factor around mobile devices, so it's unlikely that recording on a tablet is going to be any more central to an album's publicity campaign as recording with a laptop. But whether mobile devices are used as a complete "studio" or as a part of the production process, it's clear that pros are finding a place for such gear in their work.
In a detailed 2014 MacWorld article, Andrea Pejrolo, Assistant Chair of the Contemporary Writing and Production Department at Berklee College of Music, explains how he used the iPad as a complete production system to record sessions for indie artist and composer Ella Joy Meir. While admitting that the iPad had some limitations compared to laptops in terms of storage, he notes that there are also advantages that go beyond its small form factor. "If you are planning to record in a space where your sound engineer and performer are in the same room, the iPad has the advantage of being dead quiet," he says. "And then there's the cost: iOS offers the convenience of a touch display and the portability of a laptop, but with a much smaller price tag."