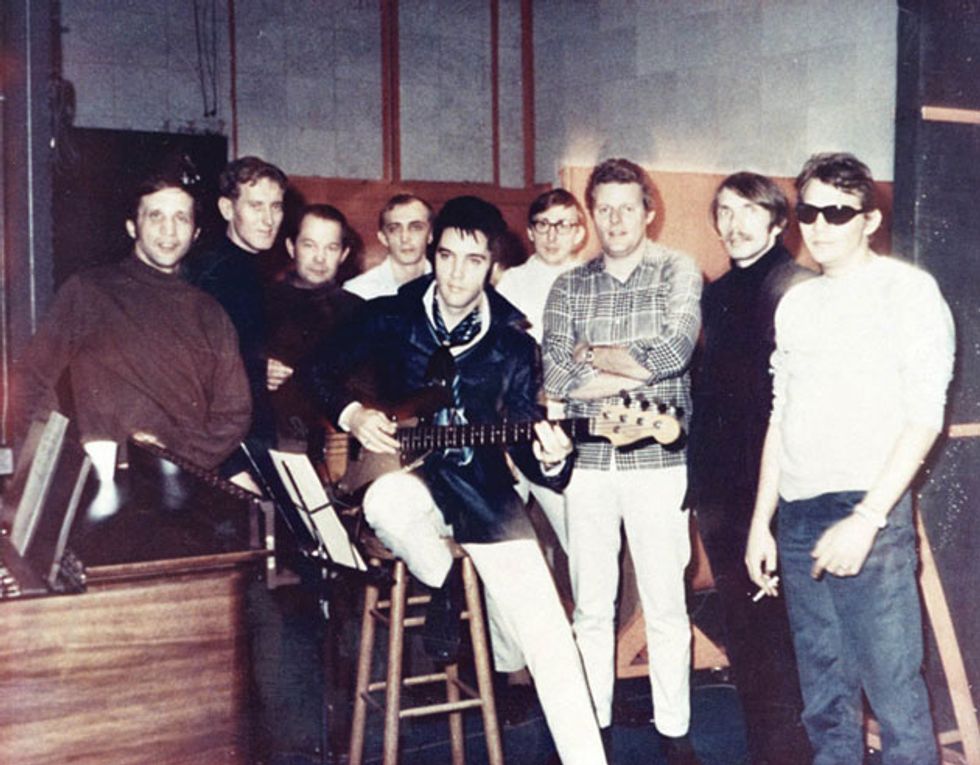 "When Elvis walked in, he looked around and just said, 'Man'," recalls Young of recording with the legend at American Sound Studio. "But we cut some of the biggest records he ever had: 'Suspicious Minds' and 'In the Ghetto.'"
Photo courtesy of the Country Music Hall of Fame and Museum
Booker T. and the M.G.'s, the Wrecking Crew, the Swampers, and the Funk Brothers are legendary rhythm sections, known, loved, and studied by musicians through the decades. Less familiar are the Memphis Boys—keyboardists Bobby Emmons and Bobby Wood, bassists Tommy Cogbill and Mike Leech, drummer Gene Chrisman, and guitarist Reggie Young—the musicians who formed the foundation of American Sound Studio in Memphis between 1967 and 1972. This group cut more than 100 Top 40 hits in that five-year period. Elvis Presley, Aretha Franklin, Neil Diamond, Dusty Springfield, B. J. Thomas, Petula Clark, Joe Tex, and the Box Tops all benefited from their ability to create on-the-spot head arrangements that resulted in top sellers.
Reggie Young was at the heart of this team and continued contributing his creativity to hit after hit long after the Memphis Boys went their separate ways and he moved to Nashville. Although the average guitarist may be more familiar with names like Steve Cropper or Tommy Tedesco, ask any Nashville session player about Reggie Young and then try to get them to stop raving (see sidebar: "Reggie Raves"). The first to admit he hasn't made his career on shredding solos, Young's heroic status is based instead on decades of indelible licks, like the intros to Dusty Springfield's "Son of a Preacher Man" and Billy Swan's "I Can Help," and the classic chicken pickin' in Joe Tex's "Show Me." King Curtis' Live at the Fillmore West may lead you to believe Cornell Dupree coined the guitar lick in the band introduction of "Memphis Soul Stew," but Dupree is merely aping Young's work on Curtis' studio version. Heck, if Young had never come up with anything but the intro to Dobie Gray's "Drift Away," his status as a legendary session guitarist would be safe.
Fortunately, Young is still alive and well in Nashville, where he was kind enough to sit down with one of his biggest fans to tell some amazing stories about his life at American Studios, and in American music.
Country Soul
Born in 1936, Reggie Young Jr. lived in Osceola, Arkansas, until age 13, when his father got a job in Memphis and moved the family there. Like many players, his first guitar was a Christmas present. "It was a National flattop," he recalls. "The strings were an inch off of the frets. I wanted to be electrified, so I went down to the pawnshop on Beale Street and bought a DeArmond pickup that would fit in the hole. I got an old metal Rickenbacker amp and I was electrified."
His father played Hawaiian guitar and showed him some chords. Young further honed his craft learning licks off of records and the radio. "I listened to Chet Atkins a lot," says the guitarist. "He used to have a radio show with [lap steel guitarist] Jerry Byrd on WSM in Nashville called 'Two Guitars.' Weather permitting, I could pick it up in Memphis most afternoons." Another influence was local guitarist B.B. King, cementing Young's style as a mixture of blues and country.
The guitarist met someone in junior high who could sing and play rhythm, and within a year they had a band. "I was playing more melodies than chord changes," he says. "I would pick hot, as they called it back then. When Elvis came out, a lot of little bands who could play three chords would have hit records." While still a teenager in 1956, his band Eddie Bond & the Stompers went into a radio station and recorded a song called "Rockin' Daddy." It was released on Mercury Records, became a regional hit, and launched Young's career in the music business. Though he denies being into rockabilly, Young's work on the Eddie Bond sides show a familiarity with the idiom.
In 1955, local disc jockey Bob Neal was promoting package tours and hired Eddie Bond & the Stompers to join a lineup that included Carl Perkins and Johnny Cash. "Whoever had the biggest record where we played would be the star that night," says Young. After the tour, Johnny Horton's manager asked if the teenage guitarist would play in Horton's band. This led to a weekly gig with the singer on the famed Louisiana Hayride television show.
"George [Harrison] asked what I was playing through," recalls Young. "I told him it was an old Standel. He complimented me and asked, 'How are you bending those strings like that?'"

But it was Young's time on those package tours that led to his shift from travelling musician to session player. "Elvis was on a few of the tours," Young recalls. "I already knew Scotty Moore and Bill Black, the bass player." Black recorded artist demos at Hi Records' Royal Studios in Memphis, and would then get someone from London Records to listen to them. Only if the acts were signed would a session fee be paid. It was into this world that he invited the eager Young.
First Hit
After a day of uninspiring sessions, unlikely to result in a deal or payment, Young tuned his guitar down two whole steps and started tapping it with a pencil that was lying on the music stand. "It was like the old club trick, where the drummer would play on the upright bass player's strings," he reveals. Black's house band cut an instrumental shuffle fueled by Young's tinkering that the London rep liked. Released as a single, "Smokie Part 2" became a number one R&B hit and rose to No. 17 on the pop charts, launching Bill Black's Combo. The band members were all equal partners but named the group after Black, who was the best known for his work with the now-famous Elvis.
"We got booked on Dick Clark's show, but I got drafted," says Young. "When I went to take the oath, I told the company commander there was something I'd like to do before basic training. He let me have a 30-day leave, so before I went into the service we went to New York for the Dick Clark Christmas show."
Young was in the Army a little over two years, serving much of his time in Ethiopia. There, he went to the enlisted men's club where the guitarist in the band asked him to sit in. "I did, and he sold me his guitar—a Fender Duo-Sonic," he says. Young played with the band through his service. For much of his time overseas, "Smokie Part 2" was on the charts. Fortunately, this member of Bill Black's Combo had made a wise decision when the tune was recorded. "The guy that owned the studio offered to pay us scale or let us have a piece of the record," says Young. "We all took a piece except for the saxophone player. He got scale, $41.25, and we made a lot of money."
Hi Records became known for R&B music and Young expanded his repertoire there, intermingling with future Al Green producer Willie Mitchell's band. "We did an instrumental named '2075' that was a mediocre hit, with Al Jackson on drums," Young recalls. "This was before Booker T. and the M.G.'s." Like the M.G.'s and much of the Memphis music scene, Mitchell's studio band was integrated, though there were still racial issues at the time. "There was a place across the river, in West Memphis, called the Plantation Inn," says Young. "When B.B. King was in town, his band played here. A white guy couldn't sit in with that band; the crowd wouldn't go for it. I'd do it, but I'd be behind the curtain."
The Other Fab Four
In 1962, Bill Black's Combo was recording largely instrumentals, but took time out to cut "Haunted House" (later recorded by Roy Buchanan) with singer "Jumpin" Gene Simmons, who then became a frontman for the band. Though Reggie and the original members were cutting the records, they didn't tour. "We didn't do road work," he explains. "There was a band on the West Coast, one in the Midwest, and one on the East Coast, all using the Bill Black's Combo name, but we just stayed in the studio."
Young made an exception to the no-road-work rule once. When the Beatles did their first U.S. tour in 1964, they contacted Bill Black to be their opening act. "We went by Trailways bus to San Francisco to join the tour," he says. "I didn't have a clue who they were until we got to San Francisco. The first night we played the Cow Palace. I'd never heard that much screaming and carrying on. They had barricades so the kids wouldn't jump up on the stage. We went on first, and then backed up some of the other acts: Jackie DeShannon, the Righteous Brothers, and a guy named Clarence 'Frogman' Henry from New Orleans. We played about an hour of music." In each city, the local DJ would work the crowd into a frenzy about seeing the Beatles and then announce, "First, here's Bill Black's Combo."
"They would boo and start throwing stuff," recalls Young. "Later, the DJs learned to wait to build them up after we were through."
Soon after the first concert, George Harrison came on the plane and asked who the guitar player with Bill Black was. Young admitted it was he. "George asked what I was playing through," recalls Young. "I told him it was an old Standel. He complimented me and asked, 'How are you bending those strings like that?' He was using a wound 3rd string. I told him to get an unwrapped 3rd string. I probably stole that from Chet Atkins, who used an unwrapped 3rd string."