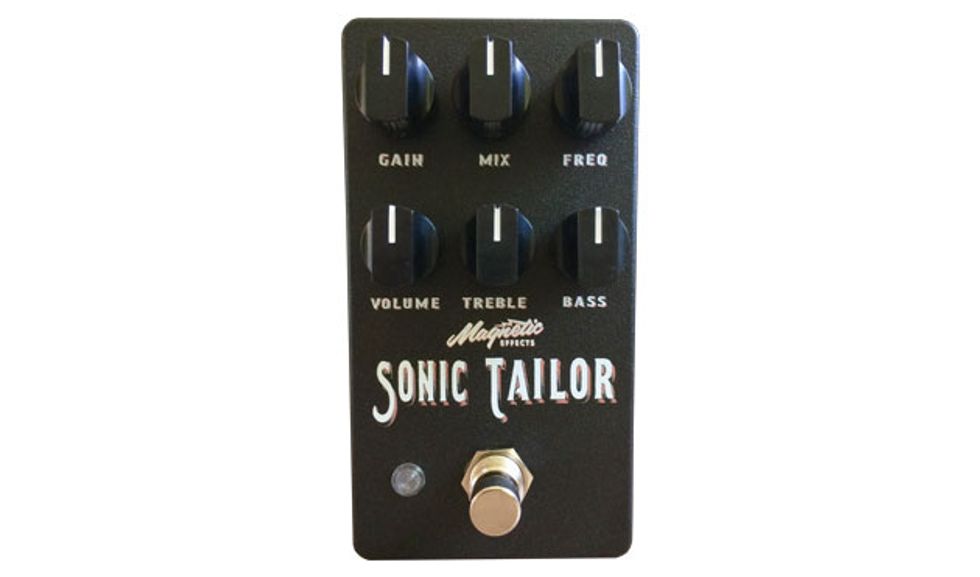 London, England (October 4, 2016) -- Magnetic Effects are pleased to release the Sonic Tailor.
The Sonic Tailor is a limited edition germanium transistor overdrive with blendable midrange boost.
The Sonic Tailor is an original design that offers colorful overdrive with a distinctive germanium character. It excels at vintage style '60s and '70s midrange based overdrive, but thanks to its extensive EQ controls, it has the ability to dial in a wide range of tones.
The Sonic Tailor is great at providing treble booster-style tones into a clean amp. Thus eliminating the need for a loud, overdriven amp. It is also a master of boosted, fixed wah-style tones.
In addition to standard volume and gain controls the Sonic Tailor has treble, bass, frequency and mix controls.
The Sonic Tailor has a high-input impedance and a low-output impedance. This makes the pedal compatible with buffered pedals as well as pedal switchers and wireless systems. The Sonic Tailor uses true bypass switching.
Features:
Top mounted jacks and DC socket
High input impedance and low output impedance
NOS germanium transistor
Volume, gain, treble, bass, frequency, and mix controls
9-18V DC center negative adapter powered
True bypass
100% Handmade
$150 US plus shipping.
For more information:
Magnetic Effects